Welcome to PocketMonsters.net
PocketMonsters.net
is a fansite dedicated to all things Pokémon (ポケモン) and Pocket Monsters (ポケットモンスター). We are the premier site for news and information about all aspects of the franchise from around the world. We cover the
Anime
,
indexing the music
, the
Trading Card Game
, the
Games
, the
variety shows
, have a
large imageboard
,
forum
and much more.
Follow us on Twitter
and
Subscribe to our RSS Feed
for the latest updates!
Latest News

21 Aug
17 Aug
16 Aug
15 Aug
14 Aug
Upcoming Episodes
New episodes of the
Pocket Monsters anime
air Thursday evenings at 6:55PM JST and new episodes of the variety show
Pokénchi
air Sunday mornings at 8:00 AM JST on
TV Tokyo
in Japan. Pokémon airs Saturday morning at 9 AM EST and every Saturday and Sunday evening at 7:30 PM on Disney XD in the United States. Pokémon the Series also airs every weekday at 4 PM. Pokémon airs Saturday's at Noon EST on
Teletoon
in Canada. New titles are revealed in various publications such as: TV guides, childrens' magazines, anime magazines, promotional posters and videos, official websites and official television programs. Titles and their translations are added to our
episode guide
and the chart below when the titles are revealed.
Aug 21
At the Opening Ceremonies of the 2015 Pokémon World Championships, it was announced that
Pokkén Tournament
would be released on the Nintendo Wii U in the Spring of 2016.
Pokkén Tournament Battles Its Way onto Wii U
Arcade Hit Comes to Nintendo's Wii U in Spring 2016 - The Pokémon Company International and Nintendo today announced the upcoming release of Pokkén Tournament for Nintendo's Wii U. Currently an arcade game available only in Japan, Pokkén Tournament for Wii U will be released worldwide in spring 2016.
Developed in collaboration with BANDAI NAMCO Entertainment Inc., producers of TEKKEN®, one of the most successful fighting-game franchises in history, Pokkén Tournament brings Pokémon to life in a way never before seen, where Pokémon in battle move in direct response to the player's actions. The intuitive controls make this fighting game accessible to players of all skill levels, and the stunning visuals emphasise the size and power of each Pokémon.
"Pokkén Tournament combines the best elements of a traditional fighting game with an authentic Pokémon experience," said J.C. Smith, director of Consumer Marketing at The Pokémon Company International. "Fans will be thrilled to see their favourite Pokémon battle in a whole new way."
YouTube Trailer

Article edited on 2015-08-23 08:18:49 by Sunain
Aug 17
The official Pokémon Shuffle website announced a new event taking place this week.
Details of this event have been added to our event page
and
information of patch 1.2.12 has also been added to our database page
.
Darkrai Escalation Battle Stage
Darkrai appears in an escalation battle stage and each time the player defeats Darkrai, the stage's level increases. As the stage level increases, so does the difficulty so each time the player defeats Darkrai, it will grow stronger. When the player reaches certain levels, they can also receive rewards. At Level 5 EXP Point *1.5, Level 10 a Disruption Delay, Level 30 a Mega Start and Level 50 a Mega Speedup.
Darkrai's special skill is Sleep Charm, which makes the enemy sleep for three turns. While a Pokémon is asleep, it will not use any disruptions. In addition, players can deal more damage to a foe while it is asleep!
10 New Stages and 3 New Expert Stages
Cobalion, Terrakion, and Virizion have been added in new expert stages. All three of these Pokémon have the Power of 4+ skill–line up four of these Pokémon in a match to deal triple the usual damage.
Sources:
http://www.pokemon.co.jp/ex/poketoru/news/post.php/98/
and
http://www.pokemonshuffle.com/en-us/connectivity#darkrai
Aug 16
UK Toy Store
The Entertainer
in partnership with The Pokémon Company International is holding a special promotion for people from August 14th, 2015 until August 22nd, 2015. A special TCG Collector's Album will be available for free until August 20th, 2015. Full details are below in the press release.
Meet Pikachu, Collect Pokémon Cards, and Enjoy Late-Summer Pokémon Fun at The Entertainer!
Pick up an exclusive Pokémon TCG: XY—Ancient Origins Collector's Album at The Entertainer from August 20 whilst stocks last. Lucky customers might even discover Pikachu in the shop!
London, United Kingdom—August 14, 2015— What better way to spend the final days of the long summer holiday than collecting Pokémon cards? From August 20, Pokémon fans heading to The Entertainer can pick up an exclusive Collector's Album free of charge in which they can showcase some of their cards from the latest Pokémon Trading Card Game expansion, XY — Ancient Origins.
Budding collectors can even get their albums started by looking for special sampling packs, which include three Pokémon cards, cover-mounted onto popular children's publications including Toxic, Kick, Kraze, and National Geographic Kids, available at all good newsagents.
A very important guest will be discovered in selected Entertainer shops across the country, too, when Pikachu makes public appearances to meet kids and pose for photos!
As a precursor to the national campaign, and to celebrate the opening of the Pokémon Animation Studio at KidZania in Westfield London, Pokémon will be taking over that branch of The Entertainer! A series of special activities will run from August 14 until September 16: a bespoke shopfront takeover will be unveiled on August 14, lovingly designed to feature many fan-favourite Pokémon.
On August 15, the free Pokémon TCG: XY — Ancient Origins Collector's Album will become available early at Westfield London's The Entertainer. *
For the duration of the promotion, and also whilst stocks last, customers who present their Kidzania proof of purchase at The Entertainer's London Westfield branch will receive a free Pokémon Trading Card Game sample pack.*
Finally, fans who come to the shop on August 22 may discover a friendly Pikachu to welcome them into the shop!
This project builds on the success of a similar collaboration between The Pokémon Company International and The Entertainer that took place late last year and saw fans coming into shops to claim a free Collector's Album for the Pokémon TCG: XY — Phantom Forces expansion.
Stuart Grant, Buying Director at The Entertainer, said: "We are delighted to be working with The Pokémon Company International on a second very special promotion at our shops. This one is perfectly timed for the end of summer holiday and back-to-school period. We're particularly proud of the special window display in Westfield London, too!"
Mathieu Galante, Senior Market Development Manager at The Pokémon Company International, said: "This is a key summer promotion for us and has been especially designed in tandem with The Entertainer and Esdevium. We hope to offer a great experience to Pokémon fans and that people will enjoy meeting Pikachu in person!"
Pokémon Sampling Packs Terms and Conditions
Customers can claim their free sample pack at The Entertainer White City only
Free packs can only be claimed between 14th August 2015 – 16th September 2015
One free sampling pack per person upon presenting their Kidzania boarding card or e-ticket
Only the named person on the booking card or e-ticket can claim a free sample pack
We reserve the right to ask for proof of ID prior to giving the sample pack away
Promoters name: The Entertainer
Promoters address: The Entertainer, Boughton Business Park, Bell Lane, Little Chalfont, Bucks, HP6 6GL
Source:
http://www.thetoyshop.com/pokemontc

Article edited on 2015-08-16 07:09:54 by Sunain
Aug 15
The official Pokémon movie blog has updated.
We have added a section collecting every single blog entry for easy browsing
. Translations follow:
Event Report #13: A Report from the "Stage Greetings! To Celebrate the Movie Becoming a Major Hit! With an Outbreak of Pikachu" Held Saturday August 14th!
Stage greetings just got held to commemorate that that the double feature "Pokémon the Movie XY: The Archdjinni of Rings - Hoopa/Pikachu and the Pokémon Musicians" became such a major hit!
The greetings were held in the Yokohama Minato Mirai area, where the
"Dancing? Pikachu Outbreak-Chu"
is currently taking place. As a special service, there was also a Pikachu outbreak at the "Aeon Cinema Minato Mirai"!
This is a status report from this Pikachu-filled stage greeting, where guest voice actor Shoko Nakagawa also appeared!
-----------
The movie has just finished screening in the theater, and the audience are standing by for the stage greeting, having all turned into Pikachu themselves!
The moderator, Annnouncer Konno from TV Tokyo, walks in!
Her Pikachu hairband is super cute!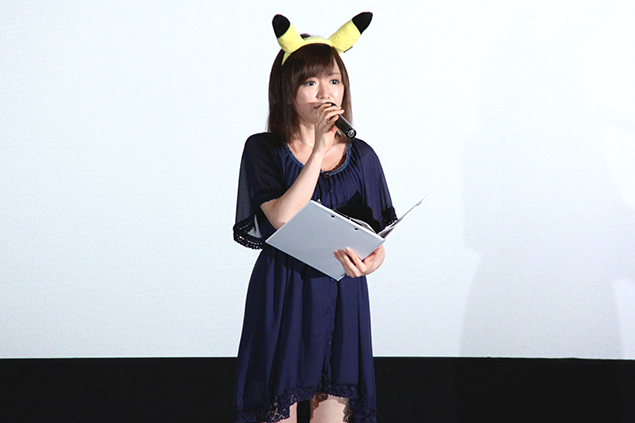 She was followed by Shoko Nakagawa, aka Shokotan, the voice of Mary!
Today, the blockbuster "The Archdjinni of Rings: Hoopa" passed the 1.8 million attendees mark!
Shokotan even went to see it twice!
Announcer Konno:
Yokohama is currently filled to the brim with the Pikachu from the
"Dancing? Pikachu Outbreak-Chu"
, but there's a huge outbreak of Pikachu in the movie as well, isn't there?
Shokotan:
There is! There's a whole ton of them!
When all those Pikachu appeared, what really left an impression on me was that each and every one of them were moving completely independently of each other! Since this in a movie, you get to fully enjoy the various Pikachu in gorgeous animation, including Pikachu you don't normally see, like Madame Pikachu and Doctor Pikachu!
Announcer Konno:
Every time you watch the movie, you discover new things, so I'd love for you to go see it both two and three times!
Also, the thing is, lots of Pikachu have come to this theater as well!
Shokotan:
Yes, I was really looking forward to that! It looks like it's finally time!
These stage greetings filled with Pikachu take place today only!
Let's all call for them! Ready? Aaaand!
"Pikachuuuuuu!"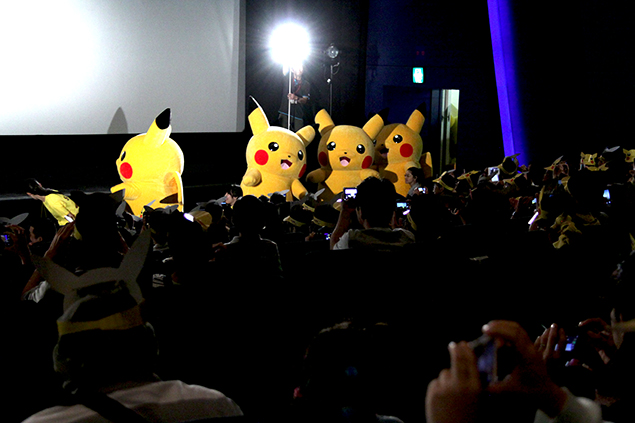 It's a Pikachu...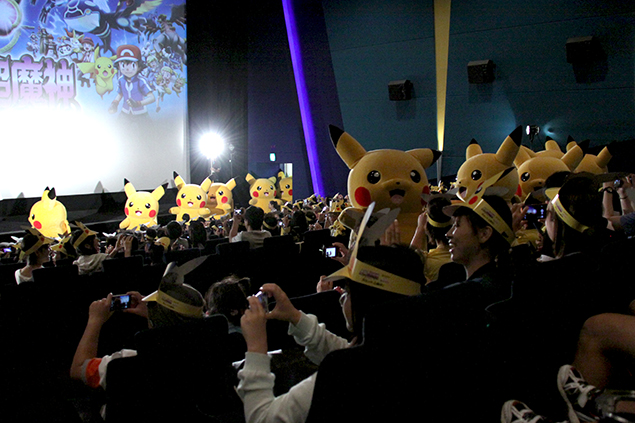 It's a Pikachu...!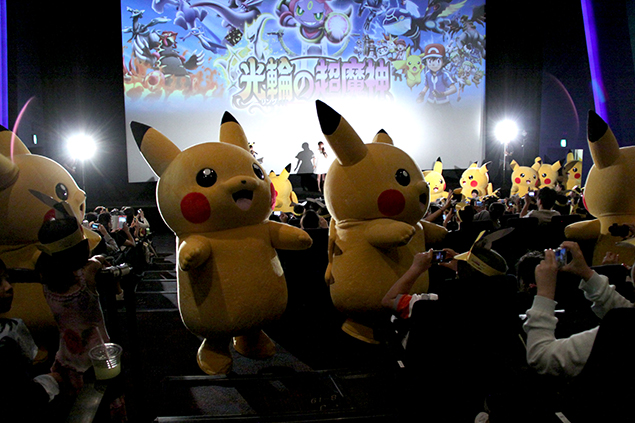 It's a Pikachu...!!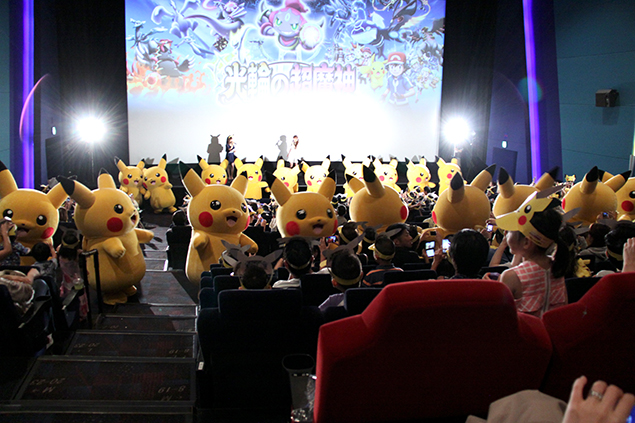 It's a Pikachu... Outbreak!!!!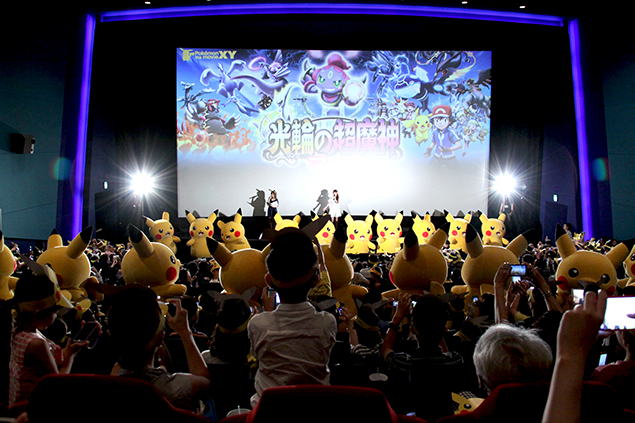 The theater explodes with excitement!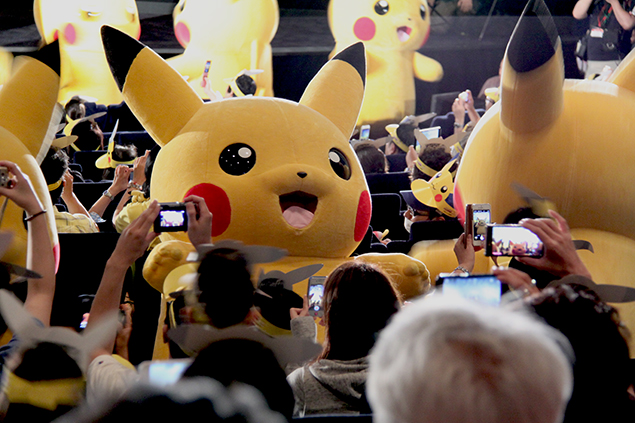 Shokotan gets a commemorative photo as well!
And then another one together with Announcer Konno!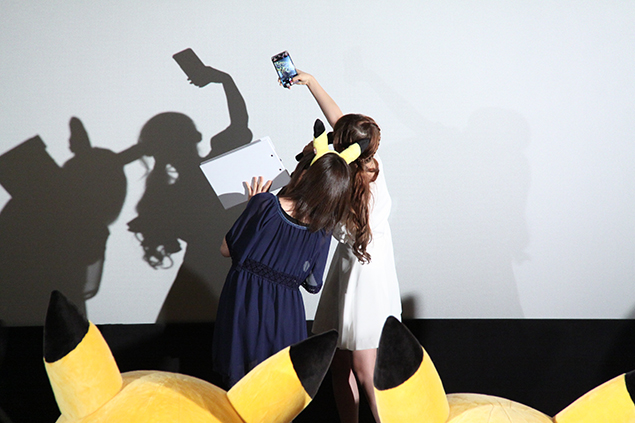 These Pikachu are really obedient and nice little fellows!
They move according to Shokotan's signals,
"Face right!"
and dance along as Shokotan sings "DreaDrea", the ending theme to the "Pocket Monsters XY" anime!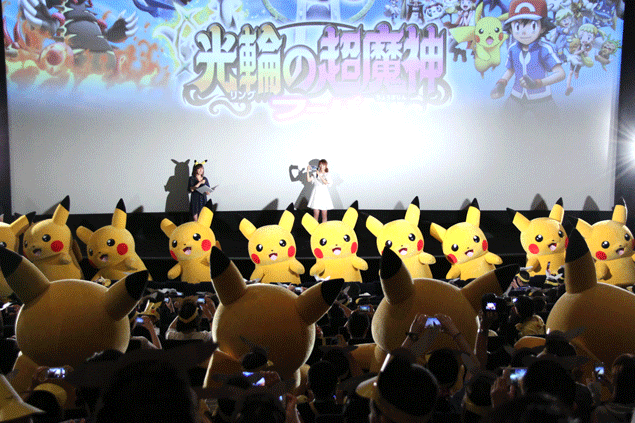 DreaDreaDream Power!
This was a fun stage greeting with a total of 20 Pikachu, one that even allowed for the audience to take photos!
The double feature "Pokémon the Movie XY: The Archdjinni of Rings - Hoopa/Pikachu and the Pokémon Musicians" has now exceeded 1.8 million attendants! It's a massive hit!
Hurry up and get yourself to a theater before summer vacation ends!
Tweet from Shoko-tan
ドリドリピカチュウカオス!みんな一斉にドリドリダンス!!ピカチュウ!ありがとう!最高! pic.twitter.com/3dv1ZSVycv

— 中川翔子@アニソン魂 (@shoko55mmts) August 15, 2015
Source:
http://www.pokemon-movie.jp/pokemovie_ch/?p=1778

Article edited on 2015-08-15 07:00:25 by Sunain
Aug 14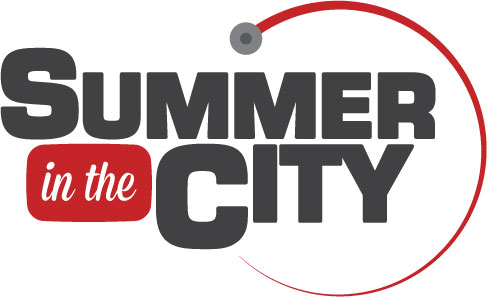 A Pikachu Spectacle at Summer in the City!
Attendees of Summer in the City will be able to discover the UK's very first live 'Horde Encounter' of Pikachu at ExCeL London on 15 August.
London, United Kingdom, August 12, 2015 - The Pokémon Company International will be attending this year's Summer in the City at Exhibition Centre London, and will be making an appearance with not just one, but five Pikachu on Saturday, 15 August.
Summer in the City is an annual event that brings together the YouTube community, ranging from creators to viewers and industry professionals. In celebration of the newly launched Pokémon Trading Game expansion, XY—Ancient Origins, attendees of the popular expo will be able to see a horde of five Pikachu making their way through the halls of ExCeL London in the afternoon.
Summer in the City 2015 will have live performances with back-to-back stage shows from a wide range of YouTube's prolific personalities, engaging discussions from panels concerning a number of current topics, and meet and greets, all on top of an expo hall packed with fun activities, merchandise tables, and sponsor stands.

Article edited on 2015-08-16 06:55:38 by Sunain
Aug 14
The official Pokémon movie blog has updated.
We have added a section collecting every single blog entry for easy browsing
. Translations of the new entry follows:
Appear! Movie Details #16: "The Aged Traveler"'s Model Sheets Appear!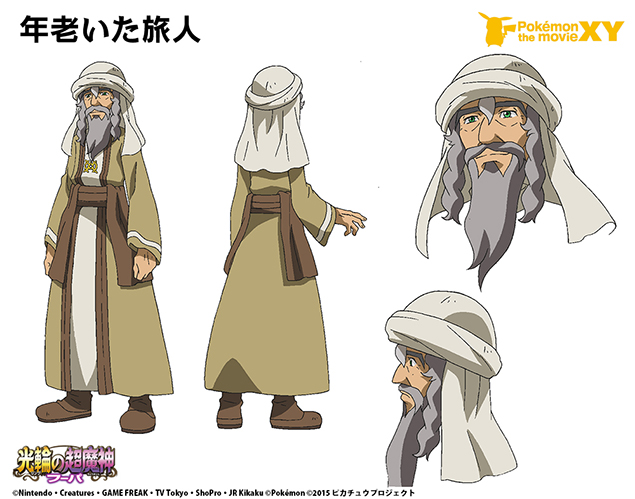 Barza and Mary's great-grandfather.
He's the person who sealed Hoopa's true power in the "Prison Bottle" when it went on a rampage in Désser City 100 years ago, but his story continued after that!
Source:
http://www.pokemon-movie.jp/pokemovie_ch/?p=1715