Welcome to PocketMonsters.net
PocketMonsters.net
is a fansite dedicated to all things Pokémon (ポケモン) and Pocket Monsters (ポケットモンスター). We are the premier site for news and information about all aspects of the franchise from around the world. We cover the
Anime
,
indexing the music
, the
Trading Card Game
, the
Games
, the
variety shows
, have a
large imageboard
,
forum
and much more.
Follow us on Twitter
and
Subscribe to our RSS Feed
for the latest updates!
Latest News

16 Apr
15 Apr
13 Apr
12 Apr
Upcoming Episodes
New episodes of the
Pocket Monsters anime
air Thursday evenings at 6:55PM JST and new episodes of the variety show
Pokénchi
air Sunday mornings at 8:00 AM JST on
TV Tokyo
in Japan. Pokémon airs Saturday morning at 9 AM EST and every Saturday and Sunday evening at 7:30 PM on Disney XD in the United States. Pokémon the Series also airs every weekday at 4 PM. Pokémon airs Saturday's at Noon EST on
Teletoon
in Canada. New titles are revealed in various publications such as: TV guides, childrens' magazines, anime magazines, promotional posters and videos, official websites and official television programs. Titles and their translations are added to our
episode guide
and the chart below when the titles are revealed.
Apr 16
Shigeru Miyamoto, Game Designer & Creative Fellow at Nintendo, discusses his work on the Pokémon video games and celebrates 20 years of Pokémon adventures in a short interview that was posted to
The Official Pokémon YouTube Channel
.
Interview
Interview Transcription
Pokémon, congratulation on your 20th anniversary.
At the same time, as one of the producers on the very first Pokémon games, I want to say thank you for all your kind support. Although this year marks the 20th anniversary, I was working with Ishihara-san from about six years before that, testing out what would become the first Pokémon games. The reason it took so long was because we were also working on EarthBound. Once that was finished, we were able to move full speed ahead with Pokémon.
My main contribution was working with Tajiri-san and his team on creating a new way to play using a Nintendo Game Link Cable to connecto two Game Boy systems. Time flew by, and new there are Pokémon games in so many colors! Twenty years. I almost can't believe it. Everyone, thank you for your support.
Apr 15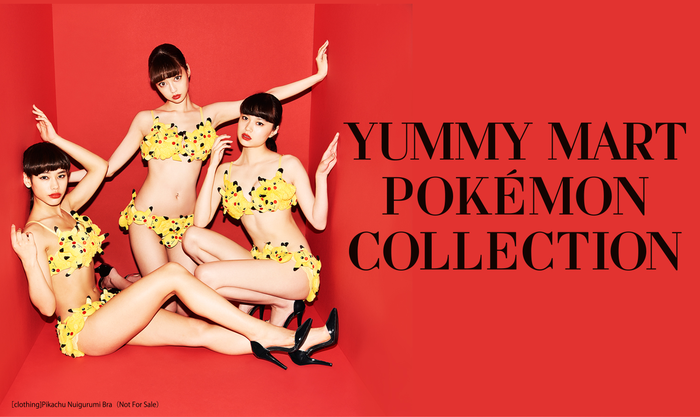 From April 20th, 2016 until May 8th, 2016, Japanese lingerie and women's apparel retailer
Peach John
will begin selling a new line of merchandise called the
Yummy Mart Pokémon Collection
. To celebrate the 20th Anniversary of the Pocket Monsters games, this limited edition collection will be available at Shibuya Parco, Ikebukro Parco and Shibuya 109 locations.
Images of the products and the photoshoot have been added to our Imageboard thread
.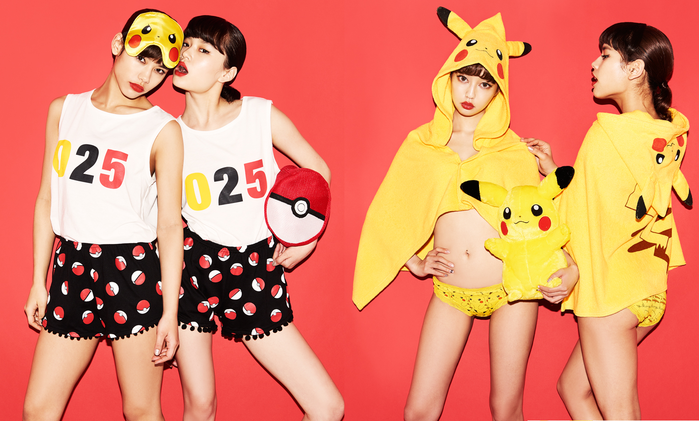 To promote this collection and serve the campaign models,
Sahara Monica (佐原モニカ)
,
Lisa Nakamura (中村里砂)
and Tomoko Nozaki (野崎智子) were photographed in Pikachu Nuigurumi Bra's and panties. The set though is for promotional purposes only and will not be for sale.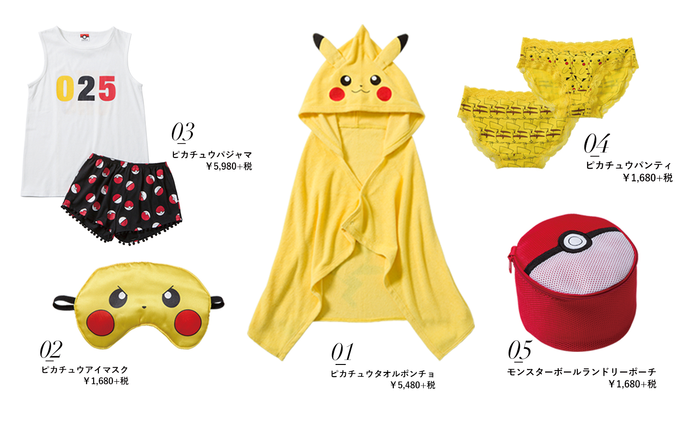 Yummy Mart Pokémon Collection
Pikachu Poncho (ピカチュウオルポンチョ) - 5480yen + tax
Pikachu Eye mask (ピカチュウアイマスク) - 1680yen + tax
Pikachu Pyjamas (ピカチュウパジャマ) - 5980yen + tax
Pikachu Panties (ピカチュウパンティ) - 1680yen + tax
Monster Ball Laundry Pouch (モンスターボールランドリーポーチ) - 1680yen + tax
Sources:
http://www.peachjohn.co.jp/pj/yummymart/pokemon/
and
http://prtimes.jp/main/html/rd/p/000000024.000009170.html

Article edited on 2016-04-15 07:05:47 by Sunain
Apr 15
The Pokémon Camp is now available worldwide on Android devices.
It was previously released only on compatible Apple iOS devices
. The app requires Android 2.3 or higher and 170MB of space to download.
Pokémon Camp now available worldwide on Android devices
The popular Pokémon Camp application is now officially available on Android devices. In Pokémon Camp, younger fans can head off to explore an island whilst interacting with different Pokémon and activities as they learn what it takes to become a Pokémon Trainer! App features include:
Pokémon Theater – Watch exciting videos that are fun for Pokémon fans of all ages. Different videos are regularly added the Pokémon Theater, so make sure to stop by often.
Pokémon TCG – Take part in Pokémon TCG Match, a fun way to discover and test your knowledge of the Pokémon Trading Card Game. You can even earn special Energy pins for your Pin Book!
Pokémon Activities - Play fun activities that teach the basics of Pokémon, such as Poké Ball Throw or the Battle Matchups quiz.
Collect Pins - Earn pins as you progress through Pokémon Camp, then check out the pins you've collected in your Pin Book.
Create awesome pictures - Collect stickers and use them to decorate photos.
Campers can begin their adventure now by downloading the free Pokémon Camp Android app here:
https://play.google.com/store/apps/details?id=com.pokemon.camppokemon&hl=gb

Article edited on 2016-04-15 02:34:18 by Sunain
Apr 15
The official English Pokémon website has confirmed that an official Pokémon booth will be available at PAX East in Boston, Massachusetts, April 22nd to 24th, 2016. Attendees will be able to play
Pokkén Tournament
and the TCG.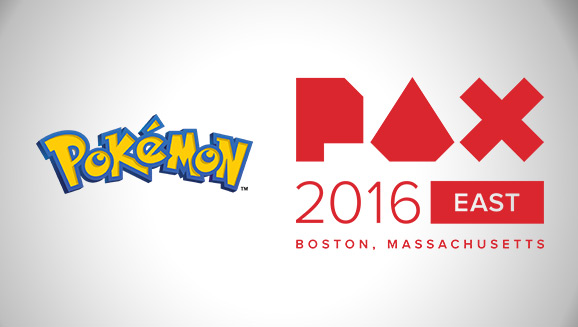 Press Release - Join the Pokémon Fun at PAX East!
Look for the Pokémon booth at the big gaming convention in Boston on .
If you're heading to PAX East for a weekend of gaming action and fun, be sure to stop by the Pokémon booth to participate in lots of fun activities! Come try your hand at the new Pokkén Tournament fighting game for the Wii U, with small-group single-elimination tournaments and king-of-the-hill battles all weekend long. Also, stop by and play the Pokémon Trading Card Game Online, where you'll be able to challenge other players in king-of-the-hill matches featuring decks built by top-tier tournament players! Prizes await the winners of both the Pokkén Tournament and Pokémon TCG Online matches, so come show off your Pokémon gaming skills! Participate in more competitions and events to earn even more prizes throughout the weekend.
Even if you don't plan to play any Pokémon games, keep an eye out for special photo opportunities. Attendees, also be sure to look inside your welcome bags for a special Pokémon TCG Online code card that will unlock a set of Raichu card sleeves, the Power Relay theme deck, and a Raichu card in your game. More fun stuff is in store at the Pokémon booth at PAX East, so swing by and have fun all weekend long!
Sources:
http://www.pokemon.com/us/pokemon-news/join-the-pokemon-fun-at-pax-east/
amd
http://east.paxsite.com/

Article edited on 2016-04-20 02:32:26 by Sunain
Apr 13
Pages from the May issue of Corocoro Comic has leaked online. Translations follow: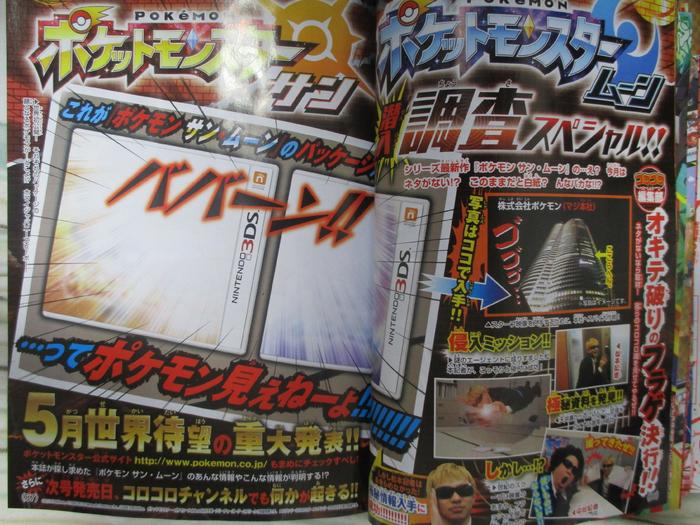 A world premiere! The Pokémon adorning the packaging for the two games are... where!? WHY, JAPANESE PEOPLE!?
This is the packaging for "Pokémon Sun/Moon"...
...but you can't see the Pokémon!!!!!!!!!
This is how the pictures were taken:
A Pocket Monsters Sun/Pocket Monsters Moon Infiltration Spy Special!!
Bringing you the new games, "Pocket Monsters Sun/Moon"'s... what? We don't have anything? We'll just have to print a blank page? No way!
The Corocoro Editorial Team's Illegal Leaking!!
If we don't have any material, we'll have to get some ourselves! We'll show you our Corocoro Spirit!!
In order to obtain a scoop, we went on a spying mission to HQ!
An infiltration mission
Acting like a secret agent, reporter Matsumoto perfectly managed to infiltrate the building!
The confidential material has been found!!
Sneaking in from the ceiling and without making a sound, he took a spectacular photo!
But...
He was so excited about getting the scoop of the century he took the photo with the flash on full!!
But reporter Matsumoto didn't give up!
"I will definitely obtain some information!!!!!!!!!"
The major announcement the world has been waiting for is coming in May!!
Will the magazine have found those bits of info on "Pokémon Sun/Moon" they were searching for then?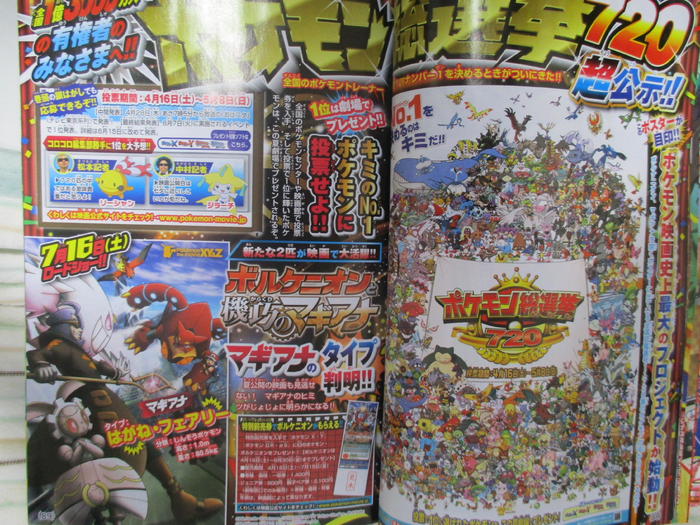 To all 130 million eligible voters in Japan:
A public announcement of the 720 Pokémon running for the Pokémon Elections!!
Pokémon Trainers all over Japan: The time has finally come to choose Number 1!
The one to choose No. 1 is you!
This poster is a landmark:
The biggest project in Pokémon movie history is starting!!
You'll get to choose between the Pokémon on this poster: All Pokémon in the national zukan from number 1-720, the sole exceptions being Volcanion and Magearna!
The winner gets distributed at the theater!!
Vote for your favorite Pokémon!!
Obtain a ballot at Pokémon Centers and movie theaters all over Japan. The Pokémon that wins will be distributed at theaters this summer.
The Corocoro Editorial Team makes their own predictions for the winner:
Reporter Nakamura:
Jirachi: The movie premieres on Tanabata, so it's the season for this guy.
Reporter Matsumoto:
Lisyan: Among all 720 Pokémon, I think it has a certain kinda of value in a way!
Check the official movie website for further information!
Volcanion and the Ingenious Magearna
The two new Pokémon play a major role in the new movie!!
Magearna's typing has been confirmed!!
You can't miss the movie that premieres this summer! We keep shedding further lights on Mageana's secrets!!
Magearna:
Type: Steel/Fairy
Species: Artificial Pokémon
Height: 1.0m
Weight: 80.5kg
Source: Corocoro Comic, May 2016 issue

Article edited on 2016-04-15 06:13:27 by Sunain
Apr 12
A patch for
Pokkén Tournament
is now available. This patch was announced earlier in April but was finally pushed out today. The patch requires 14MB of space in order to download and install.
Pokkén Tournament Version 1.2 Patch Notes:
Correct the issue that enables Shadow Mewtwo to force opponents to continually block by using certain moves repeatedly
Adjust the battle balance of the Support Pokémon Reshiram
Repair several other bugs
Source:
http://www.pokkentournament.com/en-us/article/?id=pokken-tournament-patch-news
Download and Play the Pokkén Tournament Demo!
Get a feel for the new Pokémon fighting game by downloading the demo version from Nintendo eShop.
Battle with Pokémon in a whole new way with Pokkén Tournament, now available for Wii U! If you're excited to give Pokkén Tournament a try, you can download the demo version for free today from Nintendo eShop! You'll only be allowed to play the demo a limited number of times.
Get the Pokkén Tournament demo version from Nintendo eShop now!
Source:
http://www.pokkentournament.com/en-us/article/?id=pokken-tournament-demo-eshop

Article edited on 2016-04-13 03:12:28 by Sunain