Welcome to PocketMonsters.net
PocketMonsters.net
is a fansite dedicated to all things Pokémon (ポケモン) and Pocket Monsters (ポケットモンスター). We are the premier site for news and information about all aspects of the franchise from around the world. We cover the
Anime
,
indexing the music
, the
Trading Card Game
, the
Games
, the
variety shows
, have a
large imageboard
,
forum
and much more.
Follow us on Twitter
and
Subscribe to our RSS Feed
for the latest updates!
Latest News

27 Jun
25 Jun
24 Jun
23 Jun
22 Jun
Upcoming Episodes
New titles are revealed in various publications such as: TV guides, childrens' magazines, anime magazines, promotional posters and videos, official websites and official television programs. Titles and their translations are added to our
episode guide
and the chart below when the titles are revealed.
Jun 27
Pokémon Quest is now available for compatible iOS and Android devices. The Apple version of the game requires iOS 9.0 or later and a compatible with iPhone, iPad or iPod touch. The Android version requires OS 4.4 or higher with 2 GB or more RAM.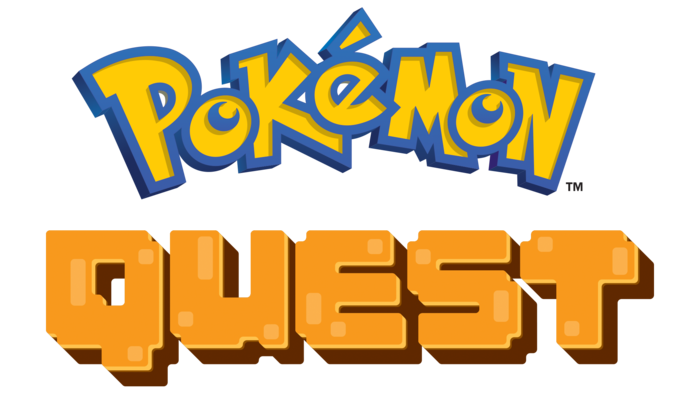 POKÉMON QUEST RPG NOW AVAILABLE FOR MOBILE DEVICES
Already a Smash Hit on Nintendo Switch, the Popular Pokémon Game Launches for iOS and Android Today
The Pokémon Company International announced today that Pokémon Quest is now available for download at no charge on the App Store and Google Play. The rambunctious action RPG first launched on Nintendo Switch in May and has captivated players, achieving more than a million downloads on the system worldwide.
Developed by GAME FREAK inc., Pokémon Quest takes players across Tumblecube Island, where everything's a cube—including the Pokémon. Travel the length and breadth of the island hunting for treasure, battling with wild Pokémon, discovering unexplored territories, and even cooking tasty treats to tempt new Pokémon to join your party. Gameplay features of Pokémon Quest include:
Battle by tapping—Pokémon Quest uses simple touch controls that can be enjoyed by everyone.
Befriend many Pokémon—Use items collected throughout expeditions to befriend a wide array of Pokémon.
Create your Pokémon dream team—Partner with three of your Pokémon friends to battle through diverse environments.
Pokémon unique to you—Use different Power Stones to personalize your Pokémon friends however you want and give them unique stats.
Customize your base camp—Decorate your home with cute and fun collectibles that not only look good, but can provide in-game benefits.
Pokémon Quest also features in-app purchases that enable players to buy additional Power Stones and other useful items that can be used in the game.

Article edited on 2018-06-27 12:51:53 by Sunain
Jun 27
The official Pokémon movie website has updated. Translations follow:
Stage Greetings to Commemorate the Premiere Will be Held Saturday July 14th!
It's been decided that stage greetings to commemorate the premiere of "Pocket Monsters the Movie: Everyone's Story"
will be held according to the below schedule!
You are all cordially invited to apply for an invitation!
Date: Saturday July 14th
Venue: TOHO Cinemas Hibiya
Click here for details
Source:
http://www.pokemon-movie.jp/news/?p=3353
Jun 25
The official Pokémon movie website has updated.
An Imageboard thread has some high resolution pictures of the event
. Translations follow:
Public Dubbing Event Report
The public dubbing event was held somewhere in Tokyo Friday June 22nd.
Mana Ashida, who plays Largo, Rina Kawaei, who plays Lisa,
Masako Nozawa, who plays Hisui, and Shoko Nakagawa, who plays Riku all took the stage.
Ashida, who plays Largo, greeted the audience,
saying "I'm very happy to be able to take part in the world of Pokémon, which I've been very close to since I was little". She gave us such an excellent performance that the sound director commented how "she does a very solid job playing a strong-willed Largo".
She was then asked what she thought of Satoshi as a boy,
and replied "I thought it was really cool how Satoshi always comes to help Largo when she's in trouble, and I also think he's a boy who's able to understand the feelings of people and Pokémon, consider those feelings, reach conclusions and then act upon them, which I find really cool as well."
Kawaei, who plays Lisa, made the following comment about playing the role:
"I don't get many opportunities to do voice acting, so I was really nervous, and since my character is a high schooler she talks in a very energetic and cheery manner that's not the way I normally talk, I felt it was difficult to portray the character with just my voice alone, not using any kind of body language."
She was then asked to compare the character with her own high school life, and replied "I was a really plain and boring high schooler that never took a strong interest in any particular hobby or field, so I thought Lisa was wonderful."
When asked to comment on her role, Nozawa, who plays Hisui,
commented "(Since her name is Hisui) I thought she was a beautiful girl, and then she turned out to be a grandma...", making the room erupt in laughter.
She continued: "At first I thought she might be a scary person, but then it turned out to not be the case at all. When you you watch the movie, I think you'll all realize what a sweet grandma she is. The "lessons" this tale teaches are very easy to understand, so I definitely want all three generations to watch it."
She was then asked to comment on Ashida's, Kawaei's and Nakagawa's performances, and replied "I'm the type of person that watch the others pretty closely when they act", once again causing a burst of laughter. She then gave them her stamp of approval, saying "To be completely honest, it was very good! You could tell they were putting so much heart into it from the way their facial expressions were mimicking those of their character's... it was wonderful!"
Nakagawa was visibly delighted at receiving such a comment from a living legend of the voice acting industry like Nozawa, saying "Even though she's such a veteran, she's still extremely aggressive about getting work, and people all over the world are waiting for her voice... There's no other Japanese like her! She's the coolest veteran ever!"
And Nakagawa herself, who plays Riku, was asked for her thoughts on this year's "Pocket Monsters the Movie: Everyone's Story", which marks her 12th continuous appearance as a guest voice actor. "Everyone's Story truly is "everyone's" story", she replied, speaking with great passion. "I believe that no matter what age or sex you are, if you go watch this movie together with someone that means a lot to you, your bond will become even more special. Last year I went to see the movie 5 times, so this year I want to go see it twice that. And the art truly is wonderful! Satoshi is really animated this year, his bangs are really smooth, and the Rocket Gang look even hotter. The way the Pokémon move their mouths is also really subdued, and since the director is part of the first generation of Pokémon fans just like I am, I feel he's created a wonderful movie filled with love. Please make sure to witness this legend. I think that experiencing it live in the theater will cause it to remain in my heart forever. I want to discuss it to death on social media! And the Pokémon I'm 100% behind this time is Lucky" she said at great speed, all within the one minute time limit she had been given.
And since it's nearly summer, they were all asked what they'd do if they went on a summer date with a Pokémon.
Ashida was the first to answer: "Since it's summer, I thought going to the pool would be a good idea, but since Zeraora is an Electric type, that won't do", she said with a smile. "But I'm a real scaredy-cat, so I'd like it if we went to a haunted house together and Zeraora lit up the house to make it less scary".
Kawaei was next: "Since Eievui is really popular, I'd want to walk around Shibuya while hugging it, showing off to everyone", she said.
Nozawa then answered "I love food, so I'd like to go out for some barbecue (with Waninoko) and discuss today's movie with it".
Finally, a slightly uneasy Nakagawa said "If you mean the Pokémon would be my boyfriend, it'd be the cool Mewtwo-sama. Everyone loves Mewtwo-sama, and I want it to be like I'd have gone out with him, but then he wouldn't reply to my texts even though he had read them and was being active on social media, and I'd be like "Why?!"", causing the room to explode with laughter. "And then I'd be eating ramen all by myself when he'd suddenly show up in my room, and we'd have a movie date at home. And we'd watch Mewtwo Strikes Back and I'd ask him what he thought of it and he'd tell me to shut up and punch me! That's what I want!", she continued without even stopping to catch her breath, her passionate love for Pokémon bringing the room into a state of excitement.
The multi-person dubbing session came to an end with the cheery laughter that resulted. We'd like to thank all the actors for telling us so much about their passionate thoughts of this movie.
The movie's premiere is right around the corner! Please look forward to it, everyone!
Source:
http://www.pokemon-movie.jp/news/?p=3351

Article edited on 2018-06-26 01:21:56 by Adamant
Jun 24
The official Pokémon movie website has updated.
An Imageboard thread has some pictures of the Pokénchi cast members promoting this Collaboration Tie-In with the Video App SNOW
. Translations follow:
Ideal When Watching Sports! Put Pikachu on Your Cheeks! We're Getting Commemorative Movie Premiere SNOW Collaboration Stamps This Year as Well!!!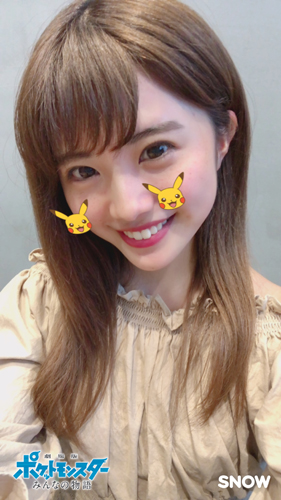 In order to commemorate the premiere of the movie, we're introducing stamps made as a collaboration between the "Pokémon movies" and the AR camera app "SNOW"!
These are stamps that let you paint your face with Pikachu, Eievui and monster balls!
Confetti will flutter around as you move your mouth, so these stamps are ideal for when everyone gathers together to watch sports as well!
And there's more! In late June,
we'll add a second set of stamps that let you transform into Pikachu and Eievui.
And there's more! In early July,
we'll also add a third set of fun stamps that make it possible for the users themselves to be got in a monster ball!
The SNOW collaboration stamps let you totally immerse yourself in the world of Pokémon
before the movie even comes out.
Make sure to use them, okay?
You can download the "SNOW" app here
Source:
http://www.pokemon-movie.jp/news/?p=3340

Article edited on 2018-06-24 10:59:56 by Sunain
Jun 23
The official Pokémon movie website has updated. Translations follow:
A Presentation of Everyone's Mosaic Art, Created by 10000 People
From the "Your Partner Pokémon" drawing contest organized by 12 Shogakukan magazines: "Everyone's Mosaic Art, Created by 10000 People"
To see a larger version, click here
After clicking the above link, click on the plus button on top of the screen that appears to enlarge the picture
and the minus button to shrink it.
If you enter the name you used when sending in your entry in the search window that appears when you click the magnifying glass button,
you can check if your drawing is there.
When entering you name, put a full-width space between your first and last name.
Source:
http://www.pokemon-movie.jp/illust_contest/

Article edited on 2018-06-24 01:49:53 by Adamant
Jun 22
The official Pokémon movie website has updated. Translations follow:
Media Information
Magazines:
Saturday June 23rd: "CanCam" - Interview (Rina Kawaei) and presentation of the movie
Saturday June 23rd: "TV Bros." - Interview (Mana Ashida + Rina Kawaei)
Monday June 25th: "Channel Guide" - Cover appearance + interview (Rina Kawaei)
Wednesday June 27th: "Sakurasaku Life" - Cover appearance + interview (Rina Kawaei)
Saturday June 30th: "Pucchigumi" - Presentation of highlights of Pikachu & Eievui
Saturday June 30th: "TV-kun" - Presentation of movie theater merchandise etc.
*Note that these are the scheduled publication dates, and as such are subject to change without notice.
Source:
http://www.pokemon-movie.jp/news/?p=3336

Article edited on 2018-06-24 12:53:19 by Adamant