Welcome to PocketMonsters.net
PocketMonsters.net
is a fansite dedicated to all things Pokémon (ポケモン) and Pocket Monsters (ポケットモンスター). We are the premier site for news and information about all aspects of the franchise from around the world. We cover the
Anime
,
indexing the music
, the
Trading Card Game
, the
Games
, the
variety shows
, have a
large imageboard
,
forum
and much more.
Follow us on Twitter
and
Subscribe to our RSS Feed
for the latest updates!
Upcoming Episodes
New episodes of the
Pocket Monsters anime
air Thursday evenings at 6:55PM JST and new episodes of the variety show
Pokénchi
air Sunday mornings at 8:00 AM JST on
TV Tokyo
in Japan. Pokémon airs Saturday morning at 9 AM EST and every Saturday and Sunday evening at 7:30 PM on Disney XD in the United States. Pokémon the Series also airs every weekday at 4 PM. Pokémon airs Saturday's at Noon EST on
Teletoon
in Canada. New titles are revealed in various publications such as: TV guides, childrens' magazines, anime magazines, promotional posters and videos, official websites and official television programs. Titles and their translations are added to our
episode guide
and the chart below when the titles are revealed.
Jan 24
The latest episode of Pokémon Sunday,
Diamond & Pearl Returns 'Pokémon Hunter J!' / Celebrities' Pokémon Daisuki Club (3) / Pokémon Game Arena 'Pokémon Card Game' (ダイヤモンド&パールリターンズ「ポケモンハンターJ!」有名人ポケモンだいすきクラブ(3)ポケモンゲームアリーナ「ポケモンカードゲーム」)
, aired on Sunday in Japan.
This weeks Pokémon Revival episode is ポケモンハンターJ!(Pokémon Hunter J!) which is the twentieth episode of Diamond & Pearl. Satoshi and friends are continuing their journey to Floaroma Town when they encounter Pokemon Hunter J attempting to steal a Sirnight. Can Satoshi and his stop Pokemon Hunter J?
In today's Pokemon Sunday, Professor Red brings out his latest invention, the RED047 - The Thunderbolt Experience Machine (10まんボルト ト体験マシェン). He demonstrates, while dressed up like Pikachu, that with his machine, he can shock the crew just like Pikachu shocked Satoshi in the first episode of the anime. The Pokemon Sunday crew has a good laugh as they are all shocked by Professor Red.
Pictures
from this episode have been added to the
episode guide
. You can can also
comment and discuss
this episode. Also be sure to rate this and other episodes in the
episode guide
.

Article edited on 2009-01-24 11:09:01 by Sunain
Jan 23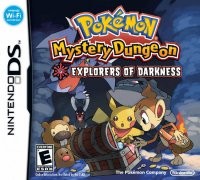 Whether you own either Pokemon Mystery Dungeon: Explorers of Time or Pokemon Mystery Dungeon: Explorers of Darkness, you can now recruit Burmy (Sandy Cloak), Butterfree and Beedrill - thanks to these new online missions! In addition, each recruited Pokemon will hand you a valuable item!
Burmy (Sandy Cloak) Online Mission
Burmy's Brown Gummi has been stolen by Garchomp! Retrieve it from the Mystifying Forest. A Ground Dust also awaits.
Butterfree Mission
Join Butterfree on an excursion through Spatial Rift. You'll also receive the Sky Dust.
Bedrill Mission
Beedrill craves an Oran Berry. Deliver it to Beedrill in Dark Crater to complete the mission and receive the Poison Dust.
Source:
http://www.pokemon.com/
Jan 22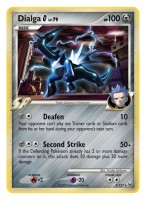 The official TCG website has posted information about another new card to the 'Platinum' set. Click on the card to get a higher resolution.
Owned by Team Galactic's Cyrus, Dialga [G] (Platinum, 7/127) is a fearsome Pokémon with some great attacks. Its Deafen attack lands for only 10 damage, but it prevents your opponent from playing any Trainer or Stadium cards from his or her hand during the next turn. This is a great way to stall your opponent's setup while you continue to work on your own strategies. Meanwhile, Dialga [G]'s Second Strike attack delivers a guaranteed 50 damage, and will hit for 20 more if the Defending Pokémon already has 2 or more damage counters on it. Cyrus certainly travels with some powerhouse Pokémon!

Article edited on 2009-01-22 04:47:26 by Sunain
Jan 22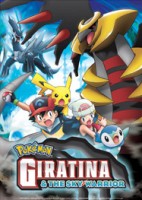 The
French dubbed DVD of Movie 11
has been announced and a release date has been set. Pokémon: Giratina et le gardien du ciel (Pokémon: Giratina and the Guardian of the Sky) will be released on DVD in France on April 8th, 2009 according to alapage.com.
Last week, the official English website for Giratina and the Sky Warrior was made public, but no set date for the DVD was announced. Recently, France has been ahead of the English dub for DVD releases as the entire season of Pokemon Diamond and Pearl is already available for purchase in
boxsets
.
Source:
alapage.com

Article edited on 2009-01-22 04:30:35 by Sunain
Jan 22
According to TSUTAYA online, the limited edition
PIKACHU THE MOVIE BOX 1998-2002
&
PIKACHU THE MOVIE BOX 2003-2006
DVD's will be reissued and available for purchase March 21, 2009.
The contents are exactly the same as the first pressing release. Also unchanged from the previous release is the price which will be 12,600 yen (including tax).
TSUTAYA online/劇場版ポケットモンスター PIKACHU THE MOVIE BOX 復刻版(上段「1998-2002」、下段「2003-2006」)
http://shop.tsutaya.co.jp/dvd/product/2021100000637/
http://shop.tsutaya.co.jp/dvd/product/2021100000644/
More information about these DVD's is available in the
DVD database.
For those of you that didn't pick up these sets the first time, now is the perfect opportunity to get these great sets.

Article edited on 2011-12-21 01:12:43 by Sunain
Jan 22
Toys R Us has announced on their Facebook page that Shaymin will be available to download starting in February at participating stores.
"Bring your Nintendo DS and your Pokemon Diamond or Pokemon Pearl Game Card to Toys "R" Us to receive Shaymin! (in-store only). PLUS… Get $5 Off ANY Pokémon DS Game title! & Get a Free Pokémon Poster!
Start Time:
Sunday, February 8, 2009 at 9:00am
End Time:
Saturday, February 14, 2009 at 9:00pm
Limit one coupon per participant. Limited quantities available. In-store only. "
Source:
http://www.facebook.com/event.php?eid=46936273745

Article edited on 2009-01-22 03:18:21 by Sunain