Welcome to PocketMonsters.net
PocketMonsters.net
is a fansite dedicated to all things Pokémon (ポケモン) and Pocket Monsters (ポケットモンスター). We are the premier site for news and information about all aspects of the franchise from around the world. We cover the
Anime
,
indexing the music
, the
Trading Card Game
, the
Games
, the
variety shows
, have a
large imageboard
,
forum
and much more.
Follow us on Twitter
and
Subscribe to our RSS Feed
for the latest updates!
Latest News

12 Dec
11 Dec
09 Dec
07 Dec
05 Dec
Upcoming Episodes
New episodes of the
Pocket Monsters anime
air Thursday evenings at 6:55PM JST and new episodes of the variety show
Pokénchi
air Sunday mornings at 8:00 AM JST on
TV Tokyo
in Japan. Pokémon airs Saturday morning at 9 AM EST and every Saturday and Sunday evening at 7:30 PM on Disney XD in the United States. Pokémon the Series also airs every weekday at 4 PM. Pokémon airs Saturday's at Noon EST on
Teletoon
in Canada. New titles are revealed in various publications such as: TV guides, childrens' magazines, anime magazines, promotional posters and videos, official websites and official television programs. Titles and their translations are added to our
episode guide
and the chart below when the titles are revealed.
Date
Title(s)
May 31 2018
SM 77: クチナシの大試練!ルガルガン覚醒!!


Kuchinashi's Grand Trial! The Awakening of Lugarugan!!

Jun 07 2018
SM 78: 激突ウルトラビースト!ドンドンバチバチ大作戦!!


Ultra Beast Clash! Operation: Boom Boom Crackle!!

Jul 13 2018
Movie 21: みんなの物語


Everyone's Story
Dec 12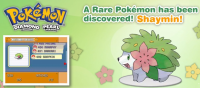 Shaymin, the 492nd Pokemon, is the newest mysterious Pokemon. Like Manaphy and Darkrai before it, Shaymin does not appear in normal gameplay in Pokemon Diamond and Pearl. It is said that in some regions, it is customary to give a Shaymin-shaped flower bouquet as a thank-you gift. Shaymin stars in the next Pokemon movie. How do you get Shaymin in your Pokemon Diamond or Pokemon Pearl game?
Shaymin's Exclusive Move is Seed Flare!
Seed Flare is a move that only Shaymin can use. Generating a shockwave from Shaymin's body, Seed Flare has a staggering 120 Power and occasionally lowers the foe's Special Defense.
Shaymin's Ability is Natural Cure!
Shaymin has a very useful Ability called Natural Cure. Natural Cure restores the Pokemon status conditions (such as Sleep or Poisoned) which the Pokemon is withdrawn from battle, or after the battle ends.
Source:
http://www.pokemon.com/

Article edited on 2008-12-12 10:58:49 by Sunain
Dec 12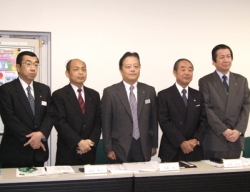 The December 8th company meeting for SHOWA NOTE Co., Ltd. headquartered in Tokyo, Japan explained that the sales of Pokemon products has been good and they have decided to expand their line of merchandise.
In a slumping economy, the company reported that the sales of character related merchandise is not affected and the sales of Pokemon products are outstanding. Therefore SHOWA NOTE Co., Ltd. is going to increase their production 30 percent next year, hoping to expand the company's products market share rapidly.
Showa Note is a large distributor of Pokemon related stationary products in Japan. Some of their merchandise can be
viewed here.
Source:
http://www.nichima.co.jp/news/entry/186.html
Dec 11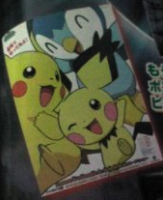 A picture from the December 2008 edition of Corocoro has leaked onto the Japanese forum 2ch. The picture is a poster for the new upcoming 12th Pocket Monsters movie. The Movie 12 website officially launched today and the tentatively titled movie is called 'To the Conquest of Space and Time' 「超克の時空へ」 It is scheduled to be released in Japanese theaters on July 18, 2009. The official website also posted a small trailer which shows that 'Platinum' has also been added to the title.
The full movie title will be announced sometime in the spring. Director Kunihiko Yuyama announced in the DP97 special that "the key Pokémon will be an Electric Type." With the revealing of Pichu on the poster, this seems to indicate that a Pichu will have a large role in the upcoming movie. The offical website posted more information about the Pichu. It is a Female, 'Notched-Ear Pichu' Its left-ear is a bit different that a normal Pichu.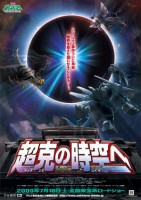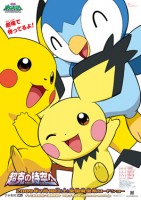 The offical website also posted the teaser posters for the upcoming movie.
Source:
http://www.pokemon-movie.jp/

Article edited on 2008-12-15 06:24:12 by Sunain
Dec 09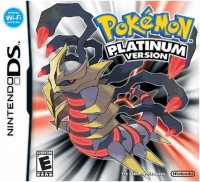 The release date and cover art for the upcoming Nintendo DS game Pokemon Platinum has been released. Pokemon Platinum is tentatively scheduled for release in North America on March 22nd, 2009. Below is a description of some of the new features that Pokemon Platinum will include.
Distortion World:
As the story unfolds, players will encounter the mysterious new Distortion World, an area unlike any seen in a Pokémon video game before. The normal rules of time and space don't apply to this world, allowing the area to push the limits of the Pokémon game world. Players leap from pieces of land suspended in midair, walk sideways and even upside-down. The Distortion World, where the powerful Giratina resides, is somehow connected to the regular Pokémon world.
The Battle Frontier:
The Battle Frontier area (first introduced in Pokémon Emerald) has been added to Sinnoh, containing five new Battle Facilities for Trainers to challenge, each with its own special rules. Each facility is run by one of five new "Frontier Brains" (characters that are similar to Gym Leaders). The new battle formats in each facility allow players to challenge themselves in new ways.
Wi-Fi Plaza:
Players can explore the new Wi-Fi Plaza – a virtual Pokémon amusement park filled with activities, including three new mini-games where up to 4 players can compete at once. Up to 20 players from around the world can connect together in the Wi-Fi Plaza to experience games, take part in parades and even see a fireworks show.
Enhanced Storyline:
New characters add to the story, including Charon, a new Commander of the villainous Team Galactic (who is suspicious even by their standards) and an undercover detective, codenamed "Looker," who is in pursuit of Team Galactic. Looker will help you throughout your adventure. Team Galactic has a new scheme– they've turned their sights on all three Legendary titans of Sinnoh – Dialga, Palkia and Giratina (all three Pokémon appear together in this game for the first time).
Source:
http://www.circuitcity.com/

Article edited on 2008-12-09 10:47:09 by Sunain
Dec 07
Below are brief summaries from upcoming episodes of Pocket Monsters Diamond and Pearl. Thanks to Sushi for translating them.
12/18 ラムパルドVSトリデプス!!
ミオジムのジムリーダー、トウガンとその息子でクロガネジムのジムリーダー、ヒョウタはかせきから復活させたポケモンを使いこなす親子。2人は、互いに自分のほうがかせき好きだと主張して譲らず、ついにバトルを始めてしまう。そこへ、トウガンの帰りを聞きつけたサトシが、ジム戦を申し込みにやってきて……。

Rampard VS Trideps!!
The Gym Leader of Canalave City, Byron, and his son Roark, the Gym Leader of Oreburgh City, use Pokémon revived from fossils. Both think they like fossils more than the other and end up battling. Then Satoshi, who has heard of Byron's return, comes to ask for a Gym Battle...
12/25 ミオジム戦!はがねのバトル!!
サトシは待ちに待ったトウガンとのジム戦に挑む。一体目にドーミラーを選んだトウガンに対し、サトシはヒコザルで応戦。"ほのおのわざ〟で一気に攻めるが、トウガンの守りを固める戦術を前に、なかなか決定的なダメージを与えられない。

Mio Gym Match! Steel Battle!!
Satoshi's long-awaited Gym Battle with Byron begins. Satoshi uses Chimchar against Byron's first Pokémon, Bronzor. He tries to dominate the battle with Fire attacks, but Byron's defense-oriented battling style prevents him from dealing much damage...
1/1 放送休止(予想通り)
- Break on January 1st -
1/8 迷子のホエルコ!
突然現れたルクシオに、ポケモンフーズを奪われてしまったサトシたち。ルクシオを追って地下水路にたどり着いた彼らは、本来なら海にいるはずの"たまくじらポケモン〟ホエルコにポケモンフーズを与えているルクシオを見つける。

The Stray Hoeruko!
All of a sudden, a Luxio appears and steals all the Pokémon food. They follow Luxio into a culvert and find it feeding the Pokémon food to a Wailmer, a "Ball Whale Pokémon" that usually lives in the sea...
Source:
http://pokeani.com/cbbs/

Article edited on 2008-12-07 11:15:11 by Sunain
Dec 05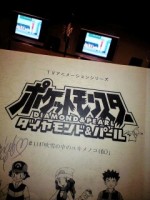 Rica Matsumoto, the voice actor for Satoshi in Japan, has posted a picture of a script from an upcoming episode on her blog. The episode, Yukimenoko in a Snowstorm 吹雪の中のユキメノコ(仮) will air sometime in 2009. The script cover says the episode is #114 and that the title is tentative.
Source:
http://ameblo.jp/ricachanhouse/entry-10173971434.html#main

Article edited on 2008-12-05 01:08:48 by Sunain