Keldeo C-Gear / Movie Event Keldeo Details
To celebrate the launch of
Pocket Monsters Black 2 and White 2
, a Resolution Form Keldeo C-Gear skin will be made available to all players of the Japanese version of Black 2 and White 2. A standard form Keldeo C-Gear skin will also be made available for players of
Pocket Monsters Black and White
. No password is required to unlock either C-Gear skin. Both C-Gear skins will be available in Japan from
June 23rd, 2012 until September 25th, 2012
.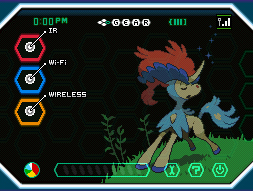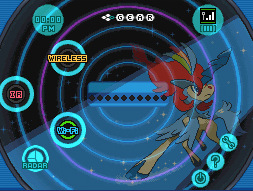 Our C-Gear page for Pocket Monsters Black and White has been updated
.
A new C-Gear page for Pocket Monsters Black 2 White 2 has been created
and will be updated as new skins are announced.
Movie Event Keldeo Details
As previously announced
, players of
Pocket Monsters Black 2 and White 2
and
Pocket Monsters Black and White
that pre-order tickets for this summers
Pocket Monster Movie 15 - Kyurem VS the Sacred Swordsman Keldeo (キュレムVS聖剣士ケルディオ)
can receive a special Keldeo event Pokémon.
The details of Keldeo are as follows:
Pokémon
Info
Level: 15
OT: Shokotan (しょこたん)
Poké ball: Cherish Ball
Ribbon: Wish Ribbon
Ability: Justified
Held Item: PP Max
Attack 1: Aqua Jet
Attack 2: Leer
Attack 3: Double Kick
Attack 4: BubbleBeam
Keldeo Usual Form / Resolution Form
The official Japanese website has now released more details about Keldeo. Keldeo can change into a new form called its Resolution Form (かくごのすがた) only when it knows the move
Secret Sword
. When that move is replaced, Keldeo will revert back to its Usual form (いつものすがた).
| Usual Form | Resolution Form |
| --- | --- |
| | |
Black 2 White 2 Secret Sword Event
In B2W2, a special event will occur in the forest by the second town, Sanagi Town, resulting in Keldeo learning the special move Secret Sword. Immediately after learning the move, Keldeo will transform into its Resolution Form. Keldeo will be able to re-learn Secret Sword by doing this event again. You will not be able to trade a Resolution Form Keldeo to Black and White. If you wish to trade Keldeo to one of these games, you must revert it to its Usual Form by forgetting Secret Sword. To make Keldeo learn Secret Sword in Black and White, put Cobalon, Terrakion and Virizion on your team and head to the Moor of Sekka! However, this will not make Keldeo change to its Resolution Form.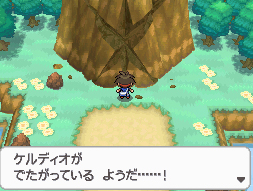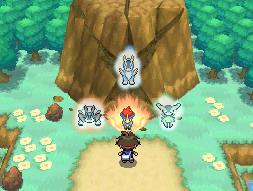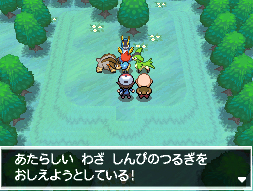 Source:
http://www.pokemon.co.jp/ex/keldeo/