First Global Mission: Catch 100 million Pokémon / Memento and Parting Shot Temporarily Restricted
The Pokémon Company International announced via the Pokémon Global Link website that the first Global Mission will take place from
November 29th, 2016 until December 12th, 2016 at 23:59 UTC
. Also announced was that Memento and Parting Shot have been temporarily restricted on Battle Spot due to a game crashing bug.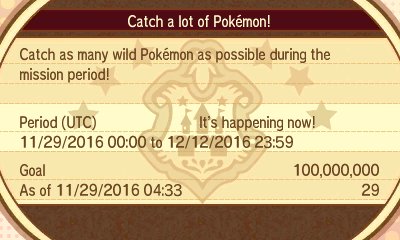 Memento and Parting Shot Moves Temporarily Restricted from Battle Spot
We've discovered a bug that affects the moves Memento and Parting Shot during online battles using Battle Spot. While we fix this bug, Memento and Parting Shot moves will be prohibited in Free Battles, Rating Battles, and Online Tournaments in Battle Spot. If any of the Pokémon in your Battle Team has either of these moves, you won't be able to start a battle.
Source:
https://3ds.pokemon-gl.com/information/fa6c0e0c-b718-4081-a4ba-f3082087f538
Work Together to Complete Global Missions
Band together with your fellow Trainers in global missions, a new feature of the Pokémon Global Link. Global missions are limited-time events where everyone tries to meet a collective goal. If the goal is met, everyone who participated gets a global mission reward! Don't worry if the goal isn't reached—there will still be a global mission participation prize for everyone who chipped in.
The first global mission will be for Trainers to catch as many Pokémon as they can to reach the collective goal. If everyone combines their efforts to catch 100 million Pokémon between November 29 and December 13, 2016, each participant will receive 1,000 Festival Coins as a reward. If the goal isn't met, Trainers who contributed will still receive a participation prize of 100 Festival Coins. To be sure that your Pokémon bounty gets included in the final count, be sure to use Game Sync by December 13.
Good luck in completing the first global mission, and remember to check back at the Pokémon Global Link for more global missions coming soon.
Source:
https://3ds.pokemon-gl.com/information/daa0cde7-1e54-41d1-95de-19571cad0465