Corocoro / Japanese Scans
February 2018 Corocoro
File:
15134426480048.jpg
(616px x 592px - 397.21 KiB)
Posted by: Sunain on 12/16/17 11:44:08 (No. 28181)
February 2018 Corocoro
A serial code for Arceus was distributed in the February 2018 issue of Corocoro released on February 15th, 2018 to players of Pocket Monsters Ultra Sun and Ultra Moon.
Re: February 2018 Corocoro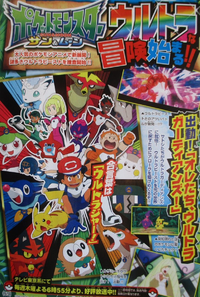 >> Posted by: Sunain on 01/11/18 09:00:44 (No.
28200
)
File:
15156792440068.jpg
(807px x 1200px - 284.07 KiB)
AN ULTRA ADVENTURE BEGINS!!
New developments take place in the super popular Pokémon anime!
The search for the highly mysterious Ultra Beasts begins!!

"Set Off! We Are The Ultra Guardians!!"
Satoshi and the others have been inaugurated as Ultra Guardians! They will travel around Alola in order to return the Ultra beasts to the world they came from!!

The keyword is "Ultrager"!

*Fierce battles with Ultra Beasts break out...!!?
*Pikachu gets startled by a mysterious Pokémon that suddenly appears!
*Lusamine gives Satoshi and the others their orders! Set off!
PokeFan 56 (ポケモンファン 第56号)
File:
15120126360084.jpg
(1952px x 1243px - 410.40 KiB)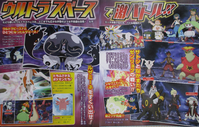 Posted by: Sunain on 11/29/17 22:30:36 (No. 28149)
PokeFan 56 (ポケモンファン 第56号)
Fierce battles in the Ultra Space!!
The place the group arrives in, the Ultra Space, is a mysterious, space-like plane that stretches out as far as the eye can see! The battle to save Lusamine is on!!

Satoshi and his friends fight with their fully powered strength!!
Satoshi and the others take up the chase in order to save Lusamine. But Lusamine's Pokémon block their path forward! Work together to clear the way!

Silvady plays a major role!!
Silvady was created to fight Ultra Beasts. It's a very reliable fighter!

The creation of a new Z-Move?!
Is this Amamaiko and Mokuroh's combo Z-move?! Plunge at them!!

Lusamine has become one with the Ultra Beast!
Lusamine has been brought inside the Ultra Beast's body and the two have become one! How can she be saved?!
Blurb: There are lots of Ultra Beasts in the Ultra Space!

Rescue Lusamine!
Lusamine sends out her Pokémon to keep Satoshi and Lilie away. Does she have some kind of reason for not trying to escape?!

These are the Pokémon that stand in the group's way!
Satoshi and the others split up to fight Lusamine's Pokémon! Lugarugan engages in a fierce fight against Pixy!
Absol
Ennewt
Dredear
Milokaross
Mumage
Pixy: The Pippi that Lilie was also really fond of has evolved into a Pixy! It's a tough fighter!!
PokeFan 55 (ポケモンファン 第55号)
File:
15066329040045.png
(1920px x 1080px - 2.57 MiB)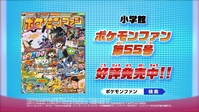 Posted by: Sunain on 09/28/17 17:08:24 (No. 27888)
ポケモンファン 第55号
PokeFan 55
https://www.shogakukan.co.jp/magazines/1386011117

ポケモン大好きなみんなのための雑誌!!
ポケモンのことならポケモンファンにおまかせ! アニメ、映画、ホビー、ファッション、ゲームなどポケモンの情報が盛りだくさん。しかも毎号豪華な特別付録も付いている!! まんが「ポケモン4コマ大百科」も連載中!!

〈 目次 〉
・ ポケモンファン特製『ポケモン ウルトラサン・ウルトラムーン』ウルトラSMボード
・ 1 ポケモンファン限定 ガオーレチケット「ネクロズマとくろきなかまたちコース」
・ 2 ポケモンファン特製 ハロウィン★ボディペタ★シール
・ 3 別冊 ポケモンガオーレダッシュ2だんハンドブック
・ 1 「ポケットモンスターSPECIAL」スペシャルイラストポスター
・ 2 ポケモンかけるかな?ポスター
・ 遊べる引き出し ポケモン見~つけたっ!
・ 3DS ゲーム『ポケットモンスター ウルトラサン・ウルトラムーン』ウルトラ新冒険特報!!!
・ 新生!! Zパワーリング降臨!!!
・ テレビアニメ「ポケットモンスター サン&ムーン」サトシ伝説のポケモンと出会う!!
・ ポケモンくらべる図鑑
・ ガオーレダッシュ2だん 2大注目ポイント!
・ モンコレ研究所
・ ロトム図鑑新たにあらわる!
・ ニャース気球プロジェクト
・ ポケモン超だじゃれクラブ
・ ポケモンカードゲーム サン&ムーン 最強ウルトラビーストしゅう来!!
・ ポケモンファン大注目! ホビー&グッズ大集合!!
・ 『ポッ拳DX』激熱プレイレポート
・ ポケとる
・ ポケモンスマホアプリ塾
・ ポケプラ
・ ポケモンの家あつまる? ポケんち日記
・ おはスタ「ポケモン部」
・ ポケモンウィズユー さい新ニュース!
・ ポケモンセンターつうしん
・ キッズステーション ポケモンニュース!!
・ (プレゼント)ゼンリョクでゲットだぜ! 秋のポケモン大豊作けん賞
・ ポケットモンスターSPECIAL サン・ムーン
・ ポケモン4コマ大百科 ノリノリダンススペシャル編
・ ポケモンクイズ&パズルランド ピカチュウにおまかせ!
・ ポケモン ニュースでニャース!!
・ ポケモン ファン★ファンクラブ
・ ★ポケモンの本のお知らせ
・ ★ふろく「ハロウィン★ボディペタ★シール」の使い方
・ ★そのほかのふろくの遊び方
・ ★次号予告
・ ★アンケート
・ ★アンケートはがき
Telubi-kun October 2017 てれびくん 2017年10月号
File:
15039347780049.jpg
(744px x 979px - 620.84 KiB)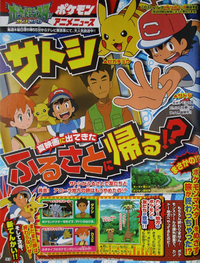 Posted by: Sunain on 08/28/17 11:39:38 (No. 27611)
Telubi-kun October 2017 てれびくん 2017年10月号
Satoshi is returning to his hometown, the one that appeared in the movie?!
Satoshi is reuniting with his friends in his hometown?! Is his journey in Alola already over?!

It can't be?!
Is his journey towards becoming a Pokémon Master over?!
Of course it isn't! He's come to the Kanto region as part of an extracurricular class at the Pokémon School!

His friends and Pokémon from the Kanto region appear!!
He'll meet the friends and Pokémon he competed against in the past, too!
(blurb: They're both Nassy, but they look THIS extremely different)

Takeshi:
Satoshi's friend, whose goal it is to become a Pokémon Doctor.

Kasumi:
A girl whose specialty is Water Pokémon!

Satoshi:
Currently on an adventure with a dream of befriending every single Pokémon!!

The journey is far from over!
And next issue, we'll present new developments!!

This story will air September 14th and 21st!
(broadcast date and time varies depending on area)
PokeFan 54
File:
15000413570019.jpg
(903px x 1200px - 267.90 KiB)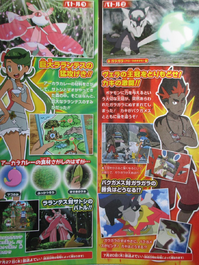 Posted by: Sunain on 07/14/17 10:09:17 (No. 27385)
ポケモンファン 第54号
PokeFan 54

Battle 3: The fierce attack of a gigantic Rarantes!!
Satoshi and Mao have gone into a forest to search for the ingredients for Akala Curry. But incredibly enough, it turns out it was the nest of a gigantic Rarantes!!

They were supposed to be searching for ingredients for Akala Curry, but...
*Mago Berry
*Revival Herb
*Miracle Seed

A battle between Rarantes and Satoshi!!
It's bigger than normal Rarantes, and its power is extraordinary! Can he win?!

This episode is planned to air Thursday July 27th!