Sun and Moon
Sun and Moon - Anime Language Screenshots
File:
14863472280083.png
(1280px x 720px - 700.14 KiB)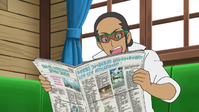 Posted by: Sunain on 02/05/17 21:13:48 (No. 26799)
Sun and Moon - Anime Language Screenshots
https://www.pocketmonsters.net/content/Anime_Language
SM 10 @ 0:56
donna bouken va materu no ka?
iyo iyo hajimaru zo!
SM 13 - The Great Alola Pancake Race!
File:
14859180740073.jpg
(882px x 604px - 112.53 KiB)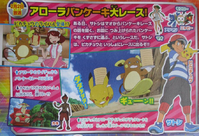 Posted by: Sunain on 01/31/17 22:01:14 (No. 26794)
One day, Mao tells Satoshi about the Pancake Race. This is a race where you carry pancakes stacked up on a plate without the stack collapsing. Satoshi enters the race together with Pikachu!!
Top left picture: An Alolan Raichu enters the Pancake Race as well!
Bottom left picture: Kaki enters together with Bakugames, but isn't it a bit heavy?!
Bottom picture: It ends up being a dead heat between Pikachu and the Alola Raichu! Which of them will make it to the goal first?!
SM 14 - The Fruit of Courage: Lilie and Rokon!
File:
14859179160057.jpg
(584px x 377px - 230.41 KiB)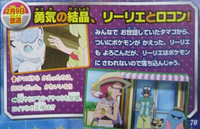 Posted by: Sunain on 01/31/17 21:58:36 (No. 26793)
A Pokémon has finally hatched from the egg everyone have been taking care of. Lilie is also happy about this, but since she's unable to touch Pokémon, she then ends up getting sad.
Top left picture: What hatched from the egg was a Rokon. Isn't it cute?
Bottom right picture: Some people that feel rather ominous for some reason appear. Who could they be?!