Apr 21
The official Pokémon movie blog has updated. Translations of the new entry follows:
Quote Central: Memorable Lines from Pokémon Movies #1
Let's do this!
Let's go save the world!
-Satoshi, "The Explosive Birth of the Mythical Pokémon Lugia", 1999
The world's ecosystem is out of balance and the world is on the brink of collapse!
But then Satoshi, who has been chosen as "The Grand Controller", speaks this line, determined to take on this crisis.
Source:
http://www.pokemon-movie.jp/pokemovie_ch/?p=251

Article edited on 2015-04-21 02:41:40 by Adamant
Apr 21
Nintendo has announced that Nintendo 3DS Firmware 9.7.0-25 is available to download. The firmware "further improvements to overall system stability and other minor adjustments have been made to enhance the user experience." The official Japanese Pokémon website has also confirmed the firmware fixes the crashing issue for
Pokémon Rumble World
on Nintendo 3DS XL and the New Nintendo 3DS. It is recommended all Nintendo 3DS owners update to the latest firmware.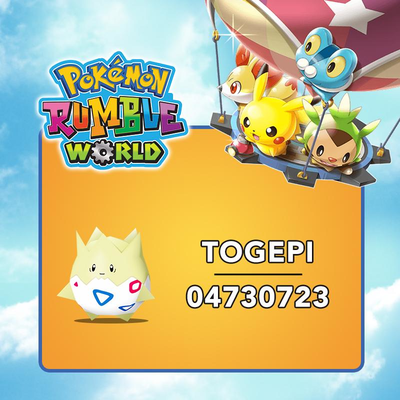 Nintendo of America also tweeted a new password for
Pokémon Rumble World
to unlock Togepi for North American games. The password is
04730723
.
We have added a passwords page and will update it as new codes officially become available
.
Sources:
https://twitter.com/NintendoAmerica/status/590299080384872449
,
http://www.pokemon.co.jp/info/2015/04/150421_at01.html
and
http://en-americas-support.nintendo.com/app/answers/detail/a_id/667/~/information-on-recent-system-and-feature-updates

Article edited on 2015-04-21 02:15:49 by Sunain
Apr 20
Pokémon Shuffle Version 1.1.10
is available for players of the game and the patch adds the
Pokémon Wild Safari
. In the Pokémon Safari, players randomly encounter a Pokémon but they don't know which one until the Pokémon Safari begins. Some of these Pokémon are harder to meet than others and players need to attempt to encounter all the Pokémon before the Pokémon Safari disappears! There is no "Optimize" option in Pokémon Safari, so players need to choose the most powerful Pokémon for the encounter.
The Pokémon Wild Safari will be available from April 20th, 2015 at 06:00 UTC until May 2, 2015 at 06:00 UTC.
Details of this event have been added to our Pokémon Wild Safari page
.
Sources:
http://www.pokemonshuffle.com/en-us/connectivity#daily
and
http://www.pokemon.co.jp/ex/poketoru/news/post.php/31/

Article edited on 2015-04-20 02:26:20 by Sunain
Apr 20
The official Pokémon movie blog has updated. Translations of the new entry follows:
Today's Hoopa #1
Hoopa takes a walk in the forest.
Source:
http://www.pokemon-movie.jp/pokemovie_ch/?p=186

Article edited on 2015-04-20 08:30:53 by Adamant
Apr 17
The official Pokémon Tretta website has announced the 16th set for the series.
Pokémon Tretta Ultimate Set 2: Glaciate! Kyurem's Assault (ポケモントレッタ アルティメット2弾 こごえるせかい! キュレム強襲)
will be available starting May 14th, 2015. The set will feature the first ever Ultimate Class Tretta for Kyurem and first ever Master Class Tretta for Ho-oh.
Preliminary details have been added to our Tretta page and will be updated when information is announced
.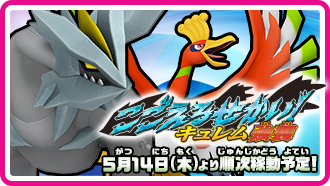 Source:
http://www.pokemontretta.com/tretta/t16/index.html

Article edited on 2015-04-17 10:27:11 by Sunain
Apr 17
The official Pokémon movie website has added a new blog site where background information on the movie and other similar material will be posted. Translations of the currently added entries follow:
Location Scouting Report #1: To the Desert City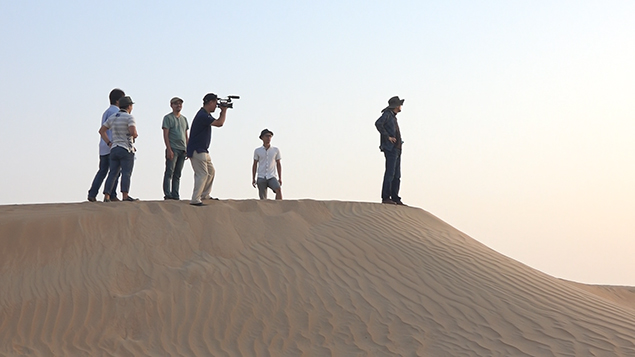 Pokémon the Movie XY 2: "The Archdjinni of Rings: Hoopa" premieres this summer.
It's set in "Désser City", a desert city.
We wanted Desser City to be an urban city lined with tall, modern buildings despite being surrounded by desert.
The place Director Yuyama chose to collect material from for this movie was "Dubai".
Dubai is a big city located in the middle of a flat desert, overlooking the Persian Gulf!
It's a leading city in terms of both trade, transport and tourism and is lined with huge skyscrapers, including the famous "Burj Khalifa", the tallest building in the world.
But what kind of journey
did
we have while location scouting?
If you read this report while picturing the scenes you've seen from "The Archdjinni of Rings: Hoopa", you might enjoy the movie even more.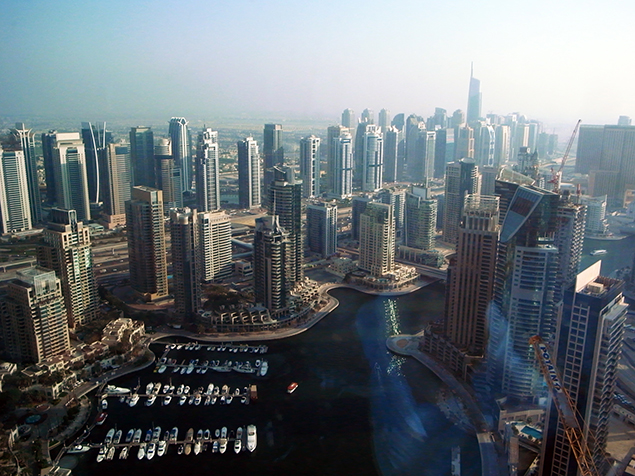 Before we set off to Dubai, let's talk a little about the city:
Dubai is one of the United Arab Emirates (UAE).
The UAE is what we call a "federal state", a country that consists of a total of 7 individual emirates, including Abu Dhabi and Sharjah.
Dubai holds world records in a number of fields!
In addition to being the location of the world's tallest building, as mentioned earlier (the Burj Khalifa), it also has the world's largest fountain, the world's largest artificial island, and the list goes on...!
It takes advantage of being the best in the world at so many things and has become a global tourist destination and a major resort city.
"A dazzling city-state filled with skyscrapers, Dubai can proudly proclaim itself the single most prosperous place in the Middle East (source: Wikipedia)"
Wow, that's so cool!
It's a desert metropolis.
The scouting team, led by Director Yuyama, set off for Dubai in mid-September, while the previous movie, "The Cocoon of Destruction and Diancie" was still screening in theaters.
At 30 minutes past midnight, they boarded Flight EK313 from Haneda to the Emirates for their approx. 11 hour 30 minutes ride.
They arrived at Dubai International Airport at 6:15am local time, nearly exactly on schedule.
Appear! Movie Details #1: "Barza"'s Model Sheets Appear!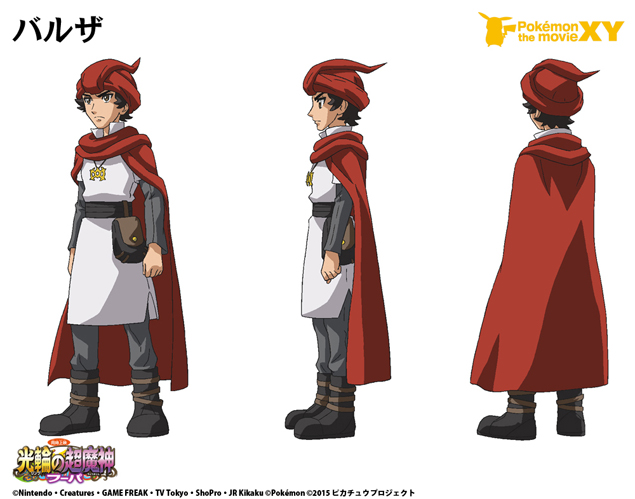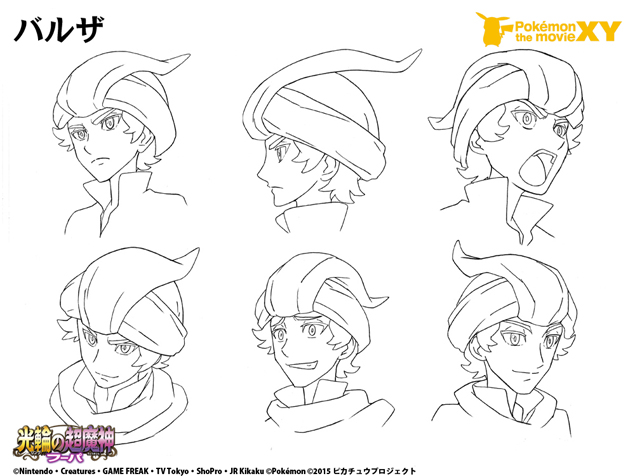 A young man who discovered the "Prison Bottle" said to have sealed Hoopa's powers one hundred years ago.
Mary's older brother, featuring very dignified and manly facial expressions. He is played by Tatsuya Fujiwara!
Sources:
http://www.pokemon-movie.jp/pokemovie_ch/?p=132
and
http://www.pokemon-movie.jp/pokemovie_ch/?p=173