Latest News

23 Oct
22 Oct
21 Oct
19 Oct
Oct 23
TSUTAYA stores across Japan will begin a campaign where all patrons who purchase a "Pocket Monsters Omega Ruby" or "Pocket Monsters Alpha Sapphire" download card will also be given a prepaid eshop card with a value of 500yen. That is the same amount as a
Pokémon Bank
annual subscription and is designed to make it easy for people to pay for the service. The card features the artwork of 30 Pokémon. The campaign runs from October 29th, 2014 until November 30th, 2014 or until stock runs out.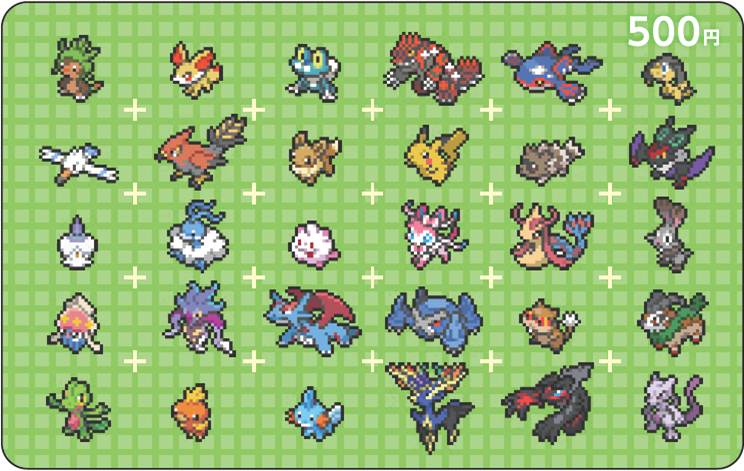 Source:
http://www.4gamer.net/games/256/G025650/20141023019/

Article edited on 2014-10-23 01:54:04 by Adamant
Oct 22
Viewers of the English Pokémon anime that watch the show via American satellite company DISH will unable to watch the channel Cartoon Network due to a contract dispute between Turner and DISH. Cartoon Network airs the latest episodes of the Pokémon anime on Saturday mornings, but DISH Network subscribers will be unable to watch the show until a new contract between the two companies is agreed upon.
As an alternative for viewers that watch the show on DISH Network,
Pokémon the Series: XY, Vol. 4
is currently being posted on iTunes and includes the latest episodes of the series. Episodes cost $2.99USD each in HD or $21.99USD in HD for the season block set of 12 episodes.
Turner Networks Removes Channels from DISH as Contract Deadline Passes
DISH Network (NASDAQ: DISH) announced that Monday night Turner Networks removed Boomerang, Cartoon Network, CNN, CNN en Español, HLN, truTV and Turner Classic Movies from the DISH programming lineup. The two companies have been unable to negotiate the terms of a renewed distribution agreement, and Turner refused to extend the overall agreement.
"In the past year, DISH has successfully renewed agreements with many large content providers," said Warren Schlichting, DISH senior vice president of Programming. "As a result, we are confident that we have offered a deal to Turner that reflects an appropriate value for our customers."
"DISH has had a productive relationship with Turner Networks for many years," said Schlichting. "We regret the service disruption to our customers, and remain committed to reaching an agreement that promptly returns this content to DISH's programming lineup."
Source:
http://about.dish.com/press-release/programming/turner-networks-removes-channels-dish-contract-deadline-passes

Article edited on 2014-10-22 12:14:34 by Sunain
Oct 22
The Pokémon Company Support has posted a thread on their
FAQ page
in regards to a number of issues with the Pokémon October 2014 Newsletter distribution. Many people have yet to receive their codes via email and some that have received the email have received blank codes. Players in the United States and Canada have already had to
wait a week for the demo compared to many countries in the world
and they are now having to wait even longer. Nintendo has had a number issues this year releasing digital content via the
Nintendo Network
including the delayed release of
Pokémon Bank
.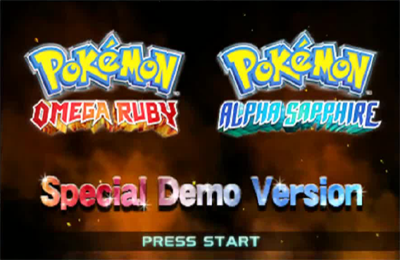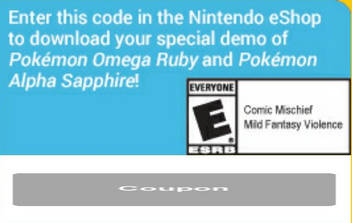 Pokémon Support - Updated Posting - 10/21/14 6:04 PM PST
We believe that the issue with code images not appearing in the October Pokémon newsletter have been resolved. Users should now be able to view their code simply by reopening the original newsletter email. If this doesn't work immediately, users can click the "Having trouble viewing this email? View this email online." at the top right of the newsletter image.
Any users still not able to view their codes are encouraged to reopen a service ticket.
For users who signed up for the newsletter prior to 10/20 and still have not received it, we ask that you be patient.
Because of the large volume of newsletters sent, there could be some delays as they make their way through the various internet providers and networks, leading to some users receiving their newsletters before other users.
We believe that all newsletters should deliver within the next few days. We recommend that you check your junk email folders and again make sure that pokemon@email.pokemon.com has been added to your safe senders list.
I haven't received my Alpha Ruby/Omega Sapphire demo code - Original Message
It has come to our attention that some users have not yet received their copy of the newsletter, and that some who have are reporting that the code for the Alpha Ruby/Omega Sapphire Demo is not appearing properly in the message.
Because of the large volume of newsletters sent, there could be some delays as they make their way through the various internet providers and networks, leading to some users receiving their newsletters before other users.
We're working closely with our service partner to resolve the issue of non-displaying codes and hope to see the issue resolved shortly. This should not require us to re-send the message as once the error is corrected users will then see the code appear in their original newsletter email.
We will update this article as we receive information, and we encourage you to click the subscribe link so that you are notified as we update this issue.
For users who didn't subscribe to the Pokemon.com newsletter in time, check out some of the other ways you can receive a demo code at Nintendo.com
Thank you, Pokémon Support
Source:
http://support.pokemon.com/ics/support/default.asp?deptID=15227&task=knowledge&questionID=1574

Article edited on 2014-10-22 12:48:55 by Sunain
Oct 21
The Pokémon Company International has released
Camp Pokémon for iOS
on the Apple Store for free. The app requires iOS 6.0 or later and is compatible with iPhone, iPad, and iPod touch but it is optimized for iPhone 5.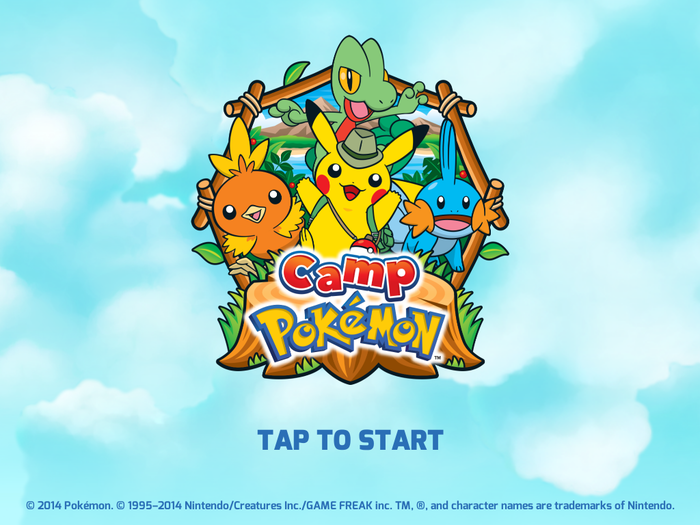 Welcome to Camp Pokémon!
Discover the amazing world of Pokémon with the free Camp Pokémon app from The Pokémon Company International! Explore an immersive island filled with fun Pokémon-themed activities that will help you learn what it takes to become a Pokémon Trainer! The camp counselors will be your guides during your time at Camp Pokémon, with plenty of helpful information.
You can track your progress through Camp Pokémon by earning pins for completing various activities, then check out the pins you've collected in your Pin Book. You'll also collect stickers, which you can use to decorate photos you take with the iPhone or iPad camera!
With all the fun activities that await, the official Camp Pokémon app from The Pokémon Company International is a great way to discover the fun of the Pokémon universe!
The official Camp Pokémon app supports the following languages:
* English
* Français
* Deutsch
* Español (Europa)
* Italiano
YouTube Trailer
Kids Can Now Explore Pokémon-themed Activities at Pokémon Camp, A Free App Available for the iPad, iPhone, and iPod touch
The Pokémon Company International Launches a Free, Engaging Experience Introducing the Pokémon Universe
October 22, 2014— The Pokémon Company International today announced the launch of the free Pokémon Camp application for iPad®, iPhone®, and iPod touch® devices running iOS 7 or later. Kids can begin their journey to Pokémon Camp and explore the island's numerous interactive Pokémon-themed activities as they learn what it takes to become a Pokémon Trainer. Along the way, they will engage themselves in the Pokémon universe and learn about the many Pokémon that inhabit it. Campers can begin their adventure now by downloading the free Pokémon Camp app at the Apple App StoreTM: AppStore.com/camppokemon.
Campers will travel to Pokémon Camp in a cinematic animated sequence that showcases the beautiful island on which they will begin their adventure. After being welcomed by Pokémon Camp counsellors, campers can explore and participate in several interactive Pokémon-themed activities, like Poké Ball Throw and Find the Pokémon, which allow campers to earn and collect nearly 100 Pokémon Pins for their virtual Pin Book. Other activities help campers learn about Pokémon Evolution chains and type matchups. By completing activities, campers can earn Rewards that are added to the Pin Book and unlock new levels in many of the activities around the island.
Campers can also create photo memories by virtually stepping into the Pokémon Camp Photo Booth, where they can take and save photos of themselves using their device's camera and decorate the pictures with Pokémon-themed stickers they earn by participating in the camp's many activities.
"Kids will have a blast exploring Pokémon Camp as they discover the Pokémon universe in a fun, interactive setting," said J.C. Smith, director of Consumer Marketing for The Pokémon Company International. "Parents will also love joining in the fun as they watch their little campers participate in activities and create memories at the virtual Pokémon island."
Fun Pokémon Camp app activities include:
Find the Pokémon: Use a spyglass to search for virtual Pokémon and earn their Pins. Earn Rewards to unlock new levels and search for other Pokémon in different environments.
Poké Ball Throw: Launch Poké Balls at cardboard cutouts of Pokémon hiding in the grass and knock them down. Earn Rewards to unlock the Rock and Water environments.
Pokémon Evolutions: Test your knowledge of Pokémon Evolutions by choosing the correct Pokémon missing from the Evolution chain.
Battle Matchups: Practice type matchups, an important skill in Pokémon battles, by choosing which type is strong against the given Pokémon.
Pokémon in Focus: Choose the Pokémon that matches the shadow projected on the tent.
My Cabin: In this home base, campers can find their Pin Book, Photo Book, and Bulletin Board.
Photo Booth: Create camp memories by taking photos with the iPad, iPhone, or iPod touch camera, adding stickers to the images, and saving the pictures to the app's Photo Book or the Camera Roll on the camper's device.
Mystery Cave: What could be hiding in the Mystery Cave? To find out, campers will need to earn the right to enter!
Source:
https://itunes.apple.com/ca/app/id919218502?mt=8

Article edited on 2014-10-22 12:50:26 by Sunain
Oct 21
The official Nintendo website announced further details on how to obtain a demo code for
Pokémon Omega Ruby and Pokémon Alpha Sapphire
in the United States. The details below are from their press release.
Our ORAS demo page has been updated with the latest dates and locations to get codes
.
Pokémon Omega Ruby and Pokémon Alpha Sapphire Special Demo Version
The Pokémon Omega Ruby and Pokémon Alpha Sapphire games will arrive on Nov. 21, but you can get a taste of them early with the Special Demo Version.
This free demo lets you experience exclusive scenarios in the Hoenn region. You'll encounter Pokémon that will Mega-Evolve for the first time—and you'll even be able to bring a new Mega-Evolved Pokémon into the full version of Pokémon Omega Ruby or Pokémon Alpha Sapphire. Items that you obtain while playing can also be transferred to the full versions once purchased.
How to get a demo code:
Codes will be distributed at select cinema locations nationwide from Nov. 7–Nov. 13 (while supplies last).
Check with your local retailer during the holidays to find out about special demo code giveaways (while supplies last).
Get a code with your purchase of the new Pokémon Art Academy game (out Oct. 24) when you buy from Nintendo eShop on your Nintendo 3DS or 2DS system.
You'll also get a code with your purchase of one of two classic Pokémon games coming to the Virtual Console service on Nintendo eShop: the Pokémon Puzzle Challenge game (out Nov. 6) or the Pokémon Trading Card Game (out Nov. 13). You'll find your free demo code on your eShop receipt (download codes available while supplies last).
Codes will be emailed the week of Oct. 31 to select Nintendo customers with Nintendo Network IDs who have signed up to receive promotional emails from Nintendo.
Codes will also be distributed during the holiday mall tour from Nov. 24‒Dec. 21 at 16 different locations throughout the nation. Talk to a staff member to try out Pokémon Omega Ruby, Pokémon Alpha Sapphire or any of the featured Nintendo 3DS games to receive two codes—one for you, and one for a friend (while supplies last). Check back soon for a list of tour locations.
Source:
http://www.nintendo.com/whatsnew/detail/q-_odTxvSXW6AVesSiQazTQhq2lKENNc

Article edited on 2014-10-21 03:09:28 by Sunain
Oct 19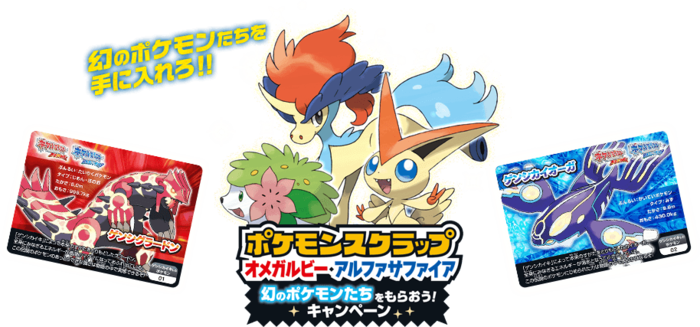 To celebrate the launch of
Pokémon Omega Ruby and Pokémon Alpha Sapphire
, beginning on
November 1st, 2014
, a new campaign called
Pokémon Scrap (ポケモンスクラップ)
will begin. Pokémon Scrap is a vouchers system and cards are included with certain physical real world Pokémon products which can be redeemed for virtual item unlocks that can be used in ORAS. Players can begin to collect the required scrap card serials starting on November 1st, 2014 but they can only be entered for redeemable ORAS codes from
December 1st, 2014 until April 30th, 2015
. Players can begin to collect over 50 different Scrap Cards. Players need to register on the official campaign site and enter their email address in order to participate.
How to Use Pokémon Scrap Cards
On the back of each scrap card is a unique serial code that can be entered on the official Pokémon Scrap campaign site. One you register the serial number, the next tier level is unlocked. Not every tier level contains an unlockable gift though. However, you won't get just one mythical Pokémon. As you collect the scraps, you'll receive up to three mythical Pokémon and five items to help you on your adventure! At each gift tier, a unique
Pokémon Omega Ruby and Pokémon Alpha Sapphire
serial code will be given which player can use to unlock the gift in the game.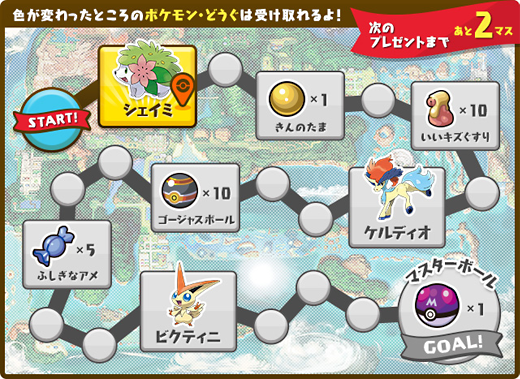 To avoid confusion, 0 (zero), 1 (one), B (Letter), I (Letter), O (Letter) and V (Letter) are not used in any
Pokémon Omega Ruby and Pokémon Alpha Sapphire
serial codes. If a code is incorrectly entered ten times, players will be locked out temporarily for 24 hours before they can try again.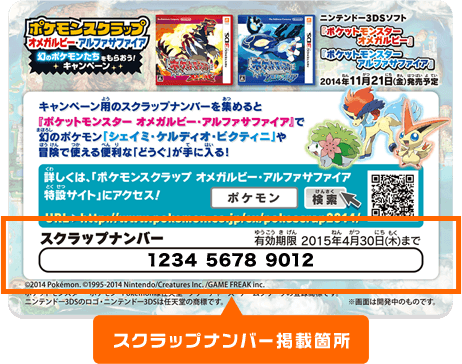 Unlockable Gifts
Each gift needs a certain number of scrap card codes entered to unlock. Shaymin requires 1, Nugget requires 3, Super Potion requires 5, Keldeo requires 7, Luxuy Ball requires 10, Rare Candy requires 13, Victini requires 16 and the Master Ball requires 20 codes.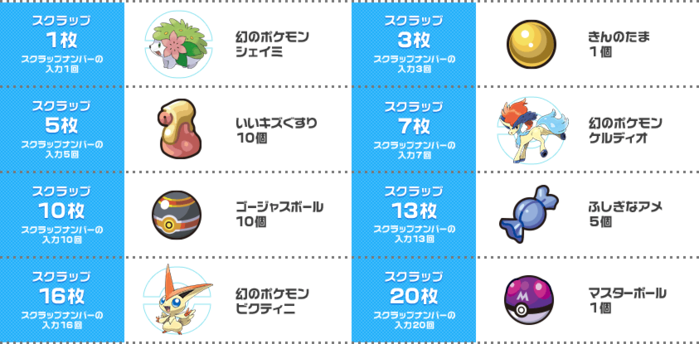 Eligible Items
The following product will contain Pokémon Scrap cards with serial numbers. Each product contains only 1 serial code.
Gaia Volcano and Tidal Storm XY TCG Booster Packs - Available starting on December 13th, 2014
PokéPan ORAS Strawberry - Specially marked packages starting November 1st, 2014
3D Pencil Case - Available in early December
Source:
http://www.pokemon.co.jp/ex/pokescrap2014/

Article edited on 2014-10-19 01:41:09 by Sunain