Welcome to PocketMonsters.net
PocketMonsters.net
is a fansite dedicated to all things Pokémon (ポケモン) and Pocket Monsters (ポケットモンスター). We are the premier site for news and information about all aspects of the franchise from around the world. We cover the
Anime
,
indexing the music
, the
Trading Card Game
, the
Games
, the
variety shows
, have a
large imageboard
,
forum
and much more.
Follow us on Twitter
and
Subscribe to our RSS Feed
for the latest updates!
Latest News

17 Jan
13 Jan
11 Jan
05 Jan
04 Jan
28 Dec
Upcoming Episodes
New episodes of the
Pocket Monsters anime
air Thursday evenings at 6:55PM JST and new episodes of the variety show
Pokénchi
air Sunday mornings at 8:00 AM JST on
TV Tokyo
in Japan. Pokémon airs Saturday mornings at 7:00AM EST on
Cartoon Network
in the United States. New titles are revealed in various publications such as: TV guides, childrens' magazines, anime magazines, promotional posters and videos, official websites and official television programs. Titles and their translations are added to our
episode guide
and the chart below when the titles are revealed.
Date
Title(s)
Jan 19 2017
SM 11: サトシ、カキんちに行く!


Satoshi Visits Kaki!

Jan 21 2017
XYZ 47: Till We Compete Again!


A Zero With No End! Till the Day we Meet Again!!

Jan 26 2017
SM 12: 課外授業はヒドイデ!?


The Extracurricular Lesson is on Hidoide?!

Feb 02 2017
SM 13: アローラパンケーキ大レース!


The Great Alola Pancake Race!

Feb 09 2017
SM 14: 勇気の結晶、リーリエとロコン!


The Fruit of Courage: Lilie and Rokon!

Jul 15 2017
Movie 20: きみにきめた!


I Choose You!
Jan 17
Niantic announced and released an update for Pokémon GO. The update, version 0.53.1 for Android and 1.23.1 for iOS, has a number of bug fixes.
Pokémon GO updated to version 0.53.1 for Android and 1.23.1 for iOS
Trainers, Pokémon GO is in the process of being updated to version 0.53.1 for Android and 1.23.1 for iOS devices. Below are some release notes and comments from our development team.
Updated Apple Watch to display Eggs obtained from PokéStops
Changed distance tracking to better account for GPS drift
Minor text fixes.
Source:
http://pokemongolive.com/en/post/ver-update-011717/
Pokémon Go Generated $950 million in revenues in 2016
Pokémon Go generated approximately $950 million in revenues in 2016, according to a report by market researcher App Annie.
Source:
http://go.appannie.com/app-annie-2016-retrospective

Article edited on 2017-01-17 08:12:34 by Sunain
Jan 13
Nintendo announced the full Nintendo Switch details as part of their
Nintendo Switch Presentation 2017
which was streamed online on January 13th, 2017 from Japan.
Despite the rumours
,
no Pokémon
related games or products for the Nintendo Switch were announced as part of the launch presentation but Nintendo did say there were over 80 games in development, so a Pokémon game will inevitably be announced some time in the future.
High resolution press release pictures of the Nintendo Switch and its accessories are available to view on the Imageboard thread
.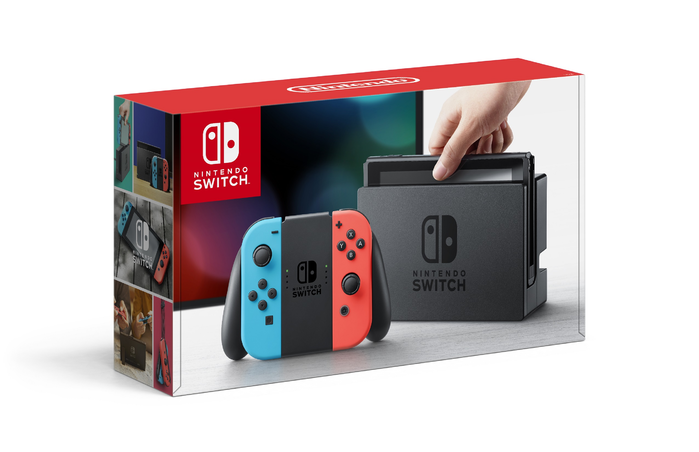 Nintendo Switch Launch Prices
United States: $299.99 USD
Canada: $399.99 CAD
Japan: 29,980 yen
UK: £279.99 GBP
Australia: $469.95 AUD
Nintendo disappointed many fans around the world for the extremely high price of the system
compared to the price of previous generations and Nintendo's current competitors which are similarly priced but have significantly better hardware specs.
Shares in Nintendo were down 5.75% in trading on the Japanese market
as the high price caught many fans and the industry as a whole off guard as they were expecting a more competitive price point.

Hardware Highlights
Nintendo Switch is powered by the performance of the custom Tegra processor. The high-efficiency scalable processor includes an NVIDIA GPU based on the same architecture as the world's top-performing GeForce gaming graphics cards.
6.2-inch multi-touch capacitative touch screen - 720p 1280x720 resolution
32GB of internal memory
microSDXC slot (Large SD cards sold separately)
Game Cart Slot
Battery life can last for more than six hours, but will vary depending on the software and usage conditions.
USB Type-C Connector for dock connection and use with USB Type-C AC Adapter
Nintendo Switch Dock includes: two USB 2.0 Ports, HDMI Port and HDMI cable
Power button, Volume +/- buttons and 3.5mm headphone jack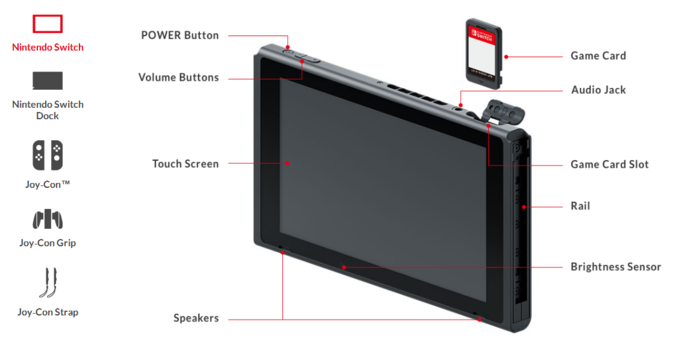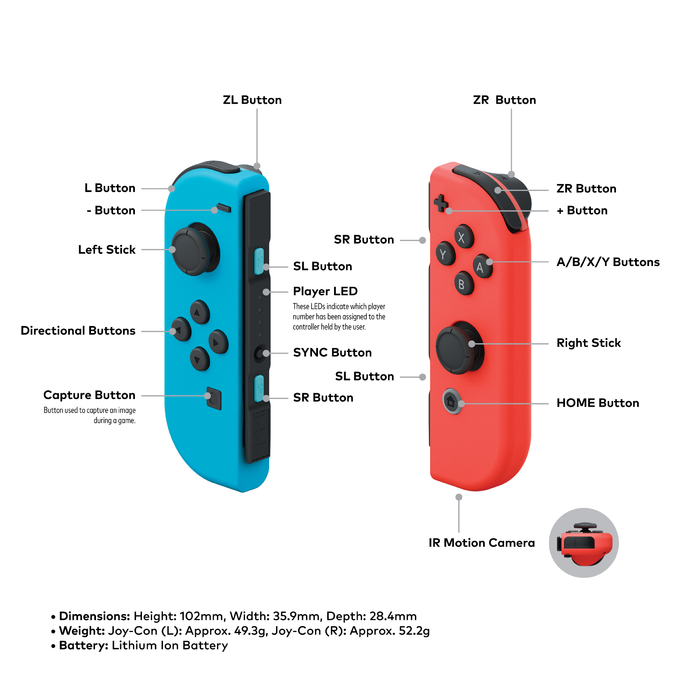 Press Release - Nintendo Reveals Upcoming Games, New Hardware Features
TOKYO, Jan. 13, 2017 – Nintendo announced today that the new Nintendo Switch system will launch worldwide on March 3, 2017 at a suggested retail price of $299.99 in the United States.
The system will include the main console, Joy-Con (L) and Joy-Con (R) controllers, a Joy-Con grip (to which two Joy-Con are attached and used as one controller), a set of Joy-Con wrist straps, a Nintendo Switch dock (which holds the main console and connects it to a TV), an HDMI cable and an AC adapter. Two stylish versions of the system will be released: a version with a set of gray Joy-Con, and a version with one neon blue and one neon red Joy-Con. Both versions will be the same price.
"Nintendo Switch is a brand-new kind of home gaming system that offers a wide variety of play modes," said Nintendo President Tatsumi Kimishima. "We will introduce the world to new experiences made possible by the unique characteristics of the Nintendo Switch hardware and the Joy-Con."
Nintendo Switch is a breakthrough home video game system. It not only connects to a TV at home, but it also instantly transforms into an on-the-go handheld using its 6.2-inch screen. For the first time, players can enjoy a full home-console experience anytime, anywhere. The screen includes capacitive multi-touch capabilities for compatible games. Battery life can last for more than six hours, but will vary depending on the software and usage conditions. For example, The Legend of Zelda: Breath of the Wild can be played for roughly three hours on a single charge. While away from home, Nintendo Switch can be charged by plugging the AC adapter into the console's USB Type-C connector.
The versatile Joy-Con offer multiple surprising new ways for players to have fun. Two Joy-Con can be used independently in each hand, or together as one game controller when attached to the Joy-Con grip. They can also attach to the main console for use in handheld mode, or be shared with friends to enjoy two-player action in supported games. Each Joy-Con has a full set of buttons and can act as a standalone controller, and each includes an accelerometer and gyro-sensor, making independent left and right motion control possible.
Nintendo Switch also contains a number of built-in features that make it more interactive. The left Joy-Con has a Capture Button that players can press to take instant screenshots of gameplay to share with friends on social media. The right Joy-Con includes an NFC touchpoint for interaction with amiibo figures, as well as an IR Motion Camera that can detect the distance, shape and motion of nearby objects in specially designed games. For example, it can tell how far away a player's hand is, and even if the hand is forming a rock, paper or scissors shape. Both Joy-Con include advanced HD Rumble, which can provide compatible games with subtle vibrations that are much more realistic than before. The effect is so detailed that a player could, for example, feel the sensation of individual ice cubes colliding inside a glass when shaking a Joy-Con. With HD Rumble players can experience a level of realism not possible through sights and sounds alone.
Nintendo Switch makes it easy for players to stay connected. Up to eight systems can be connected for local wireless play. The player can place the system upright anywhere by using the built-in stand, then easily share Joy-Con for multiplayer fun away from the TV. The system will support online Wi-Fi multiplayer gaming. Nintendo also unveiled a new online subscription service that will begin with a free trial at launch. The service includes a smart-device application available in Summer 2017 that will let users invite friends to play online, set play appointments and chat with one another as they play compatible games. The fully featured paid service will be available in the fall.
Nintendo Switch will be supported by world-class third-party publishers including Activision Publishing Inc., Electronic Arts, Take-Two Interactive, Ubisoft, Warner Bros. Interactive Entertainment and major Japanese publishers. Some publishers, such as Bethesda Softworks, are joining Nintendo for the first time. Players can look forward to major franchises on Nintendo Switch such as EA SPORTS FIFA, The Elder Scrolls, NBA 2K, Minecraft and more. Nintendo Switch software will not be region locked.
The unique capabilities of the console and Joy-Con have combined with innovations from past systems to create Nintendo's most flexible, feature-packed video game system ever. This is demonstrated by the wide variety of unique games that were announced for launch day, this summer and into the 2017 holiday season, from both Nintendo and its third-party partners. From the engrossing open-air experience of The Legend of Zelda: Breath of the Wild to the party fun of 1-2-Switch, Nintendo Switch offers something for everyone.
Nintendo Switch Presentation 2017
Sources:
Nvidia:
https://blogs.nvidia.com/blog/2016/10/20/nintendo-switch/
Nintendo Switch:
http://www.nintendo.com/switch/
Nintendo YouTube Channel:
https://www.youtube.com/user/Nintendo
Nintendo Press:
https://press.nintendo.com/

Article edited on 2017-01-13 08:36:29 by Sunain
Jan 11
The Pokémon Sun and Moon Version 1.1 patch is now available to download from the Nintendo eShop. Nintendo's official English patch notes only list that "Adjustments have been made to make for a more pleasant gaming experience." The Japanese Nintendo support page though lists a few specific changes that this patch includes.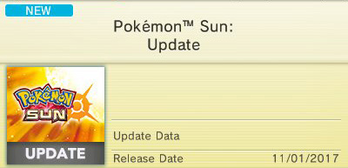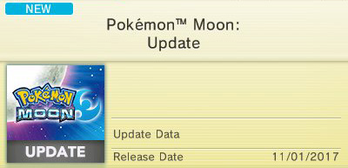 Pokémon Sun and Moon Version 1.1 Patch Notes
Fixes a problem with the Memento and Parting Shot moves that caused them to not work properly.
Fixes a issue with Rocky Helmet which caused the wrong player to be declared the winner when the opponent knocks out when the player is also knocked out.
Fixes a problem which caused certain Pokémon to learn a move when evolving.
Additionally, it fixed some problems so that players can play the games move comfortably.
Rocky Helmet Item / Memento and Parting Shot Moves Detailed info on bugs from Version 1.0
Rocky Helmet Item:
If the holder of Rocky Helmet takes damage, the attacker will also be damaged upon contact. Normally, in a situation where there are only two Pokémon remaining on the battlefield and one of them is knocked out by an attack and the attacker is also knocked out from the damage inflicted by Rocky Helmet, the player with the Pokémon that was holding the Rocky Helmet would lose the battle. For now, the player with the Pokémon holding Rocky Helmet will win the battle.
Memento and Parting Shot Moves:
We've discovered a bug that affects the moves Memento and Parting Shot during online battles using Battle Spot. While we fix this bug, Memento and Parting Shot will be prohibited in Free Battles, Rating Battles, and Online Competitions in Battle Spot. If any of the Pokémon in your Battle Team has either of these moves, you won't be able to start a battle.
eShop QR Codes for Version 1.1 Patch Download
Sources:
https://www.nintendo.co.jp/support/3ds/soft/bnda/update/index.html
,
http://en-americas-support.nintendo.com/app/answers/detail/a_id/25400/p/430
and
https://3ds.pokemon-gl.com/information/7ebb394e-2b6e-4f3b-95e7-09dfb9888727

Article edited on 2017-01-11 10:27:13 by Sunain
Jan 05
The second online competition for
Pokémon Sun and Pokémon Moon
has been announced.
Alola Friendly (アローラフレンドリー)
will take place from
Friday, January 27, 2017, at 00:00 UTC, through Sunday, January 29, 2017, at 23:59 UTC
. Full details are listed below and on our
7th Generation Online Competitions
page which will be updated as new tournaments are announced.
Alola Friendly (アローラフレンドリー)
Information
Region: International
Registration Period: Thursday, January 19, 2017, at 00:00 UTC, through Thursday, January 26, 2017, at 23:59 UTC
Tournament Period: Friday, January 27, 2017, at 00:00 UTC, through Sunday, January 29, 2017, at 23:59 UTC
Max number of participants: 50 000
Ranking Results Announcement: February 2017
Player divisions: Junior/Senior Division: Born 2002 or later
Masters Division: Born 2001 or earlier
Junior/Senior Division players are limited to playing between 6 A.M. and 11 P.M., based on the easternmost time zone in each player's country.
Compatible Games: Pokémon Sun and Pokémon Moon
Battle Type: Single Battle
Banned Pokémon: Players may use only Pokémon from the Alolan Pokédex. All Mythical and Legendary Pokémon are not allowed. Mega Stones are not allowed.
Entry Gift: Qualified participants in the Alola Friendly Online Competition will receive 50 Battle Points. To qualify, players must earn a place in the rankings by completing at least three battles.
Description
Get ready to battle once again with Pokémon from the Alola region in the Alola Friendly Online Competition! This tournament will be played using the Pokémon Sun and Pokémon Moon games, using only Pokémon found in the Alola Pokédex.
Competition Rules
• Items are allowed, but Trainers may not have duplicate items in their Battle Team.
• Register three to six of your Lv. 1–100 Pokémon to your Battle Team.
• All Pokémon in this competition will automatically become Lv. 50 for the duration of each match.
• Three of the Pokémon you register to your Battle Team will be chosen to battle in each match.
• A 10-minute time limit for each player will automatically be enforced in-game, beginning at the start of each battle. If the outcome has not been determined when the time limit expires, the game will automatically apply tiebreakers to determine a winner.
• At the beginning of each battle, players have 90 seconds to select three Pokémon with which to battle.
• At the beginning of each turn, players have 60 seconds to select a move or change the Pokémon in battle. If a player has not made his or her selections at the end of this period, the game will automatically make selections for the player.
• Players may battle up to 15 games per day of the competition. Any unplayed games will carry over to the following day. A new day begins at 00:00 UTC.
Source:
https://3ds.pokemon-gl.com/information/173540c6-ac2a-4d47-b5db-b9a2a197607e
Jan 04
Pokémon Snap​
will be available to purchase for the Nintendo Wii U Virtual Console in North America on January 5th, 2017 for $9.99.
Catching Pokémon is a snap!
Travel to Pokémon Island and meet Professor Oak to begin a safari to take the best possible photographs of 63 different Pokémon. The island has many types of climates and environments to explore, along with secret activities and hidden passages to discover. Some of the Pokémon can be a little shy and won't pose for the camera unless you tease them with special items! After you're done, submit one picture of each Pokémon to Professor Oak, and he'll judge it based on size, pose, technique, and number of Pokémon captured. Start practicing if you want to snap the perfect shot!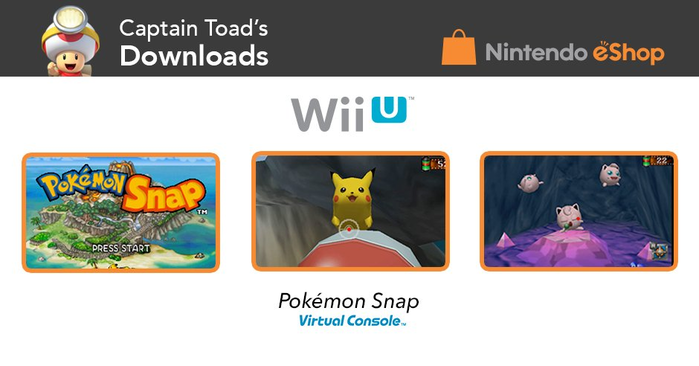 Virtual Console
This classic game is part of the Virtual Console service, which brings you great games created for consoles such as NES™, Super NES™ and Game Boy™ Advance. We hope you'll enjoy the new features (including off-TV play) that have been added to this title.
Source:
http://www.nintendo.com/games/detail/pokemon-snap-wii-u

Article edited on 2017-01-09 03:48:46 by Sunain
Dec 28
Nintendo Japan has revealed 2 new Pokémon Nintendo 3DS themes:
Full Power Z-Moves (ゼンリョクのZワザ) and Adventure Partner (冒険のパートナー)
. Each theme costs 200yen. All themes are available for purchase as of December 28th, 2016 on the Japanese Nintendo 3DS eShop store.
Full Power Z-Moves (ゼンリョクのZワザ)
Features:
Incineroar and Primarina on the bottom screen with Decidueye and Pikachu on the top screen.
Music:
Sun and Moon OST - Battle Royal
Adventure Partner (冒険のパートナー)
Features:
The Sun and Moon starters Litten, Popplio and Rowlet on both screens.
Music:
Sun and Moon OST - My Home
Source:
https://www.nintendo.co.jp/3ds/theme/index.html

Article edited on 2016-12-28 05:58:40 by Sunain