Dec 04
Nintendo of America has finally announced the anticipated Pokémon X and Pokémon Y Nintendo 2DS
bundles that are available in South Korea
and Europe already. Below are the details from the Press Release.
Press Release
Holiday shoppers that are looking to pick up a Nintendo 2DS system and either the Pokémon X or Pokémon Y video games are about to get a couple of new and affordable options. Starting on Dec. 6, Nintendo is offering two bundles featuring the system and the games:
• Target will offer an exclusive bundle that includes the Pokémon X game pre-installed on a red Nintendo 2DS system at a suggested retail price of $149.99.
• Toys"R"Us will offer an exclusive Pokémon Y bundle at stores nationwide and online at http://www.toysrus.com. The bundle will include a blue Nintendo 2DS system and the Pokémon Y game pre-loaded on an SD card at a suggested retail price of $149.99.
Both bundles will be available while supplies last.
The Nintendo 2DS system maintains many of the same hardware features as Nintendo 3DS, like touch-screen controls, StreetPass, online multiplayer functionality and the ability to download games in the Nintendo eShop. Without any hinges, the durable Nintendo 2DS is a great first-time system for kids. In addition, Nintendo 2DS is backward compatible and can play the huge existing library of Nintendo DS games. For more information about Nintendo 2DS, visit http://www.nintendo.com/3ds/2ds.
Pokémon X and Pokémon Y are the latest installments in the world-famous Pokémon series. The games offer a new generation of Pokémon, a new region to explore, new Mega Evolutions and a host of new features. Since their launch on Oct. 12, the well-received Pokémon X and Pokémon Y games have sold more than 2 million copies combined in North America.
Source:
http://press.nintendo.com/articles.jsp?id=41011
Article edited on 2013-12-04 02:53:35 by Sunain
Dec 04
From November 1st, 2013 until supplies last, McDonalds Japan will be distributing their yearly Pokémon calendar. The Pokémon Calendar 2014 (ポケモンカレンダー2014) costs 350 yen each and can be purchased at participating McDonalds Restaurants throughout Japan. Inside the calendar are pictures of some of the new Pokémon from X and Y. In addition are 150 stickers and an alphabet page with a letter related Pokémon picture. Also included is a discount card that can be used until April 30th, 2014 for various McDonalds good such at their McFlurry or pancakes.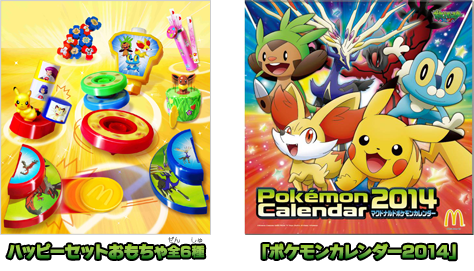 McDonalds Happy Set December 2013
Starting on December 13th, 2013, participating McDonalds Restaurants throughout Japan will also be distributing 6 different toys in their Happy Sets as a present.
Sources:
http://www.pokemon.co.jp/info/2013/11/131101_gd02.html
,
http://www.mcdonalds.co.jp/pokemon_calendar/
and
http://www.tv-tokyo.co.jp/anime/pokemon_xy/news/index.html#155649
Article edited on 2013-12-04 03:02:21 by Sunain
Dec 03
The official Pokémon website has announced that the 16th movie short
Pokémon: Eevee and Friends
will be available to view on
Pokémon TV
from
Friday, December 6th, 2013 until December 15th, 2013
.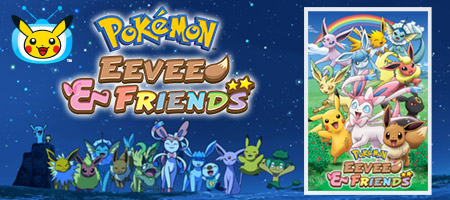 Source:
http://www.pokemon.com/us/pokemon-news/anim_eevee_tv-2013-12-02/
Article edited on 2013-12-03 01:43:55 by Sunain
Nov 23
The format and rules for the 2014 Pokémon video game season have been announced and posted on the official Pokémon website.
New Updates:
Only legitimate versions of Pokémon X or Pokémon Y can be used in Play! Pokémon tournaments
Players may use Pokémon from the Central Kalos Pokédex from #001 to #150, Coastal Kalos Pokédex from #001 to #153, or Mountain Kalos Pokédex from #001 to #147.
Pokémon are allowed to Mega Evolve.
Pokémon above Level 50 are permitted, but they are auto-leveled down to 50 for the duration of battle
Kalos Native: Pokémon used in the Standard Format must be native to the Kalos region in Pokémon X or Pokémon Y. A native Pokémon is a Pokémon that is hatched or caught in Pokémon X or Pokémon Y. Pokémon that have been transferred to Pokémon X or Pokémon Y via Pokémon Bank or Poké Transporter are not native.
Source:
http://assets22.pokemon.com/assets/cms/pdf/op/tournaments/2014/Play_Pokemon_VG_Rules_and_Formats_2014.pdf
Article edited on 2013-11-23 12:00:17 by Sunain