Oct 19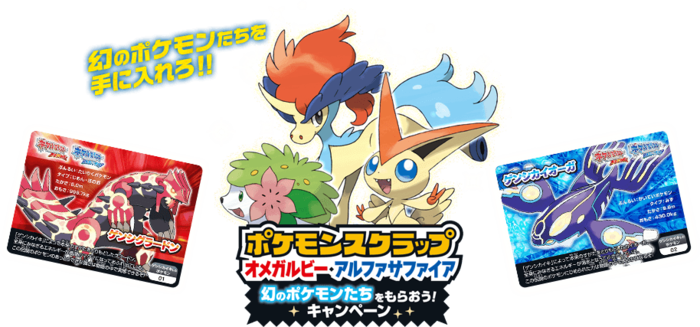 To celebrate the launch of
Pokémon Omega Ruby and Pokémon Alpha Sapphire
, beginning on
November 1st, 2014
, a new campaign called
Pokémon Scrap (ポケモンスクラップ)
will begin. Pokémon Scrap is a vouchers system and cards are included with certain physical real world Pokémon products which can be redeemed for virtual item unlocks that can be used in ORAS. Players can begin to collect the required scrap card serials starting on November 1st, 2014 but they can only be entered for redeemable ORAS codes from
December 1st, 2014 until April 30th, 2015
. Players can begin to collect over 50 different Scrap Cards. Players need to register on the official campaign site and enter their email address in order to participate.
How to Use Pokémon Scrap Cards
On the back of each scrap card is a unique serial code that can be entered on the official Pokémon Scrap campaign site. One you register the serial number, the next tier level is unlocked. Not every tier level contains an unlockable gift though. However, you won't get just one mythical Pokémon. As you collect the scraps, you'll receive up to three mythical Pokémon and five items to help you on your adventure! At each gift tier, a unique
Pokémon Omega Ruby and Pokémon Alpha Sapphire
serial code will be given which player can use to unlock the gift in the game.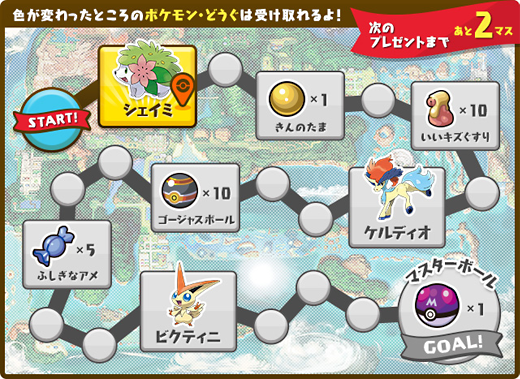 To avoid confusion, 0 (zero), 1 (one), B (Letter), I (Letter), O (Letter) and V (Letter) are not used in any
Pokémon Omega Ruby and Pokémon Alpha Sapphire
serial codes. If a code is incorrectly entered ten times, players will be locked out temporarily for 24 hours before they can try again.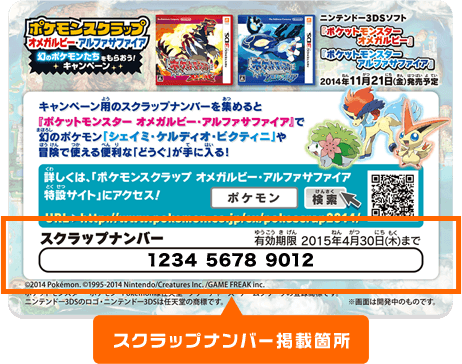 Unlockable Gifts
Each gift needs a certain number of scrap card codes entered to unlock. Shaymin requires 1, Nugget requires 3, Super Potion requires 5, Keldeo requires 7, Luxuy Ball requires 10, Rare Candy requires 13, Victini requires 16 and the Master Ball requires 20 codes.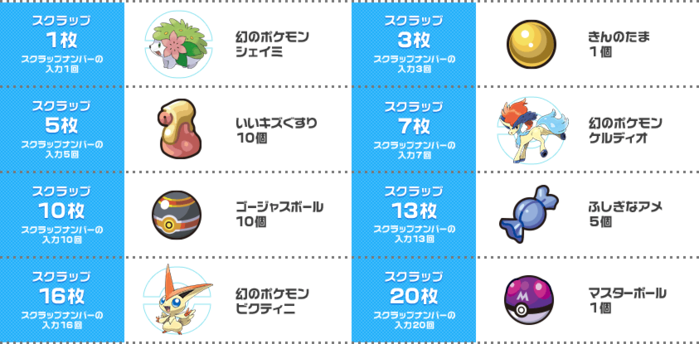 Eligible Items
The following product will contain Pokémon Scrap cards with serial numbers. Each product contains only 1 serial code.
Gaia Volcano and Tidal Storm XY TCG Booster Packs - Available starting on December 13th, 2014
PokéPan ORAS Strawberry - Specially marked packages starting November 1st, 2014
3D Pencil Case - Available in early December
Source:
http://www.pokemon.co.jp/ex/pokescrap2014/

Article edited on 2014-10-19 01:41:09 by Sunain
Oct 17
In
an interview with nTower
, Junichi Masuda revealed there would be
no patch
for
Pokémon X and Y
that would add compatibility for new Mega Evolutions that will be introduced in
Pokémon Omega Ruby and Pokémon Alpha Sapphire
. It should be noted that there is no technical reason for not adding compatibility into
X and Y
via a patch as all the infrastructure to patch the games is available as its the same game engine and generation and there has already been two
patches for X and Y
which shows it can be done. Nintendo and GAME FREAK have always required people purchase the latest Pokémon games to play in the current tournaments and this is probably the
only
reason there will not be a patch.
nTower Interview with Junichi Masuda and Shigeru Ohmori Translation
nTower:
Will Pokémon Omega Ruby and Alpha Sapphire be compatible with the games Pokémon X and Y? Can the new Mega Evolutions be used in the Kalos Region (for example with an update)?
Masuda:
We do not plan to release a patch for Pokémon X and Y to update the games that effect. There is a separation of what you can experience in Pokémon X and Y and in Pokémon Omega Ruby and Alpha Sapphire. Therefore, we want to separate the games to that effect.
Pokémon Global Link Changes for X and Y
On October 15th, 2014, the Japanese Pokémon Global Link website added a page to discuss some of the upcoming changes that will affect
X and Y
with the release of
ORAS
.
Source:
http://3ds.pokemon-gl.com/information/ac78b42b-6759-441d-8da1-5f3116defe06
and
http://www.ntower.de/index.php?page=Report&reportID=271

Article edited on 2014-10-17 02:54:18 by Sunain
Oct 17
Nintendo Japan announced the next batch of Kisekae Plates for the New Nintendo 3DS. Plate number 040 is the first Pokémon cover plate that can be purchased separately and it features Groudon and Kyogre. It will be available in Japan on November 21st, 2014 for 1500yen plus tax. In September, the
Pokémon Center Original New Nintendo 3DS Groudon and Kyogre Editions
were revealed.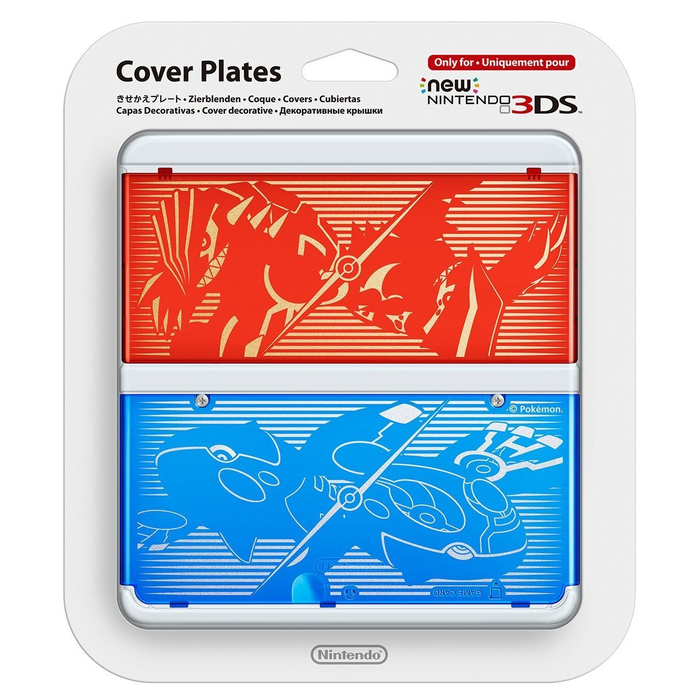 Source:
http://www.nintendo.co.jp/3ds/kisekae/index.html#/lineup/040

Article edited on 2014-10-17 12:19:20 by Sunain
Oct 17
The official Pokémon Tretta website has revealed a new set called:
The Pokémon Tretta Set 4: The Mighty Power of Primal Reversion! (ザ・ポケモントレッタ04弾 ゲンシカイキの超パワー!)
. The set will be released in Japan on December 5th, 2014 and will feature Mega Evolutions and Primal Pokémon.
Four Tretta were revealed and details have been added to our database
. Further details will be revealed closer to the launch date.
Source:
http://www.pokemontretta.com/tretta/t13/index.html

Article edited on 2014-10-17 11:37:02 by Sunain
Oct 16
The publisher OverLap has revealed the
Pocket Monsters Omega Ruby and Alpha Sapphire Official Guide Book: Complete Story Walkthrough / Complete Zukan Guide Book (ポケットモンスター オメガルビー・アルファサファイア 公式ガイドブック 完全ストーリー攻略ガイド・完全ぜんこく図鑑完成ガイド)
. Both books will be released in Japan after the release of
Pokémon Omega Ruby and Pokémon Alpha Sapphire
and will help players with tons of information on the games. Each book contains a special code to unlock things in the game.
Complete Story Walkthrough
Complete Zukan Guide Book
Release Date: November 22nd, 2014
832 A5 Pages
ISBN-10: 4865540059
ISBN-13: 978-4865540055
Price: 1400yen + tax

Contains 3 QR Codes for three Secret Bases created by:
Junichi Masuda, Shigeru Ohmori and Shigeki Morimoto
Release Date: December 5th, 2014
1040 A5 Pages
ISBN-10: 4865540067
ISBN-13: 978-4865540062
Price: 1850yen + tax

Contains serial code to unlock 2 Master Balls
Sources:
http://over-lap.co.jp/book/oras/
and
http://blog.over-lap.co.jp/bunko/?p=6211

Article edited on 2014-10-16 01:23:35 by Sunain