Movie 20 Website Updates with Info on Sunshine City Pokémon Fes
The official Pokémon movie website has updated. Translations follow:
Starting Friday July 28th! "Pokémon Fes I Choose You! in Sunshine City"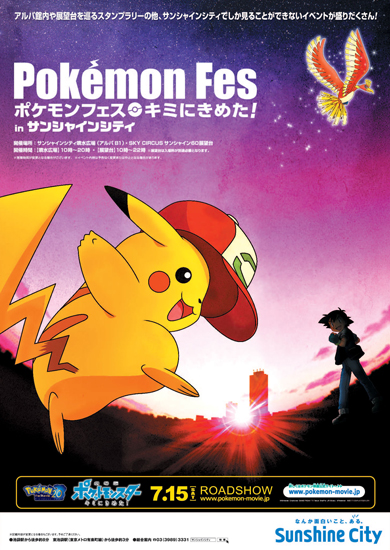 The "Pokémon Fes I Choose You! in Sunshine City" will be held
in Sunshine City, Ikebukuro, Tokyo
from Friday July 28th to Thursday August 24th!
Here, you can feel like you've become a Pokémon Trainer,
going on a stamp rally adventure from Sunshine City fountain plaza through the Alpa shopping center,
as well as entering the world of Pokémon to take pictures as it spreads out on the fountain plaza screen display.
The fountain plaza will also have a life-size Alolan Nassy balloon,
as well as a tower filled with Pokémon plushies!
We also have special stage events planned!
At the Sky Circus Sunshine 60 Observatory,
there will be a Houou photo spot,
as well as a panel exhibition showcasing famous scenes from the anime and movies,
selected by the Pokémon cast and celebrity Pokémon fans.
There will also be a special exhibition of art from the "Pocket Monsters the Movie: I Choose You!" drawing contest.
Pikachu will also come visit on Saturdays and Sundays!
Go visit the Pokémon-filled Sunshine City this summer!
For further information, check out these homepages:
Pokémon Fes homepage
Sunshine City homepage
Source:
http://www.pokemon-movie.jp/news/?p=2915