Six Pokémon Characters made Pornhub's Top Search List for Game Character Searches in 2017
Posted:
11 Jan 2018 09:15 AM
Author:
Sunain
Tagged In:
Anime
Six Pokémon characters made Pornhub's top search list for Game Character Searches in 2017 according to Pornhub's official 2017 Year in Review news post. Misty, Dawn, Ash, Serena, Gardevoir and Pikachu all placed in the list. Misty made it to fourth place with a 120% boost with 2,600,507 searches and the searches peaked on August 16th, 2017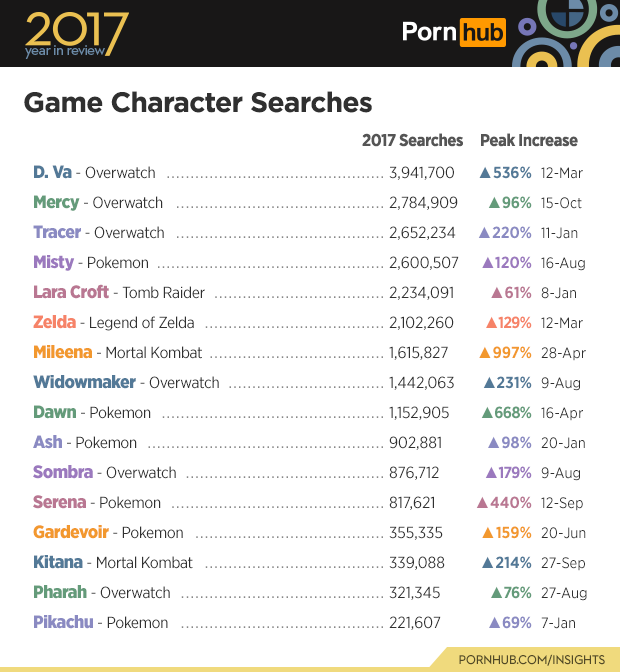 2017 Year in Review
Some games will never be played out; this year's list looks a lot like last year's list, but in a very different order. Overwatch and seemingly all of its characters have teamed up to completely dominate the searches in this department. So it's no surprise that the top three most searched are all from Overwatch, with D.Va), Mercy and Tracer come in at first, second and third place respectively. Misty (formerly traveling partner of Ash) from Pokemon made it to fourth place with a 120% boost. Lara Croft, from Tomb Raider will likely never not be on the game character top searches list, though the day PlayStation Portable released 'Tomb Raider: Legend' people raided the internet in search of her name, resulting in a 61% bump up in searches. In order to not create any kind of mortal enemies, it's worth mentioning Mileena (from Mortal Kombat) came in fourth place, with a 997% boost!
Source URL SFW:
https://www.pornhub.com/insights/2017-year-in-review