Welcome to PocketMonsters.net
PocketMonsters.net
is a fansite dedicated to all things Pokémon (ポケモン) and Pocket Monsters (ポケットモンスター). We are the premier site for news and information about all aspects of the franchise from around the world. We cover the
Anime
,
indexing the music
, the
Trading Card Game
, the
Games
, the
variety shows
, have a
large imageboard
,
forum
and much more.
Follow us on Twitter
and
Subscribe to our RSS Feed
for the latest updates!
Latest News

06 Jun
25 Apr
28 Jan
13 Dec
08 Sep
15 Jul
News Tag Filter:
Music
Jun 06
The official Pokémon movie website has updated. Translations follow:

The theme song for "Pocket Monsters the Movie: Everyone's Story" has been decided!
This year, the theme song will be "Breath", which has been written specifically for the movie by Porno Graffitti.
This is a song that carries a warm melody while strings on real instruments are impressively throbbing away alongside a simple track where the number of sounds have been tightened down as much as possible.
It's a song that synchronizes with the movie's story, and that has lyrics that encourage not letting yourself get swept away by the opinions that surround you, not losing sight of your true self, but to continue onwards towards the future you believe in.
A promo video that utilizes the song has also been released: This is a special video that allows you to listen to the sound source earlier than anywhere else.
Porno Graffitti's New Single: "Breath"
Release date: Wednesday July 25th 2018
Start date for digital distro: Friday July 6th 2018
*Limited edition:
CD+DVD SECL-2307~2308 2000 yen
(DVD contains footage from the "ROCK IN JAPAN FESTIVAL 2017" concert from August 2017)
*Regular edition:
CD only SECL-2309 1300 yen
*Anime edition: CD+DVD SECL-2310~2311 1600 yen
(DVD contains the "Breath (movie ver.) music video, which uses footage from "Pocket Monsters the Movie: Everyone's Story")
Comments from Porno Graffitti:
Comment from Akihito Okano
I am extremely honored that I get to handle the theme song.
I am positive that once they've watched this movie, everyone will brighten up and become filled with the strength to head towards tomorrow.
We made this song hoping that it could encourage those people and give them a push forward, even if it only acts as a slight breeze.
I think of it as a pop song that I believe adds flowers to the movie in our own special way.
Comment from Haruichi Shindo
I got the opportunity to consult the director before starting to work on this song.
He told me that this year's movie is a story where the characters that appear all deal with their own respective little problems and manage to overcome them.
It would be great if humans could also change their form and appearance drastically the way Pokémon do when they "evolve", but since they can't, we have no choice but to encourage the people we currently are. This is what I was wondering if I'd be able to express through song.
Porno Graffitti's profile:
Okano and Shindo are from Innoshima Island, Hiroshima. They formed a band while in high school. Then, in 1999, they accomplished a powerful major debut with their first single, "Apollo".
They were immediately widely recognized as a new type of artists, and when they released their 3rd single, "Music Hour", the next year, they became the talk of the town that summer. Their 4th single, "Saudade", was a huge hit, as were singles like "Saboten", "Agehacho", "Melissa", "Ai ga yobu hou e", etc. In 2004, 5 years after their debut, they released their two first best-of albums, "PORNO GRAFFITTI BEST RED'S" and "PORNO GRAFFITTI BEST BLUE'S", at the same time, which not only got them their first no 1 position on the Oricon album charts, they were such record-breaking hits they monopolized both the first AND second position on the chart for two weeks in a row.
In 2013, 15 years after their major debut, they released the best-of album "PORNOGRAFFITTI 15th Anniversary "ALL TIME SINGLES"", which included all their singles, grabbing the no 1 spot on the Oricon Weekly Chart.
In 2015, they released "RHINOCEROS", their 10th original album and their first one in 3 and a half years, and it too grabbed the no 1 spot on both the daily and weekly Oricon charts.
Last year, in March 2017, they held their first solo concert in Taiwan. They were so popular the initially announced first-day concert tickets sold out immediately, so they held a second concert the next day. They were riding on that momentum last summer, so in addition to making energetic appearances at huge music festivals like "ROCK IN JAPAN FESTIVAL 2017", "MONSTER baSH 2017", "SPACE SHOWER SWEET LOVE SHOWER 2017" and the like they also went on a long tour all across Japan, holding 39 concerts in 32 locations, and everything sold out the first day tickets went on sale.
The momentum hasn't stopped yet either, as their latest single "Chameleon Lens", which was released Wednesday March 21st 2018, has become the talk of the town alongside "Holiday Love" on the TV Asahi Network, which it serves as the theme song for.
Porno Graffitti still have fans from multiple generations, and now that they're approaching the 20th anniversary of their debut, they've decided hold outdoors concerts on September 8th and 9th 2018 in their birthplace Hiroshima to kick off the year of their 20th anniversary.
Porno Graffitti's official website
Source:
http://www.pokemon-movie.jp/shudaika/

Article edited on 2018-06-24 11:48:38 by Adamant
Apr 25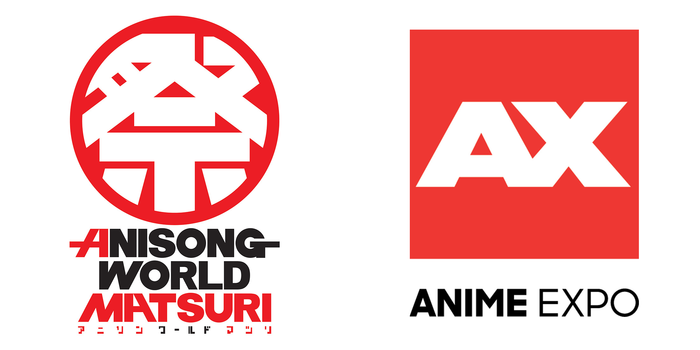 Anisong World Matsuri and Anime Expo 2018 (AX) have announced the complete lineup of anisong artists for this year's live concert series at downtown Los Angele's Microsoft Theater. The three-day music festival will be held in conjunction with AX 2018, the largest celebration of Japanese pop culture in North America, held July 4th to July 8th, 2018 at the Los Angeles Convention Center.
Shoko Nakagawa
, one of the hosts
Pokénchi
, will make a rare overseas performance.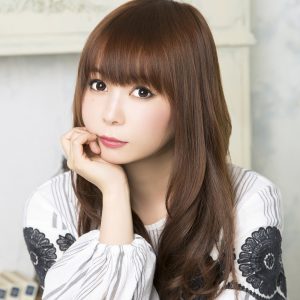 Created in association with BANDAI NAMCO Arts, Inc., Amuse Inc., Sony Music Entertainment (Japan) Inc., and other leading Japanese entertainment companies, Anisong World Matsuri at AX 2018 will present a powerful collection of fan-favorite performers including Aimer, AKB48 Team 8, THE IDOLM@STER CINDERELLA GIRLS, i☆Ris, Yuki Kajiura, May'n, Shoko Nakagawa, and Sanketsu-girl Sayuri.
Japan Kawaii Live:
Saturday, July 7: AKB48 Team 8, THE IDOLM@STER CINDERELLA GIRLS, i☆Ris, and Shoko Nakagawa
Doors Open 4:00 pm / Show Starts 5:30 pm
Ticket Pricing: VIP – $150 / Orchestra – $85 / Loge – $60
Source:
http://www.anime-expo.org/2018/04/25/anisong-world-matsuri-anime-expo-2018-announces-musical-performers-3-day-festival-event/

Article edited on 2018-04-25 01:52:01 by Sunain
Jan 28
Natalie and Yahoo Japan News reports the following:
Taiiku Okazaki's New Pokémon ED Song is "Brat Boy, Brat Girl" featuring Sly and Robbie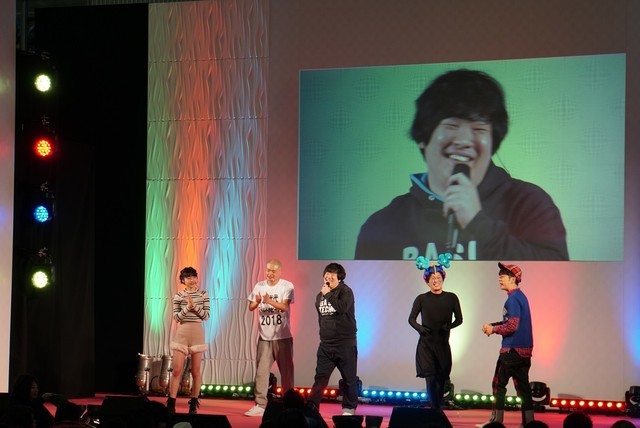 Starting with the episode airing Thursday February 8th, the ending theme for the TV anime series "Pocket Monsters Sun & Moon" will change to Taiiku Okazaki's new song "Brat Boy, Brat Girl".
This news was announced at the "Next Generation World Hobby Fair '18 Winter" event held today, January 28th, in Makuhari Messe International Exhibition Hall, Exhibition Hall 9 through 11, in Chiba. Okazaki is behind "Pose", the ending theme this anime series has been using since the start.
Okazaki appeared at the "Next Generation World Hobby Fair '18 Winter"'s "World Hobby Fair Stage". Here, he performed the new song "Brat Boy, Brat Girl" for the first time. The entire song was accompanied by reggae music from live instruments provided by the Jamaican rhythm section Sly and Robbie. The arrangement was handled by Satori Shiraishi, who also worked on the song "Natural Lips" for Okazaki's second album "XXL".
Source:
https://headlines.yahoo.co.jp/hl?a=20180128-00000028-natalien-musi

Article edited on 2018-01-28 08:22:30 by Adamant
Dec 13
The official Pokémon movie website has updated. Translations follow: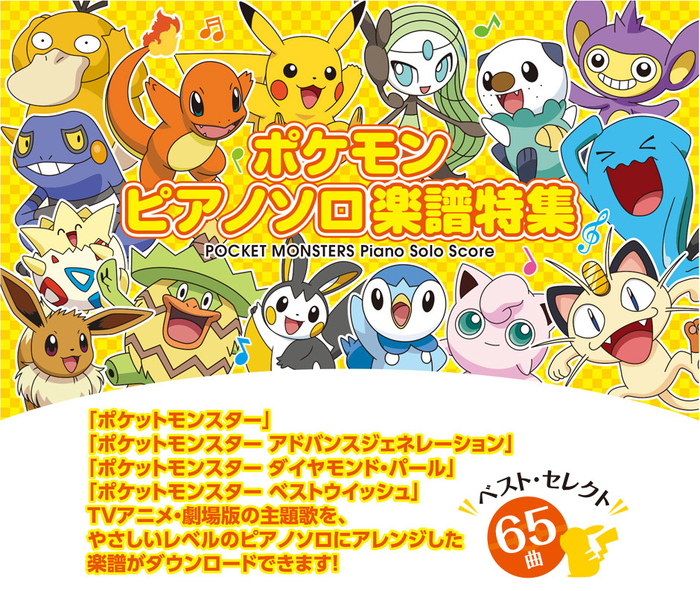 Piano Solo Sheet Music for the Theme Songs from the 2017 Pokémon Movie Go on Sale!
Affectionately arranged piano solo sheet music for
the 2017 movie "Pocket Monsters the Movie: I Choose You"'s
opening theme song "Mezase Pokémon Master -20th Anniversary-"
and ending theme song "The Oración Theme: Let's Walk Together"
from the "Pokémon Sheet Music Special" provided by Doremi Music Publishing Co.,Ltd.
are now available at the sheet music download store site "@ELISE"!
A total of 65 theme songs from past TV series and movies
are also available for purchase!
Prices start at 400 yen (tax not included)
For further information, see this page on the
"@ELISE" sheet music download store site
Source:
http://www.pokemon-movie.jp/news/?p=3155

Article edited on 2017-12-13 11:48:32 by Sunain
Sep 08
The
ANISON Park Fes.2017
is being held at an outdoor stage at
Hirakata Park
and there will be two days that Pocket Monsters performers will be there to sing the theme songs of the popular TV anime!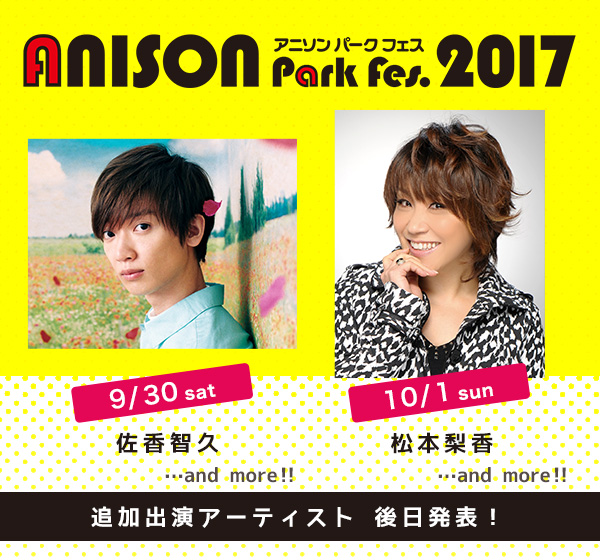 Schedule: September 30 (Sat), October 1 (Sunday)
Time: 11:30
Price: Free viewing - Outdoor stage
Saturday September 30th, 2017
Performer: Tomohisa Sako -
Pocket Monsters XY Opening Theme
●9月30日(土) 出演:佐香智久(代表曲:アニメ「ポケットモンスター XY」オープニングテーマ)、ほか
Sunday, October 1st, 2017
Performer: Rica Matsumoto -
Pocket Monsters Opening Theme
●10月1日(日) 出演:松本梨香(代表曲:アニメ「ポケットモンスター」オープニングテーマ)、ほか
※Rain or shine. However, we may partially change or cancel the show if there is stormy weather.
※ Please refrain from acts that hinder the visibility of other viewers, such as the use of an umbrella during the performance.
* Cast performers may be changed due to circumstances.
※ Please do not photograph, shoot video or record the performance stage during the event.
Source:
http://www.hirakatapark.co.jp/event/show/2017aut-anison/
Jul 15
The official Pokémon movie website has updated. Translations follow:
"The Oración Theme: Let's Walk Together" is Now Available for Download!
Asuca Hayashi's "The Oración Theme: Let's Walk Together",
The ending theme song for "Pocket Monsters the Movie: I Choose You!", which premiered today, is now available for download!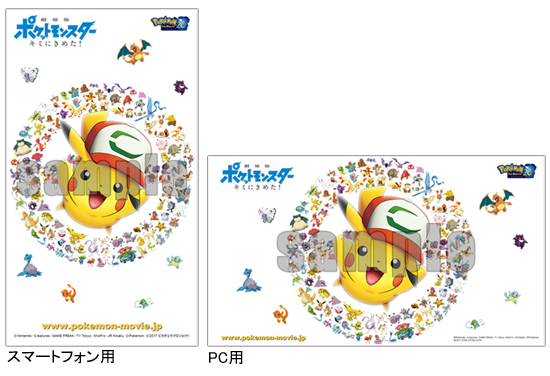 Everyone that buys the special package collection on Recochoku or mora will also receive a special wallpaper
for their smartphone or PC.
Make sure to download this and get the wallpaper!
https://erj.lnk.to/cdukJWN
Source:
http://www.pokemon-movie.jp/news/?p=2969