Welcome to PocketMonsters.net
PocketMonsters.net
is a fansite dedicated to all things Pokémon (ポケモン) and Pocket Monsters (ポケットモンスター). We are the premier site for news and information about all aspects of the franchise from around the world. We cover the
Anime
,
indexing the music
, the
Trading Card Game
, the
Games
, the
variety shows
, have a
large imageboard
,
forum
and much more.
Follow us on Twitter
and
Subscribe to our RSS Feed
for the latest updates!
News Tag Filter:
Pokémon GO
Jun 23
Niantic announced via their Official Support on Reddit that they will be adding a slash to all Pokémon caught through third-party services that circumvent normal gameplay. These Pokémon may also not behave as expected.
Update on Pokémon caught using third-party services that circumvent normal gameplay
With the announcement of Raid Battles and the new battle features, we are staying true on our commitment to ensuring that Pokémon GO continues to be a fun and fair experience for all Trainers. Starting today, Pokémon caught using third-party services that circumvent normal gameplay will appear marked with a slash in the inventory and may not behave as expected. We are humbled by the excitement for all the new features we announced yesterday. This is one small part of our continued commitment to maintaining the integrity of our community and delivering an amazing Pokémon GO experience.
Source:
https://www.reddit.com/r/pokemongo/comments/6ihyoi/update_on_pok%C3%A9mon_caught_using_thirdparty/
Jun 19
Niantic announced that Raid Battles and New Gym Features are coming to Pokémon GO in its biggest update.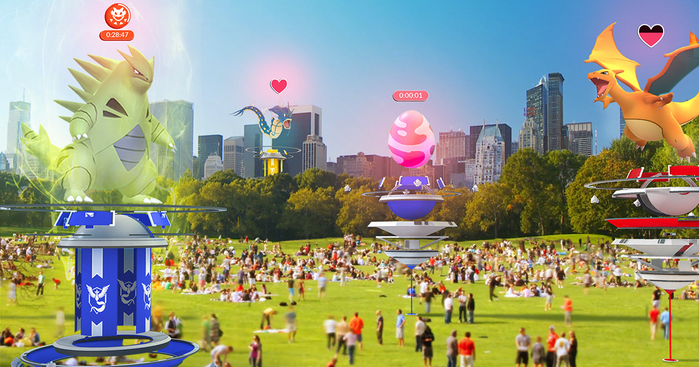 Raid Battles and New Gym Features are Coming!
Trainers, The biggest update to Pokémon GO is nearly here! Very soon, Trainers around the world will be able to participate in a revamped Gym gameplay experience, including the opportunity to join together with others to battle against powerful Pokémon in the new Raid Battle feature!
New Gym Features and Updates:
Starting soon, Gyms are undergoing a major facelift. You'll soon be able to spin the Photo Disc at Gyms to acquire items just as you do at PokéStops—but that's only the beginning. More updates to Gym battles are also just around the corner. Gyms are no longer based on Prestige and training. Instead, they now feature six permanent slots that can be filled by the controlling team's Pokémon. Each Pokémon assigned to these slots must be unique. For example, only one Blissey can be assigned to a Gym at a time. In addition, opposing teams will battle the Pokémon in the order they were assigned to the Gym.
At the heart of the update is a new motivation system that will significantly change how you interact with Gyms. When a Pokémon is assigned to a Gym, a motivation meter will be displayed. Pokémon assigned to defend a Gym lose motivation over time and as they are defeated in battle. As a Pokémon loses motivation, its CP will temporarily decrease, making it easier for opposing teams to defeat. To help keep the Pokémon motivated and in tip-top shape for their next battle, Trainers can treat their team's Pokémon to some Berries, which restore their motivation. If a Pokémon loses all motivation, it will leave the Gym and return to its Trainer the next time it loses a battle, so you'll want to keep your team's Pokémon motivated by giving them Berries frequently!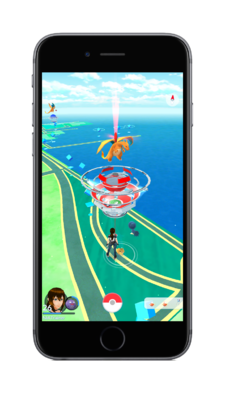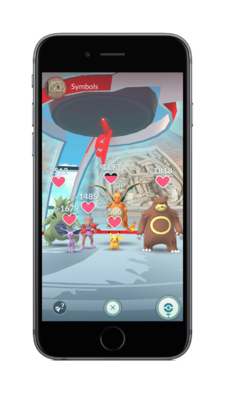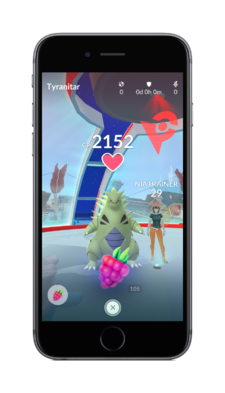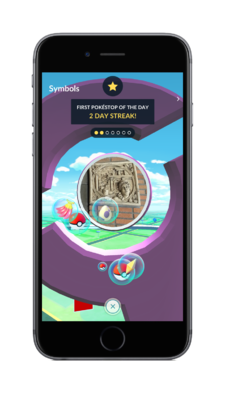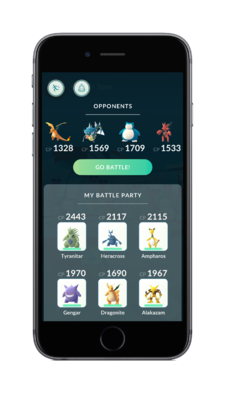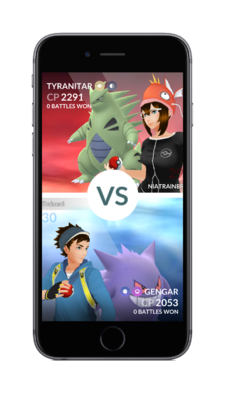 Gym Badges:
Now you'll be able to earn Gym Badges when interacting with the many Gyms around the world. Gym Badges serve as mementos of your Pokémon GO adventures and reflect your contribution to a Gym's success.
You'll be able to level up your Badges by battling, giving Berries to the Pokémon in the Gym and spinning the Gym's Photo Disc. You can earn the opportunity to receive bonus items and increased rewards from Gyms by raising the level of your Gym Badge.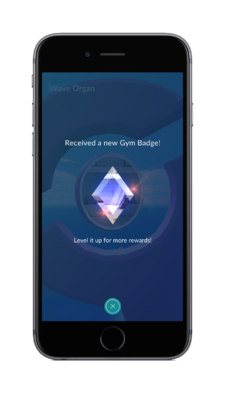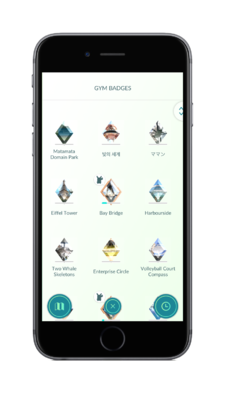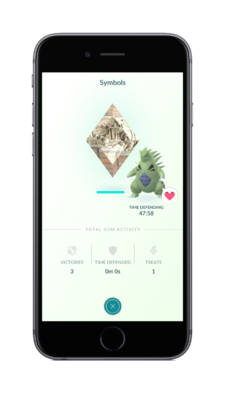 New Raid Battle Feature:
All around the world, you'll soon be able to participate in the new Raid Battle feature at Gyms. A Raid Battle is a cooperative gameplay experience that encourages you to work with other Trainers to defeat an extremely powerful Pokémon known as the Raid Boss. Before a Raid Battle begins, all Pokémon assigned to the Gym will return to their Trainers, and a large Egg will appear atop the Gym. When the countdown above the Egg reaches zero, the Raid Boss will be revealed.
Before you can battle the Raid Boss, you'll need a Raid Pass. You can get one free Raid Pass per day by visiting a Gym, but you can only hold one at a time. You can also get Premium Raid Passes from the in-game shop. Upon using your pass to join the battle, you and up to 20 other Trainers work together to defeat the Raid Boss. If you successfully defeat the Raid Boss within the five-minute time limit, you'll have the chance to catch an extra powerful Pokémon of your own!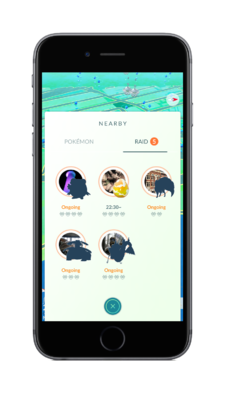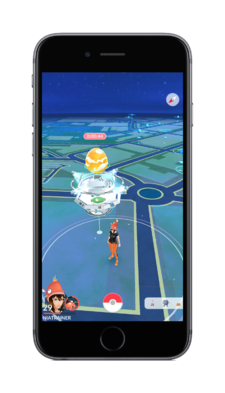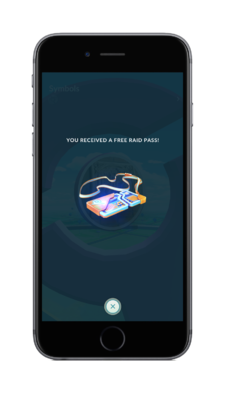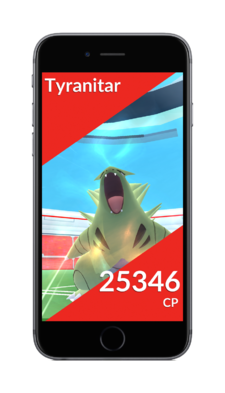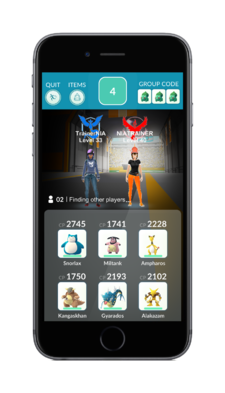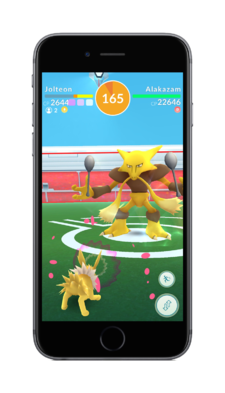 New Items:
After defeating a Raid Boss, you'll receive a collection of rewards, including some new items obtained only by defeating a Raid Boss: Rare Candies, Golden Razz Berries, and two types of Technical Machines—Fast and Charged. A Rare Candy is a mysterious candy that, when used on a Pokémon, turns into that Pokémon's Candy. Golden Razz Berries will greatly increase your chances of catching a Pokémon you encounter in the wild and can also be given to a Pokémon assigned to a Gym to fully recover its motivation meter. Technical Machines are items you can use to permanently teach a Pokémon a new Fast Attack or Charged Attack.
To put these exciting changes in motion, we'll be temporarily disabling all Gyms. Once the update has been rolled out to players around the world, Gyms will return. The Raid Battle feature will then be rolled out slowly over the next few weeks, starting as a beta, with raids visible only to a subset of players at certain Gym locations. Over a few days, we'll invite more players to participate and enable raids at more Gyms around the world. Keep an eye on our social media channels for updates on when you'll be able to start battling in raids. We can't wait to see you outside battling at your local Gyms!
Source:
http://pokemongo.nianticlabs.com/en/post/raids

Article edited on 2017-06-19 11:16:01 by Sunain
Jun 08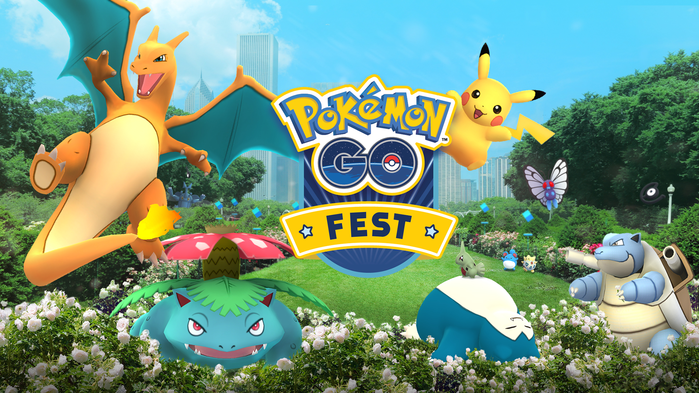 Trainers, We're celebrating two amazing milestones—Pokémon GO's one-year anniversary and 750 million global downloads—and you're invited to join in on the fun! Over the next few months, we're hosting real-world and in-game events planned alongside some very exciting new features that will get you outside exploring the world with family and friends. Get ready for an action-packed couple of months!
To kick things off, we will be hosting the Solstice Event starting on June 13, 2017. This in-game event will feature Fire-type and Ice-type Pokémon, huge XP bonuses for throwing Poké Balls accurately, and discounted Lucky Eggs in the in-game shop. Soon thereafter, you can look forward to a new update focused on collaborative group gameplay features that will get you playing Pokémon GO in fun new ways. In preparation for these exciting features, we'll be temporarily disabling Gyms for a short period of time.
We're also excited to announce our first ever real-world Pokémon GO event coming your way: Pokémon GO Fest Chicago! This event will take place in downtown Chicago, Illinois, USA at the beautiful Grant Park on July 22, 2017. Join us as we celebrate the Pokémon GO community with a ton of exciting festivities. Tickets and more information for Pokémon GO Fest Chicago will be available at PokemonGoLive.com/Fest on Monday, June 19 at 10:00 A.M. PDT, so make sure to mark your calendars and follow our social media channels to be notified when tickets go live! European Trainers can look forward to Pokémon GO celebrations hosted across the continent from June through September in partnership with Unibail-Rodamco shopping centers. We'll be posting a complete schedule for these events very soon. Also, The Pokémon Company is organizing "Pikachu Outbreak", a Pokémon event in Yokohama, Japan, in August where they're exploring a unique Pokémon GO experience. Stay tuned for even more details surrounding each of these events in the coming weeks.
Keep an eye on PokemonGoLive.com and our Pokémon GO social media channels for the latest news and updates surrounding the exciting features and events coming your way. See you outside!
Source:
http://pokemongo.nianticlabs.com/en/post/anniversary2017

Article edited on 2017-06-08 03:23:57 by Sunain
May 19
Niantic has announced
Pokémon GO Adventure Week 2017
which will take place from May 18th, 2017 at 1:00 P.M. PDT until May 25th, 2017 at 1:00 P.M. PDT. Pokémon GO was also updated to version 0.63.1 for Android and 1.33.1 for iOS.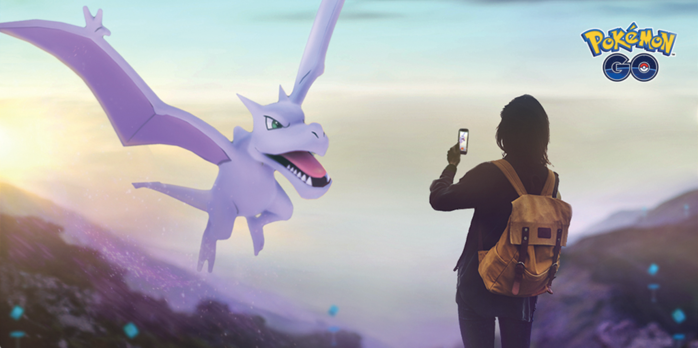 Adventures Await!
Trainers, Back in December, we collectively walked past the equivalent distance of Earth to Pluto and now, we're on a journey past the edge of the solar system! As of May 11, the Pokémon GO community has traveled more than 15.8 billion kilometers, and more adventures still await…
Pokémon GO was developed for people to easily experience classic Pokémon gameplay on their mobile device and catch Pokémon in the real world. As a result, every day, people around the globe go outside, explore the world around them, make some new memories, and get some exercise along the way. We'd love to honor the memories created so far, and our collective journey yet to come, with the Pokémon GO Adventure Week celebration from 1:00 P.M. PDT on May 18 to 1:00 P.M. PDT on May 25, 2017.
To help you stock up for your upcoming adventure, more items will be awarded from every PokéStop you visit, and Poké Balls will be 50% off in the in-game shop. Your Buddy Pokémon is also in the adventuring spirit and will find Candies four times as fast for the duration of the celebration. Whether you're exploring your neighborhood or an exotic new location, make sure to watch for Rock-type Pokémon such as Omanyte, Kabuto, and their Evolutions. Keep an eye out—maybe you'll even spot Aerodactyl!
Last but not least, you'll notice an all-new avatar item has been added to your wardrobe—the Expedition Hat! Once Adventure Week begins, grab your new hat and head out on your journey.
We're excited to see where Pokémon GO takes you this week. Document your journey with the Pokémon GO AR camera, post your photos on social media using #PokemonGO, and we'll share some of our favorites on the new Pokémon GO Instagram channel! As you embark on your adventures, remember to always be alert and aware of your surroundings when playing Pokémon GO and be respectful of the communities and locations in which you play.
Source:
http://pokemongo.nianticlabs.com/en/post/adventureweek2017
Pokémon GO updated to version 0.63.1 for Android and 1.33.1 for iOS
Trainers, Pokémon GO is in the process of being updated to version 0.63.1 for Android and 1.33.1 for iOS devices. Below are some release notes and comments from our development team.
Added Brazilian Portuguese language support.
Tapping on a medal will now show your progress toward the next medal tier.

Article edited on 2017-05-19 05:24:58 by Sunain
May 04
Niantic has announced that from May 5th, 2017 until May 8th, 2017, Pokémon GO will have an increased chance to encounter Grass-type Pokémon in the wild.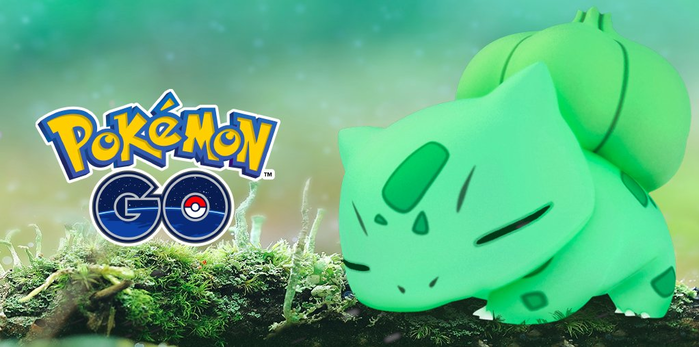 Worldwide bloom this weekend!
Trainers, Professor Willow's research into Pokémon habitats around the world has uncovered some interesting findings. His initial reports indicate that we'll see an influx of Grass-type Pokémon sometime this weekend. These Pokémon will appear in the wild more frequently starting the afternoon of May 5, but only for a short period of time. We anticipate that Pokémon will return to their normal habitats on May 8, 2017 PDT.
Help us contribute to Professor Willow's ongoing research by catching as many Grass-type Pokémon as possible this weekend. While you're out with friends and family, don't forget to document your findings using the Pokémon GO AR camera and share your screenshots on social media using #PokemonGO.
Source:
http://pokemongo.nianticlabs.com/en/post/grassweekend2017

Article edited on 2017-05-04 02:59:07 by Sunain
Apr 28
Starting on April 24th, 2017, participating stores will begin selling two different Pokémon GO branded Google Play cards. One card is for 5000 yen while the other one can be loaded with an amount between 1,500 and 50,000 yen.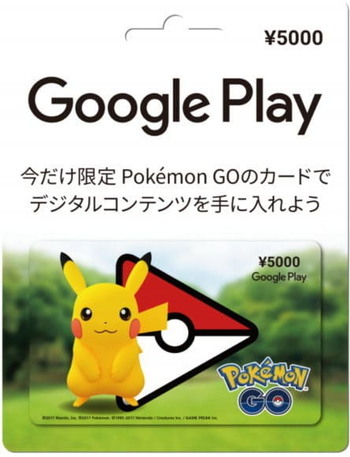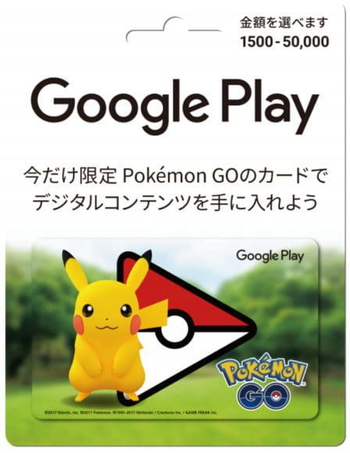 Also announced is a special promotion that takes place from April 24th, 2017 until May 21st, 2017 where players can use the AR Mode in Pokémon GO and take a picture of a wild Pokémon next to a special Pokémon GO poster. Players can then Tweet their picture to the
Google Play Pokémon GO Twitter
account and the next time the player buys a Google Play card, they will get a 300 yen.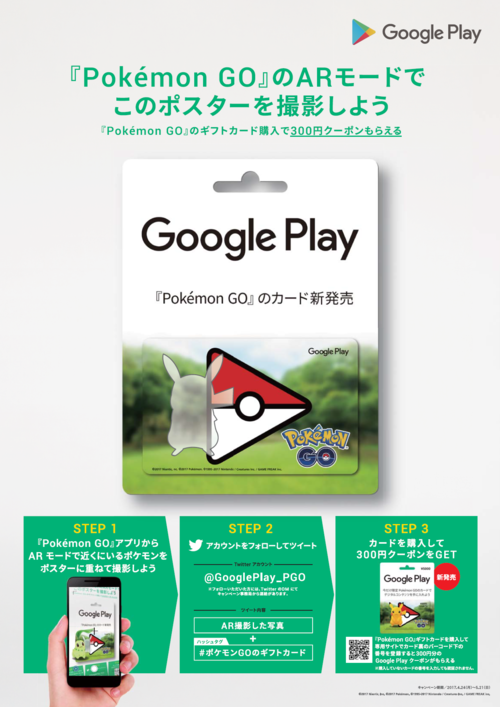 Sources:
http://www.pokemongo.jp/topics/55/
and
https://goo.gl/F5PbJM

Article edited on 2017-04-28 07:58:00 by Sunain