Welcome to PocketMonsters.net
PocketMonsters.net
is a fansite dedicated to all things Pokémon (ポケモン) and Pocket Monsters (ポケットモンスター). We are the premier site for news and information about all aspects of the franchise from around the world. We cover the
Anime
,
indexing the music
, the
Trading Card Game
, the
Games
, the
variety shows
, have a
large imageboard
,
forum
and much more.
Follow us on Twitter
and
Subscribe to our RSS Feed
for the latest updates!
Latest News

25 Jun
21 Jun
16 Jun
15 Jun
08 Jun
05 Jun
News Tag Filter:
Press Release
Jun 25
The Official Pokémon Website has announced a distribution code for players of
Pokémon Sun or Pokémon Moon
to receive Sceptilite, Blazikenite, Swampertite, Cameruptite and Banettite Mega Stones.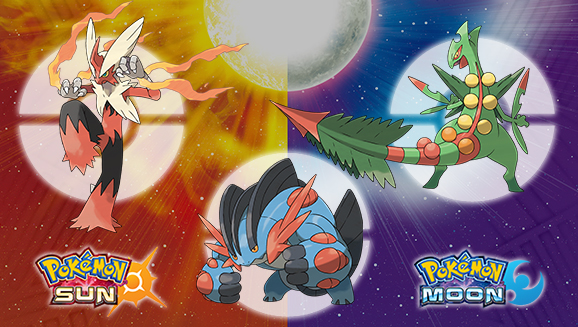 Add a Handful of Mega Stones to Your Game
Use the following special code to unlock five powerful Mega Stones that can trigger Mega Evolution in battle.
Five more Mega Stones can now be yours when you enter the code below in your
Pokémon Sun or Pokémon Moon
game. With this code, you'll get a Sceptilite, Blazikenite, Swampertite, Cameruptite, and a Banettite, the Mega Stones necessary to Mega Evolve five Pokémon originally from the Hoenn region: Sceptile, Blaziken, Swampert, Camerupt, and Banette.
Mega Stones special code:
MATSUBUSA
These Pokémon aren't available in the wild in Pokémon Sun or Pokémon Moon, but you can bring them into Pokémon Bank via Poké Transporter from earlier games. The Pokémon you transfer will lose theiritems in the process, however, so this distribution is currently the only way to get these Mega Stones in Pokémon Sun and Pokémon Moon.
To get the five Mega Stones:
Select Mystery Gift on the main menu.
Select Receive Gift.
Select Get with Code/Password, then Yes, and then Yes again to connect to the Internet.
Enter your special code.
Watch as you receive the Mega Stones.
Speak to the delivery person in any Pokémon Center to pick up your Mega Stones.
Be sure to save your game.
Go all-out the next time you battle with Mega Evolutions of these powerful Pokémon in Pokémon Sunand Pokémon Moon!
Source:
http://www.pokemon.com/us/pokemon-news/add-a-handful-of-mega-stones-to-your-game/

Article edited on 2017-06-25 08:59:08 by Sunain
Jun 21

The third expansion in the latest Pokémon Trading Card Game series, Sun and Moon - Burning Shadows, launches in the UK on 4 August.
Minions of Team Skull and a cavalcade of new Pokémon stand ready to battle in the dark of night and in the blazing sun! Battle with new titans like Necrozma-GX, and join forces with Machamp-GX and Charizard-GX to fight for victory in the Pokémon TCG: Sun and Moon - Burning Shadows expansion this August.
More than 140 cards: Over 140 cards, including brand-new Pokémon-GX and full-art Supporter cards.
Two new theme decks: Two 60-card preconstructed decks are designed to introduce players to the Pokémon TCG by letting them play straight from the get-go.
Even more brand-new Pokémon: Many of the exotic and tropical Pokémon that Trainers have come to love in the Pokémon Sun and Pokémon Moon video games join the Pokémon Trading Card Game, including Necrozma, Marshadow, and more!
Alolan Pokémon: Regional variants of classic Pokémon who have a new look in the Alola region make their appearance.
Booster packs: Each pack contains 10 cards selected from the expansion and includes at least one rare card.

Article edited on 2017-06-23 11:32:35 by Sunain
Jun 16
The Pokémon Company International announced more official details for the Mythical Pokémon Marshadow.
Details about its distribution in Japan were announced on the Movie 20 website
but today's press release indicates that for the rest of the world, the distribution details will be announced at a future date.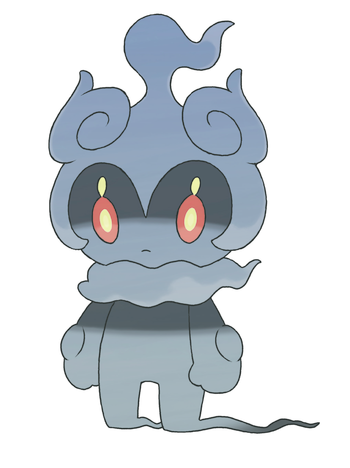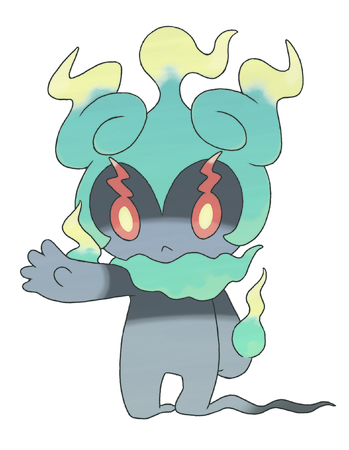 The Mythical Pokémon Marshadow's secrets are coming to light!
The Gloomdweller Pokémon Marshadow is the first Fighting- and Ghost-type Pokémon, and it has its own exclusive Z-Move: Soul-Stealing 7-Star Strike!
Among the numerous Pokémon discovered to date, Marshadow is the first to combine Fighting type and Ghost- type. Marshadow is able to conceal itself in the shadows, and it never appears before humans, so its very existence was previously thought to be a myth.
Marshadow can sink into the shadows of others and copy their moves and power. Fighting-type Pokémon are usually weak in battle against Psychic-type Pokémon, but with Marshadow, you'll be able to take advantage of its Ghost-type abilities to battle effectively!
When standing up to enemies with its full power, parts of Marshadow's body turn green, thanks to its burning fighting spirit.
Spectral Thief is a new move which only Marshadow can learn. This move steals any stat boosts that the target had and then deals an attack. It's a powerful physical move with a surprising effect. Change a crisis into a chance, and victory may be within your reach!
Once Marshadow knows Spectral Thief, the special Z-Move Soul-Stealing 7-Star Strike can be used. Marshadow must also be holding the special Z-Crystal Marshadium Z, which cannot be obtained through regular gameplay, to perform this Z-Move.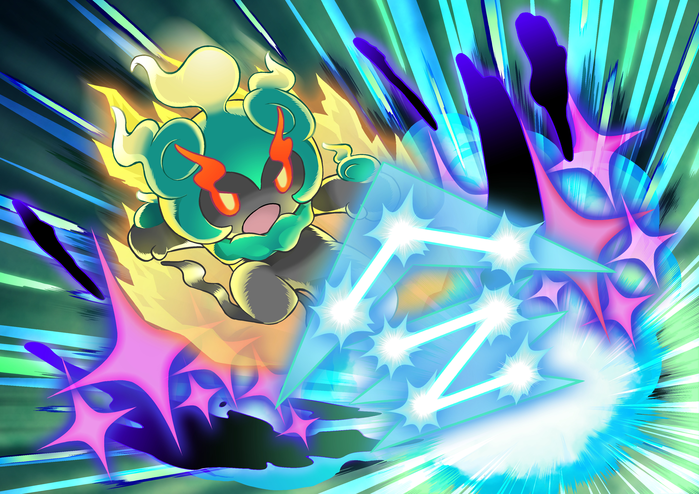 More details, including how Trainers can get this Pokémon for their game, will be announced at a future time.

Article edited on 2017-06-23 11:47:53 by Sunain
Jun 15
The Pokémon Company unveiled an exciting art installation at the Yoshio Kubo exhibition.
Photos from the exhibition have been added to an Imageboard thread
.

The Pokémon Company unveils exciting art installation at the Yoshio Kubo exhibition at Pitti Immagine Uomo
The Pokémon Company has revealed a stunning projection based art installation created alongside fashion designer Yoshio Kubo.
The fascinating installation uses a range of different sized mirrored pyramids and projections of the culturally iconic Pikachu and PokéBall, with the aim of demonstrating the various stages of fashion creation.
The beautiful Pokémon installation was premiered to the attendees of Yoshio Kubo's catwalk presentation, as well as being on show to the general public who also had the chance to view the installation as part of Pitti Immagine Uomo.
This installation is the first time that The Pokémon Company has had a presence at such a high profile fashion event. After the success of the installation, The Pokémon Company is continuing to seek further partners to collaborate with in the fashion space.

Article edited on 2017-06-15 01:13:02 by Sunain
Jun 08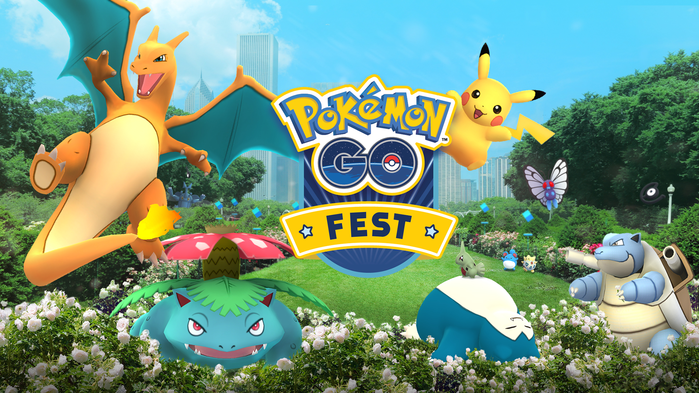 Trainers, We're celebrating two amazing milestones—Pokémon GO's one-year anniversary and 750 million global downloads—and you're invited to join in on the fun! Over the next few months, we're hosting real-world and in-game events planned alongside some very exciting new features that will get you outside exploring the world with family and friends. Get ready for an action-packed couple of months!
To kick things off, we will be hosting the Solstice Event starting on June 13, 2017. This in-game event will feature Fire-type and Ice-type Pokémon, huge XP bonuses for throwing Poké Balls accurately, and discounted Lucky Eggs in the in-game shop. Soon thereafter, you can look forward to a new update focused on collaborative group gameplay features that will get you playing Pokémon GO in fun new ways. In preparation for these exciting features, we'll be temporarily disabling Gyms for a short period of time.
We're also excited to announce our first ever real-world Pokémon GO event coming your way: Pokémon GO Fest Chicago! This event will take place in downtown Chicago, Illinois, USA at the beautiful Grant Park on July 22, 2017. Join us as we celebrate the Pokémon GO community with a ton of exciting festivities. Tickets and more information for Pokémon GO Fest Chicago will be available at PokemonGoLive.com/Fest on Monday, June 19 at 10:00 A.M. PDT, so make sure to mark your calendars and follow our social media channels to be notified when tickets go live! European Trainers can look forward to Pokémon GO celebrations hosted across the continent from June through September in partnership with Unibail-Rodamco shopping centers. We'll be posting a complete schedule for these events very soon. Also, The Pokémon Company is organizing "Pikachu Outbreak", a Pokémon event in Yokohama, Japan, in August where they're exploring a unique Pokémon GO experience. Stay tuned for even more details surrounding each of these events in the coming weeks.
Keep an eye on PokemonGoLive.com and our Pokémon GO social media channels for the latest news and updates surrounding the exciting features and events coming your way. See you outside!
Source:
http://pokemongo.nianticlabs.com/en/post/anniversary2017

Article edited on 2017-06-08 03:23:57 by Sunain
Jun 05
On June 6th, 2017 at 7:00 a.m. PT/10:00 a.m. ET, a Pokémon Direct special will air. It will be 8 minutes and will announce new information.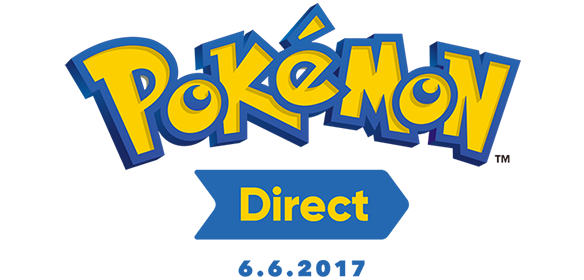 YouTube Clip - Pokémon Direct 6.6.2017
Source:
http://www.nintendo.com/nintendo-direct/06-06-2017
NEW POKÉMON GAMES ANNOUNCED VIA POKÉMON DIRECT
New Pokémon games due to release later this year on Nintendo 3DS and Nintendo Switch consoles
6 June 2017—During today's Pokémon Direct presentation, Tsunekazu Ishihara, president and CEO of The Pokémon Company, and Junichi Masuda, Director of GAME FREAK, announced upcoming Pokémon titles for Nintendo consoles.
Pokémon is making its way to Nintendo Switch later this year with Pokkén Tournament DX. Including all the content from both the Wii U and arcade versions of Pokkén Tournament, Pokkén Tournament DX introduces an array of exciting new features to create the ultimate Pokkén experience. Features of Pokkén Tournament DX include:
Play Pokkén anytime, anywhere on Nintendo Switch – Play Pokkén Tournament DX in TV mode, handheld mode, or share a Joy-Con controller with another Trainer to battle one-on-one in tabletop mode anywhere!
A brand-new fighter — Decidueye enters the battle, alongside all previous Pokémon from the Wii U and arcade versions.
New Support Pokémon – Litten and Popplio make their debut to lend their support in battle.
Team Battle mode – Pick three Pokémon and battle it out to be the first to defeat all your opponent's Pokémon to win in the new Team Battle mode.
Group Match mode – Find similar skilled players in battle rooms for intense and fun battles online.
Daily Challenges – Complete a variety of different daily challenges.
Watch battle replays – Hone your skills by watching other players' replays and share your best matches online with the new replay feature.
Jump straight into battle - All characters and Support Pokémon will be available right from the start of the game.
Pokkén Tournament DX will launch on Nintendo Switch 22 September 2017.

During Pokémon Direct, viewers also saw the first footage from the newest titles in the Pokémon series, Pokémon Ultra Sun and Pokémon Ultra Moon. Two new Pokémon forms were shown resembling that of the Legendary Pokémon Solgaleo and Lunala. Pokémon Ultra Sun and Pokémon Ultra Moon have been powered up with new additions to the story and features from Pokémon Sun and Pokémon Moon. Pokémon Ultra Sun and Pokémon Ultra Moon are scheduled to release worldwide on 17 November 2017—more information about the games will be revealed later this year.
Also announced, the second titles in the Pokémon series, Pokémon Gold and Pokémon Silver, will be making their way to the Nintendo 3DS Virtual Console. Pokémon Gold and Pokémon Silver were released in Japan on 21 November 1999, as the second set of titles in the Pokémon series. These games, which debuted as Game Boy Color-titles in Japan, are being recreated into Virtual Console versions such that their screens appear just as they did on the Game Boy Color. Both titles will be compatible with the wireless communication features of the Nintendo 3DS and Trainers can look forward to Link Trades and Link Battles between Virtual Console versions of Pokémon Gold and Pokémon Silver. In addition, these titles will be compatible with the Time Capsule function, which allows players to Link Trade Pokémon between the Virtual Console versions of Pokémon Gold or Pokémon Silver and the Virtual Console versions of Pokémon Red, Pokémon Blue, or Pokémon Yellow in Pokémon Centers within the games. Both titles will be compatible with Pokémon Bank and will launch this fall.

Article edited on 2017-06-11 03:32:42 by Sunain