Welcome to PocketMonsters.net
PocketMonsters.net
is a fansite dedicated to all things Pokémon (ポケモン) and Pocket Monsters (ポケットモンスター). We are the premier site for news and information about all aspects of the franchise from around the world. We cover the
Anime
,
indexing the music
, the
Trading Card Game
, the
Games
, the
variety shows
, have a
large imageboard
,
forum
and much more.
Follow us on Twitter
and
Subscribe to our RSS Feed
for the latest updates!
News Tag Filter:
Toys R Us
May 05
Toys R US in Canada and the United States will be giving out a
Pokémon Sun and Moon TCG Guardian's Rising
Collector's Album and a Foil Card featuring Alolan Vulpix as a promotion for the new TCG's set launch. In addition, the first 50 customers will receive a 2" Eevee Figure. The giveaway will take place in Canada on Saturday, May 6th, 2017 from 11am until 1pm while in the United States it will take place on Saturday, May 13th, 2017 from 1pm until 3pm.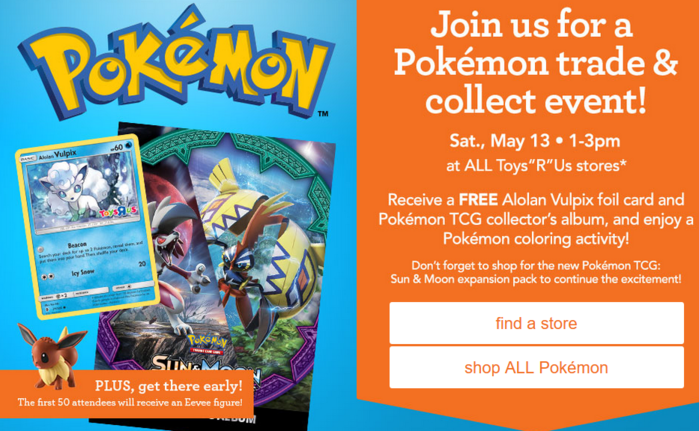 Sources:
http://www.toysrus.com/shop/index.jsp?categoryId=4311963
and
http://www.toysrus.ca/shop/index.jsp?categoryId=3373022&pokemon

Article edited on 2017-05-05 03:42:18 by Sunain
Feb 02
The official Pokémon website has announced that participating Toys R Us stores will be giving away a Cosmog foil promo card and a Sun and Moon TCG Expansion collector's album in store on February 4th, 2017 between 12 and 2pm. The event is open to kids ages 6-up and adult collectors while supplies last.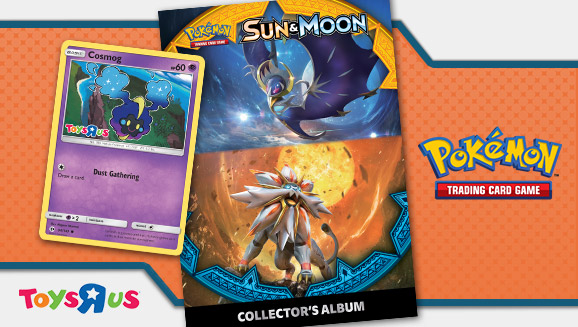 The Sun & Moon Expansion Shines Bright at Toys"R"Us
Celebrate the launch of the new Pokémon TCG: Sun & Moon expansion at a Toys"R"Us special event.
On February 4, you're invited to your local participating Toys"R"Us store to help kick off the launch of the new Pokémon Trading Card Game: Sun & Moon expansion. Look forward to cool giveaways, including a foil promo card featuring the new Pokémon Cosmog and a Sun & Moon collector's album to store your cards. You can also take part in an in-store Pokémon coloring activity.
The Pokémon TCG: Sun & Moon expansion is the first of the Sun & Moon Series, featuring amazing new Pokémon from the Alola region and new Trainer cards to collect and battle with. Get more details on the Sun & Moon expansion.
Sources:
http://www.pokemon.com/us/pokemon-news/the-sun-moon-expansion-shines-bright-at-toysrus/
and
http://www.toysrus.com/shop/?categoryId=4311963

Article edited on 2017-02-02 03:16:44 by Sunain