Welcome to PocketMonsters.net
PocketMonsters.net
is a fansite dedicated to all things Pokémon (ポケモン) and Pocket Monsters (ポケットモンスター). We are the premier site for news and information about all aspects of the franchise from around the world. We cover the
Anime
,
indexing the music
, the
Trading Card Game
, the
Games
, the
variety shows
, have a
large imageboard
,
forum
and much more.
Follow us on Twitter
and
Subscribe to our RSS Feed
for the latest updates!
Latest News

23 Jul
14 Jul
02 Mar
17 Dec
14 Dec
08 Dec
News Tag Filter:
Twitter
Jul 23
Pokémon GO Fest Chicago
was held in downtown Chicago, Illinois, USA at the beautiful Grant Park on July 22nd, 2017 but the event did not go as planned as it was plagued with technical issues. Cell phone networks from Verzion, Sprint and AT&T were overloaded and did not function properly causing people at the event to be unable to play the game.
The Pokémon GO Fest Live Stream
was also plagued with technical issues from audio static that made people sound robotic, to video streaming issues and also video quality issues. Hopefully Niantic will learn from this mistake and
order and require portable cell phone towers from all providers
that are now common at major sporting events and concerts like Coachella. Junichi Masuda also attended the event.
Twitter Posts:
Legendary Pokémon Articuno and Lugia are here! #AdventureTogether https://t.co/wKNLY7I9aA pic.twitter.com/dA1R3PrlMW

— Pokémon GO (@PokemonGoApp) July 23, 2017
Trainers, we're aware of server and connectivity issues impacting #PokemonGOFest and are working as quickly as possible to address them.

— Pokémon GO (@PokemonGoApp) July 22, 2017
Blog update! Thank you Chicago!https://t.co/kaZPMEskuf

— 増田順一@GAME FREAK inc. (@Junichi_Masuda) July 23, 2017
Niantic Pokémon GO Fest Chicago Update
Today at Pokémon GO Fest in Chicago, technical issues created problems for a large number of players attending the event. From everyone at Niantic, we apologize to all of the Trainers who came out to Pokémon GO Fest today. Although we were able to solve many of the technical issues, we were not able to offer every attendee a great experience.
Niantic is taking the following steps immediately:
All registered attendees will soon receive an email with instructions on how to receive a full refund for the cost of their ticket. These instructions will be sent to the email addresses associated with your Pokémon GO account.
All registered attendees will receive $100 in PokéCoins in their Pokémon GO account.
Special Pokémon, Eggs, and check-in PokéStops appearing during Pokémon GO Fest have had their range increased to a two mile radius surrounding Grant Park through Monday morning, July 24. These Pokémon and Eggs will only be visible to Pokémon GO Fest attendees who validated the QR code they received when they entered Pokémon GO Fest. Attendees who were unable to validate their QR code during the event can do so through the special PokéStops through Monday morning.
All registered attendees will have the Legendary Pokémon, Lugia, added to their account.
We appreciate the patience of all the Trainers who joined us in Chicago this weekend. We will strive to make sure our experiences are of the highest quality going forward.
Source:
http://pokemongo.nianticlabs.com/en/post/pokemongofestupdate

Article edited on 2017-07-25 08:01:30 by Sunain
Jul 14
The official Pokémon movie website has updated. Translations follow:
The Rocket Gang is Appearing?! We Request Information on the Nyarth Balloon!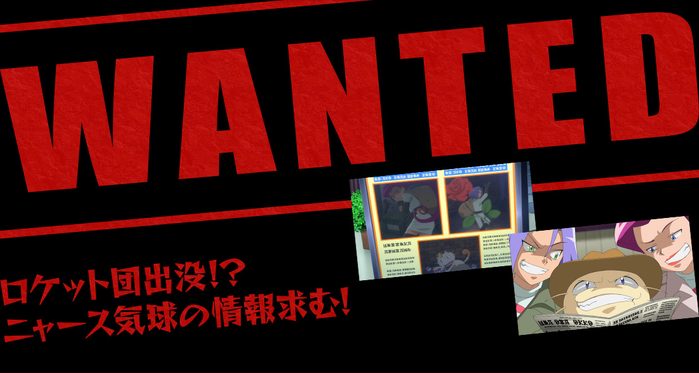 We've received many eyewitness reports stating the Nyarth balloon has appeared various places around Japan! Be wary of the damages it causes!
Many people claim to have personally seen the Nyarth balloon appear somewhere in Tokyo!
It appears this well known balloon, which body turns into a Nyarth face,
suddenly showed up and startled people in the area.
For an "infiltration" report from the Rocket gang emergency meeting, go here
What is the Nyarth balloon?
It's a balloon Rocket Gang members Musashi, Kojiro, Nyarth, Sonansu etc. often use to travel through the sky! It has appeared in a variety of places, including the kanto region, the Houen region, the Isshu region, etc.

It appears the Rocket Gang will be flying through these areas!
We will give you all advance warnings on where they'll appear,
so if any of you spot the Nyarth balloon,
please post photos of it on Twitter or Instagram,
using the hashtags #ロケット団 and #キミにきめた !
*submitted content will be published on the official movie site.
Advance warnings:

Source:
http://www.pokemon-movie.jp/rocket/

Article edited on 2017-07-15 09:54:33 by Sunain
Mar 02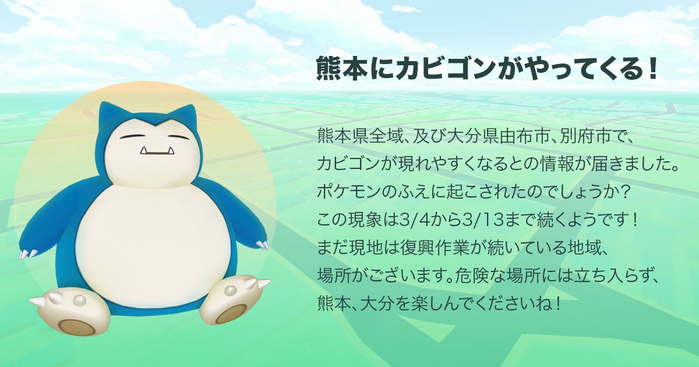 Niantic announced that from
March 4th, 2017 until March 13th, 2017
,
Kabigon
will appear more frequently than normal in Pokémon Go in the
Kumamoto
and
Ōita
Prefectures of Japan. They also warn players to be careful playing the game in those areas as there is still a lot of localized reconstruction work continuing as a result of the
2016 Kumamoto earthquakes
.
Source:
https://twitter.com/PokemonGOAppJP/status/837210891166842881

Article edited on 2017-03-02 07:11:47 by Sunain
Dec 17
Niantic announced via Twitter that Pokémon Go is indeed still coming out soon after reports began circulating on Saturday that the app had been shelved. The Tweet by Niantic though seems more like damage control rather than an actual announcement of the apps release date. The Pokémon Go app was announced to be released before the end of 2016.
Pokémon Go for Apple Watch is coming soon. Stay tuned.

— Pokémon GO (@PokemonGoApp) December 17, 2016
9to5Mac reported that they had a confirmed source with knowledge of Niantic's plans that the Pokémon Go Plus app for Apple Watch had been canceled for now.
On September 7th, 2016, Apple had a Special Event
at San Francisco's Bill Graham Civic Auditorium where they announced some their new products for the upcoming year. At the event, Niantic CEO John Hanke had a segment during the presentation where he discussed the current status of Pokémon GO and he announced that Pokémon GO Plus for Apple Watch would be released by the end of 2016.
Source:
https://9to5mac.com/2016/12/17/pokemon-go-for-apple-watch-cancelled/

Article edited on 2016-12-17 04:42:00 by Sunain
Dec 14
The December 15th, 2016 episode of
Oha Suta
revealed the trailer and poster for the
20th Pocket Monsters Movie - I choose you!
.
The title of the movie shares a similar name as the first episode of the original series of Pocket Monsters
. The movie will debut in Japan on July 15th, 2017. The official movie website updated a little while after the airing of Oha Suta with the trailer, poster and a background picture featuring
Ho-oh
,
Satoshi
and
Pikachu
.
Images from Oha Suta, the trailer and the website have been added to an Imageboard thread
.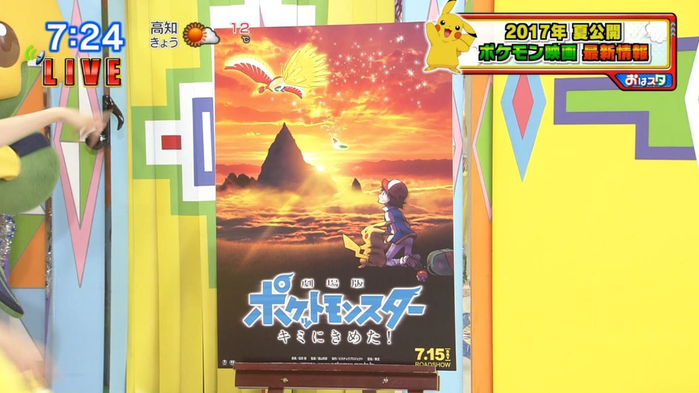 Tweet Announcing Movie Information to Air on Oha Suta
2017年夏公開のポケモン映画最新情報を、明日放送の「おはスタ」(テレビ東京系あさ7:05~)にて世界初公開!お見逃しなく! #ポケモン映画https://t.co/IFlS2sqp7x pic.twitter.com/QnQleqLmzH

— 劇場版ポケットモンスター キミにきめた! (@pokemon_movie) December 14, 2016

Article edited on 2016-12-14 11:06:34 by Sunain
Dec 08
Niantic and Starbucks have announced the Special-Edition Pokémon GO Frappuccino and that approximately 7,800 Starbucks stores in the United States will begin to turn into PokéStops or Gyms starting on December 8th, 2016.
Hello, Starbucks!
Trainers, We are happy to announce that Starbucks is now an official partner of Pokémon GO.
Starbucks has a long-standing commitment to providing spaces for social interaction and real-world community building in its extensive network of locations. We appreciate their role in creating safe, welcoming locations for people from all walks of life to come together for refreshment and social engagement. Starting 11 A.M. PST on December 8th, this new partnership will transform 7,800 company-operated Starbucks stores in the United States into PokéStops and Gyms, giving Trainers even more places to play and to engage with their local Pokémon GO communities. And to cap it all off, Starbucks is creating a special-edition Pokémon GO Frappuccino® for everyone!
Whether you're on your daily morning commute or just out exploring your neighborhood with your loved ones, make sure you collect items from the new Starbucks PokéStops or battle in the new Gyms with your favorite Pokémon!
Source:
http://pokemongolive.com/en/post/starbucks/
Discover the Pokémon GO Frappuccino at Starbucks
People across the country have been playing Pokémon GO since its release and Starbucks customers and partners (employees) are among them. To join in with the fun and excitement, starting today (December 8) at 11 a.m. PST, approximately 7,800 Starbucks® stores in the U.S. will begin to turn into PokéStops or Gyms.
By locating a Starbucks® store within Pokémon GO, players will discover the Pokémon GO Frappuccino® blended beverage. The Pokémon GO Frappuccino® starts with a Vanilla Bean Frappuccino® blended beverage and raspberry syrup blended with freeze-dried whole blackberries and topped with whipped cream. It's the perfect treat for any Pokémon Trainer on the go.
The Pokémon GO Frappuccino® blended beverage will be available at participating Starbucks® stores for a limited time while supplies last.
Source:
https://news.starbucks.com/news/starbucks-pokemon-go
Starbucks Twitter
Discover the Pokémon GO @Frappuccino at Starbucks https://t.co/nWLiOuGV3c pic.twitter.com/r8CTnLKwuV

— Starbucks News (@Starbucksnews) December 8, 2016

Article edited on 2016-12-08 01:03:36 by Sunain