News Tag Filter:
Anime
Dec 12
The official Japanese Movie 18 website launched today.
Pokémon the Movie XY 2015
will premiere in Japanese theaters July 18th, 2015. The website includes bios on the characters, posters and a brief trailer.
The Legend is Stirring...
Character Profiles
Picture
Biography
Mega Rayquaza:
Species: Sky High Pokémon
Type: Dragon/Flying
Height: 10.8 m
Weight: 392.0 kg
Ability: Delta Stream
Primal Kyogre:
Species: Sea Basin Pokémon
Type: Water
Height: 9.8 m
Weight: 430.0 kg
Ability: Primordial Sea
Primal Groudon:
Species: Continent Pokémon
Type: Ground/Fire
Height: 5.0 m
Weight: 999.7 kg
Ability: Desolate Land
Posters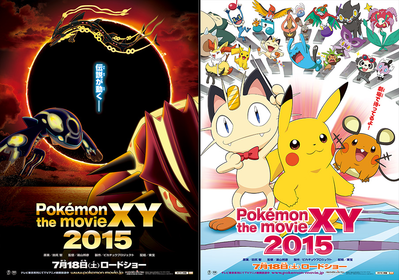 Special Wallpaper
Teaser Trailer
Short
No details on a movie short were made, though
a Tweet from the official Pokémon Movie twitter
mentioned that there would indeed be one this year as well.
Source:
http://www.pokemon-movie.jp/

Article edited on 2014-12-13 12:07:05 by Sunain
Dec 10
TV Tokyo has updated the Television Guide listing for the
Oha Suta
episode that airs on Thursday, December 11th, 2014 at 6:45am JST. The guide lists that the worlds first teaser video for the upcoming Pokémon Movie will debut during the show which should reveal the preliminary title for the movie. In addition to the teaser trailer, the weekly Pokémon Tretta School segment will also be broadcast. The trailer will also be shown during
Pokémon Get TV episode 61
which airs on TV Tokyo on Sunday December 14th, 2014 at 7:30am JST.
【ニュース】明日、12月11日(木)の「おはスタ」で、来年のポケモン映画について、重大発表するぞ!「おはスタ」は、テレビ東京系で放送中!明日、あさ6:59からの生放送をチェック!早起きしてみてね! http://t.co/mvJXKu3pLy #pokemon_movie

— ポケモン・ザ・ムービーXY (@pokemon_movie) December 10, 2014
Source:
http://www.tv-tokyo.co.jp/program/detail/14338_201412110645.html
Pokémon the Movie XY 2015 Teaser Trailer
The preliminary title for the movie was revealed at the end of the trailer as:
Pokémon the Movie XY 2015
. The full title should be revealed sometime in February of 2015. After debuting on Oha Suta, the trailer was available on the official Japanese Pokémon YouTube account.

Article edited on 2014-12-10 11:19:21 by Sunain
Nov 20
Japanese Voice Actor
Rokuro Naya (納谷六朗)
died on November 17th, 2014 at the age of 82 due to pneumonia. He was born on October 20th, 1932 in Tokyo, Japan. He was most known for his roles as Aquarius Camus in Saint Seiya and Bunta Takakura in Crayon Shin-chan. Pocket Monsters anime fans will recognize him as the voice of
Taylor (テイラー)
and
Keith Basquiat (キース・バスキア)
.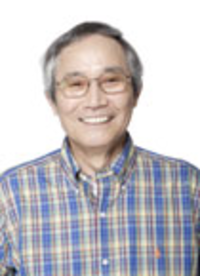 Sources:
http://www.mausu.net/talent/tpdb_view.cgi?UID=115
and
http://www.sponichi.co.jp/entertainment/news/2014/11/18/kiji/K20141118009305440.html

Article edited on 2014-11-20 12:09:06 by Sunain
Nov 16
During today's
broadcast special
of
The Sky-Rending Visitor Deoxys (裂空の訪問者 デオキシス)
, a Pokémon Omega Ruby Alpha Sapphire Mega Special Animation also aired. That special anime was also posted to YouTube and can be viewed below.
Pokémon Omega Ruby Alpha Sapphire Mega Special Animation (『ポケットモンスター オメガルビー・アルファサファイア』 メガスペシャルアニメーション)

Article edited on 2014-11-16 03:39:15 by Sunain
Nov 05
The official Pokémon website has posted the Movie 17 English dubbed prequel short
Pokémon Diancie Princess of the Diamond Domain
as part of the launch website for the 4th XY TCG expansion set
Phantom Forces
.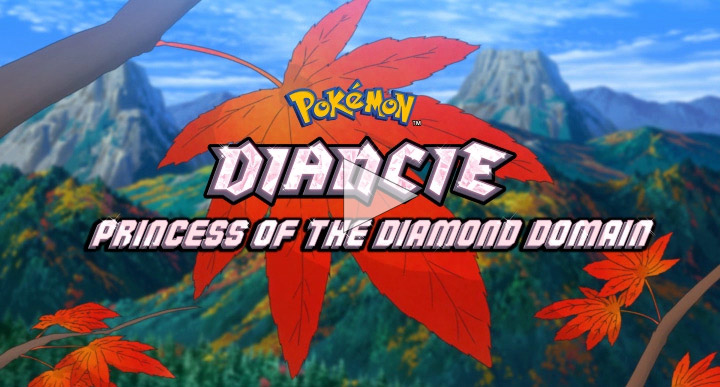 While on a journey to search for Xerneas, Diancie is awakened by a cry for help and goes to investigate. When Diancie's loyal Carbink subjects discover that their princess has wandered off and decide to follow, all four of them find themselves in a sticky situation!
Source:
http://xy4.pokemontcgxy.com/diancie/movie-time/

Article edited on 2014-11-05 02:11:20 by Sunain