Latest News

28 Jul
26 Jul
06 Jul
30 Apr
24 Apr
04 Apr
News Tag Filter:
Anime
Jul 28
As of July 28th, 2015, Canadian Netflix competitor
Shomi
will now host the Pokémon Anime on its service according to the official
Pokémon Twitter account
. Shomi is a video on demand service jointly owned by Canadian cable giants Rogers Communications and Shaw Communications. Unlike Netflix,
Shomi
is currently only available to Rogers and Shaw Internet or cable customers and a Shomi subscription costs $8.99 CDN a month in addition to a Rogers or Shaw subscription. Some of their higher end cable packages include the Shomi service though. Canadian Pokémon anime fans wishing to watch the series are better off buying the
DVD
's or buying the episodes and season packs from iTunes. The Pokémon anime series is also available on demand via Netflix or on
Pokemon.com's Watch Pokémon TV
.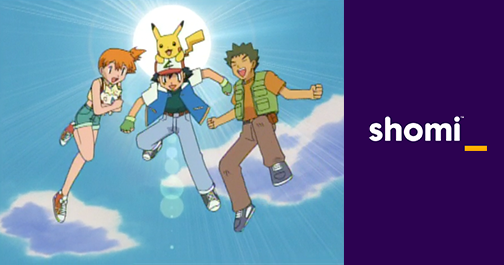 Source:
https://twitter.com/Pokemon/status/626073060966137856

Article edited on 2015-07-28 06:22:07 by Sunain
Jul 26
The
18th Pocket Monsters movie - The Archdjinni of Rings: Hoopa (光輪の超魔神 フーパ)
was heavily advertised this year including an unprecedented number of event Pokémon distributions, tie-ins with the TCG, Pokémon Tretta, promotions, present campaigns, goods promotions and other media. The movie unfortunately did not do as well as
last years XY movie in the box office
. For the 2 day weekend of July 18th and July 19th, 2015, the movie made 384,115,100yen (Approximately $3.10 Million USD) with 351,592 ticket sales. The movie
Hero
took first place and
The Boy and the Beast
took second place.

According to the results of a questionnaire conducted at the theaters by Toho, there was a male to female viewer ratio of 71%/29% for the movie. By age: 50.2% elementary school age, 13.8% kindergarten and nursery school age and 23.8% in their 30s or more.
Source:
http://www.cinematoday.jp/page/N0075100

Article edited on 2015-07-26 03:10:44 by Sunain
Jul 06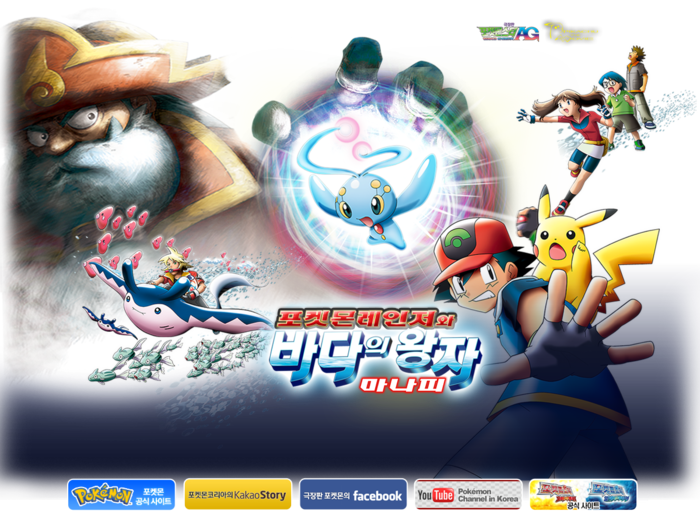 The 9th Pocket Monsters Movie
Pokémon Ranger and the Prince of the Sea - Manaphy (극장판 포켓몬스터 AG : 포켓몬레인저와 바다의 왕자 마나피)
will be re-released in theaters on July 23rd, 2015. The movie originally opened on July 20th, 2006 in Korea and July 15th, 2006 in Japan.
A DVD of the movie was also released in 2008 in South Korea
.
To promote the movies re-release, a
Manaphy
will be distributed at participating cinemas in South Korea to players of
Pocket Monsters Omega Ruby and Alpha Sapphire
. Manaphy is Level: 1, has the OT: 물의일족, has the Ability:
Hydration
and knows the Moves:
Tail Glow
,
Bubble
,
Water Sport
and
Heart Swap
.
Manaphy Distribution Poster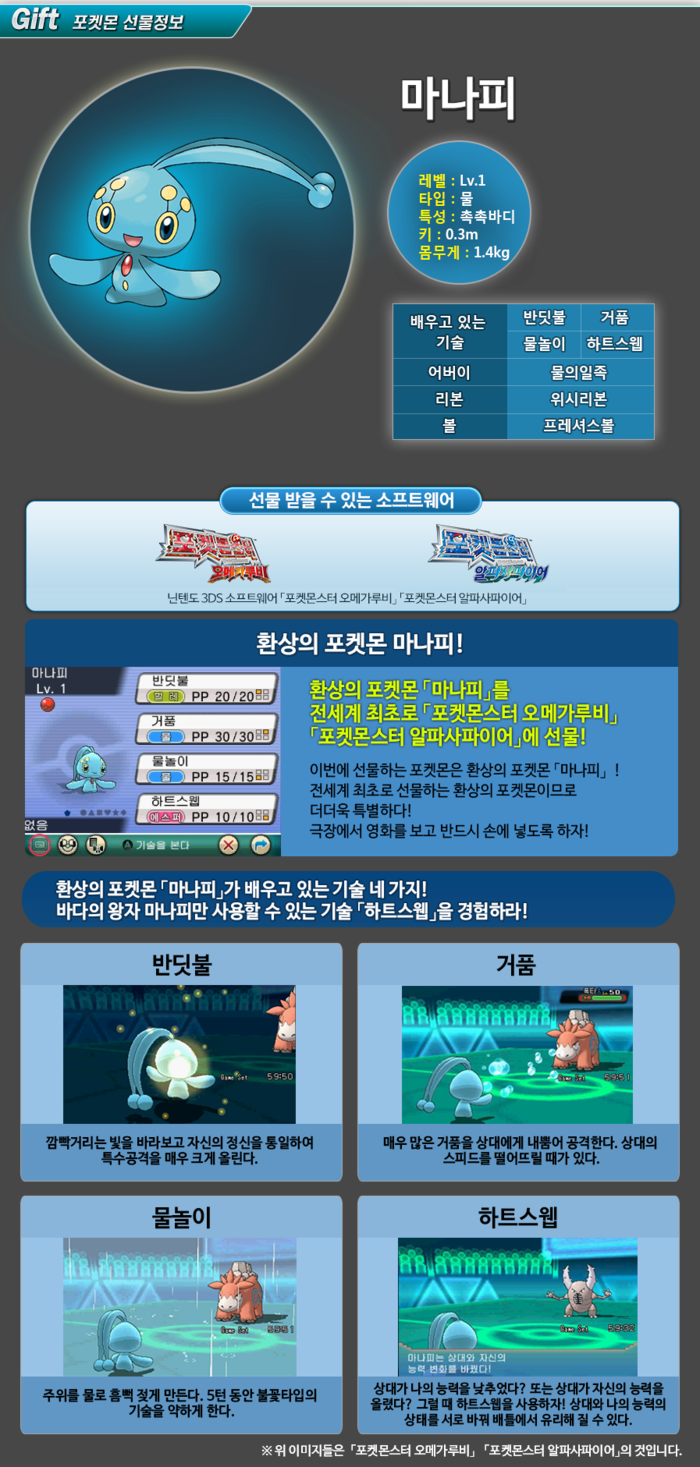 Movie Poster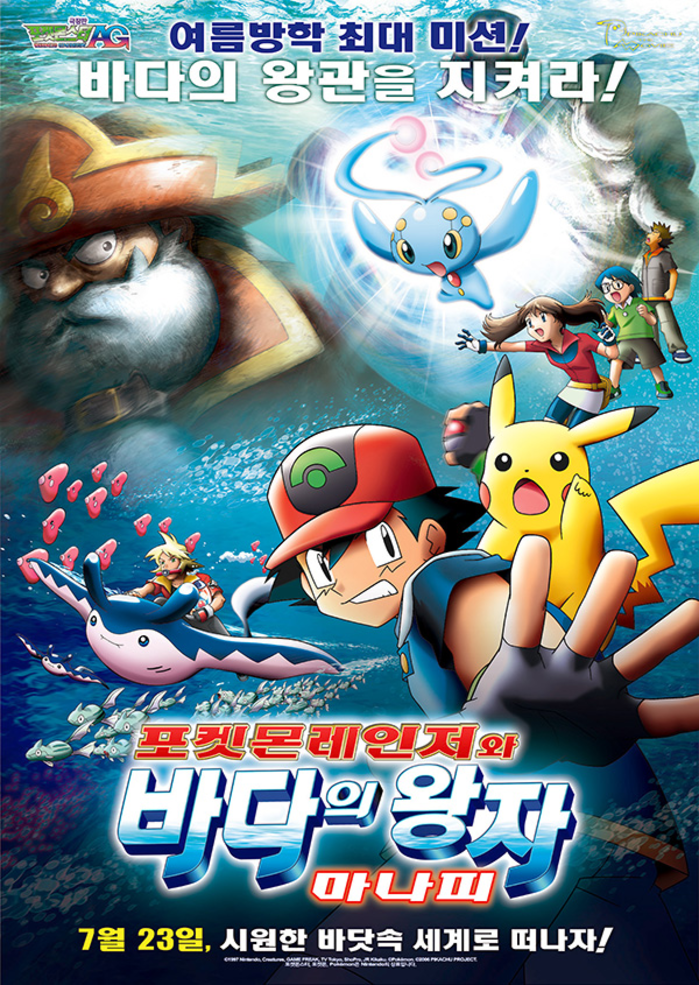 Movie Trailer
Source:
http://pokemonkorea.co.kr/?inc=movie-manaphy-main

Article edited on 2015-07-06 12:24:40 by Sunain
Apr 30
The official Pokémon movie blog has updated.
We have added a section collecting every single blog entry for easy browsing
. Translations of the new entry follows:
Location Scouting Report #3: The Persian Gulf and Arabian Life Now and Then
Having left the "Sheikh Zayed Mosque", the team once again set off by bus.
As we were on our way towards our next destination, the historical museum "Heritage Village", we took a short stop at the coastline near "Breakwater Road" in order to get some material of the skyline.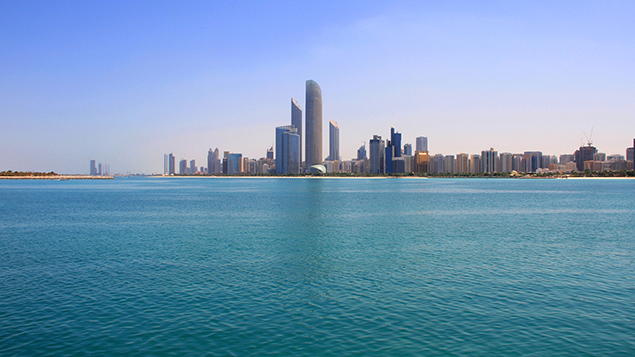 From the park here, you have a view on the beautiful blue of the Persian Gulf.
Across the water, the buildings of central Abu Dhabi line the shore.
Three of them tower especially high above the others.
These are the three buildings that make up the skyscraper complex of "Central Market", where we'll be going later this afternoon.
The other buildings seem small at first glance, but it's really just because those three towers are so much larger than everything else in the area.
Compared to the dazzling atmosphere of Dubai, Abu Dhabi is somewhat more relaxed.
As the sea spread out before us, it felt like we were looking at desert cities from a different angle.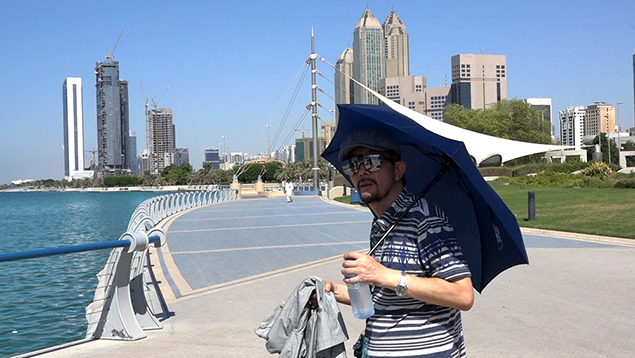 This
heat
, though...
We saw absolutely no one other than us walking around outside.
Our only companions were the flags the UAE are so proud of, which could be seen flapping calmly in the wind under the cloudless sky all over.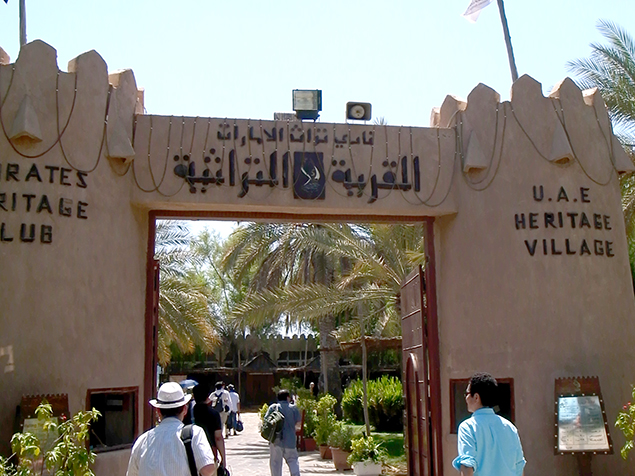 The team then continued on to the historical museum "Heritage Village" to see the sights.
This is a place where you can learn about Abu Dhabi's history and cutural heritage, as well as historical Arabian lifestyle.
On exhibit are recreations of encampments and "souks" (markets) and displays of the creations of iron smiths, glasscrafters and leatherworkers, etc.
This museum taught us a lot about life in Arabia prior to the prosperous development that occurred when they started drilling for oil.

From a park scorched by blazing sunlight to exhibition facilities!
We thought the facilities would be cool and refreshing,but they were almost like steam baths...!
Nearly dizzy from the heat and constantly sweating, we had lunch at a restaurant at the premises.
The scouting team's first meal ended up being a full-fledged Arabian buffet.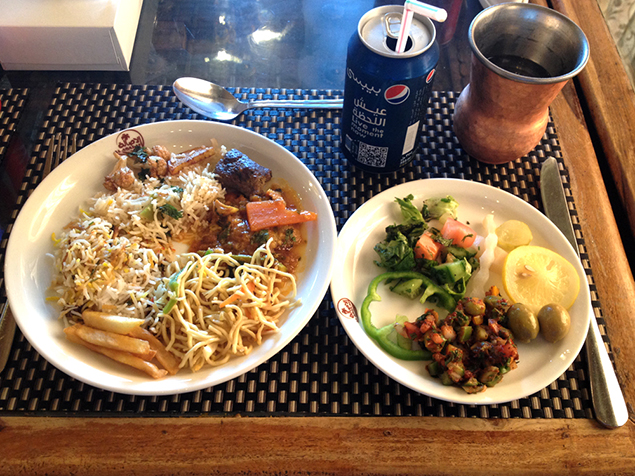 Source:
http://www.pokemon-movie.jp/pokemovie_ch/?p=300

Article edited on 2015-07-17 09:02:15 by Sunain
Apr 24
VIZ Media has announced the
Pokémon the Series: XY (Set 1)
DVD Collection for North America.
This set has been added to our DVD database
. The set will contain 24 episodes of the
XY series
English dub. It will be released on August 4th, 2015, 9 months after the
Australia release of the set
. It will be distributed in the United States and Canada by Warner Home Video.
Being on DVD, the quality of this set will not be HD and no Bluray set was announced. Those that wish to buy the series in
HD will still need to purchase it off iTunes
.
Box Art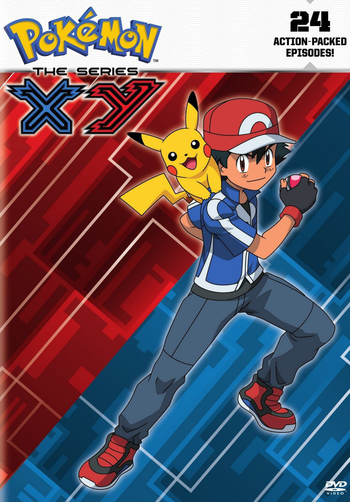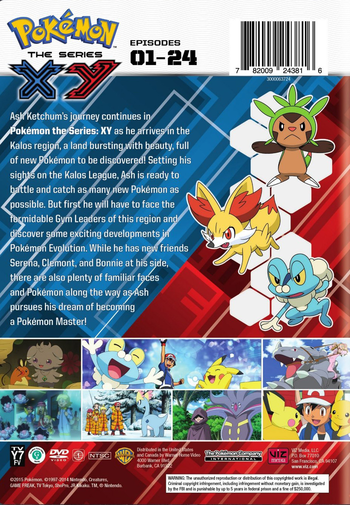 DVD Description
Ash Ketchum's journey continues in Pokémon the Series: XY as he arrives in the Kalos region, a land bursting with beauty, full of new Pokémon to be discovered! Setting his sights on the Kalos League, Ash is ready to battle and catch as many new Pokémon as possible. But first he will have to face the formidable Gym Leaders of this region and discover some exciting developments in Pokémon Evolution. While he has new friends Serena, Clemont, and Bonnie at his side, there are also plenty of familiar faces and Pokémon along the way as Ash pursues his dream of becoming a Pokémon Master!

Article edited on 2015-04-24 03:08:34 by Sunain
Apr 04
Mariya Ise (伊瀬 茉莉也), the voice of
Eureka (ユリーカ)
, announced on her official blog that she is pregnant and got married in January. In December of 2014, she posted that she was ill and unable to attend the Persona 4 Ultimate show. It is most likely that she will have a few months of maternity leave later this year similar to
Musashi
's voice actor Megumi Hayashibara leave during
Advanced Generation
.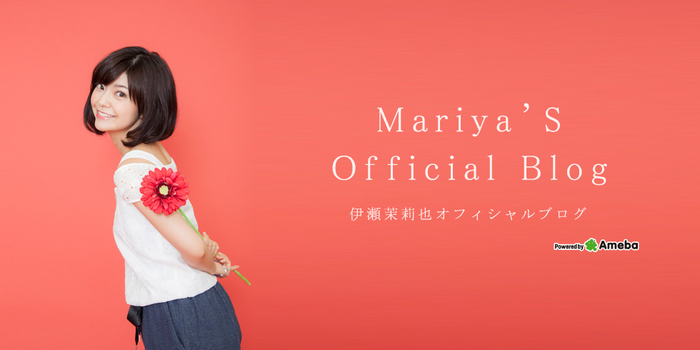 Source:
http://ameblo.jp/mariya-i/entry-12010043830.html

Article edited on 2015-04-10 02:37:14 by Sunain