Latest News

31 Aug
25 Jul
15 Jul
11 Jul
04 Jul
03 Jul
News Tag Filter:
Anime
Aug 31
At the end of
Pokémon Get TV #46
, it was revealed that
Pocket Monsters XY Special: The Strongest Mega Evolution ~Act II~ (ポケットモンスター XY 特別編 最強メガシンカ ~Act II~)
will air on TV Tokyo on November 6th, 2014. The brief teaser trailer also revealed that, starting with
Pocket Monsters XY #42
on September 4th, 2014, every episode will include a post-episode segment showcasing a Mega evolved Pokémon in order to build excitement for the special.
Mega Jukain
will be the first such Pokémon to be featured.
The
official website
later updated with a teaser image providing the same airdate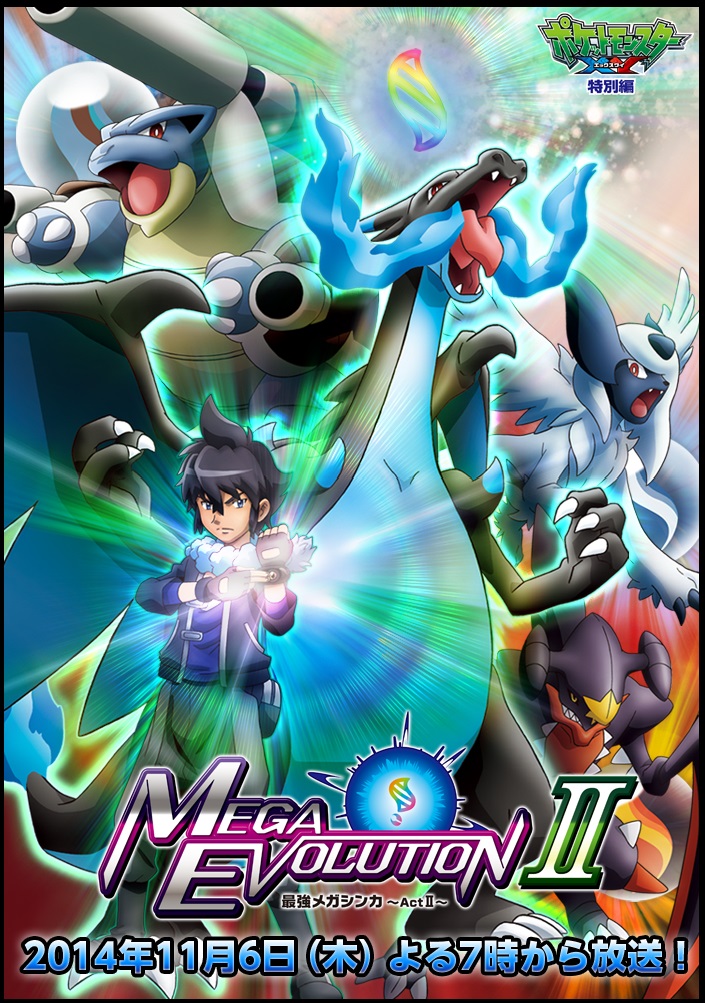 Article edited on 2014-09-01 02:49:22 by Adamant
Jul 25
Pocket Monsters Movie 17 The Cocoon of Destruction and Diancie (破壊の繭とディアンシー)
debuted in first place for the weekend of July 19th, 2014. The movie was shown in 357 screens across Japan and ticket sales on 360,190 viewers totaled 559,908,500 yen (5.5million USD). Disney's
Maleficent (マレフィセント)
took second place and Studio Ghibli's
When Marnie was There (思い出のマーニー)
was in third place. This is the first time since the
10th Pocket Monsters movie Dialga VS Palkia VS Darkrai
that a Pocket Monsters movie has debuted in first place at the box office in Japan.
According to the results of a questionnaire conducted at the theaters by Toho, there was a male to female viewer ratio of 67%/33% for the movie. By age: 51.2% elementary school age, 12.8% kindergarten and nursery school age and 22.3% in their 30s or more.
Source:
http://www.oricon.co.jp/news/2040082/full/

Article edited on 2014-07-25 11:07:20 by Sunain
Jul 15
Further details about the
Poke'mon the movieXY Exhibit ~Meet Pikachu at the Roppongi Hills Observation Deck~ (Poke'mon the movieXY展 ~六本木ヒルズ展望台でピカチュウに会おう!~)
have been announced.
As we reported on last month
, the grand exhibition of historical Pokémon movie highlights, from the original "Mewtwo Strikes Back" to the most recent "Diancie and the Cocoon of Destruction", will be held at the
Roppongi Hills Observation Deck
from Saturday July 19th, 2014 until Sunday August 31st, 2014, for 44 days total.
The Pikachu Cafe menu (「ピカチュウカフェ」メニュー) has been revealed and it features items based specifically on Pikachu. The cafe will be open from 11:00 to 22:00 daily.
The full menu listing and photos are posted on our Imageboard
.
Pikachu Curry (ピカチュウのカレー)
1,180yen - A Pikachu-shaped ball of turmeric rice, served on beef curry with star-shaped pieces of egg and carrot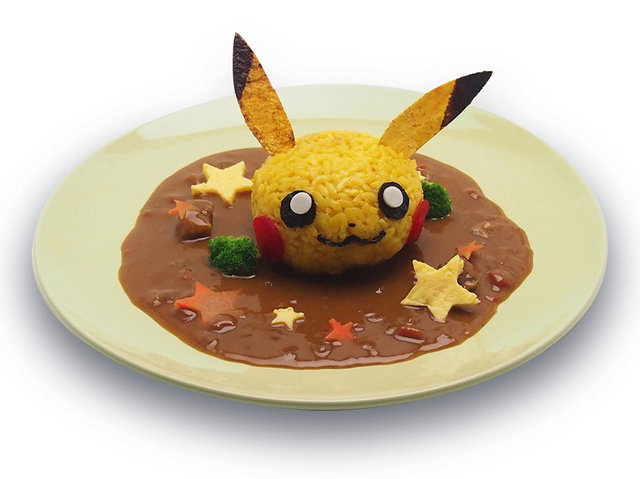 Monster Ball Omuhayashi (モンスターボールのオムハヤシ)
1,280yen - A monster ball made from equal parts chicken rice and plain white rice, served with a rice-filled omelet and hayashi sauce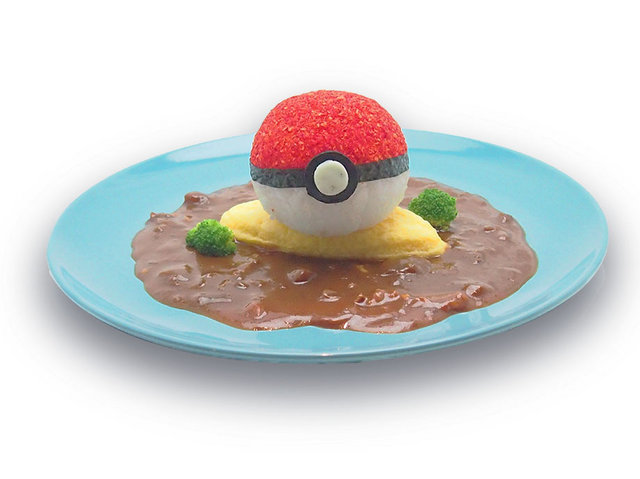 Pikachu Teriyaki Burger (ピカチュウのテリヤキバーガー)
1,080yen - A teriyaki burger with buns shaped like a Pikachu head. The ears are made of corn tortilla
Children's Meal (お子様セット)
980yen - A plate with Pikachu-themed fried shrimp, sausage and curry, just like the kids love it.
Pikachu Curry Dumpling (ピカチュウのカレーまん)
400yen - A curry dumpling shaped like Pikachu's back. The stripes on the back are Fukujinzuke pickles, the tail is made of corn tortilla.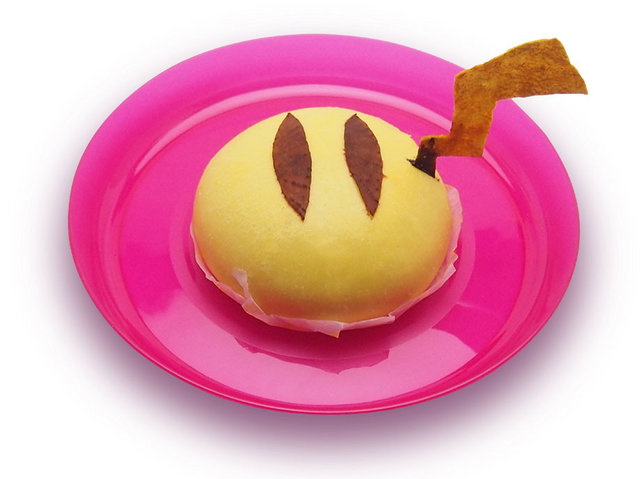 Pikachu Pancakes (ピカチュウパンケーキ)
980yen - Pancakes with Pikachu prints, served with fruit and vanilla ice cream.
Pikachu Thunderbolt Parfait (ピカチュウの10まんボルトパフェ)
880yen - A parfait made from mango pudding and fruit. It crackles when you eat it - watch out for Pikachu's Thunderbolt!
Monster Ball Dessert Plate (モンスターボールのデザートプレート)
880yen - A monster ball made from raspberry- and yoghurt mousse.
Poke'mon the movie XY Exhibition Fruity Floats (Poke'mon the movie XY展 フルーティーフロート)
700yen each - Fruity floats with flavors based on their coloring. There are 6 different types: Harimaron (Kiwi), Diancie (Strawberry), Keromatsu (Blue Orange), Xerneas (Blueberry), Fokko (Orange) and Yveltal (Pomegranate). Each float comes with a coaster matching its taste.
Sources:
http://www.roppongihills.com/tcv/jp/pokemonten-xy/
and
http://www.inside-games.jp/article/2014/07/15/78609.html

Article edited on 2014-07-15 08:18:20 by Adamant
Jul 04
The official
Pokémon movie website
has updated with info on a number of upcoming movie tie-in events. Translations follow:
McDonald's Special Happy Set Gifts
On Saturday July 12th and Sunday July 13th only, you can get a
Special Pokémon DVD
jam-packed with Pokémon information, and on Saturday July 19th, Sunday July 20th and Monday July 21st, you can get a single original card from the "Pokémon Card Game XY" (there are 5 in total)!
*You will get one special gift with each purchase of a Happy Set
*The gifts are limited in number, and will be available on a first-come-first-serve basis
*The item designs are subject to change
*You will not be able to choose which original "Pokémon Card Game XY" card you get
*Restaurants open 24/7 will start distribution of these gifts at 5am
For further information, see
McDonald's official Japanese website
Pocket Monsters XY Anime Giveaways
The "Pocket Monsters XY" anime will give away extravagant prizes via a "4 Week Keyword Quiz"! Starting July 10th!

The popular anime "Pocket Monsters XY" airs on the TV Tokyo Network every Thursday at 7pm! Starting with the July 10th episode, it will hold a "4 Week Keyword Quiz"! Parts of a keyword will be announced during the episodes airing July 10th, July 17th, July 24th and July 31st, which includes the 2-hour
'Extremespeed Genesect: The Awakening of Mewtwo' & World Exclusive Broadcast of Diancie Footage!"
special. Collect all four parts to get a keyword that relates to the movie in some way!
From those who successfully manage to find the keyword, we will draw an amazing 7 winners who will receive a "Pokémon Movie Original Nintendo 3DS LL: The Cocoon of Destruction and Diancie Version"

Watch the series every week, assemble the keyword and go for the prize!
For further information, see
TV Tokyo's Pocket Monsters XY Anitv site
!
Meitetsu Bingo Stamp Rally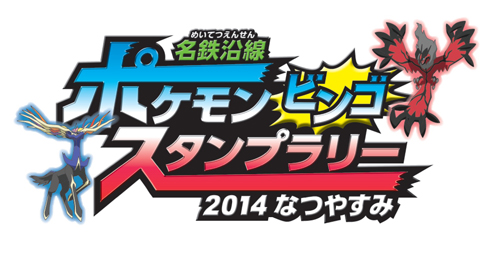 The "Meitetsu Pokémon Bingo Stamp Rally 2014: Summer Vacation", with 25 stamps to collect, opens at and around the Nagoya Railroad!! This year, we're running a bingo rule to ensure twice the fun as earlier!! Win prize by collecting the 25 stamps on your bingo card! Those who collect all the stamps will get a cool silver-colored "original certification plate"! Go for bingo!!
The Pokémon trains "The Pokémon XY" and "The Diancie", which have pictures of the Pokémon that appear in the movie, will also be in service until August 31st!

For further information, see the
Nagoya Railroad
website.
Voice Actor Stage Appearances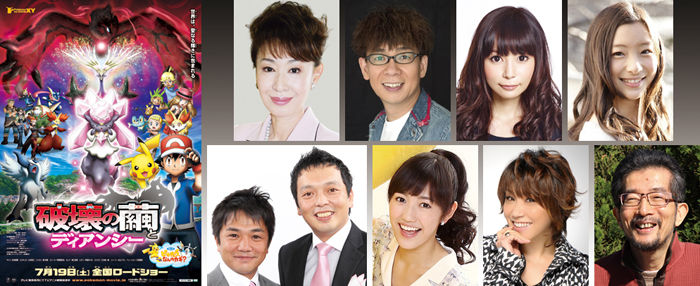 To celebrate the premiere of "Pokémon the Movie XY: The Cocoon of Destruction and Diancie/Pikachu, What Kind of Keys are These?", we will hold a stage greeting session during the premiere!
The extravagant guest voice actors from the movie will all be there! We will have Xerneas' voice actor Yoshiko Mita, Koichi Yamadera, Shoko Nakagawa, Rika Adachi, the two members of Nakagawa-ke and Mayu Watanabe all on stage! And of course, Satoshi's voice actor Rica Matsumoto and Director Kunihiko Yuyama will be there too! Maybe you'll get to hear the line "Get Pokémon!" in person?
Later, the familiar voice actors playing the other main characters in the TV anime series, Satoshi's travelmates Citron, Eureka and Serena, (Yuki Kaji, Mariya Ise and Mayuki Makiguchi) will be there to greet the audience from the stage together with Satoshi! Marika Matsumoto, who plays the movie's main character Diancie, and Koichi Yamadera, who plays Riot, will be there as well! This stage greeting session will truly have an extravagant lineup too!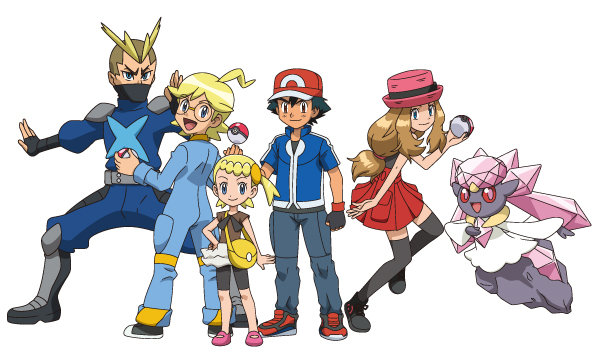 Location:
TOHO Cinemas Nichigeki
Date:
Saturday July 19th
Time:
Session 1 - 8:20
Session 2 - 11:40
session 3 - 14:25
Guests:
Session 1 and 2: Yoshiko Mita, Koichi Yamadera, Shoko Nakagawa, Rika Adachi, Nakagawa-ke (Tsuyoshi and Reiji), Mayu Watanabe (AKB48), Rica Matsumoto, Director Kunihiko Yuyama
Session 3: Rica Matsumoto, Yuki Kaji, Mariya Ise, Mayuki Makiguchi, Marika Matsumoto, Koichi Yamadera, Director Kunihiko Yuyama
*Be aware that the scheduled appearances may be changed without notice.
For tickets and further information on these stage greetings, see
Toho's ticket drawing page
Sources:
http://www.pokemon-movie.jp/news/?p=1297
,
http://www.pokemon-movie.jp/news/?p=1312
,
http://www.pokemon-movie.jp/news/?p=1307
and
http://www.pokemon-movie.jp/news/?p=1322

Article edited on 2014-07-05 12:58:21 by Sunain
Jul 03
The Pocket Monsters XY (寵物小精靈XY) anime series will debut in Hong Kong on July 13th, 2014 on
TVB Jade
in Cantonese. The free-to-air channel will simultaneously broadcast the show in HD and SD. The series will also be available on the Internet at
myTV
. The series will also being airing in Taiwan on August 3rd, 2014 on
Eastern Television (ETTV)
.
To promote the series debut in Hong Kong, Nintendo is going to distribute 1000 Charizard's holding a Mega Stone to those that correctly answer a quiz. Nintendo Hong Kong will post the quiz on July 11th, 2014 and it will be holding a Charizardite appropriate for the players game version.
Participants that wish to enter the lottery need to:
Login to their Facebook Account
Send a message to Nintendo.hk with their name, quiz answer and e-mail address
Participants need to also post something about Pokémon on the Nintendo.hk Facebook page
Only 1000 people will receive the serial code that follow those steps
The event ends on July 27th, 2014 at 23:59 and people will be informed via the email address they submit in they have won.
Source:
http://www.nintendo.com.hk/event/pokemon_event_2014summer.htm
Australian Nationals Shiny Mamoswine Distribution
The official Australian Nationals website has updated to add information about a Shiny Mamoswine distribution. This is the same Mamoswine that is
being distributed at National Championships
around the world.
At the 2013 Pokémon World Championships, Arash Ommati led an epic team to victory to become World Champion. Now you can add a Mamoswine to your game based on one of the stars from his winning party! This Lv. 50 Shiny Mamoswine is built to do massive damage with four devastating attacks—Icicle Spear, Earthquake, Icicle Crash, and Rock Slide. It is also holding a Choice Scarf to help make up for Mamoswine's relatively slow speed.
Everyone who attends the Pokémon Video Game Australian National Championships can get Mamoswine—not just the competitors. Be sure to bring your Nintendo 2DS or Nintendo 3DS console and copy of Pokémon X or Pokémon Y. Look for signs at the Melbourne Town Hall for more details on how to get Arash's Mamoswine!
Source:
http://gamesites.nintendo.com.au/pokemon-video-game-championships/#shiny
US Nationals Get a Memorable Mamoswine!
A special Shiny Mamoswine will also be available via local distribution at the US National Championships. It is the same as the one that is being distributed in Australia.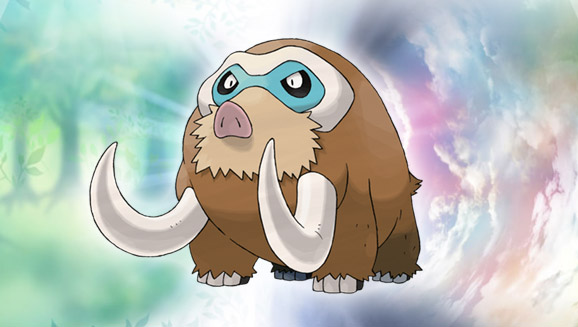 Source:
http://www.pokemon.com/us/pokemon-news/get-a-memorable-mamoswine/

Article edited on 2014-07-03 05:36:25 by Sunain