Latest News

30 Apr
24 Apr
04 Apr
26 Mar
04 Mar
27 Feb
News Tag Filter:
Anime
Apr 30
The official Pokémon movie blog has updated.
We have added a Scouting Report page and will update it with the translations as they are posted on the official blog.
Translations of the new entry follows:
Location Scouting Report #3: The Persian Gulf and Arabian Life Now and Then
Having left the "Sheikh Zayed Mosque", the team once again set off by bus.
As we were on our way towards our next destination, the historical museum "Heritage Village", we took a short stop at the coastline near "Breakwater Road" in order to get some material of the skyline.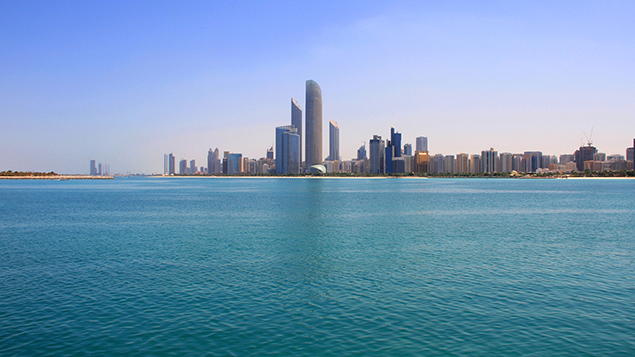 From the park here, you have a view on the beautiful blue of the Persian Gulf.
Across the water, the buildings of central Abu Dhabi line the shore.
Three of them tower especially high above the others.
These are the three buildings that make up the skyscraper complex of "Central Market", where we'll be going later this afternoon.
The other buildings seem small at first glance, but it's really just because those three towers are so much larger than everything else in the area.
Compared to the dazzling atmosphere of Dubai, Abu Dhabi is somewhat more relaxed.
As the sea spread out before us, it felt like we were looking at desert cities from a different angle.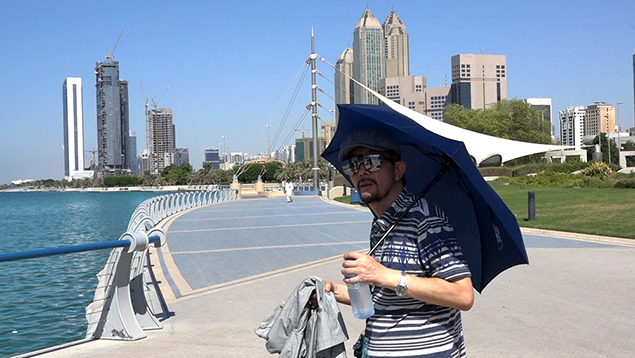 This
heat
, though...
We saw absolutely no one other than us walking around outside.
Our only companions were the flags the UAE are so proud of, which could be seen flapping calmly in the wind under the cloudless sky all over.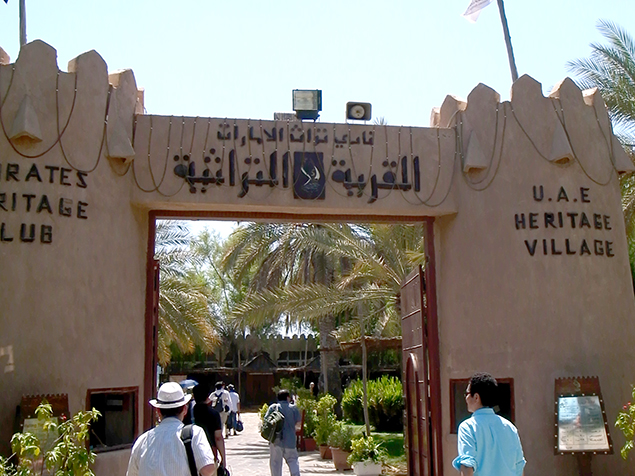 The team then continued on to the historical museum "Heritage Village" to see the sights.
This is a place where you can learn about Abu Dhabi's history and cutural heritage, as well as historical Arabian lifestyle.
On exhibit are recreations of encampments and "souks" (markets) and displays of the creations of iron smiths, glasscrafters and leatherworkers, etc.
This museum taught us a lot about life in Arabia prior to the prosperous development that occurred when they started drilling for oil.

From a park scorched by blazing sunlight to exhibition facilities!
We thought the facilities would be cool and refreshing,but they were almost like steam baths...!
Nearly dizzy from the heat and constantly sweating, we had lunch at a restaurant at the premises.
The scouting team's first meal ended up being a full-fledged Arabian buffet.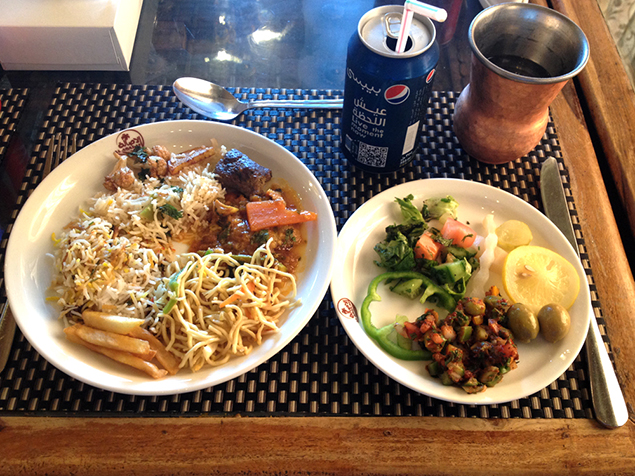 Source:
http://www.pokemon-movie.jp/pokemovie_ch/?p=300

Article edited on 2015-04-30 02:46:49 by Adamant
Apr 24
VIZ Media has announced the
Pokémon the Series: XY (Set 1)
DVD Collection for North America.
This set has been added to our DVD database
. The set will contain 24 episodes of the
XY series
English dub. It will be released on August 4th, 2015, 9 months after the
Australia release of the set
. It will be distributed in the United States and Canada by Warner Home Video.
Being on DVD, the quality of this set will not be HD and no Bluray set was announced. Those that wish to buy the series in
HD will still need to purchase it off iTunes
.
Box Art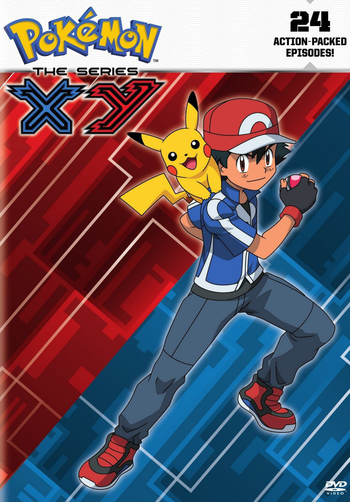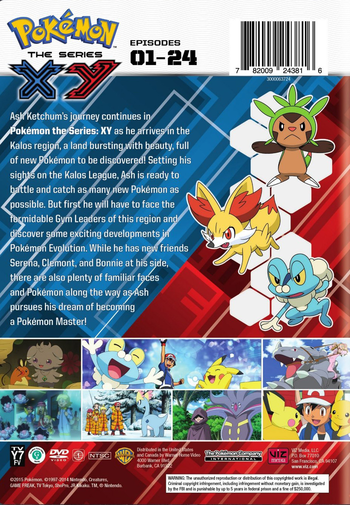 DVD Description
Ash Ketchum's journey continues in Pokémon the Series: XY as he arrives in the Kalos region, a land bursting with beauty, full of new Pokémon to be discovered! Setting his sights on the Kalos League, Ash is ready to battle and catch as many new Pokémon as possible. But first he will have to face the formidable Gym Leaders of this region and discover some exciting developments in Pokémon Evolution. While he has new friends Serena, Clemont, and Bonnie at his side, there are also plenty of familiar faces and Pokémon along the way as Ash pursues his dream of becoming a Pokémon Master!

Article edited on 2015-04-24 03:08:34 by Sunain
Apr 04
Mariya Ise (伊瀬 茉莉也), the voice of
Eureka (ユリーカ)
, announced on her official blog that she is pregnant and got married in January. In December of 2014, she posted that she was ill and unable to attend the Persona 4 Ultimate show. It is most likely that she will have a few months of maternity leave later this year similar to
Musashi
's voice actor Megumi Hayashibara leave during
Advanced Generation
.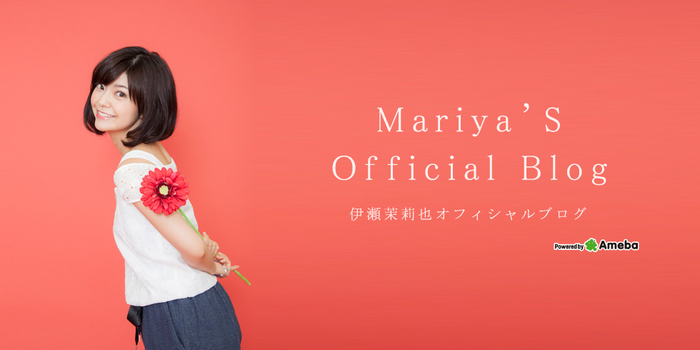 Source:
http://ameblo.jp/mariya-i/entry-12010043830.html

Article edited on 2015-04-10 02:37:14 by Sunain
Mar 26
The official Pokémon movie website has updated with information on the Pocket Monsters XY anime's new ending theme. Translations follow:
The TV anime "Pocket Monsters XY"'s new ending theme will be done by Little Glee Monster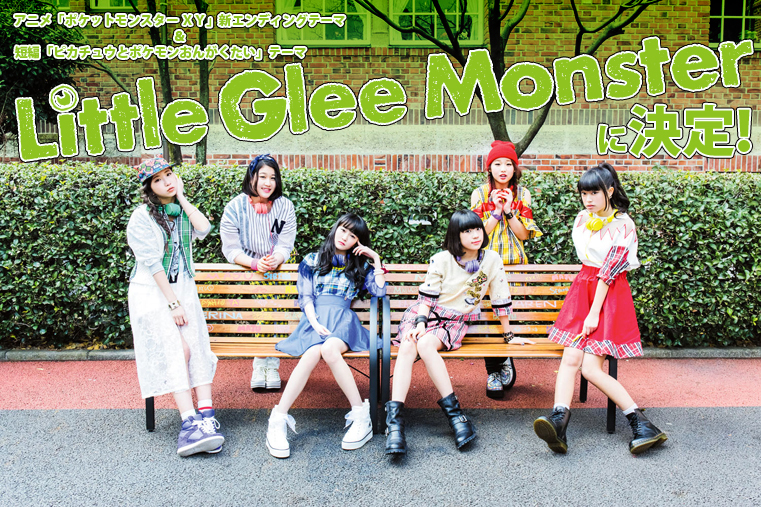 The new ending theme for the TV anime "Pocket Monsters XY" will be sung by "Little Glee Monster", the vocal group made up of the greatest young singers in the nation!
The song's title is "Gaogao All Stars"!
This new song made its debut during a live concert at UMEDA CLUB QUATTRO in Osaka Thursday March 26th! "Gaogao All Stars" will also be used as the theme song for the short "Pikachu and the Pokémon Musicians"!
Those of you who want to hear the song right away, make sure to tune into the popular show "Oha Suta!", which airs on the TV Tokyo Network at 6:45am! Little Glee Monster will appear live on the episode airing Thursday April 16th! In addition to the very first TV performance of "Gaogao All Stars", the episode will also have the world premiere of a new movie trailer!
Comments from Little Glee Monster:
"It is a true honor to be allowed to sing a Pokémon ending! Also, the fact that we get to be involved with Pokémon, which we've been watching constantly since our childhood, really makes it clear that good things happen as long as we just keep on living our lives."
"Gaogao All Stars" is the kind of song that really makes you want to dance, one that we, our friends and our families all dance to, sing to and just get ourselves caught up in together. We want lots of people to hear it and become happy!!"
A biography on Little Glee Monster:
"Sharpened singing voices that leave marks behind in people's hearts"
A teenage girl vocal unit where the members are 15 years old on average, formed from the greatest singing girls found throughout Japan.
Prior to their debut in October 2014, they were singing at summer festivals and doing joint performances with many major artists.
They were skillfully singing a cappella with powerful voices, wielding crystal clear harmonies as weapons as they appeared time and again on national television, giving them a very visible profile. They released their second single March 4th and have been steadily gaining fans through concerts, the tickets to their solo tour through Tokyo, Nagoya and Osaka selling out the day they went on sale.
In Fall 2015, they will make a 13 stop solo tour through all of Japan.
For further information, see the
official Little Glee Monster website
Source:
http://www.pokemon-movie.jp/news/?p=1624

Article edited on 2015-04-04 02:08:59 by Adamant
Mar 04
From March 7th, 2015 until June 19th, 2015, Japanese 7-Eleven stores will be taking orders for an exclusive set containing the special pre-order ticket for
18th Pocket Monsters movie - The Archdjinni of Rings: Hoopa
. The set will
include a DVD
containing an all-new prequel OVA to the movie called:
The Minidjinni of the Word "Appear!" Hoopa (おでまし小魔神フーパ )
and will be available to be picked up from June 19th.
The
OVA
will most likely air on
Pokémon Get TV
or a movie special and be included on the Blu-ray/DVD releases of the movie but nothing has been announced or confirmed.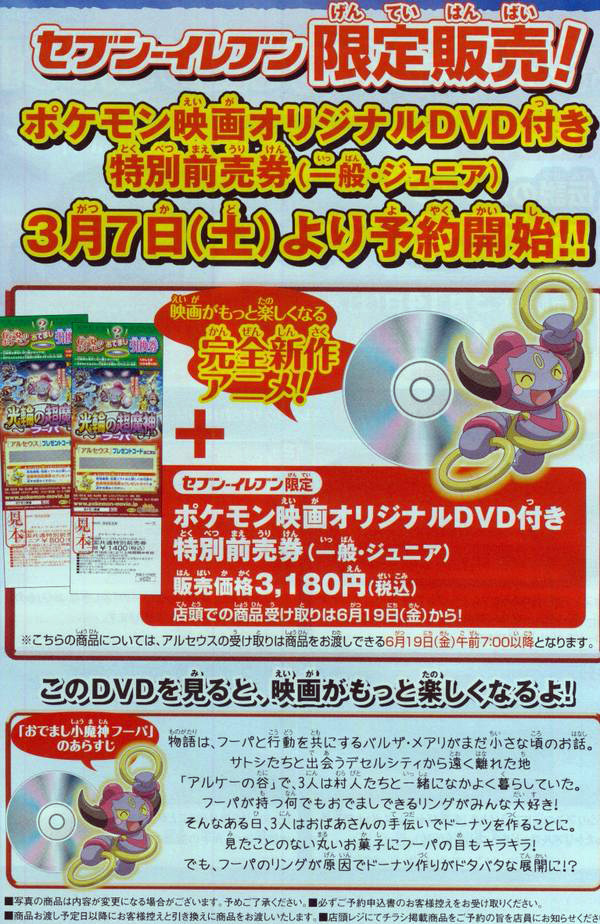 The Minidjinni of the Word "Appear!" Hoopa Summary:
The story is set when Hoopa's companions Barza and Mary were still children. The three of them lived happily together with the villagers in "Arkhē Valley", a place far from Désser City where Hoopa later met Satoshi and the others. Everyone there loved Hoopa's rings, which could make anything and everything appear!
One day, the three of them were helping an old woman make donuts. Hoopa's eyes started glittering at the sight of these round treats it had never seen before! But when Hoopa's rings get used to make donuts, things quickly get silly!?

Article edited on 2015-03-06 05:19:12 by Sunain
Feb 27
To celebrate
Serena's
participating in her first Tripokalon Tournament,
Serena's Fokko
was distributed via a universal serial code that was first distributed in the
Data Broadcast Boardgame
.
Serena's Fokko
could be redeemed in:
Pocket Monsters X or Y
or
Pocket Monsters Omega Ruby or Alpha Sapphire
.
The official Japanese Pokémon website revealed in mid February 2015 that
Serena's Fokko
would be distributed.
Full details of this event Pokémon distribution
has been added to our
Event Pokémon Database
.
Episode notes for Pocket Monsters XY #62 about this distribution
and
episode segments
have also been added to the
Episode Guide
.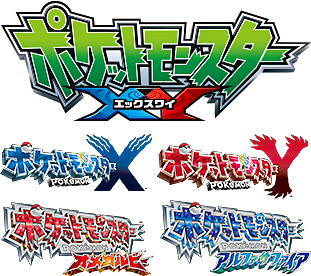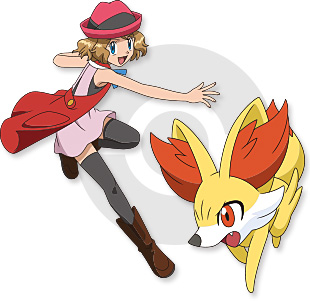 An on-screen message in
Pocket Monsters XY #62
informed viewers to get the event download serial code to unlock Serena's Fokko.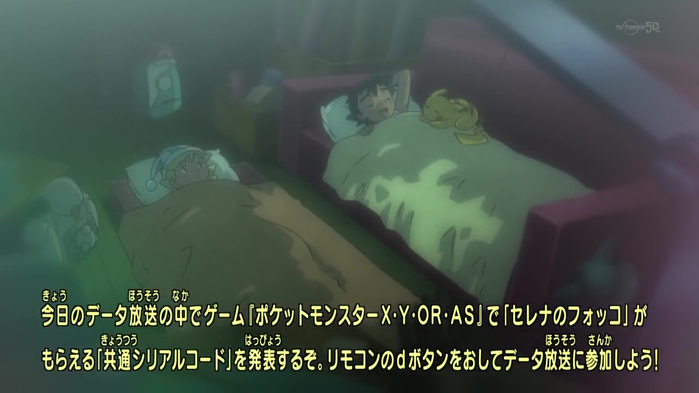 "In today's data broadcast, a "universal serial code" with which you can receive "Serena's Fokko" in your "Pocket Monsters X/Y/OR/AS" video game will be announced. Press the d-button on your remote and participate in the data broadcast!
(今日のデータ放送の中でゲーム『ポケットモンスター X・Y・OR・AS』で「セレナのフォッコ」がもらえる「共通シリアルコード」を発表するぞ。リモコンのdポタンをおしてデータ放送に参加しよう!)
On February 27th, 2015, the official TV Tokyo Pocket Monsters XY anime website updated and also announced the code as:
SERENA01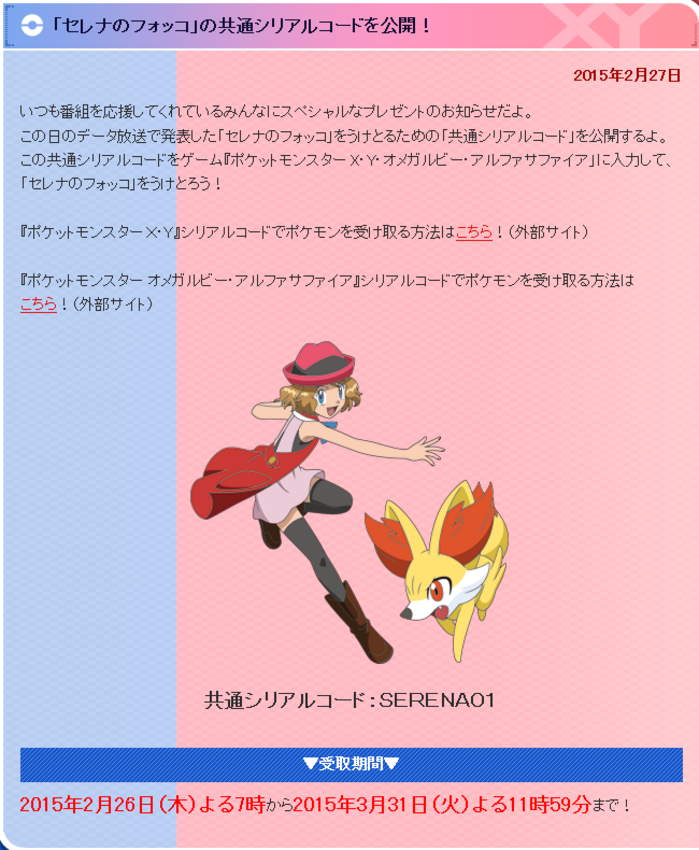 Sources:
http://www.pokemon.co.jp/info/2015/02/150214_a01.html

Article edited on 2015-02-28 11:26:44 by Sunain