Welcome to PocketMonsters.net
PocketMonsters.net
is a fansite dedicated to all things Pokémon (ポケモン) and Pocket Monsters (ポケットモンスター). We are the premier site for news and information about all aspects of the franchise from around the world. We cover the
Anime
,
indexing the music
, the
Trading Card Game
, the
Games
, the
variety shows
, have a
large imageboard
,
forum
and much more.
Follow us on Twitter
and
Subscribe to our RSS Feed
for the latest updates!
Latest News

17 Oct
14 Oct
11 Oct
16 Sep
14 Sep
02 Sep
News Tag Filter:
Anime
Oct 17
The official Pokémon website has announced that
Pokémon: The First Movie
and the first movie short
Pikachu's Vacation
will be shown in select Cinemark theaters on Saturday, October 29th, 2016 and Tuesday, November 1st, 2016.
Tickets for both cost $5 USD
.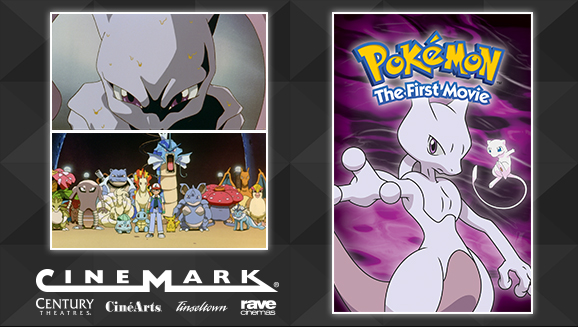 Source:
http://www.pokemon.com/us/pokemon-news/watch-pokemon-the-first-movie-on-the-big-screen/

Article edited on 2016-10-17 09:42:39 by Sunain
Oct 14
On Friday, October 14th, 2016, the official Japanese Pocket Monsters Sun and Moon website updated with information about the series.
Story
Satoshi and Pikachu's new adventure begins!
The place that acts as the setting of their new adventure is the Alola Region, which is bustling with nature.
What lies in wait for Satoshi and Pikachu in the Alola Region,
where you are surrounded by the blue sky and the blue sea wherever you go...?
New Pokémon, new friends, and new adventures...
This adventure filled with all kinds of new things finally begins!
Let's go! Let's give it our all! It's an adventure!!
Characters
Characters
Satoshi & Pikachu
Satoshi: A 10 year old young boy that aims to become a Pokémon Master.
He's experiencing school life for the first time in the Alola Region!

Pikachu: Satoshi's first partner Pokémon and his greatest companion.

The Rotom Zukan
Leave everything Pokémon knowledge-related to it.
This is a groundbreaking Pokémon Zukan which finishing touch was having a Rotom enter it.
It speaks human language and assists Satoshi on his adventure.


Lilie
A girl that loves Pokémon, but is unable to touch them for some reason.
Her knowledge of Pokémon is top notch.


Kaki
He likes Fire type Pokémon.
His family runs a farm, so he helps out there while also attending school.


Mao
She likes Grass type Pokémon.
She's an active girl who's also a bit of a scatterbrain.
She helps out at the Aina Cafeteria her family runs by attracting customers to come in and eat.


Suiren
She likes Water type Pokémon.
While she's usually quiet, she's actually a girl of action.
She's the oldest of the three daughters of a fisherman.


Māmane
He likes Electric type Pokémon.
A science nerd with a vast knowledge of technology.
When he gets into something, he analyzes the subject very thoroughly.


Professor Kukui
A professor that studies Pokémon battling and moves. He is also the class' homeroom teacher.
Satoshi lives at his house during his stay.


Principal Okido
The school's principal. The cousin of Professor Okido from the earlier series.
He researches Pokémon that evolve in unique ways in Alola.


The Rocket Gang
Musashi, Kojiro, Nyarth and Sonansu
An evil organization which goal is to get rare Pokémon, strong Pokémon, as well as Satoshi's Pikachu.


The New Pokémon
New Pokémon
Ashimari
Sea Lion Pokémon
Water type


Mokuroh
Grass Quill Pokémon
Grass/Flying type


Nyabby
Fire Cat Pokémon
Fire type


Iwanko
Puppy Pokémon
Rock type


Togedemaru
Roly-Poly Pokémon
Electric/Steel type


Mimikkyu
Disguise Pokémon
Ghost/Fairy type


Kiteruguma
Strong Arm Pokémon
Normal/Fighting type


Nassy (Alola Form)
Coconut Pokémon
Grass/Dragon type


Kapu-Kokeko
Land Spirit Pokémon
Electric/Fairy type


Staff:
Executive director: Kunihiko Yuyama
Director: Daiki Tomiyasu
Series Construction: Aya Matsui
Character Design: Satoshi Nakano and Shuhei Yasuda
Art Director: Masatoshi Muto
Color Keys: Noriyuki Yoshino
Director of Photography: Yuko Orikasa
Editor: Jin Nogawa
Music: Shinji Miyazaki
Sound Recording Director: Masafumi Mima
Cast:
Satoshi: Rica Matsumoto
Pikachu: Ikue Ohtani
Rotom Zukan: Daisuke Namikawa
Lilie: Kei Shindo
Kaki: Kaito Ishikawa
Mao: Reina Ueda
Suiren: Hitomi Kikuchi
Māmane: Fumiko Takekuma
Professor Kukui: Keiichi Nakagawa
Principal Okido: Unsho Ishizuka
Musashi: Megumi Hayashibara
Kojiro: Shinichiro Miki
Nyarth: Inuko Inuyama
Sonansu: Yuji Ueda
Source:
http://www.tv-tokyo.co.jp/anime/pokemon_sunmoon/

Article edited on 2016-10-14 01:21:41 by Adamant
Oct 11
Japanese voice actor
Kazunari Tanaka (田中一成)
died on October 10th, 2016 at the age of 49 due to brain stem hemorrhaging. Talent agency Aoni Production confirmed his death with a post on the front page of their website on Tuesday, October 11th, 2016. He voiced the character
Soya (ソウヤ)
in
AG94
and he was also one the narrators for
Pokemon Get TV
.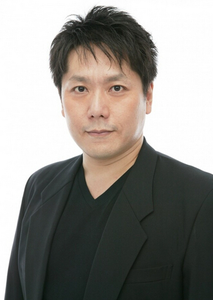 Source:
http://www.aoni.co.jp/index.html

Article edited on 2016-10-11 04:37:06 by Sunain
Sep 16
During the
Thursday, September 15th, 2016 broadcast of XY&Z
, a teaser trailer was shown officially revealing the new anime series
Pocket Monsters Sun & Moon (ポケットモンスター サン&ムーン)
. The series will once again feature
Satoshi
and
Pikachu
on their journey in the Alola Region. The official website also launched on TV Tokyo's website but details on the series will be revealed at a later date. The series will air on TV Tokyo in Japan starting in November of 2016.
Pocket Monsters Sun and Moon Anime Poster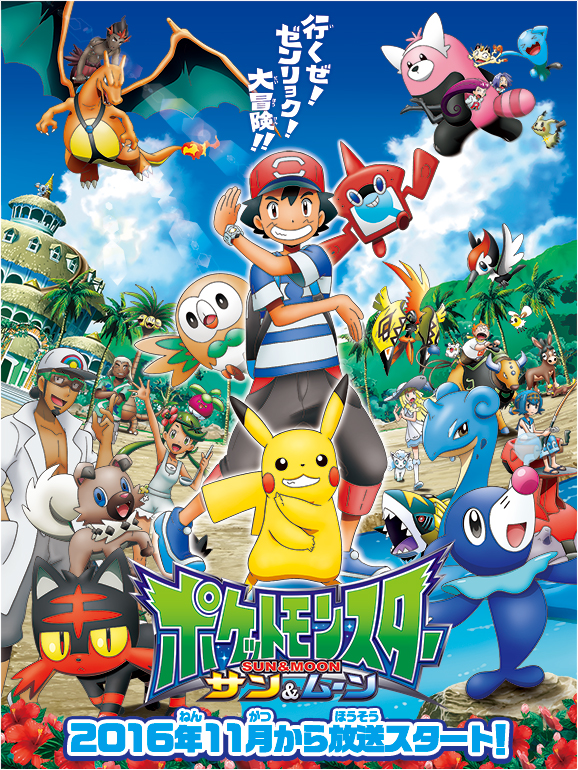 Pocket Monsters Sun and Moon Teaser Trailer
Source:
http://www.tv-tokyo.co.jp/anime/pokemon_sunmoon/story/index.html

Article edited on 2016-09-16 04:41:16 by Sunain
Sep 14
The Pokémon Company International announced a new series called
Pokémon Generations
which will
begin airing on YouTube
starting on Friday, September 16th, 2016.
Images from the press release including concept art have been added to our Imageboard thread
.
POKÉMON GENERATIONS TO PREMIER ON YOUTUBE (sic)
The Pokémon Company International is excited to announce Pokémon Generations, an all-new Pokémon animated series of shorts, launching on the official Pokémon YouTube channel this Friday, 16 September, at 5pm BST. A first-look trailer revealing the series and giving a sneak peek at the animation has just gone live.
Pokémon Generations looks back at each generation of the Pokémon video game series, diving into the stories of the games more deeply and getting to know characters and Pokémon better. Visit each region, from Kanto to Kalos, to relive the world of Pokémon like never before! Pokémon Generations consists of 18 episodes, each running between three and five minutes in length, with the first two episodes launching on 16 September 2016.
You can also watch episodes of Pokémon the Series and movies starring Ash and Pikachu on your iPhone, iPad, Kindle Fire, or Android device with the Pokémon TV app or on Pokemon.com.
Source:
http://www.pokemon.com/us/pokemon-news/see-the-world-of-pokemon-in-a-new-way/
Pokémon Generations Trailer

Article edited on 2016-09-14 03:05:11 by Sunain
Sep 02
The Pokémon Go Tie-in campaign site on the official Pokémon movie website has updated with the answer to the question asked. Translations follow:
GO to the movies! A "Search for Pokémon" Quiz Campaign

If you go see the movie and answer the quiz,
you can enter a lottery and win merchandise for "Pokémon Go" which is currently the talk of the town!
And if you retweet the campaign on Twitter, you get an extra chance to win!
Entry deadline: Wednesday August 31st, 11:59PM
Out of those who send in the answer for the quiz,
100 winners will receive a
Pokémon GO Plus!
Extra chance: Out of those who retweet this on Twitter,
an additional 10 will win one as well!
There will be 110 winners in total!
Pokémon GO Plus is planned for release September 2016.
*prizes will be shipped out after the release date
For further information on "Pokémon GO Plus", go here
THE QUESTION:
Which Pokémon that appear in this summer's Pokémon movie "Volcanion and the Ingenious Magearna" can you catch in the popular Smartphone app "Pokémon GO"?
Give your answer in the form of Pokémon names!
THE ANSWER:

1: Laplace


2: Iwark


3: Pukurin


4: Nazonokusa
5: Goriky


6: Lizardon


7: Gyarados


8: Pikachu


9: Foodin


10: Gangar


11: Nyarth


12: Koduck


13: Thunders


14: Pigeon


15: Pigeot
16: Spear


17: Kailios


18: Fushigidane
19: Hitokage
20: Zenigame


Entry deadline:
Wednesday August 31st, 11:59PM
About entries and winner announcements:
About the question:
The Pokémon asked about are those that appear in the feature film "Pokémon the movie XY&Z: Volcanion and the Ingenious Magearna" (including the announcement of next year's movie).
However, this does not include the scene shown right before the movie begins.
About entries:
Automated submissions made via programs etc. may make you ineligible for the lottery.
If we receive your entry via a Twitter retweet, note that you will be ineligible for the lottery if you have your posts' privacy setting set to ON.
About announcements of winners:
*We will not respond to individual inquiries about winners.
*You will not be able to transfer or sell your status as winner.
*One person can only win once.
If we receive your entry:
Winners will be notified once prizes are ready to be shipped.
If we receive your Twitter retweet entry:
Out of those who enter via a Twitter retweet, only the winners will be notified about them winning via a direct message.
Note that if you're not following "@pokemon_movie" at this point, you will be disqualified as a winner since we will be unable to send you a direct message.
Once you have received the winner announcement direct message, please contact us with the required contact information, prize shipping address, etc by the given deadline.
If you do not contact us within 7 days, you will be disqualified as a winner.
Winners will not be contacted via other means.
We will also not respond to individual inquiries about winners.
We do not assume responsibility for failure to enter this campaign or for information leaks or other damages to the applicant or third parties caused by defects or bugs in the services proved by Twitter or defects in the services provided by the communication device or telecom operator utilized by the applicant.
We do not assume responsibility for the content of tweets made on Twitter by applicants nor for any trouble between applicants or third parties caused by this content, including the content of tweets concerning this campaign.
The correct answers to the quiz will be announced on this page in early September.
For further information on "Pokémon GO", see the
official "Pokémon Go" website
To download "Pokémon GO", go here:
Download via the App Store
Get via Google Play
©2016 Niantic, Inc.
©2016 Pokémon. ©1995-2016 Nintendo/Creatures Inc. /GAME FREAK inc.
Source:
http://www.pokemon-movie.jp/eiga-go/

Article edited on 2016-09-03 08:50:35 by Adamant