Latest News

16 Sep
14 Sep
12 Sep
10 Sep
09 Sep
News Tag Filter:
Anime
Sep 16
Hoyts Cinema has revealed that Pokémon: The First Movie will be rereleased in cinemas in Australia and New Zealand on 8 October 2015. Although only
Mewtwo Strikes Back
has been referenced, the running time is listed as 96 minutes so it is likely that screenings will also include
Pikachu's Vacation
as per the original release in 1999. No further details regarding session times or participating cinemas have been released as yet.
Synopsis
Giovanni, the leader of Team Rocket, had ambitious plans to take over the world, involving his latest experiment, a powerful clone of Mew—Mewtwo. Mewtwo is very powerful, and also very smart—smart enough to not want to be controlled by Giovanni. It escaped from the lab, and now Mewtwo begins to concoct its own scheme, clandestinely inviting a number of Pokémon Trainers to the ultimate test. Of course, if it's an event for talented Trainers, Ash Ketchum will be right in the front row!
Ash's excitement turns to fear and anger when Mewtwo reveals its plan for domination, creating powerful clones of all of the kids' Pokémon so it can even the "imbalance" between Pokémon and their Trainers. Despite Ash's protests, Mewtwo refuses to believe that Pokémon and people can be friends. But faced with the determination of a young Trainer and the love of his Pokémon, Mewtwo just might have to reconsider, especially when pitted against the power of the mysterious Mew!
Source:
http://www.hoyts.com.au/movies/2015/pokemon_the_first_movie_mewto_strikes_back.aspx
and
http://www.hoyts.co.nz/movies/2015/pokemon_the_first_movie_-_mewto_strikes_back.aspx

Article edited on 2015-09-16 07:44:50 by _melee_
Sep 14
The official Pocket Monsters anime site has updated with details on the new anime series Translations follow:
The new Pokémon anime series "Pocket Monsters XY&Z" starts Thursday October 29th at 7pm!
At that point, we will bring you an extravagant one-hour double episode special featuring not only the first episode, but also the XY Special "The Strongest Mega Evolution ~Act IV~"!
At last, the adventures of Satoshi, Pikachu and the others will cross over with Alan's story about Mega Evolution.
The new show "Pocket Monsters XY&Z" will premiere Thursday October 29th at 7pm!
Poster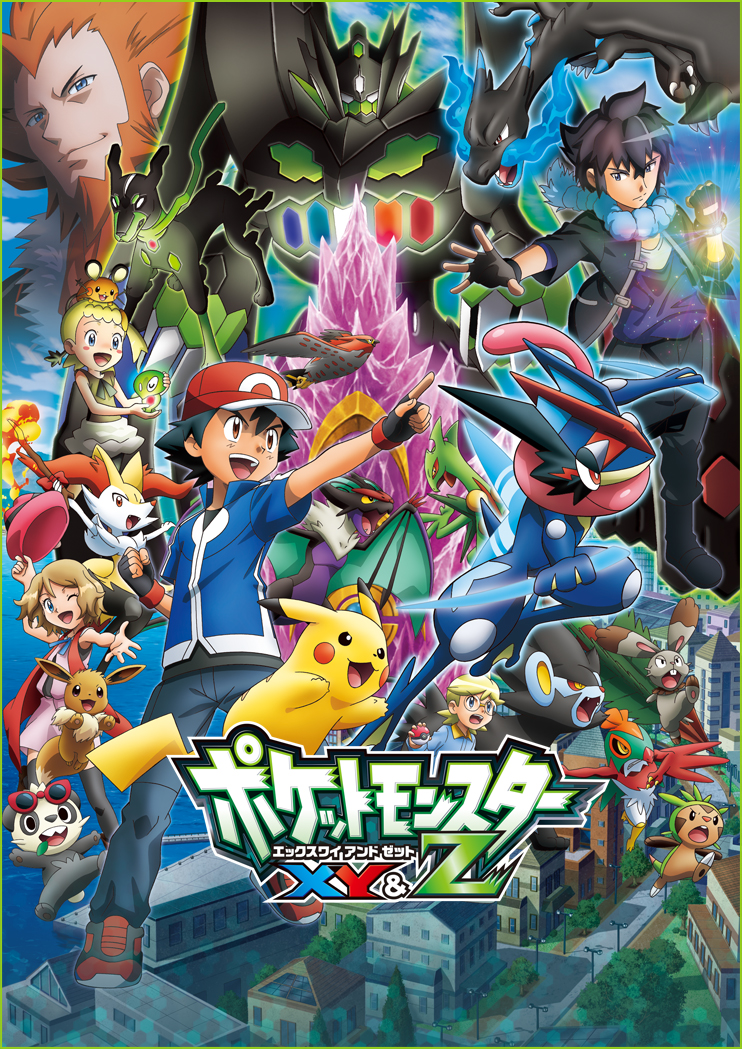 Story
What secret does the never-before-seen legendary Pokémon Zygarde hide!?
What is this mysterious phenomenon that only happens to Satoshi's Gekkouga!?
What are the goals of Alan and the mysterious organization called the Flare Gang that stand in Satoshi and his friends' way!?
When all these mysteries get cleared up the greatest crisis of all time will befall the Kalos region!
Characters
Picture
Information
Satoshi and Pikachu:
A boy named Satoshi, who dreams of becoming a Pokémon Master, and his partner Pikachu! They are journeying between Pokémon Gyms with the goal of entering the Kalos League.
Serena:
Having discovered her dream of becoming a Pokemon Performer, she's currently challenging the Rookie Class Tripokalons! Her goal is to enter the Master Class! And what she's ultimately aiming for is to become Kalos Queen!
Citron:
The Gym Leader of Miare City! Dreaming of becoming an inventor that brings joy to people and Pokémon, he travels together with Satoshi.
Eureka:
Citron's little sister. Dreaming of becoming a Trainer, she travels together with Satoshi.
The Rocket Gang:
An evil organization that wishes to take over the world. Even in the Kalos region, they aim to get Pikachu, and constantly attack Satoshi and his friends with various schemes! Keep an eye out for these three that persistently get in everyone's way!!
Alan and Lizardon:
A young man who used to be Professor Platane's assistant. He met Fleur-de-lis during his search for Key Stones and Mega Stones. He is currently aiming to become the ultimate Trainer alongside his Lizardon.
Fleur-de-lis:
Director and representative of Fleur-de-lis Labs. An industrialist currently researching whether Mega Evolution energy can be used for peaceful purposes. He gave Alan his Key Stone and Mega Stone in exchange for Alan promising to help him in his research.
The Flare Gang:
A mysterious group searching for Zygarde Core. It appears they are plotting to use the legendary Pokemon Zygarde for something or other, but exactly what that is remains a mystery.
Zygarde Core
Zygarde Cell
Zygarde 10% Forme
Zygarde 50% Forme
Zygarde Perfect Forme

Pokémon no one has ever seen before. What kind of role will they play in Satoshi and his friends' adventure!?
Satoshi Gekkouga

Staff & Cast
Staff:
Executive Director:
Kunihiko Yuyama
Director:
Tetsuo Yajima
Series Construction:
Atsuhiro Tomioka
Character Design:
Toshihito Hirooka
Executive Animation Director:
Toshihito Hirooka
Art Director:
Katsuyoshi Kanemura
Color Keys:
Noriyuki Yoshino
Director of Photography:
Hisao Shirai
Editor:
Toshio Henmi
Music:
Shinji Miyazaki
Sound Recording Director:
Masafumi Mima
Cast:
Satoshi:
Rica Matsumoto
Pikachu:
Ikue Ohtani
Serena:
Mayuki Makiguchi
Citron:
Yuki Kaji
Eureka:
Mika Kanai
Musashi:
Megumi Hayashibara
Kojiro:
Shinichio Miki
Nyarth:
Inuko Inuyama
Sonansu:
Yuji Ueda
Narration:
Unsho Ishizuka
Theme Songs:
Opening Theme: "XY&Z"
Vocals: Satoshi (as voiced by Rica Matsumoto)
Composition: Tomohisa Sako
Lyrics: Tomohisa Sako
Arrangement: Tomohisa Sako, Saku
(SME Records)
Ending Theme:
Coming soon!
Trailer
Source:
http://www.tv-tokyo.co.jp/anime/pokemon_xyz/

Article edited on 2015-09-15 11:24:44 by Adamant
Sep 14
As a follow up to the news announced in the October 2015 issue of Corocoro
, a press release was distributed and the official Pokémon website released more information on Zygarde formes.
High resolution pictures from the press release have been posted on our Imageboard thread
.
Preliminary details of Ash's Greninja
have also been added to our
Anime Character Database
.
See New Zygarde Formes in Animation News from Japan!
The latest season of Pokémon has been announced in Japan. See new Zygarde Formes and a new look for Ash's Greninja!
In big animation news from Japan, new forms for Zygarde and Ash's Greninja have been revealed! In the latest season of Pokémon animation, the Legendary Pokémon Zygarde is discovered to have multiple Formes as it develops into the Pokémon you already know...and beyond!
Picture
Information
Zygarde Cell:
This stage has been identified as the single Cells that make up Zygarde. Cells do not possess any will or thought processes. They're found scattered throughout the region. Since they can't use any moves, researchers question whether they can even be called Pokémon!
Zygarde Core:
At this stage, this aspect of Zygarde is little more than a part of the Pokémon's brain. Unlike the Cells, the Cores are self-aware and can communicate with Cells and other Cores via telepathy. When a change occurs in the local region's ecosystem, Cores have been known to take action.
Zygarde 10% Forme:
Zygarde 10% is the Forme that the Zygarde Core takes when it gathers 10% of the Cells nearby. Capable of traveling over 60 mph (100 km/h), it defeats enemies with its sharp fangs and its incredible speed.
Zygarde 50% Forme:
This Legendary Pokémon watches over and maintains the local ecosystem. Until recently, this was the only known Forme of Zygarde. In actuality, this Forme only has 50% of the Cells in its structure.
Zygarde Complete Forme:
This is the perfect Forme that Zygarde takes when the Core gathers 100% of the Cells. When the ecosystem is under threat, and the Core concludes that the 50% Forme will be unable to deal with it, the Core takes on the Complete Forme. Its power is said to be greater than that of the Legendary Pokémon Xerneas and Yveltal!
Ash-Greninja:
Plus, Ash's Greninja takes on a mysterious new appearance in the latest season! Ash-Greninja is the form that Greninja takes when the bond between it and Ash is raised to the limit. The strength of their bond changes Greninja's appearance, and it takes on the characteristic look of Ash's attire. This phenomenon is also said to have happened just once several hundred years ago in the Kalos region, but it remains shrouded in mystery.
Source:
http://www.pokemon.com/us/pokemon-news/see-new-zygarde-formes-in-animation-news-from-japan/

Article edited on 2015-09-14 01:50:28 by Sunain
Sep 12
A page from the October issue of Corocoro Comic has leaked. Translations follow: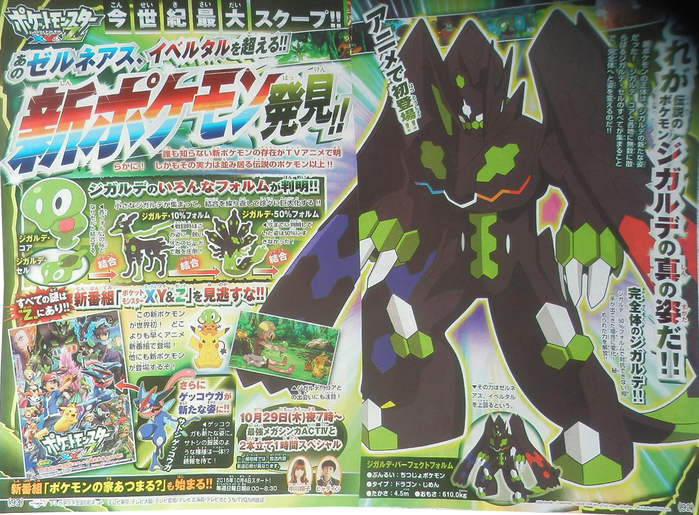 THE GREATEST SCOOP OF THE CENTURY!!
A NEW POKÉMON HAS BEEN DISCOVERED! ITS POWER SURPASSES XERNEAS AND YVELTAL!!
IT WILL MAKE ITS DEBUT IN THE ANIME!!


A new Pokémon no one has ever seen before will be revealed in the anime! Moreover, its power exceeds that of many legendary Pokémon!!
This is the legendary Pokémon Zygarde's new form!!
The true identity of the new Pokémon is a new Zygarde form! When Zygarde Core and the myriads of Zygarde Cell scattered around all over gather together, they change to the Complete Form!!
Zygarde's Complete Form!!
When Zygarde 50% Forme encounters an opponent it can't match in terms of power, it transforms! This unleashes its hidden power!!
This power is said to exceed that of Xerneas and Yveltal!
Zygarde Perfect Forme (ジガルデ・パーフェクトフォルム)
Species: Order Pokémon
Type: Ground/Dragon
Height: 4.5 m
Weight: 610.0 kg
Multiple Zygarde Formes have been confirmed!!
Zygarde Core (ジガルデ・コア)
Zygarde Cell (ジガルデ・セル)
The Core merges with the Cell, acting as the brain of all the other Formes.
Zygarde 10% Forme (ジガルデ・10%フォルム)
In combat, it turns into this form. It overwhelms the enemy with its sharp fangs and speed.
Zygarde 50% Forme (ジガルデ・50%フォルム)
The form we've known so far was only 50%!
All these mysteries have the letter "Z" in them!
Don't miss the new TV show "Pocket Monsters XY&Z"!! (ポケットモンスターXY&Z)
This new Pokémon will appear in this new show before it appears anywhere else! And other new Pokémon will appear as well!
Gekkouga gains a new form too!
Satoshi Gekkouga
Gekkouga has a new form too! It resembles Satoshi's clothes... what could it mean!? Stay tuned for breaking news!
Make note of this encounter with Zygarde Core too!
The show will premiere Thursday October 29th at 7pm as a 1 hour double episode special, airing together with The Strongest Mega Evolution Act IV
Another new show,
Pokémon no Uchi Atsumaru?
, will premiere as well!
It will start Sunday October 4th 2015 and will air every Sunday from 8am to 8:30am!
The show is hosted by Shoko Nakagawa and Hyadain!
Source Corocoro Comic, October 2015

Article edited on 2015-09-12 03:19:29 by Adamant
Sep 10
The official Pokémon movie website has updated. Translations follow:
The "Pikachu and the Pokémon Musicians Café" Debuts a New Menu Item to Celebrate the Movie's Success and the Cafe's Operation Extension! Pikachu Will be Manager-for-a-Day!
The "Pikachu and the Pokémon Musicians Café by Sweets Paradise" is a café operating until Sunday September 27th in the Sunshine City specialty store area Alpa 1F!
This limited-period café where you can enjoy original menu items and events is now introducing a new menu item to celebrate the movie's success and the extension of the café's operating time: the "Yancham's Mischievous Caffe Latte ~Serena's Yancham ver.~" (756 yen, tax included)!
The "Yancham's Mischievous Caffe Latte" that's been sold until now has power up to this "Serena's Yancham" version, which comes with a pair of sunglasses!
This new menu item will be on sale starting Saturday September 12th!
And not only that, in order to commemorate this new item, Pikachu will be acting as manager for that day!
Take this opportunity to check out the original menu items offered at the "Pikachu and the Pokémon Musicians Café by Sweets Paradise" in Sunshine City!
Manager-for-a-day Pikachu's visiting periods
Date:
Saturday September 12th, from 11am, from 2pm and from 4:30pm (*each visit lasts approx. 30 minutes)
Location:
Trattoria PARADiSO by SWEETS PARADISE, Sunshine City specialty store area Alpa 1F, 3-1 Higashi-Ikebukuro, Toshima, Tokyo
*This restaurant, which normally serves a rotisserie chicken and cake buffet, has been transformed into a collaboration café for a limited period.
Source:
http://www.pokemon-movie.jp/news/?p=1924

Article edited on 2015-09-10 11:34:06 by Adamant
Sep 09
Beyond Home Entertainment has announced that a
Pokémon Movie Collection - Collector's Tin Blu-Ray Set
will be released in Australia and New Zealand on December 2nd, 2015. The limited edition set comes with the first three movies in High Definition. The movies will also be released individually as DVD's on the same day. The movies were previously released by Warner Home Video in the early 2000's. This is the first time that the English dubbed versions of the first three movies are available to purchase on
Blu-Ray anywhere in the world
.
Our DVD/Blu-Ray Database has been updated with all the details for these releases
.

Article edited on 2015-09-09 05:59:25 by Sunain