Welcome to PocketMonsters.net
PocketMonsters.net
is a fansite dedicated to all things Pokémon (ポケモン) and Pocket Monsters (ポケットモンスター). We are the premier site for news and information about all aspects of the franchise from around the world. We cover the
Anime
,
indexing the music
, the
Trading Card Game
, the
Games
, the
variety shows
, have a
large imageboard
,
forum
and much more.
Follow us on Twitter
and
Subscribe to our RSS Feed
for the latest updates!
Latest News

29 Sep
27 Sep
24 Sep
30 Aug
23 Aug
17 Aug
News Tag Filter:
Anime
Sep 29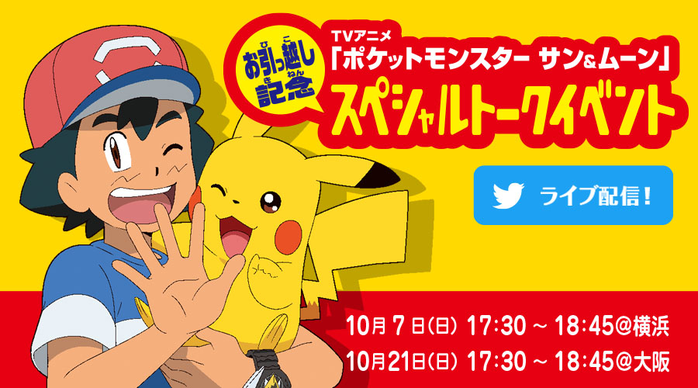 Special Pocket Monsters Sun and Moon TV Anime Talk Events
Commemorating the Time Slot Change
Sunday October 7th, 17:30-18:45@Yokohama
Sunday October 21st, 17:30-18:45@Osaka
The
Pocket Monsters Sun and Moon
TV anime will be switching its timeslot to Sundays at 6pm starting Sunday October 7th 2018. Special talk events will be held in commemoration of this, featuring voice actors, the director, the people in charge of the anime's character design, and more.
The events will be held at the Pokémon Center Yokohama on Sunday October 7th and at Toki-no-hiroba Plaza on the 5th floor of Osaka Station City, the site of the Pokémon Center Osaka on Sunday October 21st. These events will be filled with information you won't get to see or hear anywhere else! Not only that, but we're also planning to have the guests do live commentary to the anime episode airing that day! We'll also take the kind of requests you can only do at a live event, have a live painting session, and give away special gifts you're only eligible for winning if you're watching the event. The event will also be streamed for free via Twitter, so we'll be waiting for your tweets with requests for the hosts and your comments on the anime!
Event Cast Information:
Pokémon Center Yokohama:
Satoshi's VA: Rica Matsumoto (松本梨香), Kaki's VA: Kaito Ishikawa (石川界人), Oha Suta Pokémon Club Member JP (おはスタポケモン部JP)
plus Director Daiki Tomiyasu (冨安大貴監督) and character designer Satoshi Nakano (中野悟史)
Toki-no-hiroba Plaza, Osaka Station City 5F:
Mao's VA: Reina Ueda (上田麗奈), Māmane's VA: Fumiko Takekuma (武隈史子)
Singer/Songwriter: Taiiku Okazaki (岡崎体育), Oha Suta Pokémon Club Member JP (おはスタポケモン部JP)
plus Director Daiki Tomiyasu (冨安大貴監督) and character designer Shuhei Yasuda (安田周平)
Source:
https://www.pokemon.co.jp/info/2018/09/180928_p03.html

Article edited on 2018-10-07 01:52:22 by Adamant
Sep 27
The Pokémon Company International and Fathom Events announced that tickets for this years
Movie 21 Pokémon the Movie: The Power of Us
are now on sale in Canada, the United States and the United Kingdom. The movie will be in theaters for a limited time with showings on November 24th, 26th, and 28th, and December 1st, 2018.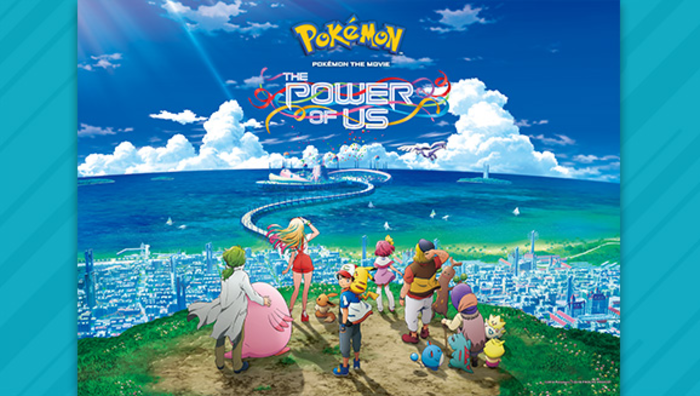 Purchase Tickets Now for Pokémon the Movie: The Power of Us
The new Pokémon animated film arrives in theaters this November. Don't miss it!
Ash and Pikachu are returning to the big screen for a limited time in the latest Pokémon animated film, Pokémon the Movie: The Power of Us, on November 24, 26, and 28, and December 1. Tickets for these screenings can now be purchased at www.FathomEvents.com and participating theater box offices.
In Pokémon the Movie: The Power of Us, Ash and Pikachu journey to a seaside city filled with a delightful cast of characters, including a young athlete, a compulsive liar, a shy researcher, a bitter old woman, and a little girl with a big secret. They're sure to encounter unique challenges and plenty of thrilling Pokémon battles while learning the value of teamwork and putting aside their differences.
Check out the trailer for Pokémon the Movie: The Power of Us above. For more information including participating theater locations and to purchase tickets, visit
www.FathomEvents.com
.
Source:
https://www.pokemon.com/us/pokemon-news/purchase-tickets-now-for-pokemon-the-movie-the-power-of-us/

Article edited on 2018-09-27 07:47:29 by Sunain
Sep 24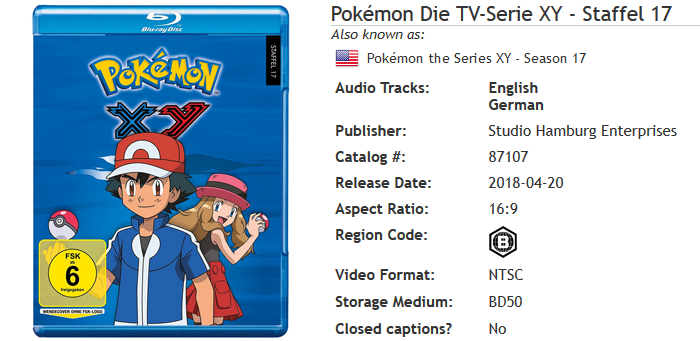 On April 20th, 2018, Studio Hamburg Enterprises released
Pokémon the Series XY (Pokémon Die TV-Serie XY - Staffel 17)
on Blu-Ray in Germany. This marked the first time anywhere in the world that this season had been released on a retail high definition capable physical media and also the first time a Pokémon season that was originally mastered in high defintion was available on Blu-ray. This review specifically focuses on
XY episode 1
and comparing it to various releases from around the world.
Review Link:
Read the full review by clicking here!
Aug 30
The official Pocket Monsters Sun and Moon anime website has announced that the Pocket Monsters anime will be changing its weekly airing date and time to Sunday's at 6PM on TV Tokyo from its current time slot, Thursday's at 6:55PM JST. The last episode to air during the current time slot will be the episode on September 13th, 2018, after-which the series will have a two week break before it transitions to its new time on October 7th, 2018. This new time shift happens just over
2 years since the move to the 6:55PM slot
.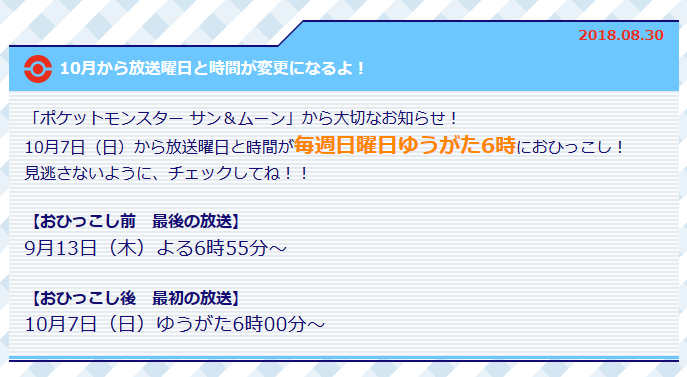 "An important message from Pocket Monsters Sun & Moon! Starting Sunday, October 7th, 2018, the show will begin airing on Sunday's at 6:00pm! Be sure you don't forget!!"
Source:
http://www.tv-tokyo.co.jp/anime/pokemon_sunmoon/news/index.html#211518
Hirokazu Oshida - Head of TV-Tokyo's animation division Quote:
The head of TV-Tokyo's animation division,
Hirokazu Oshida (押田裕一)
was quoted by Yahoo News Japan discussing the change in the shows air time.
"Starting in the fall of 2018, TV Tokyo will create a new anime programming block on Sunday evenings from 5:30pm to 6:30pm which is targeted at families, particularly children. As people's lives and viewing habits change, we want to change our focus towards the concept of "spending your days off relaxing with your family." Starting with those two programs (Boruto Naruto Next Generations and Pocket Monsters Sun and Moon) and continuing on with shows like "Moya-Moya Summers 2", "Emergency SOS! The Great Plan to Drain All the Water from the Pond", and "Ikegami's Sunday Primetime World", we hope the whole family will come together to enjoy TV Tokyo's programming. We're going to continue striving to make sure everyone continues to love these shows for a long time. Please look forward to both these programs."
「2018年秋、テレビ東京は日曜日の17時30分~18時30分を子どもたちを中心とした家族に向けて、アニメ番組を編成いたします。生活環境、視聴環境が変化する中、『休日ゆっくり、家族一緒で』をコンセプトに新たなるスタートを切りたいと考えています。両番組から始まり『モヤモヤさまぁ~ず2』(日曜後6・30)『緊急SOS!池の水ぜんぶ抜く大作戦』(日曜後7・54、月1回)『日曜ゴールデンの池上ワールド』(日曜後7・54)と休日の家族団らんで過ごす時間を、テレビ東京で楽しんでいただければと思います。今後も長く皆さまに愛される番組になるよう、全力を挙げて参ります。どうぞ、両番組の活躍にご期待ください。」
Source:
https://headlines.yahoo.co.jp/hl?a=20180830-00000116-spnannex-ent

Article edited on 2018-09-02 04:30:43 by Sunain
Aug 23
The official Pokémon website has announced that a two-month marathon of the Pokémon anime will air on the
TwitchPresents
channel starting on August 27th, 2018. The marathon will be broadcast in
English
,
French @ (/twitchpresentsfr)
,
German (/twitchpresentsde)
,
Spanish @ (/twitchpresentses)
,
Italian @ (/twitchpresentsit)
, and
Brazilian Portuguese @ (/twitchpresentspt)
. There will be multiple anime marathons, with other seasons up to
XYZ
being broadcast into 2019.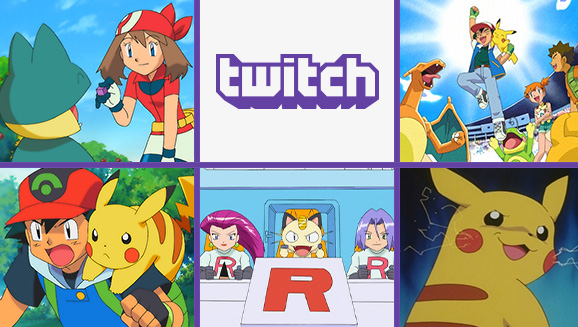 Watch Pokémon the Series on Twitch
The
TwitchPresents
channel is hosting a massive Pokémon animation marathon with TV episodes and movies!
Starting August 27, 2018, Pokémon fans can join an animation celebration of epic proportions when Twitch begins streaming a two-month marathon of Pokémon the Series on its TwitchPresents channel. The first nine seasons of Ash and Pikachu's many adventures, plus eight Pokémon feature films, will be shown from August 27 to October 28.
The marathon begins on the TwitchPresents channel at 10 a.m. PDT on Monday, August 27. Mondays through Thursdays will feature blocks of 10 to 16 Pokémon the Series episodes, with each block repeating throughout the day. Fridays and Saturdays will consist of encore presentations of the episodes that were featured at the beginning of that week.
Additionally, a special Pokémon movie presentation will take place each Sunday. Check the TwitchPresents channel for more information about when the movies will air.
Here's when you can catch each season of Pokémon the Series:
August 27: Pokémon: Indigo League (Season 1)
September 3: Pokémon: Adventures in the Orange Islands (Season 2)
September 10: Pokémon: The Johto Journeys (Season 3)
September 17: Pokémon: Johto League Champions (Season 4)
September 24: Pokémon: Master Quest (Season 5)
October 1: Pokémon Advanced (Season 6)
October 8: Pokémon: Advanced Challenge (Season 7)
October 15: Pokémon: Advanced Battle (Season 8)
October 22: Pokémon: Battle Frontier (Season 9)
Please note that this schedule is subject to change.
Source:
https://www.pokemon.com/us/pokemon-news/watch-pokemon-the-series-on-twitch/
Twitch E-Mail Notice:

Article edited on 2018-08-24 07:44:39 by Sunain
Aug 17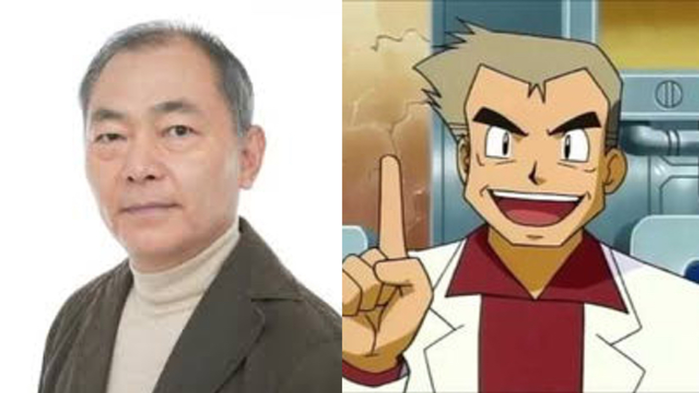 The official website for talent agency Aoni Production just reported that veteran voice actor Unsho Ishizuka, who was represented by them, passed away from
Esophageal cancer
on August 13th, 2018 at age 68.
Ishizuka is primarily known for his roles as
Professor Okido
in the Pokémon anime series and as Dino F. Golzine in Banana Fish, but has a long resume of major roles. In the Pokémon anime, his biggest additional roles are those of the narrator,
Adeku
and
principal Okido
.
Source:
Aoni Production
, via
Nijimen.net

Article edited on 2018-08-17 12:13:38 by Sunain