Latest News

14 Sep
10 Sep
04 Sep
31 Aug
25 Jul
15 Jul
News Tag Filter:
Anime
Sep 14
TV Tokyo has launched a
Pocket Monsters XY Special: The Strongest Mega Evolution ~Act II~
mini site with details about the upcoming special that airs on November 6th, 2014.
Story
We shall peruse a new story of Mega evolution... where the setting moves from the Kalos Region to the Houen Region
Alan continues his journey to master Mega Evolution and stand on the top as the strongest. Waiting for him in the Houen Region are new mega evolved Pokémon as well as Houen's strongest Trainer, Champion Daigo.
A fierce mega evolution battle against Daigo awaits.

During the battle, a mysterious man suddenly appears.

Also, legendary megaliths lay hidden in Houen.
As all the keys align, the mystery of Mega Evolution gradually unravels. And when those roots are touched upon, the legendary Pokémon Rayquaza descends from the distant sky. All is ready for a fierce battle that will shake the Houen Region to the core.
(メガシンカ…紐解かれる新たな物語。
冒険の舞台は、カロス地方からホウエン地方へ。
メガシンカを極めるため、
そして最強の頂点に立つため旅を続けるアラン。
ホウエン地方で彼を待ち受けていたのは、新たなメガシンカポケモン、そしてホウエン地方の頂点に君臨するチャンピオン・ダイゴだった。
立ちはだかるダイゴとの壮絶なメガシンカバトル。

激闘の中、突如あらわれた謎の男。

そして、ホウエン地方に眠る伝説の巨石。

全てのカギが揃い、メガシンカの謎が徐々に解き明かされていく。
そのルーツに触れしとき、はるか天空より伝説のポケモン・レックウザが出現!
ホウエンを揺るがす壮絶な戦いが幕をあける!!)
Characters
Picture
Biography
Alan (アラン):
A Trainer who travels around to "master Mega Evolution and stand on the top as the strongest". Although he studied Mega Evolution with Professor Platane once, he...
His partner Lizardon can mega evolve into Mega Lizardon X.
「メガシンカを極め、最強の頂点に立つ」ため、旅を続けるトレーナー。かつてはプラターヌ博士と共にメガシンカの研究を行っていたのだが…。パートナーのリザードンはメガリザードンXにメガシンカする。
Manon (マノン):
A new Trainer just starting her journey. She refers to her partner Harimaron as "Hari-san", and always asks it for help. She travels together with Alan out of a desire to to one day mega evolve herself.
旅を始めたばかりの初心者トレーナー。 パートナーのハリマロンを「ハリさん」と呼び、いつも助けてもらってばかり。メガシンカに憧れ、アランと一緒に旅をしている。
Daigo (ダイゴ):
The Champion of the Houen Region. He spends his time researching the roots of Mega Evolution. His partner is an alternate-colored Metagross, and he has an amazing battle with Alan, using his mega evolved Mega Metagross against Alan's Mega Lizardon X.
ホウエン地方のチャンピオン。 メガシンカのルーツについて、独自の調査を進めている。 パートナーは色違いのメタグロス。 メガシンカしたメガメタグロスとアランのメガリザードンXが壮絶なバトルを繰り広げる!
Staff and Voice Cast
Staff:
Executive Director:
Kunihiko Yuyama (湯山邦彦)
Director:
Tetsuo Yajima (矢嶋哲生)
Series Construction:
Atsuhiro Tomioka (冨岡淳広)
Character Design:
Toshihito Hirooka (広岡トシヒト)
Executive Animation Director:
Toshihito Hirooka (広岡トシヒト)
Art Director:
Katsuyoshi Kanemura (金村勝義ト)
Color Keys:
Noriyuki Yoshino (吉野記通)
Director of Photography:
Tairin Suzuki (鈴木大倫)
Editor:
Toshio Henmi (辺見俊夫)
Music:
Shinji Miyazaki (宮崎慎二)
Sound Recording Director:
Masafumi Mima (三間雅文)
Cast
:
Alan:
Kensho Ono (小野賢章)
Manon:
Mikako Komatsu (小松未可子)
Platane:
Hiroshi Tsuchida (土田大)
Narration:
Hideaki Tezuka (手塚秀彰)
Source:
http://www.tv-tokyo.co.jp/anime/pokemon_xy_me/index2.html

Article edited on 2014-09-16 04:04:26 by Adamant
Sep 10
Pocket Monsters XY Sound Director Mima Masafumi (三間雅文) posted the following Tweet on his Twitter account on September 5th, 2014. He indicates that a new season of the
The Rocket Gang Secret Empire (ロケット団ひみつ帝国)
is in the preliminary development stages. He hopes to revive the series and its now being discussed with the Rocket Gang members
Musashi
,
Kojiro
and
Nyarth
who are played by Megumi Hayashibara (林原めぐみ), Shinichiro Miki (三木眞一郎) and Inuko Inuyama (犬山イヌコ). There are no official details though as the next series is still in development and has yet to be proposed.
そして、全世界のロケット団団員の皆さん!ついに出来上がった『ロケット団ひみつ帝國・復活の図』の企画書だ!再び、団員達の力を結集する時が来た!まだ、企画書段階だが団員達の知恵と勇気さえあれば、必ずや復活するだろう! pic.twitter.com/4lk6mfcsvc

— 三間 雅文 (@Sunma47) September 5, 2014
Source:
https://twitter.com/Sunma47/status/507924948426293248

Article edited on 2014-09-10 12:53:49 by Sunain
Sep 04
The Pokémon Company International and Nintendo Russia have announced that the Pokémon Trading Card game will launch in Russia on
October 6th, 2014
. XY Theme Decks and Booster packs deaturing 10 cards in the Russia language will be sold at participating stores.
Those that visit
Comic Con Russia 2014
at the
Crocus Expo
in Moscow, Russia from October 2nd, 2014 until October 5th, 2014 will be able to purchase boosters and theme decks at the official Nintendo World boost located at the event.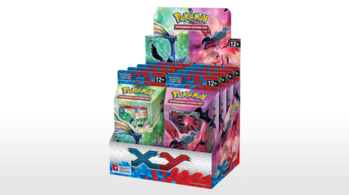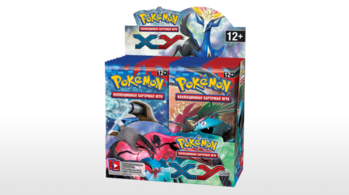 Russian fans of the anime will be able to view the new TV series
Pokémon the Series: XY
which will premiere on September 20th, 2014 on
2X2
. Some of the anime episodes can also be viewed on the official Pokémon TV Russian app which is available as a free download on the iPhone, iPad, iPod Touch, Android OS devices and the Kindle Fire.
Source:
http://www.nintendo.ru/-/2014/-/-Pokemon--915203.html

Article edited on 2014-09-04 12:18:16 by Sunain
Aug 31
At the end of
Pokémon Get TV #46
, it was revealed that
Pocket Monsters XY Special: The Strongest Mega Evolution ~Act II~ (ポケットモンスター XY 特別編 最強メガシンカ ~Act II~)
will air on TV Tokyo on November 6th, 2014. The brief teaser trailer also revealed that, starting with
Pocket Monsters XY #42
on September 4th, 2014, every episode will include a post-episode segment showcasing a Mega evolved Pokémon in order to build excitement for the special.
Mega Jukain
will be the first such Pokémon to be featured.
The
official website
later updated with a teaser image providing the same airdate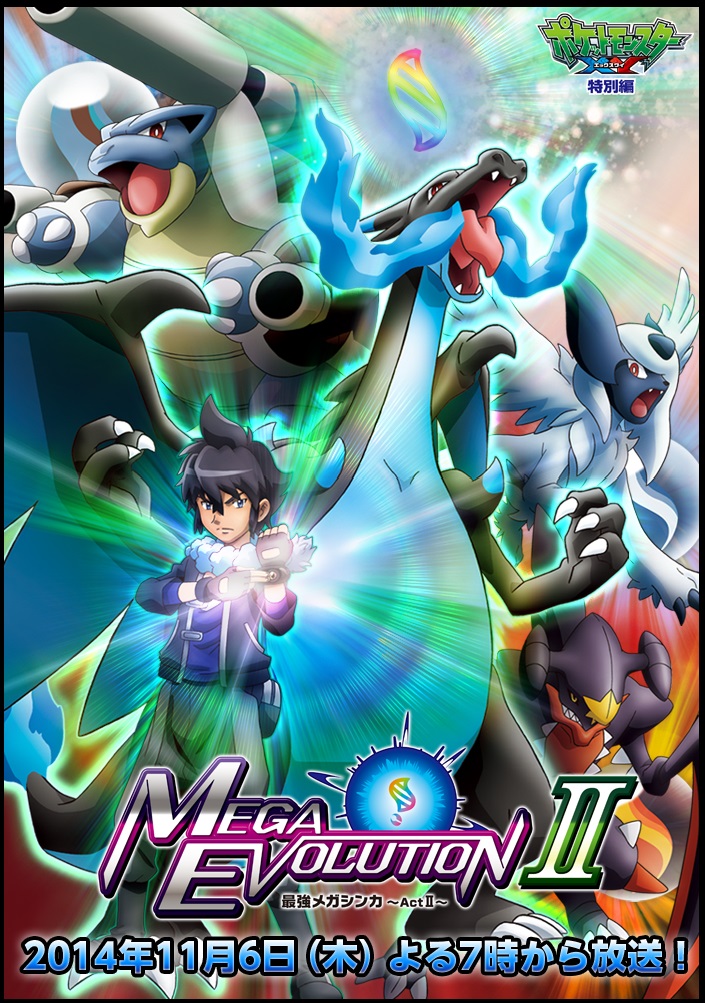 Article edited on 2014-09-01 02:49:22 by Adamant
Jul 25
Pocket Monsters Movie 17 The Cocoon of Destruction and Diancie (破壊の繭とディアンシー)
debuted in first place for the weekend of July 19th, 2014. The movie was shown in 357 screens across Japan and ticket sales on 360,190 viewers totaled 559,908,500 yen (5.5million USD). Disney's
Maleficent (マレフィセント)
took second place and Studio Ghibli's
When Marnie was There (思い出のマーニー)
was in third place. This is the first time since the
10th Pocket Monsters movie Dialga VS Palkia VS Darkrai
that a Pocket Monsters movie has debuted in first place at the box office in Japan.
According to the results of a questionnaire conducted at the theaters by Toho, there was a male to female viewer ratio of 67%/33% for the movie. By age: 51.2% elementary school age, 12.8% kindergarten and nursery school age and 22.3% in their 30s or more.
Source:
http://www.oricon.co.jp/news/2040082/full/

Article edited on 2014-07-25 11:07:20 by Sunain
Jul 15
Further details about the
Poke'mon the movieXY Exhibit ~Meet Pikachu at the Roppongi Hills Observation Deck~ (Poke'mon the movieXY展 ~六本木ヒルズ展望台でピカチュウに会おう!~)
have been announced.
As we reported on last month
, the grand exhibition of historical Pokémon movie highlights, from the original "Mewtwo Strikes Back" to the most recent "Diancie and the Cocoon of Destruction", will be held at the
Roppongi Hills Observation Deck
from Saturday July 19th, 2014 until Sunday August 31st, 2014, for 44 days total.
The Pikachu Cafe menu (「ピカチュウカフェ」メニュー) has been revealed and it features items based specifically on Pikachu. The cafe will be open from 11:00 to 22:00 daily.
The full menu listing and photos are posted on our Imageboard
.
Pikachu Curry (ピカチュウのカレー)
1,180yen - A Pikachu-shaped ball of turmeric rice, served on beef curry with star-shaped pieces of egg and carrot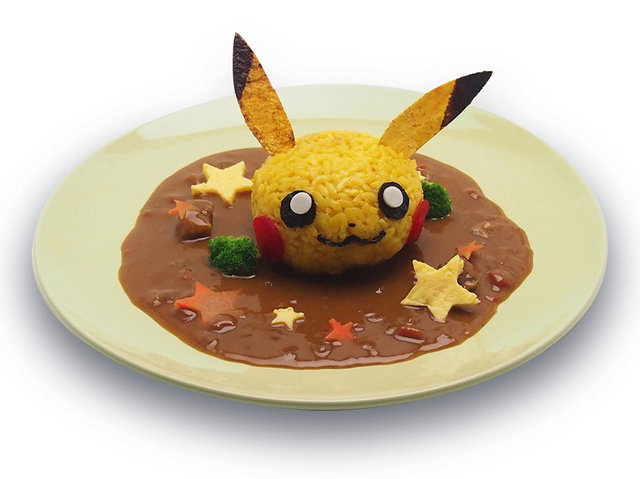 Monster Ball Omuhayashi (モンスターボールのオムハヤシ)
1,280yen - A monster ball made from equal parts chicken rice and plain white rice, served with a rice-filled omelet and hayashi sauce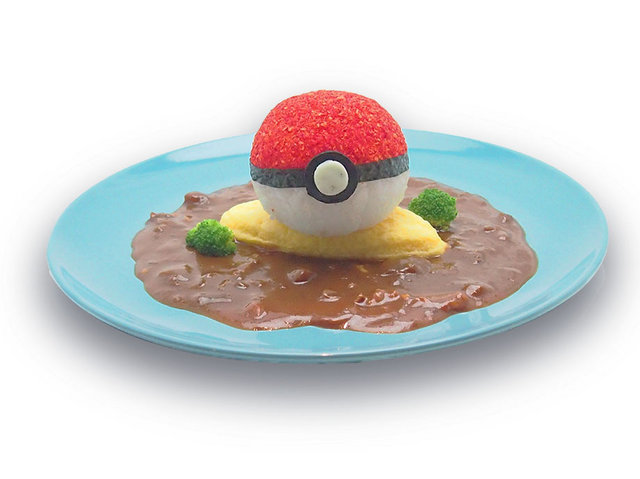 Pikachu Teriyaki Burger (ピカチュウのテリヤキバーガー)
1,080yen - A teriyaki burger with buns shaped like a Pikachu head. The ears are made of corn tortilla
Children's Meal (お子様セット)
980yen - A plate with Pikachu-themed fried shrimp, sausage and curry, just like the kids love it.
Pikachu Curry Dumpling (ピカチュウのカレーまん)
400yen - A curry dumpling shaped like Pikachu's back. The stripes on the back are Fukujinzuke pickles, the tail is made of corn tortilla.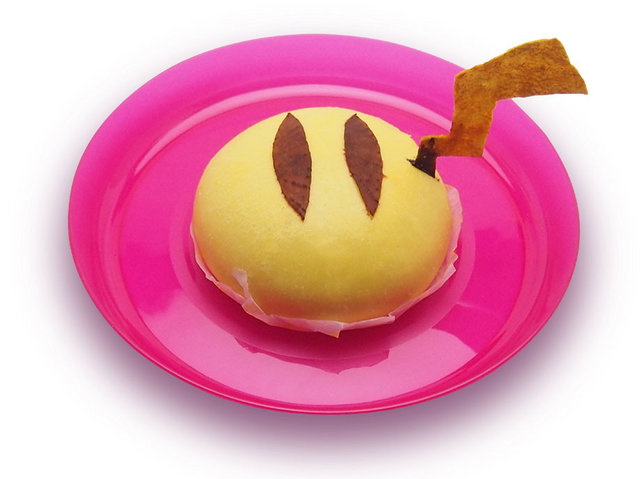 Pikachu Pancakes (ピカチュウパンケーキ)
980yen - Pancakes with Pikachu prints, served with fruit and vanilla ice cream.
Pikachu Thunderbolt Parfait (ピカチュウの10まんボルトパフェ)
880yen - A parfait made from mango pudding and fruit. It crackles when you eat it - watch out for Pikachu's Thunderbolt!
Monster Ball Dessert Plate (モンスターボールのデザートプレート)
880yen - A monster ball made from raspberry- and yoghurt mousse.
Poke'mon the movie XY Exhibition Fruity Floats (Poke'mon the movie XY展 フルーティーフロート)
700yen each - Fruity floats with flavors based on their coloring. There are 6 different types: Harimaron (Kiwi), Diancie (Strawberry), Keromatsu (Blue Orange), Xerneas (Blueberry), Fokko (Orange) and Yveltal (Pomegranate). Each float comes with a coaster matching its taste.
Sources:
http://www.roppongihills.com/tcv/jp/pokemonten-xy/
and
http://www.inside-games.jp/article/2014/07/15/78609.html

Article edited on 2014-07-15 08:18:20 by Adamant