Latest News

24 Apr
04 Mar
20 Feb
28 Jan
03 Oct
04 Sep
News Tag Filter:
DVD
Apr 24
VIZ Media has announced the
Pokémon the Series: XY (Set 1)
DVD Collection for North America.
This set has been added to our DVD database
. The set will contain 24 episodes of the
XY series
English dub. It will be released on August 4th, 2015, 9 months after the
Australia release of the set
. It will be distributed in the United States and Canada by Warner Home Video.
Being on DVD, the quality of this set will not be HD and no Bluray set was announced. Those that wish to buy the series in
HD will still need to purchase it off iTunes
.
Box Art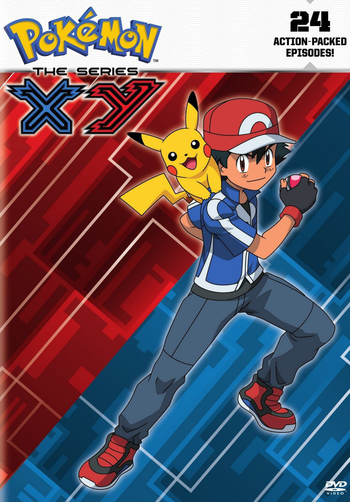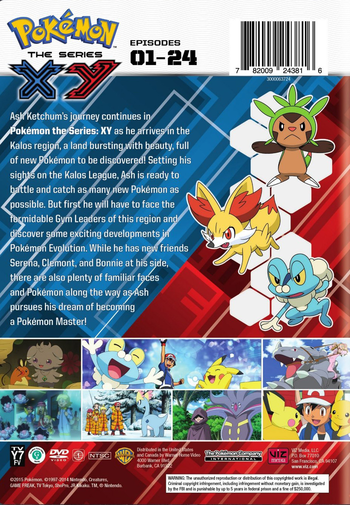 DVD Description
Ash Ketchum's journey continues in Pokémon the Series: XY as he arrives in the Kalos region, a land bursting with beauty, full of new Pokémon to be discovered! Setting his sights on the Kalos League, Ash is ready to battle and catch as many new Pokémon as possible. But first he will have to face the formidable Gym Leaders of this region and discover some exciting developments in Pokémon Evolution. While he has new friends Serena, Clemont, and Bonnie at his side, there are also plenty of familiar faces and Pokémon along the way as Ash pursues his dream of becoming a Pokémon Master!

Article edited on 2015-04-24 03:08:34 by Sunain
Mar 04
From March 7th, 2015 until June 19th, 2015, Japanese 7-Eleven stores will be taking orders for an exclusive set containing the special pre-order ticket for
18th Pocket Monsters movie - The Archdjinni of Rings: Hoopa
. The set will
include a DVD
containing an all-new prequel OVA to the movie called:
The Minidjinni of the Word "Appear!" Hoopa (おでまし小魔神フーパ )
and will be available to be picked up from June 19th.
The
OVA
will most likely air on
Pokémon Get TV
or a movie special and be included on the Blu-ray/DVD releases of the movie but nothing has been announced or confirmed.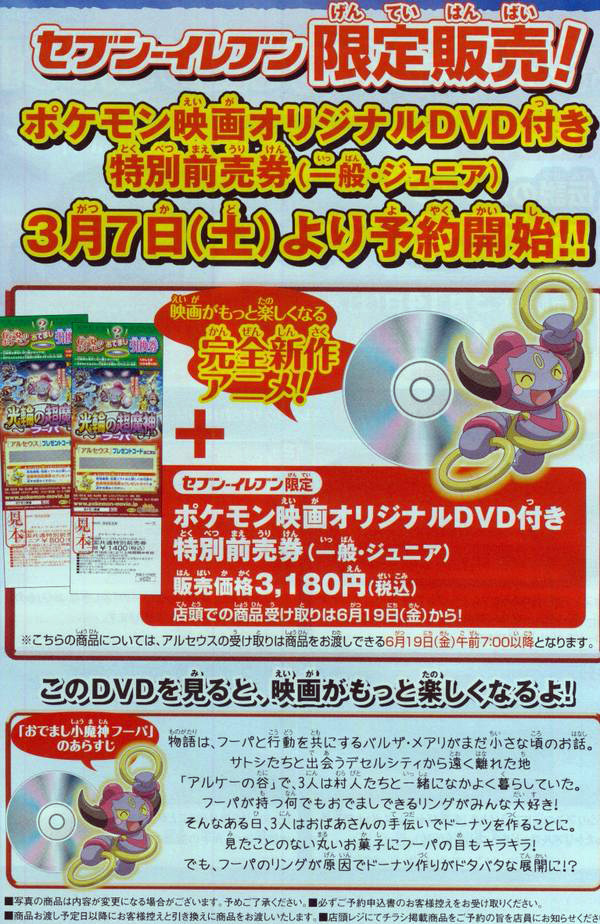 The Minidjinni of the Word "Appear!" Hoopa Summary:
The story is set when Hoopa's companions Barza and Mary were still children. The three of them lived happily together with the villagers in "Arkhē Valley", a place far from Désser City where Hoopa later met Satoshi and the others. Everyone there loved Hoopa's rings, which could make anything and everything appear!
One day, the three of them were helping an old woman make donuts. Hoopa's eyes started glittering at the sight of these round treats it had never seen before! But when Hoopa's rings get used to make donuts, things quickly get silly!?

Article edited on 2015-03-06 05:19:12 by Sunain
Feb 20
Beyond Home Entertainment has confirmed that the last 4 episodes on the
Pokémon The Series: XY Collection 2 DVD Set
are not included in the set. They have recalled all remaining in stores in Australia but though that have already purchased copies can return their copy when the re-released version is distributed to stores.
Facebook Post
Oops! Our bad, Poké-fans ... we've been made aware of an error on the Pokémon X&Y Collection 2 DVD, which was released two weeks ago. The last four episodes have gone AWOL ... this was due to an incorrect master sent to the manufacturer. If you've already bought a copy, here's what to do: (1) hold onto it; (2) wait until we advise when new (corrected) stock is in stores; and (3) return your copy to your point of purchase for a replacement.
We're really sorry for the inconvenience guys, we hope you still love us, in the same way that we love you (unconditionally that is).
Source:
https://www.facebook.com/BeyondHomeEntertainment/photos/a.397814016983338.1073741825.298828806881860/718138451617558/

Article edited on 2015-02-20 05:27:11 by Sunain
Jan 28
Viz has confirmed the release dates for the upcoming Movie 17
Diancie and the Cocoon of Destruction Region 1 DVD
and English Manga. The Manga will be release February 3rd, 2015 and the DVD will be released February 17th, 2015.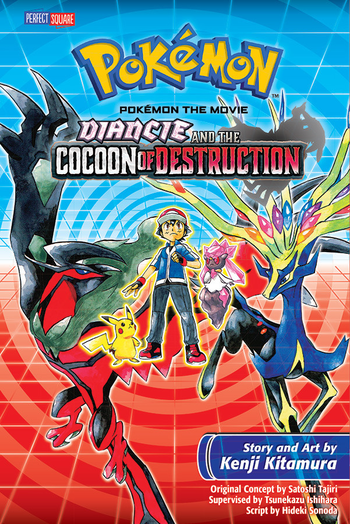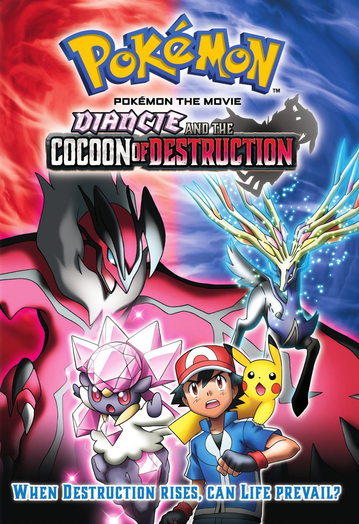 VIZ MEDIA ANNOUNCES HOME MEDIA AND MANGA RELEASES FOR POKÉMON THE MOVIE: DIANCIE AND THE COCOON OF DESTRUCTION
When Destruction Arises, Can Life Prevail? Fans Of All Ages Can Discover Exciting New Adventures In The Official DVD And Manga Editions For The Newest POKÉMON Feature Film
San Francisco, CA, January 27, 2015 – VIZ Media, LLC (VIZ Media), the largest distributor and licensor of anime and manga in North America, announces new releases in support of POKÉMON THE MOVIE: DIANCIE AND THE COCOON OF DESTRUCTION, the first feature film of the new POKÉMON XY property.
Set for publication under the company's Perfect Square imprint, the official manga adaptation of POKÉMON THE MOVIE: DIANCIE AND THE COCOON OF DESTRUCTION is set to debut in-print on February 3rd. VIZ Media also launches the official home media release of POKÉMON THE MOVIE: DIANCIE AND THE COCOON OF DESTRUCTION on DVD on February 17th.
The DVD edition of POKÉMON THE MOVIE: DIANCIE AND THE COCOON OF DESTRUCTION is rated 'TV-Y7,' for viewers ages 7 and older, and will carry an MSRP of $19.97 U.S. / $24.98 CAN. The official manga edition is rated 'A' for All Ages and will carry a print MSRP of $9.99 U.S. / $12.99 CAN.
In the underground Diamond Domain, where many Carbink live, the Mythical Pokémon Diancie serves as Princess. The Heart Diamond that sustains the land is beginning to fall apart, and Diancie is not yet strong enough to create a new one. Can Ash and his friends help Diancie discover its true power and save the Diamond Domain?!
"POKÉMON THE MOVIE: DIANCIE AND THE COCOON OF DESTRUCTION is inspired by the newest generation of Pokémon X and Pokémon Y video games and is the 17th and newest feature film in the venerable POKÉMON franchise," says Charlene Ingram, Senior Marketing Manager of Animation. "Everyone's favorite heroes, Ash, Serena, and Pikachu, as well as favorite villains, Team Rocket, return for a thrilling adventure introducing an exciting cast of new characters, including Xerneas, the fabled Life Pokémon and the Pokémon of Destruction, Yveltal.
POKÉMON is one of the most successful international entertainment franchises of all time. To-date more than 260 million POKÉMON video game titles and over 21.5 billion Pokémon Trading Cards have been sold in more than 73 countries in addition to substantial publishing and merchandise sales. Pokémon the Series: XY is the 17th season of the POKÉMON animated series and airs in the U.S. on Cartoon Network. VIZ Media and its Perfect Square imprint are the official North American publishers for POKÉMON manga graphic novel series including POKÉMON ADVENTURES X & Y, POKÉMON ADVENTURES, POKÉMON ADVENTURES: DIAMOND & PEARL, POKÉMON ADVENTURES: HEART/GOLD SOUL/SILVER, POKÉMON ADVENTURES: BLACK & WHITE as well as a variety of POKÉMON animated feature films.
Source:
http://www.viz.com/node/1006179

Article edited on 2015-01-28 11:55:47 by Sunain
Oct 03
Beyond Home Entertainment has announced 2 new DVD box sets for Australia. Both sets will be released on
November 19th, 2014
, just a few days before the launch of
Pokémon Omega Ruby and Alpha Sapphire
.
Pokémon Ruby & Sapphire Limited Edition Collection
is a 23 disc set that features the entire Pokémon Advanced series. It will retail for $79.95AUD plus tax. The
Pokémon Season 1 & 2 Limited Edition Collection
includes the first 2 seasons of the anime series on 12 discs. It will retail for $49.95AUD plus tax.
Pokémon Ruby & Sapphire Limited Edition Collection Description
Pokémon Trainer Ash Ketchum and his best pal Pikachu are headed to the Hoenn region for another great Pokémon adventure! From volcanic Mt. Chimney to the wealth of islands that dot the region's shores, Hoenn is the land where elements of earth and ocean meet. It's more than just geology that makes this place special—Hoenn is home to scores of unique Pokémon species that inhabit the land, sea, and every place between. Ash might not be able to see them all, but he's ready to try!
He's also ready to battle his way to the top of the Hoenn League, but his new friend May isn't interested in Pokémon—she wants to travel the world! That is, until her adventures with Ash inspire her to become a Pokémon Coordinator with championship dreams of her own. Together with May's little brother Max and Ash's old friend Brock, Ash and May are off on an epic journey across Hoenn! But when the ruthless forces of Team Aqua and Team Magma shake the region to its very foundations, are three young Trainers—and one know-it-all little brother—ready to confront the forces of evil and save the day?
Sources:
http://www.beyondhe.com.au/pokemon-ruby-sapphire-region-collector-s-edition.html
and
http://www.beyondhe.com.au/pokemon-season-1-2-gift-set.html

Article edited on 2014-10-03 04:04:48 by Sunain
Sep 04
Beyond Home Entertainment has announced some new products that will be released later in 2014 in Australia. The
Pokémon: The Heritage Collection
is a 54 DVD discs set that features over 168 hours of content in this limited edition collectors set beautifully presented in a Poké Ball resin mould. The set features all the episodes from the first 9 seasons of the English dub.
The set will retail for $250 AUD
.
Full details of this set are available in the DVD database entry
.
Press Release - Pokémon Movie 17 Coming in December 2014 in Australia
The all-new, highly anticipated Pokémon movie – the seventeenth for the popular evergreen franchise – will be released by Beyond on DVD in December 2014. Titled Pokémon the Movie: Diancie and the Cocoon of Destruction, the film is the first from the new X & Y Generation, which in turn will be heralded by the arrival of two new Nintendo DS games, Omega Ruby and Alpha Sapphire, due for release in Australia in November, along with the release of new Pokémon toy lines and trading cards.
A limited theatrical release in Australia and New Zealand is being planned for Diancie and the Cocoon of Destruction, following on from a successful cinematic release in Pokémon's home country of Japan, where the film grossed the equivalent of US$25 million dollars at the box office.
Beyond has scheduled Pokémon: Diancie and the Cocoon of Destruction for DVD release on 1 December, 2014.
Viz Media Re-releases Indigo League DVDs
Multiple retailers have added the re-release versions of the Pokémon Indigo League to their release schedules. The three separate sets are virtually identical to the ones released in 2007 except they have been repackaged in a 3 disc digi case. Also revealed was the
Pokémon Indigo League DVD Complete Collection
which will be released in North America on October 28th, 2014 for the suggested retail price of $50 USD.
Details on these sets have also been added to the DVD database
.
Source:
http://www.beyondhe.com.au/news/all-new-pokmon-movie-coming-in-december

Article edited on 2014-09-04 02:07:09 by Sunain