Latest News

22 May
31 Mar
02 Mar
24 Feb
15 Jul
03 Jul
News Tag Filter:
Event
May 22
As we reported in April of 2015
, Pokémon Center Hiroshima (ポケモンセンターヒロシマ) will be the 9th Pokémon Center to open in Japan and it will have its Grand Opening on Friday June 26th, 2015. New details about the exclusive Koiking and alternate-colored Gyarados distributions and some of the exclusive merchandise have been announced by the official Pokémon website.
A
Koiking
and an alternate-colored
Gyarados
will be available for player of Pokémon
X, Y
,
Omega Ruby and Alpha Sapphire
from June 26th, 2015 until August 31st, 2015 at all
Pokémon Center and Pokémon Store locations
. This will be the first event distribution for
Pokémon Store locations
. No specific details were revealed but will be announced closer to the opening date.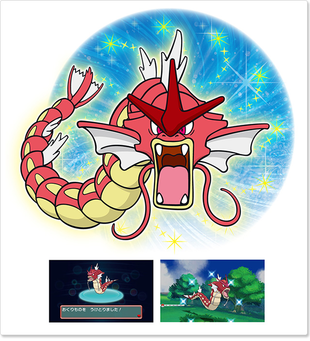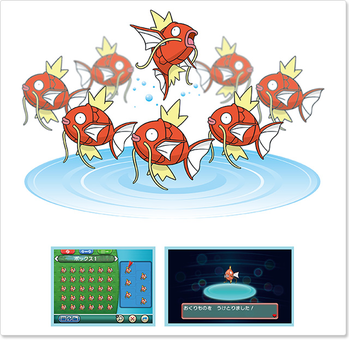 Three Pikachu plushies will be available for 2000yen each: Pikachu Pretending to be Koiking (コイキングごっこピカチュウ), Pikachu Pretending to be Gyarados (ギャラドスごっこピカチュウ) and Pikachu Pretending to be Red Gyarados - Limited Pokémon Center Hiroshima (ギャラドスごっこピカチュウ 赤いギャラドスver. ポケモンセンターヒロシマ限定)
Source:
http://www.pokemon.co.jp/ex/pokecen_hiroshima/

Article edited on 2015-05-22 04:39:36 by Sunain
Mar 31
The
National Museum of Emerging Science and Innovation
will be hosting a special exhibition called
Pokémon Lab: You do it! You discover! (ポケモン研究所 ~キミにもできる!新たな発見~)
. The museum is located in the Odaiba District of Tokyo, Japan and the Pokémon Lab exhibit will be available during the summer of 2015.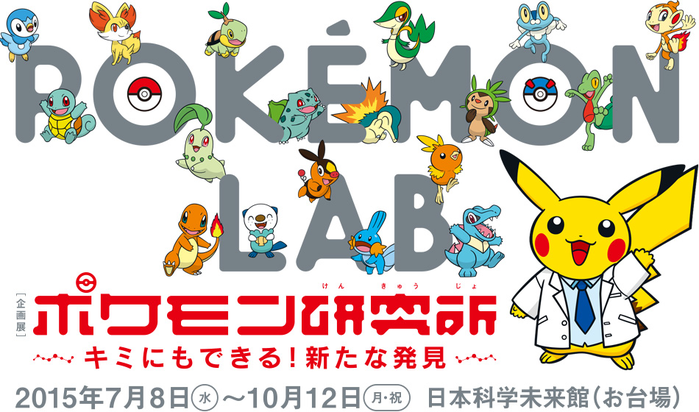 Special Exhibition Pokémon Lab: You do it! You discover!
Since the release of the first game in 1996, Pokémon has become an international hit spanning across borders, cultures and generations. This special exhibition presents entertaining experiences to learn about scientific methods and processes such as observation and classification, with Pokémon as the subjects.
This exhibition will take place at the "Pokémon Lab" where visitors will act as research assistants and take on a variety of missions. These missions are separated into different difficulty levels, so visitors all ages can enjoy them. The exhibition will also explain the history and long-lasting appeal of Pokémon, along with the development of communications technology in game consoles.
This special exhibition provides an opportunity to experience the scientific process by playing and thinking together with Pokémon.
Exhibit Details
Exhibition Days:
Wednesday July 8th, 2015 until Monday October 12th, 2015
Closed:
Every Tuesday except on holidays and during the summer vacation period
Opening Hours:
10:00 - 17:00 (Entrance closes 30 minutes prior to museum closing time.)
Venue:
Special Exhibition Zone, 1st floor, Miraikan
Admission Fees(TBD):
Adult (Ages 19 & over): 1,500yen, Student (Age 18 to school student): 1,300yen, Child(Ages 3 to school student): 500yen
Organizers:
National Museum of Emerging Science and Innovation, The Yomiuri Shimbun
Source:
http://www.miraikan.jst.go.jp/en/spexhibition/pokemon/

Article edited on 2015-03-31 12:29:34 by Sunain
Mar 02
The official Japanese Movie 18 website has recently updated with information relating to the movie's pre-order ticket. Translations follow:
The special pre-order movie ticket giving access to a double giveaway will be on sale starting Saturday March 7th, 2015! If you purchase it at the theater you will be given a limited edition "Appear!" clear file folder!
The special pre-order movie ticket finally goes on sale Saturday March 7th!
This year we have a double giveaway! Amazingly, in addition to receiving the mythical Pokémon "Arceus", you will also receive one more legendary Pokémon! *
Look up further information on the "special pre-order ticket that includes an Arceus present code and an "Appear! Legendary Pokémon!" exchange voucher" this instant!
*The Pokémon can be received for the Nintendo 3DS games Pocket Monsters Omega Ruby/Alpha Sapphire/X/Y. The Pokémon are video game data, they are not figures, plushies, etc.
For further information, see
the ticket section on the official Pokémon Movie Website
There's more! If you purchase the special pre-order movie ticket at the theater, you will receive an "Appear! clear file folder" limited to 300 000 patrons nationwide. It's a clear file with two different images: When you remove the sheet inside the folder, the legendary Pokémon will "Appear!"
*You will receive one folder with each special pre-order movie ticket purchased (parent-child tickets come with two folders).
*This folder is not for sale. Please do not purchase one from resellers.
*Each theater has a limited number of folders. Please understand if supplies have run out.
*Please contact your local theater for further information.
The mythical Pokémon "Arceus" will be available for download when the special pre-order movie tickets go on sale
.
Look forward to Saturday March 7th, 2015!
Source:
http://www.pokemon-movie.jp/news/?p=1541

Article edited on 2015-03-02 08:52:18 by Sunain
Feb 24
Pre-Order Ticket Arceus
From March 7th, 2015 until July 17th, 2015, patrons that pre-order a ticket for the 18th Pocket Monster movie -
Pokémon the Movie XY - The Archdjinni of Rings: Hoopa
will receive Arceus an as serial code present. The tickets can be purchased at the following participating locations: 7-11 (セブン-イレブン)、
Ito-Yokado (イトーヨーカドー)
、Aeon (イオン)、 Aeon Supercenter (イオンスーパーセンター)、
Toys"R"Us (トイザらス)
、
Apita (アピタ)
、
Piago (ピアゴ)
、
Al-Plaza (アル・プラザ)
、
Heiwado (平和堂)
、
Daiei (ダイエー)
、Fuji (フジ)、Pokémon Centers (ポケモンセンター), Pokémon Stores (ポケモンストア), and participating cinemas (一部映画館). General admission is 1400yen, youth admission is 800yen and a parent/child combo is 2100yen.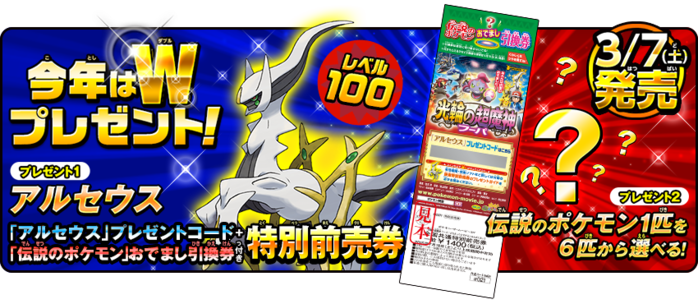 Arcues can be redeemed from March 7th, 2015 until August 31, 2015 via the serial code that is included on the ticket. Multiple Arcues codes can be used on a single cartridge but each tickets serial code can only be redeemed once. Arceus can be redeemed in:
Pocket Monsters X or Y
or
Pocket Monsters Omega Ruby or Alpha Sapphire
.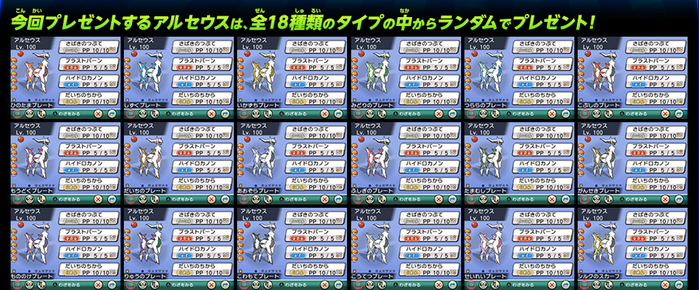 From June 20th, 2015 until August 31st, 2015, people that present their ticket at a participating retailer will also get 1 of 6 different Legendary Pokémon in addition to Arceus. Details on that distribution will be revealed on April 15th, 2015.
Source:
http://www.pokemon-movie.jp/tickets/

Article edited on 2015-02-24 02:17:52 by Sunain
Jul 15
Further details about the
Poke'mon the movieXY Exhibit ~Meet Pikachu at the Roppongi Hills Observation Deck~ (Poke'mon the movieXY展 ~六本木ヒルズ展望台でピカチュウに会おう!~)
have been announced.
As we reported on last month
, the grand exhibition of historical Pokémon movie highlights, from the original "Mewtwo Strikes Back" to the most recent "Diancie and the Cocoon of Destruction", will be held at the
Roppongi Hills Observation Deck
from Saturday July 19th, 2014 until Sunday August 31st, 2014, for 44 days total.
The Pikachu Cafe menu (「ピカチュウカフェ」メニュー) has been revealed and it features items based specifically on Pikachu. The cafe will be open from 11:00 to 22:00 daily.
The full menu listing and photos are posted on our Imageboard
.
Pikachu Curry (ピカチュウのカレー)
1,180yen - A Pikachu-shaped ball of turmeric rice, served on beef curry with star-shaped pieces of egg and carrot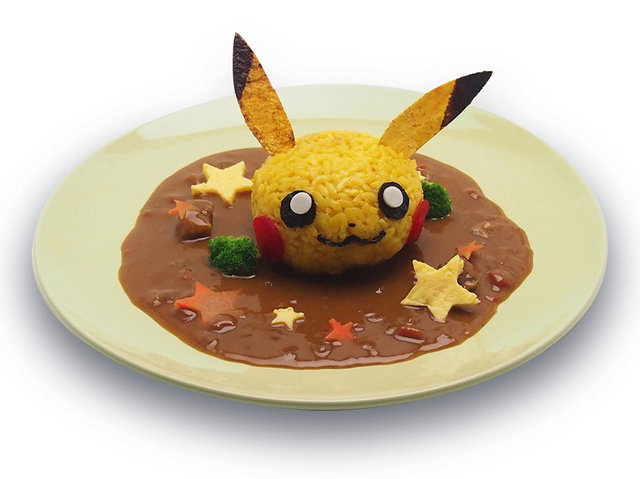 Monster Ball Omuhayashi (モンスターボールのオムハヤシ)
1,280yen - A monster ball made from equal parts chicken rice and plain white rice, served with a rice-filled omelet and hayashi sauce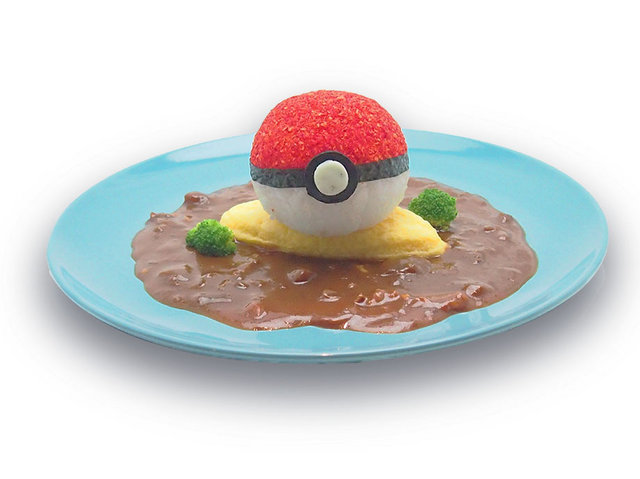 Pikachu Teriyaki Burger (ピカチュウのテリヤキバーガー)
1,080yen - A teriyaki burger with buns shaped like a Pikachu head. The ears are made of corn tortilla
Children's Meal (お子様セット)
980yen - A plate with Pikachu-themed fried shrimp, sausage and curry, just like the kids love it.
Pikachu Curry Dumpling (ピカチュウのカレーまん)
400yen - A curry dumpling shaped like Pikachu's back. The stripes on the back are Fukujinzuke pickles, the tail is made of corn tortilla.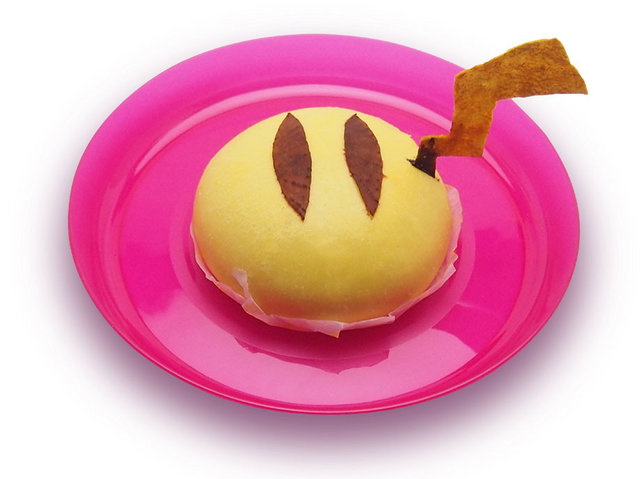 Pikachu Pancakes (ピカチュウパンケーキ)
980yen - Pancakes with Pikachu prints, served with fruit and vanilla ice cream.
Pikachu Thunderbolt Parfait (ピカチュウの10まんボルトパフェ)
880yen - A parfait made from mango pudding and fruit. It crackles when you eat it - watch out for Pikachu's Thunderbolt!
Monster Ball Dessert Plate (モンスターボールのデザートプレート)
880yen - A monster ball made from raspberry- and yoghurt mousse.
Poke'mon the movie XY Exhibition Fruity Floats (Poke'mon the movie XY展 フルーティーフロート)
700yen each - Fruity floats with flavors based on their coloring. There are 6 different types: Harimaron (Kiwi), Diancie (Strawberry), Keromatsu (Blue Orange), Xerneas (Blueberry), Fokko (Orange) and Yveltal (Pomegranate). Each float comes with a coaster matching its taste.
Sources:
http://www.roppongihills.com/tcv/jp/pokemonten-xy/
and
http://www.inside-games.jp/article/2014/07/15/78609.html

Article edited on 2014-07-15 08:18:20 by Adamant
Jul 03
The Pocket Monsters XY (寵物小精靈XY) anime series will debut in Hong Kong on July 13th, 2014 on
TVB Jade
in Cantonese. The free-to-air channel will simultaneously broadcast the show in HD and SD. The series will also be available on the Internet at
myTV
. The series will also being airing in Taiwan on August 3rd, 2014 on
Eastern Television (ETTV)
.
To promote the series debut in Hong Kong, Nintendo is going to distribute 1000 Charizard's holding a Mega Stone to those that correctly answer a quiz. Nintendo Hong Kong will post the quiz on July 11th, 2014 and it will be holding a Charizardite appropriate for the players game version.
Participants that wish to enter the lottery need to:
Login to their Facebook Account
Send a message to Nintendo.hk with their name, quiz answer and e-mail address
Participants need to also post something about Pokémon on the Nintendo.hk Facebook page
Only 1000 people will receive the serial code that follow those steps
The event ends on July 27th, 2014 at 23:59 and people will be informed via the email address they submit in they have won.
Source:
http://www.nintendo.com.hk/event/pokemon_event_2014summer.htm
Australian Nationals Shiny Mamoswine Distribution
The official Australian Nationals website has updated to add information about a Shiny Mamoswine distribution. This is the same Mamoswine that is
being distributed at National Championships
around the world.
At the 2013 Pokémon World Championships, Arash Ommati led an epic team to victory to become World Champion. Now you can add a Mamoswine to your game based on one of the stars from his winning party! This Lv. 50 Shiny Mamoswine is built to do massive damage with four devastating attacks—Icicle Spear, Earthquake, Icicle Crash, and Rock Slide. It is also holding a Choice Scarf to help make up for Mamoswine's relatively slow speed.
Everyone who attends the Pokémon Video Game Australian National Championships can get Mamoswine—not just the competitors. Be sure to bring your Nintendo 2DS or Nintendo 3DS console and copy of Pokémon X or Pokémon Y. Look for signs at the Melbourne Town Hall for more details on how to get Arash's Mamoswine!
Source:
http://gamesites.nintendo.com.au/pokemon-video-game-championships/#shiny
US Nationals Get a Memorable Mamoswine!
A special Shiny Mamoswine will also be available via local distribution at the US National Championships. It is the same as the one that is being distributed in Australia.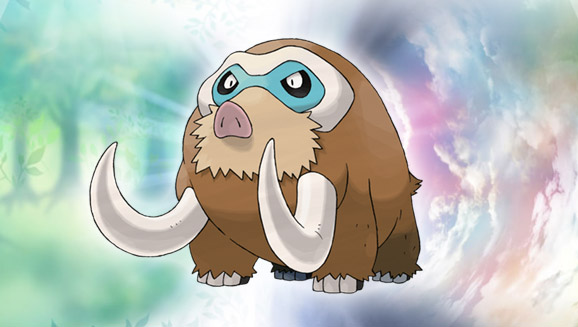 Source:
http://www.pokemon.com/us/pokemon-news/get-a-memorable-mamoswine/

Article edited on 2014-07-03 05:36:25 by Sunain