Latest News

10 Oct
26 Aug
02 Jun
13 May
12 May
11 May
News Tag Filter:
Games
Oct 10
The Pokémon Company International announced a lot of new license deals with merchandise companies today in Europe. Below is the press release with the full details.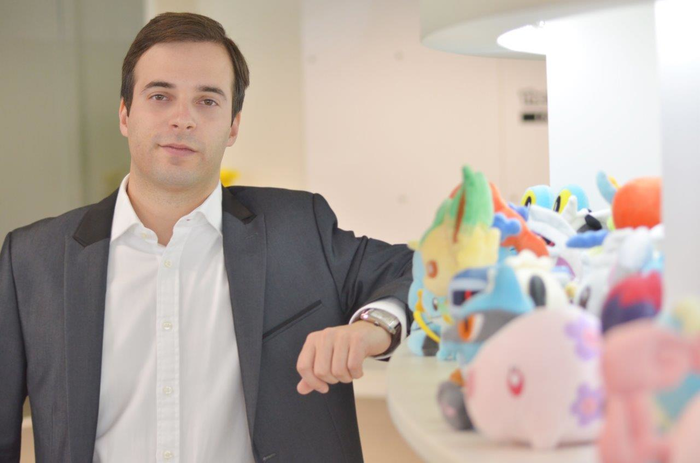 European Licensing Programme takes shape with new team at The Pokémon Company International
Evergreen brand going strong with the launch of Pokémon Omega Ruby and Pokémon Alpha Sapphire on November 28, multimillion-euro marketing campaign planned, and numerous licensees on board London, UK—October 6, 2014—The Pokémon Company International announced today several new deals with European licensees. Ten new deals have been confirmed with players as diverse as:
· Arguydal: Food & Drinks
· Aventure Diffusion: Footwear
· Bon Bon Buddies: Confections
· Cartorama: Back-to-School Supplies
· Fashion UK: Apparel
· GB eye: Posters, Wall Art & Accessories
· HORI: Video Game Accessories
· RDS Industries: Video Game Accessories
· Vadobag: Back-to-School Supplies
· Winning Moves: Board Games
These new European licensees join existing partners such as global master toy partner TOMY, whose range includes figures, feature figures, role play and plush, Ultra PRO for trading card game accessories, Sun City for apparel, CTI for bedding, and CyP for back-to-school supplies.
The recent wave of partnerships was spearheaded by a newly established European Market Development team at The Pokémon Company International in London, responsible for licensing, retail, and brand promotions across the continent. The team is headed by Mathieu Galante and has just been expanded by the arrival of Samantha Mortimore and Romina Ialongo. The team will be meeting prospective partners throughout the Brand Licensing Europe 2014 expo at The Pokémon Company International Stand (F070).
"Following the enormous success of Pokémon X and Pokémon Y, which launched on Nintendo 3DS a year ago, and the subsequent introduction of the latest Trading Card Game generation, Pokémon TCG: XY, we're enjoying a large resurgence in sales and interest in the brand. And across CITV, Netflix, and Disney XD and on iTunes, the TV show is being watched by a huge and ever-growing following," said Marketing Director Anthony Cornish.
"The newly expanded Market Development team, based in our European headquarters in Chiswick, has been hard at work bringing on board new partners, and we're very excited to announce the first wave of new partners who will help us bring world-class consumer products to our passionate fans," added Mathieu Galante, Senior Manager of Marketing Development.
The expansion of the European licensing programme follows a period of growth for the Pokémon brand globally. Pokémon has enjoyed a stellar year following the launch of Pokémon X and Pokémon Y in October 2013 with combined sales of nearly 12 million copies globally in the first four months. Today it is one of the most successful video game franchises of all time, with more than 260 million games sold worldwide since its launch in 1996.
The Pokémon Trading Card Game perennially remains the market leader in trading card games worldwide—more than 21.5 billion cards have been shipped to 74 countries in 10 languages. Recent NPD reports from the UK market have suggested that sales of the Pokémon Trading Card Game (TCG) have risen in 2014 by 51%. New Pokémon TCG expansions launch regularly throughout the year, and the next expansion, Pokémon TCG: XY—Phantom Forces, is set to hit stores in early November.
Future projects for The Pokémon Company International and its partners include the launch of the much anticipated video games Pokémon Omega Ruby and Pokémon Alpha Sapphire for the Nintendo 3DS and Nintendo 2DS systems on November 28, 2014 . This title is a fresh take on Pokémon Ruby and Pokémon Sapphire, which launched in 2003 and were fan favourites for the Game Boy Advance system. The launch will be supported by a multimillion-euro marketing campaign.
The Pokémon Company International will be exhibiting at BLE this year at stand F070.

Article edited on 2014-10-10 02:36:25 by Sunain
Jun 02

Mirabilandia
and the Nintendo Italy have announced that the 10th Anniversary Pokémon Day 2014 will take place on June 21st, 2014 and June 22nd, 2014. The two day festival is dedicated to the World of Pokémon X and Y and the Kalos region.
During the two days there are tons of activities:
Learn to play the Pokémon Trading Card Game and play in tournaments
Test yourself in Pokémon X and Y video game tournaments
Get the famous Jessie's Wobbuffet event Pokémon on your copy of Pokémon X or Y
Make yourself comfortable in the theater to watch Pokémon: The Origin, an incredible adventure that follows the journey of Red and his Charmander to conquer the Gyms of the Kanto region!
Complete the six mini-games Pokémon Games Day and participate in the draw for great prizes daily!
Come to the park wearing a Pokémon costume and you can participate in the costume contest and win amazing prizes!
In addition, you can meet Pikachu, Chespin, Fennekin and Froakie, and many other Pokémon Trainer like you, and so much more!
Arriva il Pokémon Day 2014!
Il 2014 segna un traguardo importante per l'evento più importante per i fan dei Pokémon italiani: il Pokémon Day festeggia il suo decimo anniversario e lo farà alla grande!
Il 21 e 22 giugno 2014 vi aspettiamo a Mirabilandia dove si svolgeranno due giorni di grande festa Pokémon tutta dedicata all'universo di Pokémon X e Pokémon Y: scoprirai i nuovi Pokémon della regione di Kalos, prenderai parte a giochi divertenti, potrai vincere un sacco di premi e scoprirai incredibili sorprese che ti sveleremo nei prossimi mesi!
Durante i due giorni, ci saranno tantissime attività:
Impara a giocare al Gioco di Carte Collezionabili Pokémon, e poi cimentati in tanti tornei del GCC!
Mettiti alla prova con il tuo videogioco Pokémon X o Pokémon Y affrontando l'esame lotta e fantastici tornei!
Ottieni sul tuo gioco Pokémon X o Pokémon Y il celebre Wobbuffet di Jessie del Team Rocket!
Mettiti comodo nel teatro per assistere sul grande schermo allo speciale Pokémon: le origini, un'avventura incredibile che segue il cammino di Rosso e del suo Charmander alla conquista delle Palestre della regione di Kanto!
Gira per il parco per completare i sei minigiochi dei Pokémon Day Games! e partecipa all'estrazione quotidiana di fantastici premi!
Vieni al parco indossando un costume a tema Pokémon e potrai partecipare alla gara di costumi Pokémon, fare parte del grande show del Pokémon Day e vincere premi incredibili!
In più, potrai incontrare dal vivo Pikachu, Chespin, Fennekin e Froakie, conoscere tanti altri Allenatori di Pokémon come te, e tanto altro ancora!
E se presenti il coupon che trovi su Scambia & Gioca Giallo di Maggio e Giugno, che trovi in edicola con i prodotti del GCC Pokémon, potrai ricevere l'esclusiva maglietta del Pokémon Day!
Visita questa pagina nei prossimi giorni e scoprirai tutti i dettagli!
Il Pokémon Day è organizzato da Gedis Edizioni in collaborazione con Nintendo Italia e con la partecipazione di K2, Gruppo Edizioni BD e SunCity.
Source:
http://www.gedis-group.it/area-news/arriva-il-pokemon-day-2014.html

Article edited on 2014-06-02 04:40:18 by Sunain
May 13
The
Pokémon Black 2 and Pokémon White 2: Super Music Collection
launched on iTunes on May 13th, 2014 for $9.99 (£7.99). The
CD set
was originally released in Japan on July 25th, 2012.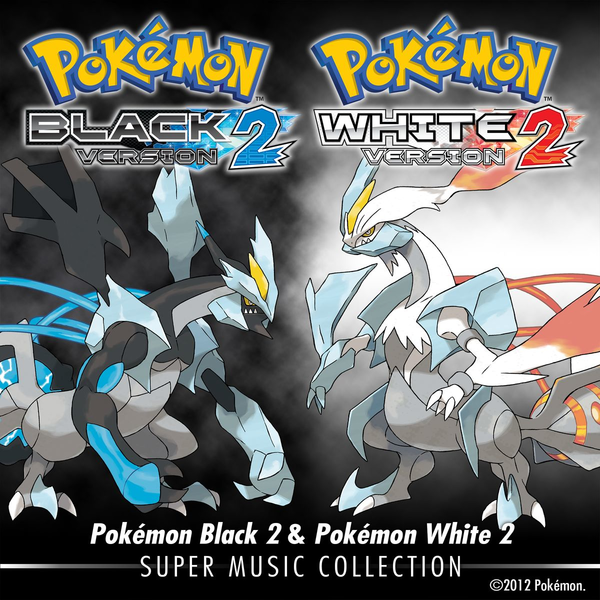 Pokémon Black 2 and Pokémon White 2: Super Music Collection launches for iTunes
Starting today, Pokémon fans and collectors can complete a collection of a different sort with the iTunes launch of Pokémon Black 2 & Pokémon White 2: Super Music Collection.
From Kanto to Kalos, music lovers can now take a musical journey through all the regions of the Pokémon world and enjoy a full collection of digitally remastered soundtracks. The Super Music Collection features beautifully adapted and orchestrated versions of the original game music, composed by Junichi Masuda, Gō Ichinose, and Morikazu Aoki.
Pokémon Black 2 & Pokémon White 2: Super Music Collection is the final release in a series of digitally remastered video game soundtracks, which began last year with the release of Pokémon X & Pokémon Y: Super Music Collection and was followed by soundtracks from all six generations of the Pokémon video game
May 12
Nintendo has revealed that
Pokémon Art Academy
will be released worldwide in 2014. The title will be released in Europe on July 4th, 2014 and in Australia and New Zealand on July 5th, 2014. It will be released in North America in the fall of 2014.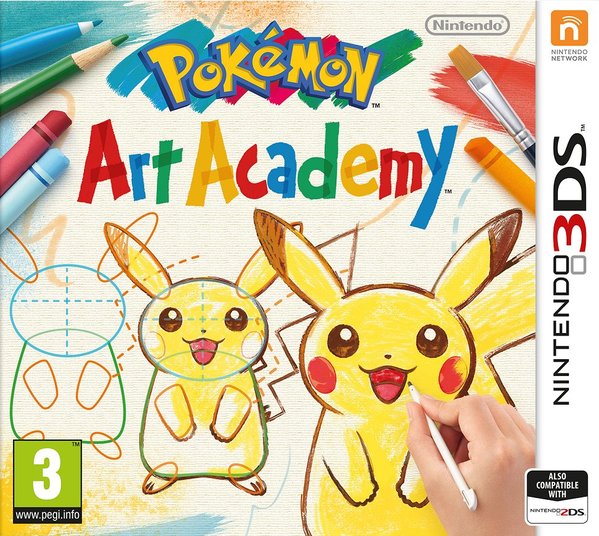 Press Release - LEARN TO DRAW YOUR FAVORITE POKÉMON IN POKÉMON ART ACADEMY FOR NINTENDO 3DS
40 Unique Lessons Give Fans Step-By-Step Instruction for Drawing the Series' Most Iconic Pokémon
REDMOND, Wash., May 12, 2014 – Grab your stylus and start your Pokémon-drawing journey in Pokémon Art Academy, launching this fall exclusively on the Nintendo 3DS and Nintendo 2DS systems. This Pokémon-themed installment of the Art Academy series offers Pokémon fans and budding illustrators alike 40 unique lessons to learn how to paint, sketch and draw beloved Pokémon characters in 2D. Along the way, students of Pokémon Art Academy can pick up actual illustration skills that they can transfer onto real canvas, or share their digital masterpieces with the world.
The Art Academy series made its debut on Nintendo DS in 2009, offering a comprehensive virtual art studio with a variety of realistically behaving art materials. Wield the stylus with tactile precision on the Nintendo 3DS or Nintendo 2DS touch screen to use a plethora of paint, pencils and pastels. A hallmark of the Art Academy franchise is its easy-to-follow lessons with step-by-step guides that teach painting and drawing techniques. A friendly tutor takes students of all ages through these lessons, each of which breaks down complex-looking images into simple steps. Gradually, players pick up more new techniques that allow anyone to create artwork they can be proud of. Pokémon Art Academy boasts 40 lessons in which players can encounter favorite Pokémon from throughout the series, such as Pikachu, Oshawott, Charizard, Torchic, Fletchling and Fennekin.
"The Pokémon characters themselves are among the most endearing and enduring aspects of the Pokémon video games, with everyone having their own favorite," said Scott Moffitt, Nintendo of America's executive vice president of Sales & Marketing. "Pokémon Art Academy lets fans deepen their connection with these iconic characters by providing detailed lessons teaching how to draw them on their Nintendo 3DS or Nintendo 2DS in a straightforward and enjoyable way."
Game Overview
The gameplay is designed so anyone can quickly begin illustrating Pokémon masterpieces and hone their skills at the academy as they draw through lessons using the Nintendo 3DS Touch Screen. Players can unlock all of the options in the game, including a set of special lessons that include Mega Evolution Pokémon, once they've graduated. Players can even share their art via Miiverse, the SpotPass feature, and local wireless.
Features
Players can Bring their Pokémon artwork to life using a variety of tools
Players can Create amazing pictures with step-by-step lessons
Players can Post directly to Miiverse and show off their art
Players can Save their art to the SD Card and print it out
Players can Learn the basics of art, then graduate to more advanced techniques to become a real Pokémon artist
Players can Participate in dozens of art lessons to help improve their skills
Sources:
http://press.nintendo.com/articles.jsp?id=41598
and
http://www.nintendo.com/games/detail/pfF0n2KqVPlrFfdOyxK7sqolDaoIuINt

Article edited on 2014-05-12 11:06:14 by Sunain
May 11
Episode 31 of Pokémon Get TV,
Fighting Pokémon! The Big Battle! / In this 8th Installment of 'Get Them! The Pokémon Hide-and-seek Game', Kasuga Wears a Mega Ring and Mega Evolves!? / An Astonishing New Record in Trozei!?
aired yesterday.
The episode started with the usual preview clips, which announced that today's episode will have an onslaught of startling events; A grand presentation of footage from the next game in the Pocket Monsters series, an amazing new record in Pokémon Battle Trozei, and the mega evolution of Kasuga, making this 60 exciting minutes of the most shocking episode of Pokémon Get TV yet!
Taka then introduced the show, and asked if the other hosts were fired up, which they were. He then started on his usual line of telling Shoko-tan she looks cute today, but Shoko-tan interrupted him by saying she has some super super super big news for them all. Taka thinks the news is that Toshi got a not-very-noticable makeover at a beauty parlor and tries pointing out here he looks different, but Toshi tells him that's not it, and asks Shoko-tan to go on, wanting to know himself too. Shoko-tan says she won't tell yet, and that'll have to wait until the second half of the show.
Taka says they have to introduce today's guests, and Toshi calls them in. They are model and actress
Rei Okamoto
and Q-taro Suzuki and Hiroaki Matsuda from the comedy duo
Hiking Walking
. Toshi asks them what their favorite Pokémon are, and Okamoto says she thinks Eievui is really cute, and that she's working hard to catch one, Taka saying that's a popular choice for women. Q-taro says his favorite is Rougela, since it looks just like him, and he does a wiggling dance to demonstrate further, much to Taka and Toshi's displeasure.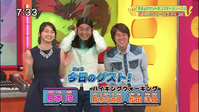 Robin's Poké-Cooking
We then cut to this week's installment of Robin's Poké-Cooking. Today, Robin will be making a monster ball onigiri that combines Japanese and Western styles, utilizing tarako, shiso and western-style cream cheese.
Tarako Cheese Ball (たらこチーズボール)
Ingredients:
Shiso, 1 leaf (しそ 1枚)
Cream cheese, 1 tablespoon (クリームチーズ 大さじ1)
Tarako, 1 tablespoon (たらこ 大さじ1)
Rice, 160g (ご飯 160g)
Toasted seaweed (細く切ったのり 適量)
Cheese (丸く切ったリンゴ 適量)

1) Cut the shiso into small pieces
①しそを細かく千切りにする。

2) Mix the shiso into the cream cheese
②〈Secret Point〉 クリームチーズにしそを入れると、爽やかな香りがついて相性抜群!

3) Spread the tarako on a stretched plastic wrapper
③敷いたラップの上にたらこを敷く。

4) Put appropriate amounts of rice on top of the tarako
④たらこの上にご飯を適量置く。)

5) Put the shiso and cream cheese mix on top of the rice, then put more rice on top
⑤ご飯の上にクリームチーズを乗せ、さらに具の上にご飯を乗せる。

6) Fold the wrapper around the ingredients, then mold them into a ball shape
⑥ラップでご飯と具を包み、丸くなるように握る。

7) Wrap a strip of seaweed around the ball at the border between the rice and the tarako
⑦たらことご飯の境界線に、のりの細切りを巻く。

8) Place a tiny round slice of cheese somewhere on the seaweed strip as decoration
⑧最後に丸く切ったスライスチーズをつければ完成!
The red tarako will make the onigiri resemble a monster ball, while the inside will have a delicious mix of cream cheese and shiso. This monster ball will definitely get your childrens' hearts, mothers! Make sure to include one in their school lunch tomorrow!
Next up is the PokéTV Animation segment, where today's episode is Pocket Monsters Episode 29,
Fighting Pokémon! The Big Battle!
.
PokéTV Challenge
After the rerun ended, the show went straight to the PokéTV Challenge segment. Today's challenge is
Keep that Combo Going! Pokémon Battle Trozei
. The rules for the challenge are explained to newcomers: 5 members selected from the hosts and the guest will play one round in the downloadable Nintendo 3DS game Pokémon Battle Trozei each, trying to get as high a max combo against an opponent Pokémon as possible. Each player's max combo will then be added together, and the combined total will determine which presents will be given out.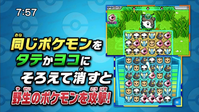 Toshi introduced today's presents, saying that to commemmorate the launch of the Pokémon Center's "Nyasper WANTED!!!" product line, they will all be products from that line, which feature the Pokémon Nyasper or Nyaonix.
A total combo of 0-29 will result in no presents.
A total combo of 30-49 will get a lucky winner a "Lunch Time Set", consisting of a ceramic tray, a microfiber towel and a soup cup.
A total combo of 50-69 will also get another lucky winner a "Travel Set", consisting of a commuter pass cass, a Hard Cover for 3DS LL Nyasper, a Dr. Grip mechanical pencil, a square bag and a 2-way tote bag.
A total combo of 70-199 will also get another lucky winner a set of both the male and female variant of the Big Size Nyaonix plushies.
Taka asks where
that
prize is, and Toshi tells him they of course also have the usual super prize of a trip around the world if the total combo gets above 200. Taka says he'll make sure they get that far this time.
Shoko-tan is first up, and manages to get a combo of 21 against the first Pokémon of the round, Brigaron, but unfortunately gets a Game Over against the final Pokémon Gekkouga, resulting in a total combo of 0. Okamoto is next, and gets a total combo of 17. Robin is next, and gets Match All after Match All as the others cheer him on, ending up with a combo of 56, getting the total combo all the way up to 73, and securing all three standard prizes in one go. Only the Round-the-World trip remains!
Q-taro is next as the announcer says they need an additional total of 127. Unfortunately, he screws up a Metamon placement after almost clearing the screen once against Gekkouga, leaving a single Harimaron left, canceling the combo at a mere 12, greatly frustrating him. Taka, who has been extremely eager to play during the entire challenge, is finally picked to be the final player, and promises to get the combo of 115+ required for the final prize. He plays well, and pulls off some very impressive manouevers, but eventually makes a sightly too slow move and ends up at 71, pushing the total combo to 156. While very impressive, and a new record so far, it unfortunately wasn't enough for the ultimate prize.
Get them! The Pokémon Hide-and-seek Game
Yukito introduces the next segment, a new installment of
Get them! The Pokémon Hide-and-seek Game
. Taka says he thought that segment had ended since Kasuga lost last time, but Yukito explains that while it's true Kasuga experienced his first loss last time, he has now undergone a Mega Evolution and is back stronger than ever! Taka wonders if Kasuga mega evolving means he's turned into
Wakabayashi
, which Yukito denies. It's still Kasuga.
The segment starts with Kasuga saying that while he unfortunately lost last time, he'll be doing things a little bit differently from here on. The camera pans out as Kasuga reveals his clothes are smaller than before, before showing off his new Mega Ring, explaining that it will turn him into the Reborn Kasuga, the narrator wondering if he's going to mega evolve.
Kasuga walks up to today's house, where today's challenger is waiting for him: 8 year old Kodai Fukuda from Saitama, who is a big fan of Pocket Monsters Y, and loves battling and trading with his friends. The rules for the challenge are explained; Kodai will hide three plushies, Yayakoma, Yancham and Dedenne, around the house, and for every 20 minutes that pass without Kasuga finding them, he wins one of three prizes. The Yayakoma plushie is hidden in the storage room, where it is placed in a plastic bag stuffed into the oil tank for the heater, which is then moved into a closet. the Yancham plushie is hidden in the same room, being stuffed into a blue plastic bag and placed far back on a shelf full of bags and the like. Finally, the Dedenne plushie is hidden in the Western Style room, being placed in a Boston bag he then stuffs far into a closet.
The challenge then starts. Kasuga first goes to the childrens' room, where he throughly goes through every possible hiding place he can think of. He finds his first hidden monster ball on a storage shelf, and opens it to check the content as the narrator explains that various monster balls containing "lucky" or "unlucky" items have been spread throughout the house for the game. Kasuga opens it, and Kodai asks if it's the fan-favorite Comet Punch card that requires Kasuga to do three quick comedy skits for the challenger. But no, this time it's a Mega Stone. Kodai asks what that means, and the narrator explains that starting today, some of the monster balls will contain Mega Stones. In the video games, these mega evolve Pokémon, and in this game, they "mega evolve" Kasuga for the duration of a single room when put in the Mega Ring. Kasuga decides to save it for a later room.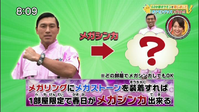 Next, with 54 minutes left on the clock, he heads to the storage room, where Kodai hid both the Yayakoma and Yancham plushies. He feels suspicious about the room, and starts searching through places that look like they might be hiding something, eventually coming across the Yancham plushie hidden on the shelf, having only spent 11 minutes searching so far.
Kasuga next heads to the living room on the second floor, where he searches every nook and cranny, eventually discovering a second monster ball. This ball contains the Dive Card. In Pocket Monsters X/Y, Dive is a move where the user dives under water for one turn, then attacks on the second, while in this game, it forces Kasuga to take a bath in the challenger's house for 5 minutes. Kasuga heads to the tub and gets in, enjoying the hot water and even getting his back washed by Kodai. After the 5 minutes are up, he gets back up, but before he get to do anything, the staff informs him he's currently spent 20 minutes searching, and Kodai has won his first prize: 20 packs of 4 Pocket Monsters XY sausages, which also come with a free sticker per pack.
Kasuga's next destination is the kitchen, where he discovers another monster ball inside the microwave oven. This one contains the Worry Seed Card. In Pocket Monsters X/Y, Worry Seed is a move that gives the opponent the Ability "Insomnia", while in this game, it forces Kasuga to listen to the challenger's mother talk about her current worries. Kasuga isn't very pleased with getting another card that just wastes time. Kodai's mother Aiko Fukuda is brought in, and talks to Kasuga about how she's had to read up on money-saving recipes due to the recent tax increase, and Kasuga gives her some tips, including how you can use part of the broth from store-bought beef bowl packs with plain rice to create makeshift seasoned rice that tastes good enough to eat all by itself. In the end, he spends about two minutes of his precious time talking about saving money on food.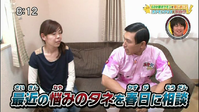 Next, Kasuga heads to the 3rd floor, and the Western style room where the Dedenne plushie is hidden, where Kodai grabs the opportunity to sneak in a
kancho attack
. Kasuga starts looking through the closet where the Dedenne plushie is hidden, and finds it without too much trouble, leaving only the Yayakoma plushie to find, with an entire 30 minutes left on the clock.
With 21 minutes left on the clock, Kasuga heads back to the suspicious storeroom, thinking there may be more hidden there. Before he gets to search much, however, the staff informs him a total of 40 minutes have passed, meaning Kodai has won his second prize: A Pokémon Mega Ring Special Set, which comes with a Mega Burshamo figure and a special Pokémon tretta. The narrator then reveals the prize Kodai will get if Kasuga spends all 60 minutes without finding the plushies: A Monster Collection Mega Evolution Pack, with contains the Mega Lucario, Mega Mewtwo and Mega Burshamo moncolle figure sets.
However, Kasuga is certain there's something about this room, and decides it's time to use the Mega Stone he found earlier. He places the Mega Stone in his Mega Ring and does a transformation pose as some effects play over the footage. Kasuga then reappears with a child on his arm, and explains that when he mega evolves, he gains the Ability Parental Bond, which Kodai points out is Mega Garura's Ability. This means that the child, "Mini-Kasuga", will search together with him through the room they're in. With 17 minute left on the clock, Kasuga starts looking through the closet Kodai hid the Yayakoma plushie in, handing various bags to Mini-Kasuga for him to search through. This speeds up their search considerably, and Mini-Kasuga eventualy finds the Yayakoma plushie in the oil tank with an entire 13 minutes left on the clock; a stunning victory. But will he be able to keep winning?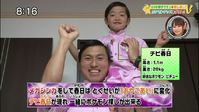 Special Announcement
Finally, it's time for the news Shoko-tan mentioned at the beginning of the episode! Shoko-tan asks once again if they're all excited to hear what it is, then finally reveals what she was holding out on: All new Pocket Monsters games will be released worldwide November 2014! Toshi is shocked, since we got X and Y last year, but Shoko-tan ensures him it's true, and is just about to reveal what they are as we cut to commercials.
As we return from the break, Shoko-tan reveals the games' titles as Pocket Monsters Omega Ruby and Pocket Monsters Alpha Sapphire, then tells them they'll also be showing off the games' packaging, and reveal them on the screen behind them. She says that the Pokémon on the covers resemble Groudon and Kyogre, but they appear to look a bit different. This isn't all, though: She has borrowed a beta version of the game, explaining that it was made specifically for the PokéTV show, and that she'll be showing off a bit of game footage for them. She turns on the game, and we see a video of Groudon rising up from the sea as the camera rotates around it as an island appears to explode in the distance.
Shoko-tan says there's more, but first we cut to Yukito standing outside a 7-Eleven, having been sent there by Taka to get the Darkrai they're giving out via the special preorder movie tickets. He shows off the pre-order tickets you can buy there, and the special Darkrai Present Guide you get with the purchase, which explains how to receive Darkrai in your game: Connect your gam to the Internet, which can ven be done at a 7-Spot in a 7-Eleven right after purchasing your ticket, then use the Mystery Gift option on the game's title menu and enter the unique code listed on the ticket. Finally, talk to the woman in blue at a Pokémon Center, and she will give you the Darkrai. With this Darkrai, Yukito can easily beat Robin!
Finally we cut back to Shoko-tan, who shows a bit more footage from the game. We see Kyogre rise up from the sea as the camera rotates around it, before it seemingly summons a storm. The footage ends there, and Toshi complains about not getting to see more, while Shoko-tan asks everyone what they thought, and they all agree it was really cool. Shoko-tan explains that since the game is still in development, they can't show more right now, this is all that was on their special beta cart. Taka says that even though it wasn't much, it was really exciting and intense. Shoko-tan then asks everyone to look at the box art again. She shows pictures of the legendary Pokémon Groudon and Kyogre, then asks if they don't think the Pokémon on the box art looks like them. They agree the Pokémon on the boxes look a bit different, and Shoko-tan asks if they don't think what we see on the box art might be their Mega Evolutions.
She then ends the episode by saying they'll bring more information on these new games when it becomes available, and that everyone should look forward to that. Matsuda says he can't wait until November, and Taka tells everyone to tune back in next week as well.

Article edited on 2014-05-11 09:50:35 by Adamant