Latest News

26 Feb
20 Feb
12 Jan
27 Dec
23 Dec
News Tag Filter:
Merchandise
Feb 26
Nintendo Japan has announced they will be releasing two sets of Pokémon Playing Card,
one set based on Omega Ruby and the other set based on Alpha Sapphire
. The sets will be released in March of 2015 and will sell for 500yen each. The Omega Ruby set features Deoxys as the Joker while the Alpha Sapphire set features Jirachi.


Source:
http://www.nintendo.co.jp/n09/chara_t/index.html
Feb 20
The official Japanese Pokémon website has revealed that a
Shirona Nendroid (ねんどろいど シロナ)
will be available for pre-order reservation starting March 7th, 2015 until April 15th, 2015. The 10cm
Nendroid
will cost 5000yen. The release builds on the popularity of last years
Red Nendroid
which was also
released on the Pokémon Center website in the United States
.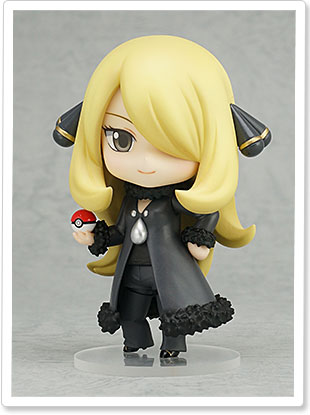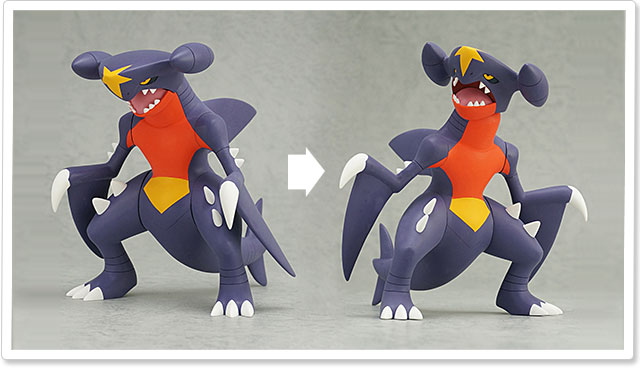 The Shirona Nendroid includes:
Shirona figure parts:
2 Face Parts (表情パーツ2個), 5 arm parts (腕パーツ5個), 5 hand parts (手首パーツ5個), and 3 leg parts (脚パーツ3個).
Included Pokémon:
Gablias (ガブリアス)
Accessory Items:
Monster Ball (モンスターボール)
Source:
http://www.pokemon.co.jp/info/2015/02/150220_p01.html
Jan 12
The Pokémon Company International has announced that they have hired
Monika Salazar
as the Director of Licensing for the English branding area which includes the Americas, Australia and New Zealand. She will be responsible for the merchandise licensing program with strategic planning, business development, sales and marketing.
"The Pokémon brand has an incredibly enthusiastic and passionate global fan base," Salazar said. "I look forward to creating new and innovative ways for fans to share their love for Pokémon."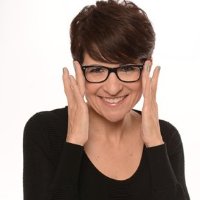 According to her LinkedIn profile
, the position is responsible for the: "Drive expansion of consumer goods licensees, categories and target audience segments. Create best-in-class product for the Americas and Australia/New Zealand. Build a team of category experts. Partner with video game, trading card game, online trading card game, and television animation teams to elevate the brand experience across consumer products. Collaborate with retail development to offer innovative exclusive and non-exclusive programs. Make fans happy."
Source:
http://www.gamesindustry.biz/articles/2015-01-08-pokemon-company-international-hires-hasbro-vet-as-director-of-licensing

Article edited on 2015-01-12 10:03:16 by Sunain
Dec 27
In a press release from the McDonald's Corporation's head office in Shinjuku-ku, Tokyo from President and CEO Sarah El Casanova on December 25th, 2014, it was officially announced that a Pokémon themed Happy Set would begin being sold nationwide in Japan for a limited time starting January 2nd, 2015 at participating locations.
8 separate toys will be distributed during two different time periods in January. Starting January 2nd, 2015, Pikachu's Volt Attack (ピカチュウ ボルトアタック), Fokko's Fire Ring (フォッコ ファイヤーリング), Harimaron's Log Ride (ハリマロン ログライド) and Mega Lucario's Double Wave Spinner (メガルカリオ ダブルはどうスピナー) will be available. Starting January 9th, 2015, Keromatsu's Bubble Disk Shooter (ケロマツ あわディスクシュート), Mega Lizardon X's Fireball (メガリザードン X ファイヤーボール), Dedenne's Flower Ride (デデンネ フラワーライド) and Dancing Yancham (ダンシングヤンチャム) will be available.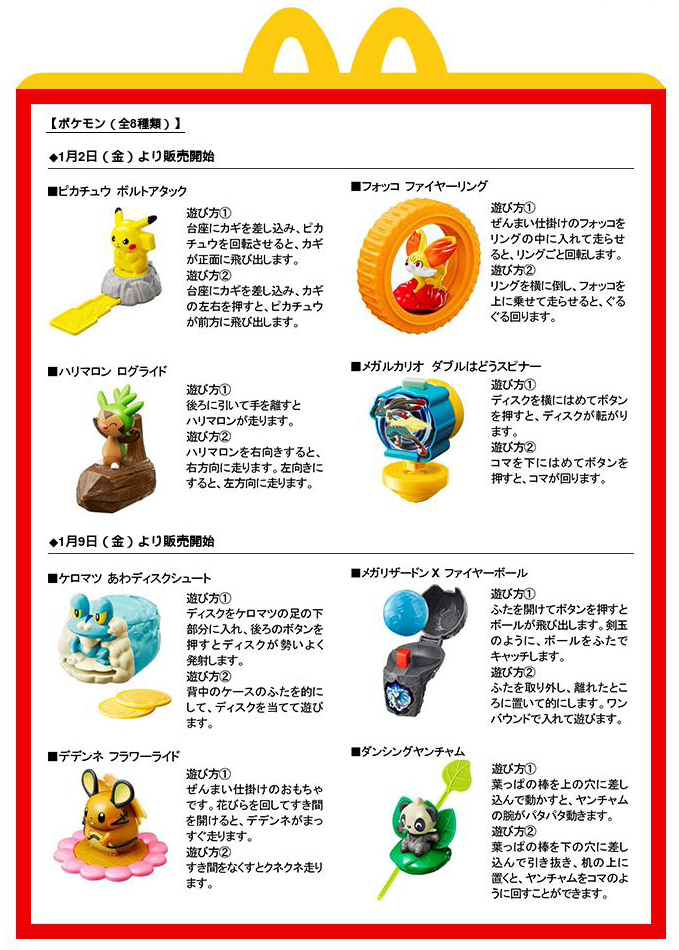 Videos and a commercial featuring
Abareru-kun
from
Pokémon Get TV
will
begin being shown on the McDonald's website and on TV starting January 2nd, 2015
.
Pokémon Tretta and Pokémon Scrap Special Gifts
As an added bonus, on January 2nd, 3rd and 4th, 2015, those that purchase a Happy Set will also receive a 1 of 3 special Pokémon Tretta's: Pikachu, Xerneas and Yveltal. On January 10th, 11th and 12th, a
Pokémon Scrap serial code card
will be distributed with each Happy Set purchased.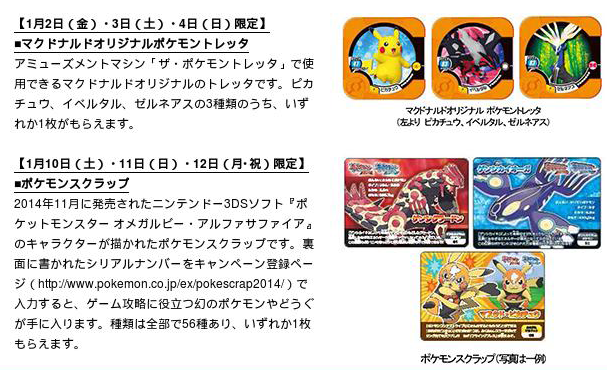 Source:
http://www.mcd-holdings.co.jp/news/2014/promotion/promo1225a.html

Article edited on 2015-01-03 10:44:14 by Sunain
Dec 27
On November 21st, 2014, Toy R Us revealed that the Lucario amiibo would be exclusive to their store
and would retail for $13.99 + tax. Many people pre-ordered the amiibo due to its limited run and exclusivity with Toys R Us. On December 19th, 2014, Toys R Us had a technical problem and canceled all of the pre-orders. Unfortunately not everyone will get their pre-orders reinstated automatically due to legal reasons with which method of payment they used to pre-order the Lucario amiibo and Toys R Us has sent out emails to those affected.
Pre-Order Cancellation Reinstatement via Credit Card Email
"We are reaching out today regarding the recent cancellation that has occurred with your online order. Unfortunately, there was a processing error that caused your order to erroneously cancel. However, we want you to know that your order has been reinstated. We thank you for your patience as we work to remedy this situation. We sincerely apologize for any inconvenience this may have caused."
Pre-Order Cancellation via PayPal or Gift Card Email
"We are reaching out today regarding the recent cancellation that has occurred with your online order(s). Unfortunately, there was a processing error that caused your order(s) to cancel. Legally, we cannot reinstate your order(s) however we are working to put a process in place that will allow you to purchase these items within the week. We will be reaching out to you as soon as we have specifics and appreciate your patience and understanding. We sincerely apologize for this cancellation and the inconvenience it has caused and will be in touch shortly."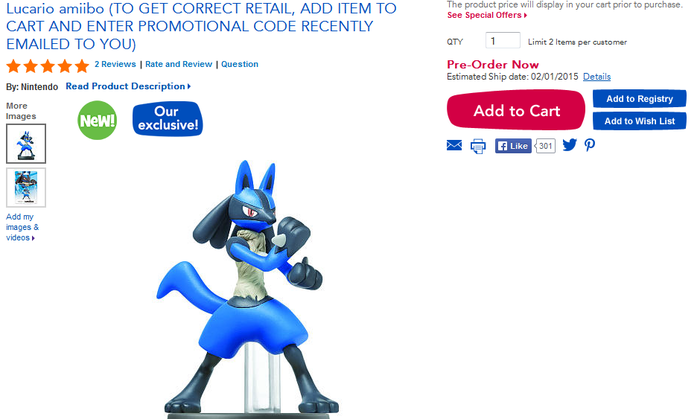 Those that did not get their pre-order reinstated were sent a promotional code so they could re-order the Lucario amiibo online for $10.99USD. The Lucario amiibo will also be available for purchase in-store at Toys R Us locations starting in February of 2015 but supplies are limited.
About Lucario
Lucario can track a form of energy called an aura, given off by all living creatures. Lucario is the only known Fighting- and Steel-type Pokémon and evolves from Riolu during the day when its happiness is high enough. Lucario specializes in attacks that use aura energy, like Dark Pulse, and its can't-miss move, Aura Sphere.
Lucario is fighting type Pokémon, making him perfectly suited to battle as an amiibo.
First appearing in the popular Pokémon Diamond and Pearl game series, Lucario continues with strong presence in key Pokémon games such as Black and White, and X and Y.
Most currently, Lucario returns as a fighter in Super Smash Bros. for 3DS and Wii U.
Unlike the other characters, Lucario's power grows as his damage percentage increases, which will certainly add a new dimension as you level up with your amiibo!
Source:
http://www.toysrus.com/buy/amiibo/lucario-amiibo-nvlcaaat-54369136

Article edited on 2014-12-27 01:40:59 by Sunain
Dec 23
The
Red Nendroid (ねんどろいど レッド)
that was available as a special order in Japan earlier in 2014 is now available for purchase at the American Pokémon Center website. The
Nendoroid: Red Posable Figure
costs $49.99USD plus tax and shipping.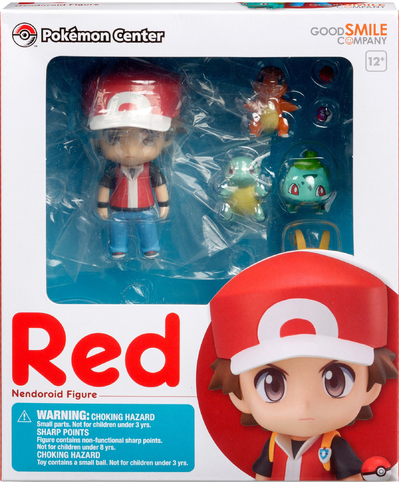 This special limited-edition figure captures the spirit of the Pokémon Trainer at its best! You can change Red's expression with three different faces for the right look! Includes a body, three faces, six arms, six hands, three legs, hair and hat, three Pokémon friends: Bulbasaur, Charmander, and Squirtle, a Poké Ball, a Master Ball, a backpack, and a base with stand. You can customize Red's look!
The spirit of the Pokémon Trainer in a posable figure!
Limited edition collectable figure
Comes with three unique expressions and three Pokémon friends!
Includes a body and three legs with six arms and hands plus hair and hat Change pose and details so Red is just right!
Source:
http://www.pokemoncenter.com/Pok%C3%A9mon-Center-Nendoroid-Posable-Figure/dp/B00OBSNQM6

Article edited on 2014-12-23 05:26:38 by Sunain