Welcome to PocketMonsters.net
PocketMonsters.net
is a fansite dedicated to all things Pokémon (ポケモン) and Pocket Monsters (ポケットモンスター). We are the premier site for news and information about all aspects of the franchise from around the world. We cover the
Anime
,
indexing the music
, the
Trading Card Game
, the
Games
, the
variety shows
, have a
large imageboard
,
forum
and much more.
Follow us on Twitter
and
Subscribe to our RSS Feed
for the latest updates!
Latest News

27 Apr
25 Apr
23 Mar
03 Mar
17 Feb
News Tag Filter:
Nintendo 3DS
Apr 27
The Consolidated Results for the Years Ended March 31, 2015 and 2016 was published by Nintendo on April 27th, 2016. The report states that the new
Nintendo NX
system will be launched in March 2017 globally. Also of note, Pokémon Sun and Moon will not launch globally at the same time with Nintendo specifically stating that the games will launch in the United States during the holiday season while Europe is slated for late 2016. This is a significant release schedule change since the release of
X and Y
which were the first Pokémon games to launch worldwide on the same day and include multiple different languages.
Omega Ruby and Alpha Sapphire
were released a week later in Europe on November 28th, 2014 compared to the rest of the world which launched on November 21st, 2014.
The report also listed some sales figures for
Pokémon Super Mystery Dungeon
. The game has sold 1.22 million copies worldwide as of March 31st, 2016.
Quotes from the report
Fiscal year ended March 31, 2016
"During the fiscal year ended March 31, 2016, for Nintendo 3DS, Animal Crossing: Happy Home Designer and Pokémon Super Mystery Dungeon were released globally and both became hits, selling 3.04 million and 1.22 million units respectively. There were also multiple hit titles from third-party publishers. However, due to the lack of major titles like Pokémon Omega Ruby/Pokémon Alpha Sapphire and Super Smash Bros. for Nintendo 3DS, which energized the entire 3DS business during the prior fiscal year, the worldwide sales of the Nintendo 3DS hardware and software were 6.79 million and 48.52 million units respectively."
Outlook for fiscal year ending March 31, 2017
"For Nintendo 3DS, we will release Pokémon Sun/Pokémon Moon globally in winter of 2016 (holiday 2016 in the U.S. and late 2016 in Europe). These are the latest titles from the Pokémon series, which has sold 200 million units worldwide since the first title from the series released 20 years ago."
Source:
https://www.nintendo.co.jp/ir/pdf/2016/160427e.pdf

Article edited on 2016-04-27 07:17:34 by Sunain
Apr 25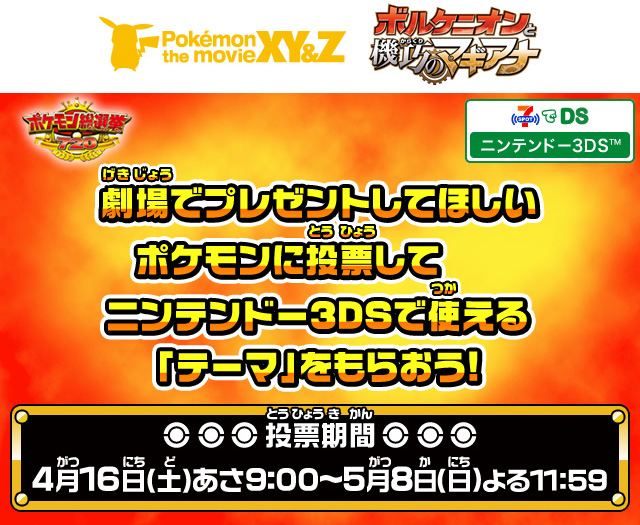 From April 16th, 2016 until May 8th, 2016, people can vote in the
Pokémon Elections 720
at participating 7-Eleven locations in Japan by bringing an up to date Nintendo 3DS to a
DS via 7-Spot
in-stores. A serial code to download a Nintendo 3DS theme based on the
19th Pocket Monsters movie Volcanion and the Ingenious Magearna
can also be obtained. The serial code can be redeemed until August 31st, 2016.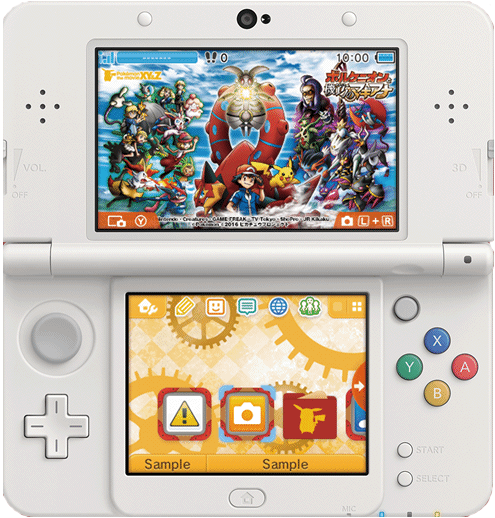 Source:
http://7spot-info.jp/pokemon_election/

Article edited on 2016-04-25 05:49:28 by Sunain
Mar 23
A significant update to Pokémon Shuffle for Nintendo 3DS was added to the eShop on March 23rd, 2016 bringing the game version up to 1.3.0. This large update add new elements to the game, new gifts for long time players as well as new features and items. An update was pushed later on in the day to upgrade the game to 1.3.3 as players were experiencing missions giving duplicate rewards in version 1.3.0.
Update Check-in Bonus Gift
Those that Check-in from Wednesday March 23rd, 2016 until Tuesday May 17th, 2016 will receive 1
Raise Max Level (Max Level Up マックスレベルアップ)
and 3000 coins. Players that haven't checked in for over 30 days will receive 10,000 coins and 30 Hearts.
Mission Cards
A new element to the game that was added in this update is
Mission Cards (ミッションカード)
. Mission cards each have a specific task that needs to be completed with specifc requirements. Players can receive ★ according to the degree of difficulty of the mission. Once a certain number of ★ are collected via completing a cards objective, the player can receive a variety of rewards.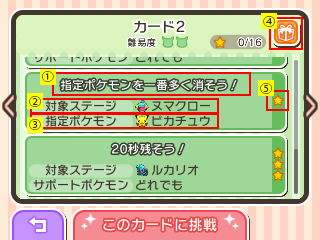 Only one Mission Card can be active at any time. When a Mission Cards objective is successfully completed, players are notified after the stage is finished.
① Mission Name
② Mission Objectives - Information on the task that needs to be accomplished to complete the mission.
③ Support Pokémon - To achieve the mission, players must use the listed Pokémon.
④ Gift Button - Reward list.
⑤ ★ - Lists the number of ★ a Mission Card will reward the player for completing.
Pokémon Maximum Level
Before the March 23rd, 2016 update, the maximum level any Pokémon could attain was Level 10. The
Raise Max Level
item can now be obtained to raise the ability for a Pokémon to increase by 1 level. Each Pokémon though has a set number of times that the item can be used though. For instance,
Umbreon
can only use the item 5 times. Players can see the current level of their Pokémon in the dex, how many items they've used on them and the remaining number of times they can use the upgrade item. In this update, only 24 Pokémon can level up.

· Bulbasaur (Grass type: Main Stage 2)
· Charmander (Fire type: Main Stage 4)
· Squirtle (Water type: Main Stage 3)
· Ivysaur (Grass type: Main Stage 59)
· Charmeleon (Fire type: Main Stage 55)
· Wartortle (Water type: Main Stage 57)
· Venusaur (Grass type: Extra Stage 7)
· Charizard (Fire type: Extra Stage 9)
· Blastoise (Water type: Extra Stage 8)
· Sableye (Dark type: Sableye Main Stage 24, Mega Stone Main Stage 30)
· Altaria (Dragon type: Altaria Main Stage 118, Mega Stone Main Stage 75)
· Eevee (Normal type: Main Stage 5)
· Espeon (Psychic type: Main Stage 71)
· Umbreon (Dark type: Main Stage 70)
· Sylveon (Fairy type: Main Stage 79)
· Lapras (Water type: Main Stage 43)
· Azumarill (Fairy type: Main Stage 76)
· Quilladin (Grass type: Main Stage 187)
· Braixen (Fire type: Main Stage 189)
· Frogadier (Water type: Main Stage 185)
· Druddigon (Dragon type: Event)
· Mew (Psychic type: Event)
· Kyogre (Water type: Event)
· Groudon (Ground type: Event)
New Items
Five additional battle and training items have been added in this update.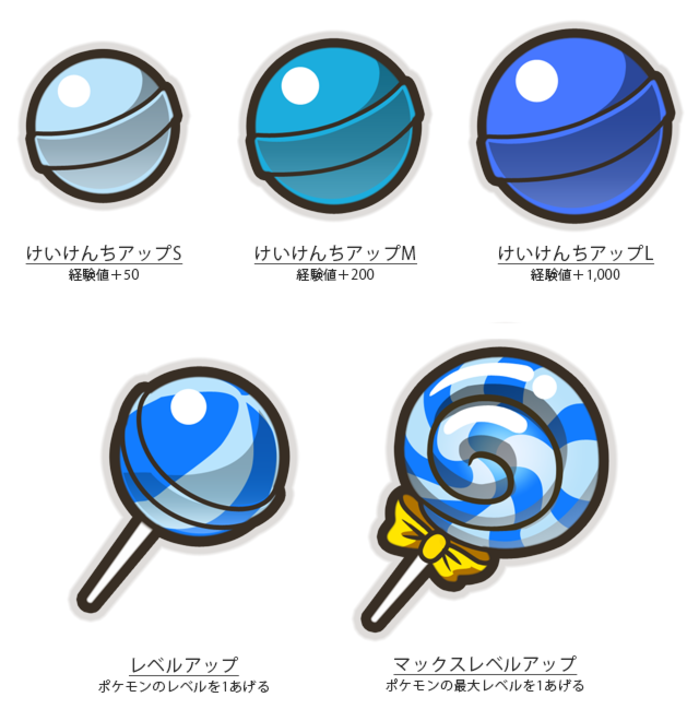 Exp. Booster S-M-L [けいけんちアップ(S・M・L)]
: Increases a Pokémon's Exp. Points by +50, +200 or +1000.
Level Up (レベルアップ)
: Increases a Pokémon's Level by 1.
Raise Max Level (マックスレベルアップ)
: Allows a Pokémon to go above Level 10 by 1 level per item use.
Useful New Features
The UI has been updated to include a quick area jump icon located at the top of the stage selection screen. It also displays the number of S-ranked caught Pokémon for each zone. The number of caught Pokémon is now listed on the stage selection map as well. Recommendations for each stage have been added to the Nintendo 3DS version which were previously only in the Mobile version.
Amelia Recommendation Mark
: A new Amelia Recommendation Mark which looks like a golden face of the tutorial girl Amelia has been added to various places throughout the game now including at the stage selection screen. When selecting supporting Pokémon, arrows have been added for super effective and not effective Pokémon.
Source:
http://www.pokemon.co.jp/ex/poketoru/news/post.php/207/

Article edited on 2016-03-23 12:25:08 by Sunain
Mar 03
Across Japan, starting on Friday, March 18th, 2016, the
Spring! Is about to Begin! Pokémon Campaign (春だ!ポケモン、はじめてみよう!キャンペーン)
will take place. Nintendo 3DS owners will be able to receive the
Pokémon XY&Z Nintendo 3DS Theme - Satoshi and Pikachu
for free. Participating stores have a serial code card and users can ask for one from staff members to be able to enter the code to download the theme.
The theme was designed based of the
main characters of Pokémon XY&Z
and
their Pokémon
as well as the recently revealed
Volcanion
which will make an appearance in the
19th Pocket Monsters movie
which opens in theaters on July 16th, 2016.
Serial Code Card Distribution:
March 18th, 2016 until April 8th, 2016 (While supplies last)
Download Theme via Serial Code Entry:
March 18th, 2016 until August 31st, 2016
Participating Campaign Store Chains:
Apita, Aeon, Ito-Yokado, EDION, Joshin Denki, Toys R Us, Bic Camera, Fuji, Heiwado, Yamada, Yodobashi Camera, Pokémon Centers and Pokémon Stores
Source:
http://www.pokemon.co.jp/info/2016/03/160303_cm01.html

Article edited on 2016-03-12 04:15:15 by Sunain