News Tag Filter:
Nintendo 3DS
Sep 04

The
Pokémon Direct
on September 4th, 2013 was hosted by Nintendo President Satoru Iwata (岩田聡), The President of The Pokémon Company Tsunekazu Ishihara (石原恒和) and Game Freak Director Junichi Masuda (増田順一). The broadcast featured the announcements of many new features in the upcoming games Pokémon X and Y.
New Features Announced
Bulbasaur, Charmander or Squirtle will be the Pokémon Professor Sycamore gives out to players.
Venusaur, Charizard and Blastoise can Mega Evolve into Mega Venusaur, Mega Charizard and Mega Blastoise.
Chespin, Fennekin or Froakie will be given to player by their friend in game.
Trainers must also obtain a bracelet called the Mega Ring that holds a mysterious stone called a Key Stone in order to perform Mega Evolutions.
Pokémon Bank and Poké Transporter
Pokémon Bank (ポケモンバンク) and Poké Transporter (ポケムーバー PokéMover)
are separate 3DS applications for the Nintendo 3DS that complement the Pokémon games. Players can securely store their Pokémon using this cloud service. Up to 3000 Pokémon can be stored but users must pay a yearly $5 subscription fee.
Poké Transporter allows players to send stored Pokémon from previous generation games and retrieve them in X and Y. It supports Pokémon all the way back to Generation 3 but only Pokémon Black, White, Black 2, White 2, X and Y will be able to directly communicate with the service. All previous games will first have to transfer their Pokémon to one of those games through a variety of previous generation methods in order to get them into one of those games.
Two Limited Edition Pokémon-themed Nintendo 3DS XL Systems Launching on September 27
Available September 27th, 2013 at a suggested retail price of $199.99, two Limited Edition Nintendo 3DS XL systems featuring the new Legendary Pokémon Xerneas and Yveltal from Pokémon X and Pokémon Y will be available for purchase in North America and Europe. Pokémon X and Pokémon Y will be both sold separately.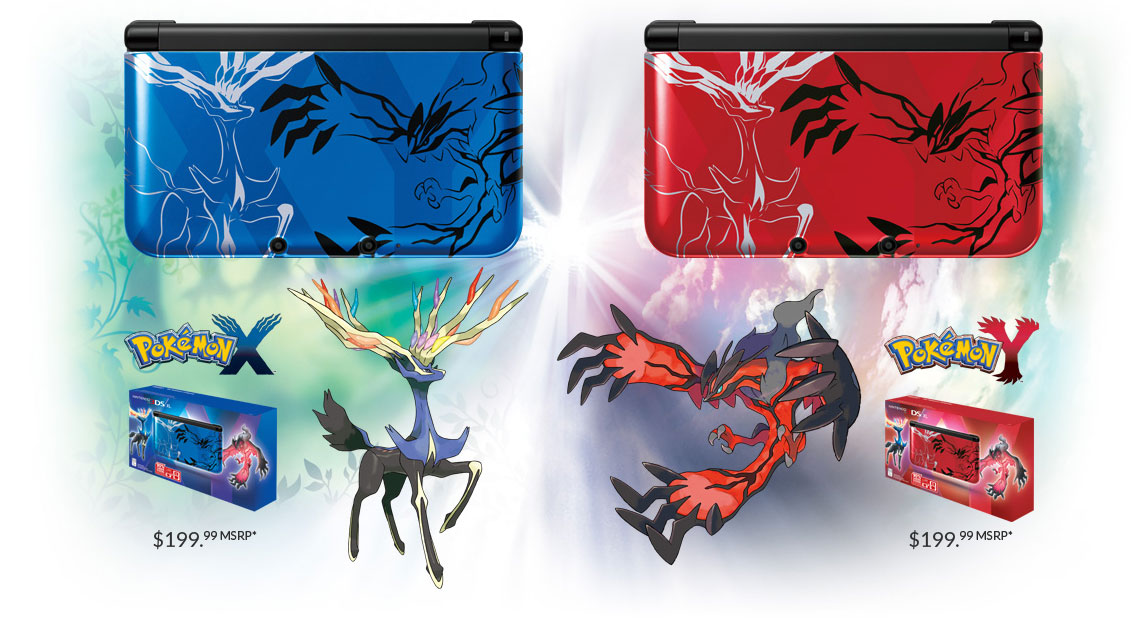 Pokémon Direct - September 4th, 2013
Get Excited for Pokémon X and Pokémon Y!
CHOOSE BULBASAUR, CHARMANDER OR SQUIRTLE AND BATTLE WITH THEIR MEGA-EVOLVED FORMS IN POKÉMON X AND Y
Two Limited Edition Pokémon-themed Nintendo 3DS XL Systems Launching on September 27
BELLEVUE, WA—September 4, 2013—In a surprising twist announced this morning during a special Nintendo Direct presentation, Pokémon X and Pokémon Y players do not receive Chespin, Fennekin, or Froakie from Professor Sycamore but are in fact given the choice of a classic partner Pokémon—Bulbasaur, Charmander, or Squirtle—from the very first Pokémon games, Pokémon Red and Pokémon Blue! Adding to the excitement, once a player has evolved this Pokémon into Venusaur, Charizard, or Blastoise and obtained its unique Mega Stone, the Pokémon will be able to Mega Evolve while in battle. Mega Venusaur, Mega Charizard, and Mega Blastoise will possess overwhelming powers never before seen in a Pokémon game. Players can choose fan favorite Bulbasaur, Charmander, or Squirtle when Pokémon X and Pokémon Y launch worldwide October 12, 2013, for the Nintendo 3DS family of systems.
More secrets about Mega Evolution were also revealed today. It was previously announced that certain Pokémon needed to hold a unique Mega Stone in order to Mega Evolve, but now it's known that there is a second requirement players must fulfill for Mega Evolution to occur. Trainers must also obtain a bracelet called the Mega Ring that holds a mysterious stone called a Key Stone. The Trainer's Key Stone resonates with the Mega Stone held by his or her Pokémon, and together they trigger the Evolution that is normally impossible—Mega Evolution.
Director from GAME FREAK inc., Mr. Junichi Masuda, also announced Pokémon Bank—a new Nintendo 3DS application and service that allows Pokémon X and Pokémon Y players to conveniently store up to 3,000 of their beloved Pokémon on the Internet. Pokémon Bank gives players the flexibility to store and deposit 100 Boxes worth of Pokémon. This is in addition to the Boxes found within Pokémon X and Pokémon Y, just like in previous Pokémon titles.
Additional features of Pokémon Bank include the ability to deposit and withdraw Pokémon from multiple copies of Pokémon X and Pokémon Y. Once a Pokémon X or Pokémon Y Game Card is inserted into a Nintendo 3DS system or the downloadable version of the game is opened, the Pokémon Bank software can be turned on for use. Players can then transfer Pokémon from multiple copies of the game via Pokémon Bank to one copy of Pokémon X or Pokémon Y.
Pokémon Bank software is activated upon payment of an annual service fee. This charge will support maintenance of the online server that allows players to store up to 3,000 Pokémon conveniently, and will provide the application's support for future Pokémon titles.
Players who activate Pokémon Bank, will be able to use its linked application, Poké Transporter, which makes transferring many Pokémon caught in other Pokémon games easy. What used to be a lengthy process to transfer Pokémon from a previous Pokémon game to the latest titles is now a breeze with Poké Transporter—just insert Pokémon Black, Pokémon White, Pokémon Black 2, or Pokémon White 2 into your Nintendo 3DS system and use Poké Transporter to transfer Pokémon from those games into Pokémon Bank.
Pokémon Bank will be available in North America on Nintendo eShop. More details about this software, including a free trial period, will be added to Pokemon.com in the near future.
Also announced in this morning's Nintendo Direct presentation were details for the North American release of two special Nintendo 3DS XL hardware designs featuring imagery from Pokémon X and Pokémon Y. These systems come in Red or Blue and feature brand new Legendary Pokémon Xerneas and Yveltal. The systems will launch on September 27 at a suggested retail price of $199.99 each.
Source:
http://press.nintendo.com/articles.jsp?id=40392
Article edited on 2013-09-04 04:31:13 by Sunain
Aug 30
A new update for Pokémon Tretta Lab for Nintendo 3DS is now available on the Japanese eShop. The Version 1.1 patch fixes some scanning accuracy issues.
Version 1.1 QR Code - Update Procedure
Instructions
QR Code
1. Turn on the camera by pressing the button (R or) L in the "HOME MENU".
2. Touch the two-dimensional code reader at the bottom left of the screen.
3. To read the QR code, use the camera and line up the code.
Source:
http://www.pokemontretta.com/goods/dssoft.html
Article edited on 2013-08-30 11:23:13 by Sunain
Aug 30
Nintendo announced a new handheld system called the Nintendo 2DS which launches October 12th, 2013 the same day as Pokémon X and Pokémon Y.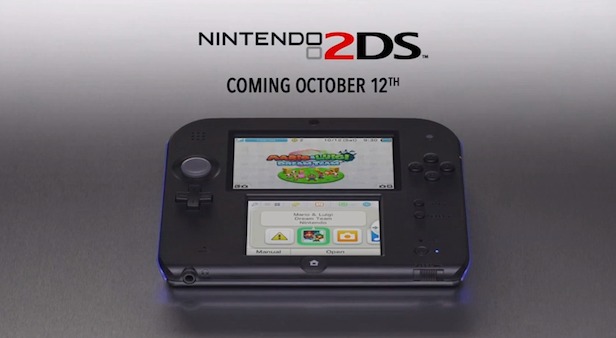 Comparison Chart - Nintendo 2DS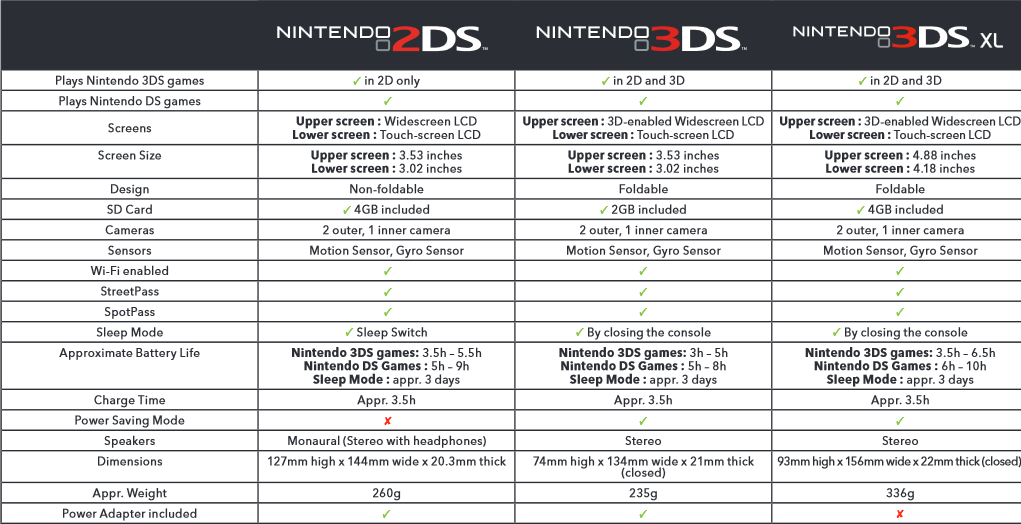 NINTENDO ANNOUNCES LOWER WII U PRICE, ZELDA WII U BUNDLE AND NEW NINTENDO 2DS PORTABLE
Top Nintendo Video Games Get Launch Dates Through the End of 2013
REDMOND, Wash., Aug. 28, 2013 – Nintendo outlined a campaign that will offer consumers unprecedented levels of value and variety this holiday season. That proposition includes:
• A $50 price drop for the Wii U Deluxe Set to a new suggested retail price of just $299.99, effective on Sept. 20.
• A limited-edition Wii U bundle featuring The Legend of Zelda: The Wind Waker HD launching on Sept. 20.
• The introduction of Nintendo 2DS, an entry-level dedicated portable gaming system that plays all Nintendo 3DS and Nintendo DS games in 2D. Nintendo 2DS launches Oct. 12, the same day as Pokémon X and Pokémon Y, at a suggested retail price of $129.99.
• Dates for an outstanding lineup of Q4 video games for Nintendo 3DS and Wii U.
The announcements demonstrate Nintendo's aggressive approach to providing new games and experiences available only on Nintendo platforms for all types of people this holiday season. Nintendo announced these items at the GameStop Managers Show in Las Vegas.
"Nintendo has one of the strongest and most diverse video game lineups in our history," said Reggie Fils-Aime, Nintendo of America's president and COO. "Today we're making those unique Nintendo experiences more accessible and affordable. However you play and whatever you play, Nintendo has you covered."
Nintendo 2DS
The newest member of the Nintendo 3DS family is designed specifically for anyone looking for a more affordable entry point into the world of Nintendo hand-held video games. Nintendo 2DS will be available in Red or Blue on Oct. 12 at a suggested retail price of $129.99.
Nintendo 2DS plays the entire library of packaged and downloadable games for Nintendo 3DS only in 2D. The system features a distinctive fixed, slate-type form factor, and optional carrying cases will be available in Red or Blue at launch at a suggested retail price of $12.99. Nintendo 2DS maintains many of the same hardware features as Nintendo 3DS: dual screens, game-play controls and touch-screen features. The system also has backward compatibility with the existing library of more than 2,000 Nintendo DS games, as well as access to wireless connectivity features like multiplayer online game play, fun Nintendo Video content and great digitally delivered games in the Nintendo eShop. To view a video of Nintendo 2DS, visit http://youtu.be/sAExBTWIp3M.
People eager to test drive the new system will have the chance beginning in October, when Nintendo 2DS joins a sampling tour in conjunction with Simon Malls that visits several different markets before it wraps up on Nov. 3. For more information about the tour, visit http://www.nintendo.com.
New Suggested Retail Price - Wii U Deluxe Set
Starting Sept. 20, the Deluxe version of Nintendo's Wii U system will be reduced in price by $50, to a new suggested retail price of just $299.99. The new price makes Wii U an even greater value, particularly with the strong lineup of Wii U games available and on the way for the system in 2013. These include Pikmin 3, The Wonderful 101, EarthBound, New Super Luigi U, The Legend of Zelda: The Wind Waker HD, Super Mario 3D World and Donkey Kong Country: Tropical Freeze.
Nintendo 2DS Trailer
Source:
http://press.nintendo.com/articles.jsp?id=40332
Aug 09
The Pokémon Company International and the September 2013 issue of Corocoro have revealed a new feature called
Mega Evolutions
. New Pokémon were also revealed.
Mega Evolution Will Transform Pokémon and Revolutionise Battles in Pokémon X and Pokémon Y
A Special Limited-Time Wi-Fi Distribution Event to Celebrate Mega Evolution Begins Worldwide on October 12th, 2013
August 9, 2013 — In what could be described as an Evolution beyond all Evolutions, Mega Evolution is a new, awe-inspiring transformation certain Pokémon can undergo during battle in the highly anticipated Pokémon X and Pokémon Y video games. Pokémon that Mega Evolve will tap into hidden reserves of strength and power that have never been realised in their regular Evolutions, giving players battling with a Mega-Evolved Pokémon a dominant advantage. Mega Evolutions will revolutionise Pokémon battles and usher in a new Pokémon transformation never-before-seen in the Pokémon world.
Mega Mewtwo
Mega Lucario
Mega Blaziken
Psychic
Fighting/Steel
Fire/Fighting
Species: Genetic Pokémon
Ability: Insomnia
Height: 4' 11"
Weight: 72.8 lbs.
Species: Aura Pokémon
Ability: Adaptability
Height: 4' 03"
Weight: 126.8 lbs.
Species: Blaze Pokémon
Ability: Speed Boost
Height: 6' 03"
Weight: 114.6 lbs.
Pokémon like Mega Mewtwo and Mega Lucario will harness the power of Mega Evolution in battle and will see their looks change and stats increase, giving Trainers a great advantage against their opponents. Some Pokémon that Mega Evolve may even change their Ability or type while in battle. Only certain Pokémon, under certain conditions, can Mega Evolve, and unlike regular Evolution, Mega Evolution only occurs during battle—once the battle ends, the Mega-Evolved Pokémon will return to its usual state. One crucial element to undergoing Mega Evolution is a particular kind of item called a Mega Stone. Mega Stones are special stones that exist for all Pokémon that can Mega Evolve, each named after the Pokémon to which it grants power. For instance, the Lucarionite Mega Stone will help Lucario Mega Evolve. Mega Stones are hidden throughout the Kalos region, and players must find them to unlock the incredible power of Mega Evolution.
One Mega Stone, Blazikenite, will not be found during normal gameplay in Pokémon X or Pokémon Y. Players of the new titles will need to participate in a special limited-time Wi-Fi distribution event via Nintendo Network to get a Torchic holding a Blazikenite Mega Stone. This is how players can receive the Blazikenite Mega Stone when the new titles launch. The character distribution begins October 12th, the same day Pokémon X and Pokémon Y launches worldwide for the Nintendo 3DS family of systems, and this distribution event will only last for a short period of time. Players will need to evolve the Torchic they receive via the distribution into Combusken and finally into Blaziken in order to harness the power of this Mega Stone and Mega Evolve Blaziken into Mega Blaziken.
The Torchic received in this distribution also has the Hidden Ability Speed Boost, a very powerful Ability that increases a Pokémon's Speed at the end of every turn. This limited-time character distribution event allows players to get a Torchic with Speed Boost, which becomes incredibly effective once they Mega Evolve Blaziken into Mega Blaziken.
Brand-New Method of Pokémon Training: Super Training!
Super Training or S.T. is being introduced in Pokémon X and Pokémon Y, allowing players to help their Pokémon grow stronger when they're not in battle. On the Touch Screen of the Nintendo 3DS system, players can have their Pokémon participate in Super Training, activities that will increase a Pokémon's base stats, the underlying values that define its HP, Attack, Defense, Sp. Atk, Sp. Def, and Speed stats.
One Super Training activity involves having Pokémon train by facing huge Pokémon-shaped Balloon Bots in a virtual space, with both sides trying to shoot balls into the opponent's goal. Using the Circle Pad and Touch Screen to avoid shots from the Balloon Bots while landing their own in the goal, players will enjoy this action-packed feature while increasing their Pokémon's base stats to help them become stronger for battle.
For a more casual way to help Pokémon strengthen their base stats, Core Training lets players set up training bags, earned by completing Super-Training Regimens, for Pokémon in their party to use. Pokémon will work on Core Training by themselves, raising their stats on their own. By tapping on the Touch Screen during a Core Training session, players can help their Pokémon increase their base stats, too. Players will be able to see how their Pokémon are doing at their Core Training at any time from the main Super Training screen.
More never-before-seen Pokémon that players will encounter in the Kalos region have been announced this morning by The Pokémon Company International.
Dedenne (デデンネ)
Bunnelby (ホルビー)
Skiddo (メェークル)
Electric/Fairy
Normal
Grass
Species: Antenna Pokémon
Ability: Cheek Pouch
Height: 0.2m
Weight: 2.2kg.
Species: Digging Pokémon
Ability: Pick Up/Cheek Pouch
Height: 0.4m
Weight: 5.0kg
Species: Mount Pokémon
Ability: Sap Sipper
Height: 0.9m
Weight: 31.0kg
By emitting radio waves from its antenna-shaped whiskers, new Electric- and Fairy-type Pokémon Dedenne can communicate with far-off allies. It can also plug its tail into outlets to drain electricity from them. Its Ability, Cheek Pouch, is new to Pokémon X and Pokémon Y. If a Pokémon with this Ability eats a Berry during battle, it will not only reap the benefit from the Berry, but the Pokémon will also be able to regain HP. Dedenne can learn the new Electric-type move Nuzzle, which looks cute as the user nuzzles up to a target with its cheeks fully charged, but it's quite dangerous! Nuzzle will do damage while paralyzing the opponent.
Bunnelby is a new Normal-type Pokémon that creates its den by digging in the ground with its large, shovel-shaped ears. These powerful ears are strong enough to chop right through thick tree roots, making them a force to be reckoned with in battle. Bunnelby can learn the Ground-type move Dig. On the first turn, the user burrows underground, and on the second turn, it attacks! In Double Battles, a Pokémon can use Dig to avoid its ally's attack and then dish out damage on the next turn.
It is now known that Skiddo evolves into the already announced Gogoat. A Grass-type Pokémon, Skiddo has a gentle nature and is said to be the first Pokémon to live alongside humans. Because of this relationship, Skiddo doesn't mind carrying people or supplies on its back, and it has become able to read the feelings of its riders through their grip on its horns. Skiddo can learn the Grass-type move Leaf Blade, where the user wields a sharp leaf to slice like a sword.
Introducing Gym Leader Korrina
Korrina is the Gym Leader in Shalour City, a seaside town known for its amazing views. It's also home to the Tower of Mastery, which seems to have a connection to Mega Evolution. Gym Leader Korrina seeks to draw out her Pokémon's strength to reach still greater heights, and it's said that she may hold the key to Mega Evolution! In addition to being a Gym Leader, Korrina is a fantastic roller skater.
September 2013 Corocoro
Pictures from the September 2013 Corocoro were posted on the Internet on August 8th, 2013 revealing most of the above information.
Trailer
Source:
http://www.youtube.com/watch?v=YTHgE0vtOXU
Article edited on 2013-08-09 03:37:02 by Sunain
Aug 03
The official Japanese Pokémon website has revealed that Pocket Monsters X and Y will both be available to purchase via download cards that are sold at participating retail stores across Japan. The download cards are separate to the physical cart versions as players can use the purchased download card to directly download the games from the Nintendo 3DS eShop to their Nintendo 3DS. Players will need to have at least 1.7GB or approximately 14,000 blocks of free space on their SD card to download each game. Players that download both Pocket Monsters X and Y will be unable to have the two games communicate on the same system should they both be downloaded.
The full box art for the
Pocket Monsters X and Y Pack - Xerneas and Yveltal - Blue (ポケットモンスター X・Y パック ゼルネアス・イベルタル ブルー)
has been revealed.
Source:
http://www.pokemon.co.jp/info/2013/08/130802_g01.html