Latest News

02 Mar
28 Jan
18 Nov
07 Nov
05 Nov
30 Oct
News Tag Filter:
Nintendo 3DS
Mar 02
The in-game messaging system for
Pokémon Shuffle
announced that over 1 million copies of the game have been downloaded since its release on February 18th, 2015. Players that Check In between March 2nd, 2015 to March 30th, 2015 will receive a free
Complexity -1 item
as thanks for downloading the game.
Jan 28
The official Nintendo Japan website has revealed a new Pokémon dashboard theme for the Nintendo 3DS.
Lots of Pikachu (ピカチュウいっぱい)
theme features a bunch of Pikachu's and the music
Friendly Shop (~フレンドリィショップ~)
from
Pokémon Omega Ruby and Pokémon Alpha Sapphire
. The theme will cost 200 yen and will be available on February 14th, 2015 in Japan.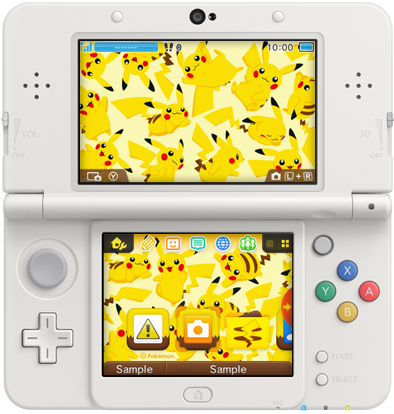 Source:
http://www.nintendo.co.jp/3ds/theme/list/00249/index.html
Nov 18
Nintendo of Europe
Tweeted
that on Friday November 21st, 2014, two Pokémon Home Menu Themes will be available for purchase in Europe. The first theme is called Onemuri Pikachu and the second theme features Groudon. Each theme will cost €1.99 / £1.79.
Source:
https://twitter.com/NintendoEurope/status/534313967016214529

Article edited on 2014-11-18 04:39:06 by Sunain
Nov 07
Details about the Eon Ticket have now been revealed for the United States, Japan and the United Kingdom. Players who receive the Eon Ticket have the ability to share it via the Nintendo 3DS feature StreePass. In the UK, the ticket will be distributed at 15 towns and cities on Saturday November 29th, 2014. Japan will have a similar event but the
details have yet to be announced
. In the United States, Play! Pokémon League Leaders will be given codes to distribute to participants at nearly a thousand Pokémon League locations.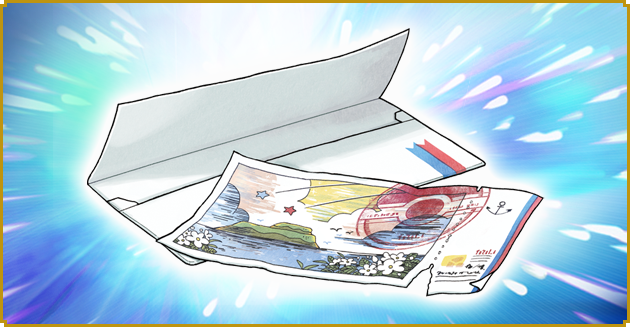 The
Eon Ticket
is an item in
Pokémon Omega Ruby and Pokémon Alpha Sapphire
that allows players to catch
Latias
and
Latios
. Players that have the StreetPass function turned on in their Nintendo 3DS can receive it from a person that already has it. Once a player has the Eon Ticket, they can revisit Southern Island in their game, where they can then catch the Legendary Pokémon that they would not otherwise have a chance to catch.
The Great #EonTicketUK Relay is coming to the UK—and you can be a part of it!
Attend the Pokémon Omega Ruby and Pokémon Alpha Sapphire launch event in London and be one of the first to get the Eon Ticket via StreetPass!
The Pokémon Omega Ruby and Pokémon Alpha Sapphire Eon Ticket can be claimed via StreetPass, and we're looking for people from across the UK to help spread the Eon Ticket far and wide. Will you be the person to bring the ticket to your hometown?
Most Pokémon Omega Ruby and Pokémon Alpha Sapphire players will have to wait to receive this ticket via StreetPass from someone who has it already. But to kick off the Eon Ticket distribution, we're giving 15 Pokémon fans the opportunity to be among the first in the UK to get hold of this brilliant item to start the Great #EonTicketUK Relay!
Producer Junichi Masuda of GAME FREAK will be releasing the very first Eon Ticket at a Pokémon Omega Ruby and Pokémon Alpha Sapphire launch event in London—and we're looking for people all over the country to help spread the Eon Ticket nationwide. With the Eon Ticket, you'll have the opportunity to catch one of the Legendary Eon Pokémon, Latias or Latios*.
We're going to bring people from 15 towns and cities across the UK to this very special launch event on Saturday, 29 November. If you're selected, you'll get the chance to meet Pokémon producer Junichi Masuda of GAME FREAK, get the Eon Ticket for your Pokémon Omega Ruby or Pokémon Alpha Sapphire game, and grab some exclusive Pokémon goodies! Full details on the Great #EonTicketUK Relay will be unveiled at www.PokemonEonTicketUK.com on 13 November at 3 p.m.
Check back then for information on how to enter and the GAME locations to which we'll be sending Eon Ticket winners. You could be the one to bring the Eon Ticket back to a GAME Store in one of the 15 towns and cities!
This is a unique opportunity to help share the Eon Ticket with fellow Pokémon fans in your home region—and across the UK—as part of the Great #EonTicketUK Relay. Remember, if you win you'll be among the very first people in the UK to kick-start this real-life Pokémon adventure!
Learn more about Latias, Latios, and the Eon Ticket at the Pokémon Omega Ruby and Pokémon Alpha Sapphire official site.
The Eon Ticket will also be available via StreetPass across Europe—stay tuned. *With the Eon Ticket, players of Pokémon Omega Ruby will be able to catch Latias; players of Pokémon Alpha Sapphire will be able to catch Latios.

Article edited on 2014-11-07 12:07:22 by Sunain
Nov 05
Japanese players that purchase and register Super Smash Bros. for Nintendo 3DS and
Pokémon Omega Ruby or Pokémon Alpha Sapphire
can receive a special
Gekkouga (ゲッコウガ)
. The special distribution was announced in the
November 6th, 2014 Japanese Nintendo Direct
by Nintendo President Satoru Iwata. Players must register both games on Club Nintendo between November 21st, 2014 and January 20th, 2015. The special serial code to receive
Gekkouga
in
ORAS
will be distributed from December 9th, 2014 until January 29th, 2015.
Gekkouga
will have the same moves that it has in Super Smash Bros. and they are:
Water Shuriken
,
Hydro Pump
,
Shadow Sneak
and
Substitute
.
The offical Japanese Pokémon website updated on November 7th, 2014 to reveal more details.
Gekkouga
is Male, level 36, has the OT SmaBro (スマブラ) and has the ability
Protean (へんげんじざい)
.
Source:
http://www.pokemon.co.jp/ex/oras/campaign/20141107_01.html

Article edited on 2014-11-07 02:02:20 by Sunain
Oct 30
Over the past two days, Nintendo has released their earnings reports:
Corporate Management Policy Briefing / Second Quarter Financial Results Briefing for the 75th Fiscal Term Ending March 2015 - Outline & Company President's Presentation
and
Earnings Release: Six Months Ended September 30, 2014
. In the reports, there are some interesting figures for the current generation of Pokémon games on the Nintendo 3DS.
Nintendo announced that global sales of
Pokémon X and Y
have reached 13.3 million. For comparison, the last games of Generation 5
Pokémon Black 2 and White 2
sold a
total of only 7.81 million
. Unfortunately, pre-order sales for
ORAS
are down in Japan compared with
XY
but are on par in North America and ahead in Europe.
Nintendo stated: "While ORAS, being remakes, were never expected to get the kind of sales XY did, the attitude towards our current promotional phase seemingly betrays our expectations in a very positive way. The company thought of an interesting explanation for why it is this way, called the "Ruby/Sapphire Generation Hypothesis (スマブラ・ルビサファ同世代仮説)" factor".
The reason behind the lower pre-order sales can be attributed to one of Japan's key demographics, the 18 to 25 year old's which represents about 30% of the Nintendo 3DS market whereas it only represents 5% of the market in the United States and Europe. Many in this demographic were in elementary school when the games
Pokémon Ruby & Sapphire (ポケットモンスター ルビー&サファイア)
were released. If this key demographic plays a significant role in the sales in Japan due to the nostalgic Ruby/Sapphire Generation Hypothesis will not be known until sales figures are recorded but regardless, ORAS is still on pace to sell millions of copies worldwide.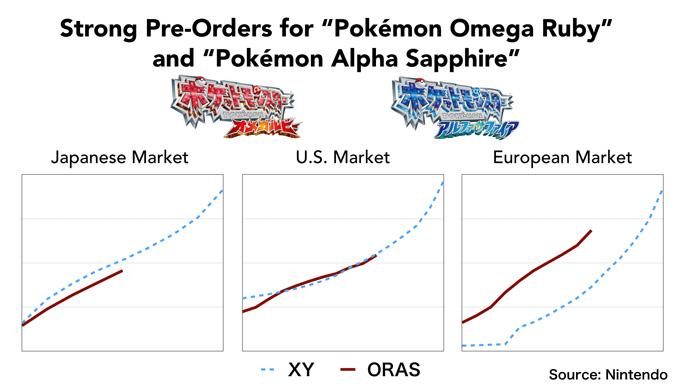 In its report, Nintendo stated: "We expect to expand sales in the year-end sales season with "Pokémon Omega Ruby" and "Pokémon Alpha Sapphire" to be released globally in November, and a number of key titles from third-party publishers."
Sources:
http://www.nintendo.co.jp/ir/pdf/2014/141029e.pdf
,
http://www.nintendo.co.jp/ir/en/library/events/141030summary/index.html
and
http://www.inside-games.jp/article/2014/10/30/82066.html

Article edited on 2014-10-30 01:37:32 by Sunain