Welcome to PocketMonsters.net
PocketMonsters.net
is a fansite dedicated to all things Pokémon (ポケモン) and Pocket Monsters (ポケットモンスター). We are the premier site for news and information about all aspects of the franchise from around the world. We cover the
Anime
,
indexing the music
, the
Trading Card Game
, the
Games
, the
variety shows
, have a
large imageboard
,
forum
and much more.
Follow us on Twitter
and
Subscribe to our RSS Feed
for the latest updates!
Latest News

13 Jan
04 Jan
27 Dec
23 Dec
22 Dec
16 Dec
News Tag Filter:
Press Release
Jan 13
Nintendo announced the full Nintendo Switch details as part of their
Nintendo Switch Presentation 2017
which was streamed online on January 13th, 2017 from Japan.
Despite the rumours
,
no Pokémon
related games or products for the Nintendo Switch were announced as part of the launch presentation but Nintendo did say there were over 80 games in development, so a Pokémon game will inevitably be announced some time in the future.
High resolution press release pictures of the Nintendo Switch and its accessories are available to view on the Imageboard thread
.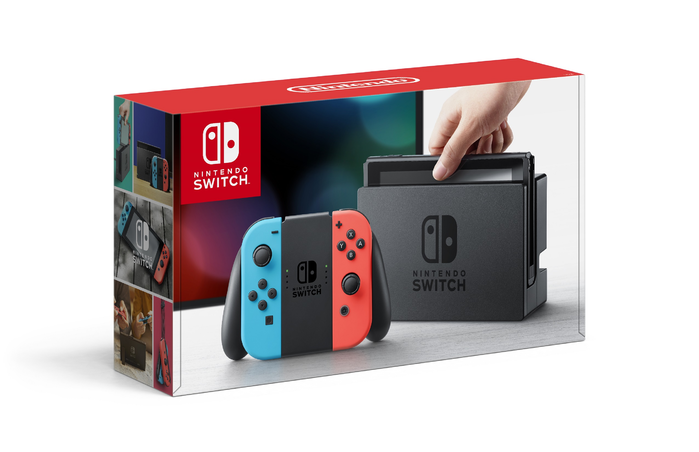 Nintendo Switch Launch Prices
United States: $299.99 USD
Canada: $399.99 CAD
Japan: 29,980 yen
UK: £279.99 GBP
Australia: $469.95 AUD
Nintendo disappointed many fans around the world for the extremely high price of the system
compared to the price of previous generations and Nintendo's current competitors which are similarly priced but have significantly better hardware specs.
Shares in Nintendo were down 5.75% in trading on the Japanese market
as the high price caught many fans and the industry as a whole off guard as they were expecting a more competitive price point.

Hardware Highlights
Nintendo Switch is powered by the performance of the custom Tegra processor. The high-efficiency scalable processor includes an NVIDIA GPU based on the same architecture as the world's top-performing GeForce gaming graphics cards.
6.2-inch multi-touch capacitative touch screen - 720p 1280x720 resolution
32GB of internal memory
microSDXC slot (Large SD cards sold separately)
Game Cart Slot
Battery life can last for more than six hours, but will vary depending on the software and usage conditions.
USB Type-C Connector for dock connection and use with USB Type-C AC Adapter
Nintendo Switch Dock includes: two USB 2.0 Ports, HDMI Port and HDMI cable
Power button, Volume +/- buttons and 3.5mm headphone jack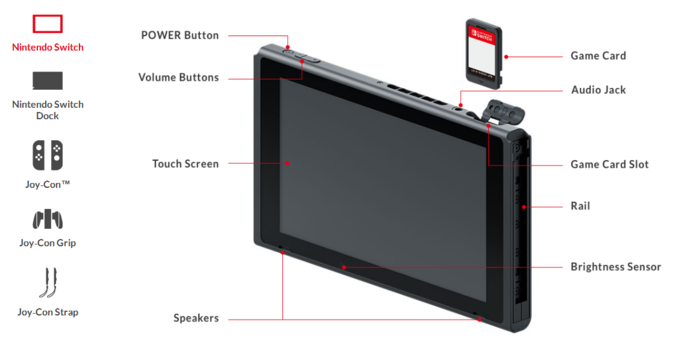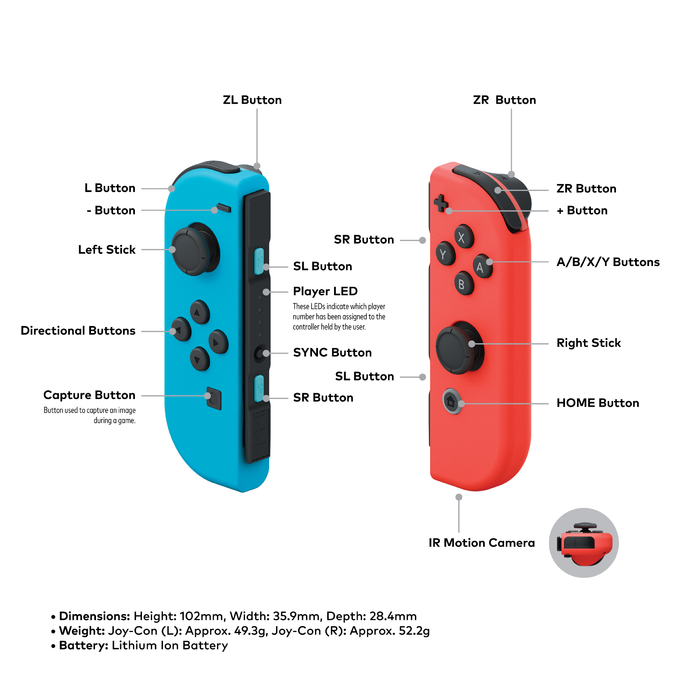 Press Release - Nintendo Reveals Upcoming Games, New Hardware Features
TOKYO, Jan. 13, 2017 – Nintendo announced today that the new Nintendo Switch system will launch worldwide on March 3, 2017 at a suggested retail price of $299.99 in the United States.
The system will include the main console, Joy-Con (L) and Joy-Con (R) controllers, a Joy-Con grip (to which two Joy-Con are attached and used as one controller), a set of Joy-Con wrist straps, a Nintendo Switch dock (which holds the main console and connects it to a TV), an HDMI cable and an AC adapter. Two stylish versions of the system will be released: a version with a set of gray Joy-Con, and a version with one neon blue and one neon red Joy-Con. Both versions will be the same price.
"Nintendo Switch is a brand-new kind of home gaming system that offers a wide variety of play modes," said Nintendo President Tatsumi Kimishima. "We will introduce the world to new experiences made possible by the unique characteristics of the Nintendo Switch hardware and the Joy-Con."
Nintendo Switch is a breakthrough home video game system. It not only connects to a TV at home, but it also instantly transforms into an on-the-go handheld using its 6.2-inch screen. For the first time, players can enjoy a full home-console experience anytime, anywhere. The screen includes capacitive multi-touch capabilities for compatible games. Battery life can last for more than six hours, but will vary depending on the software and usage conditions. For example, The Legend of Zelda: Breath of the Wild can be played for roughly three hours on a single charge. While away from home, Nintendo Switch can be charged by plugging the AC adapter into the console's USB Type-C connector.
The versatile Joy-Con offer multiple surprising new ways for players to have fun. Two Joy-Con can be used independently in each hand, or together as one game controller when attached to the Joy-Con grip. They can also attach to the main console for use in handheld mode, or be shared with friends to enjoy two-player action in supported games. Each Joy-Con has a full set of buttons and can act as a standalone controller, and each includes an accelerometer and gyro-sensor, making independent left and right motion control possible.
Nintendo Switch also contains a number of built-in features that make it more interactive. The left Joy-Con has a Capture Button that players can press to take instant screenshots of gameplay to share with friends on social media. The right Joy-Con includes an NFC touchpoint for interaction with amiibo figures, as well as an IR Motion Camera that can detect the distance, shape and motion of nearby objects in specially designed games. For example, it can tell how far away a player's hand is, and even if the hand is forming a rock, paper or scissors shape. Both Joy-Con include advanced HD Rumble, which can provide compatible games with subtle vibrations that are much more realistic than before. The effect is so detailed that a player could, for example, feel the sensation of individual ice cubes colliding inside a glass when shaking a Joy-Con. With HD Rumble players can experience a level of realism not possible through sights and sounds alone.
Nintendo Switch makes it easy for players to stay connected. Up to eight systems can be connected for local wireless play. The player can place the system upright anywhere by using the built-in stand, then easily share Joy-Con for multiplayer fun away from the TV. The system will support online Wi-Fi multiplayer gaming. Nintendo also unveiled a new online subscription service that will begin with a free trial at launch. The service includes a smart-device application available in Summer 2017 that will let users invite friends to play online, set play appointments and chat with one another as they play compatible games. The fully featured paid service will be available in the fall.
Nintendo Switch will be supported by world-class third-party publishers including Activision Publishing Inc., Electronic Arts, Take-Two Interactive, Ubisoft, Warner Bros. Interactive Entertainment and major Japanese publishers. Some publishers, such as Bethesda Softworks, are joining Nintendo for the first time. Players can look forward to major franchises on Nintendo Switch such as EA SPORTS FIFA, The Elder Scrolls, NBA 2K, Minecraft and more. Nintendo Switch software will not be region locked.
The unique capabilities of the console and Joy-Con have combined with innovations from past systems to create Nintendo's most flexible, feature-packed video game system ever. This is demonstrated by the wide variety of unique games that were announced for launch day, this summer and into the 2017 holiday season, from both Nintendo and its third-party partners. From the engrossing open-air experience of The Legend of Zelda: Breath of the Wild to the party fun of 1-2-Switch, Nintendo Switch offers something for everyone.
Nintendo Switch Presentation 2017
Sources:
Nvidia:
https://blogs.nvidia.com/blog/2016/10/20/nintendo-switch/
Nintendo Switch:
http://www.nintendo.com/switch/
Nintendo YouTube Channel:
https://www.youtube.com/user/Nintendo
Nintendo Press:
https://press.nintendo.com/

Article edited on 2017-01-13 08:36:29 by Sunain
Jan 04
Pokémon Snap​
will be available to purchase for the Nintendo Wii U Virtual Console in North America on January 5th, 2017 for $9.99.
Catching Pokémon is a snap!
Travel to Pokémon Island and meet Professor Oak to begin a safari to take the best possible photographs of 63 different Pokémon. The island has many types of climates and environments to explore, along with secret activities and hidden passages to discover. Some of the Pokémon can be a little shy and won't pose for the camera unless you tease them with special items! After you're done, submit one picture of each Pokémon to Professor Oak, and he'll judge it based on size, pose, technique, and number of Pokémon captured. Start practicing if you want to snap the perfect shot!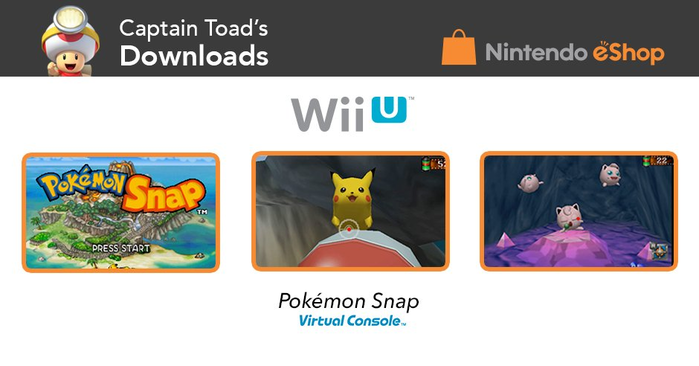 Virtual Console
This classic game is part of the Virtual Console service, which brings you great games created for consoles such as NES™, Super NES™ and Game Boy™ Advance. We hope you'll enjoy the new features (including off-TV play) that have been added to this title.
Source:
http://www.nintendo.com/games/detail/pokemon-snap-wii-u

Article edited on 2017-01-09 03:48:46 by Sunain
Dec 27
The second Global Mission for
Pokémon Sun and Moon
has been announced and is now available. Players need to catch or defeat
1 million Pokémon
using Island Scan between December 27th, 2016 and January 9th, 2017 at 00:00 UTC. Players will receive 2,017 Festival Coins (in honor of the new year) if the goal is reach but if the goal isn't reached, players will still get 217 Festival Coins. For participating players who have registered their Game Sync ID at the Pokémon Global Link, they will earn double the Festival Coins, 434 Festival Coins for participating or 4,034 Festival Coins for reaching the global goal!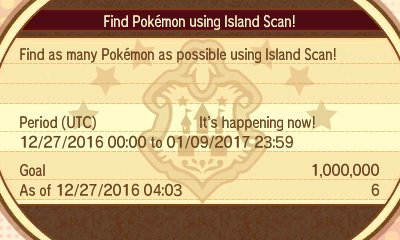 Participate in the New "Find Pokémon Using Island Scan!" Global Mission
The "Find Pokémon Using Island Scan!" global mission is now active in Pokémon Sun and Pokémon Moon. Find and then defeat or catch as many Pokémon as you can after using the Island Scan function in your game by January 9, 2017, at 00:00 UTC!
The Island Scan feature in Pokémon Sun and Pokémon Moon helps you find rare Pokémon that you can't usually locate in the Alola region. Before you can use this great tool to find rare Pokémon, you'll need to earn 100 points by scanning QR Code patterns with the QR Scanner. Here's what you need to know to get started.
You can find different types of QR Code patterns in various places, including:
• Alola Pokédex QR Code: These QR Code patterns are displayed in your Pokédex when you catch Pokémon. Scan these QR Code patterns from a friend's game to earn 10 points for each scan.
• Special QR Code: These QR Code patterns are specially prepared for the QR Scanner. Each QR Code pattern contains information about a particular Pokémon. For example, those who have completed the main story in Pokémon Sun or Pokémon Moon can now get the Mythical Pokémon Magearna via the QR Scanner. You'll earn 20 points for each Special QR Code pattern scan.
Once you have earned at least 100 points in a single day by scanning QR Code patterns, Island Scan becomes available on the QR Scanner screen. Select Island Scan or press the X Button. Next, press the R Button or A Button to start scanning for a Pokémon that you won't find elsewhere in Alola. When you pick up the trace of a nearby Pokémon, you'll only have a short time to find it and catch it, so be ready. You can use this feature only once per day, so scan more QR Code patterns every day for the chance to encounter another of these Pokémon.
If everyone teams up to find 1 million Pokémon using Island Scan, you'll get 2,017 Festival Coins (in honor of the new year). If the goal isn't reached, you'll still get 217 Festival Coins for participating. As a bonus, players who have registered their Game Sync ID at the Pokémon Global Link will earn double the Festival Coins—434 Festival Coins for participating or 4,034 Festival Coins for reaching the global goal!
Follow these steps to join the global mission:
1. Enter Festival Plaza in Pokémon Sun or Pokémon Moon by selecting it in your in-game menu, which you'll find by pressing the X Button.
2. Enter Festival Plaza's central castle.
3. Speak to the global mission receptionist on the right and let her know you want to participate in the global mission.
4. Remember to return before the mission ends to sync your game to add to the global count! Once you are participating in the global mission, talk to the receptionist to have your progress sent to the server. Also, if you have registered your game to a PGL account, simply connecting to the Internet while in Festival Plaza will cause your game to sync automatically, which will send your progress to the server.
How to Check Your Progress Toward the Global Goal
Talk to the receptionist to check on the overall progress toward the goal and to update your own progress as well. You can also check on the progress by visiting the home page of the Pokémon Global Link.
Good luck participating in the "Find Pokémon Using Island Scan!" global mission!
Here are five Special QR Code patterns for you to scan in your game to get started:
Source:
https://3ds.pokemon-gl.com/information/48e2bb06-eb05-4a77-9044-6ebf157fff59

Article edited on 2016-12-27 11:52:11 by Sunain
Dec 23
Niantic has announced that a special Pokémon GO Christmas Event will take place from December 25th, 2016 until January 3rd, 2017.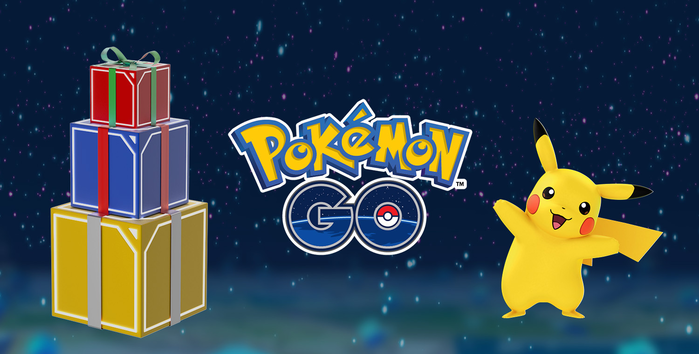 The holiday season has arrived! Celebrate it with us!
Trainers, As the year draws to a close, we want to give you a great way to celebrate the end of the year with Pokémon GO. For the next couple of weeks, you'll have even more reason to explore the world with your friends and family while you enjoy our year-end event.
Don't miss out on an increased chance to hatch a Togepi (and other Pokémon)! Starting the morning of December 25, 2016, and through the afternoon of January 3, 2017 (PST), PokéStops will award one single-use Incubator each day after your first Photo Disc spin. As you visit PokéStops during this time period, there will be a greater chance of finding Eggs that hatch Togepi, Pichu, and several other recently found Pokémon, originally discovered in the Johto region. Special Pikachu wearing festive hats will also be staying around a bit longer! You are more likely to find these limited-edition Pikachu during the time period of this celebration.
In addition, from the afternoon of December 30, 2016, through the afternoon of January 8, 2017 (PST), the first partner Pokémon and their Evolutions, originally discovered in the Kanto region, are more likely to be encountered. This means a greater chance to catch Bulbasaur, Ivysaur, and Venusaur, as well as Charmander, Charmeleon, and Charizard, plus Squirtle, Wartortle, and Blastoise! As a way to increase your chance to encounter one of these Pokémon, Lure Modules will also last for 60 minutes instead of 30 minutes.
Get up and go!
Source:
http://pokemongo.nianticlabs.com/en/post/holiday2016/

Article edited on 2016-12-23 02:34:20 by Sunain
Dec 22
Pokémon GO is now on the Apple Watch. It was release on December 22nd, 2016. Below are the details from Niantic's press release.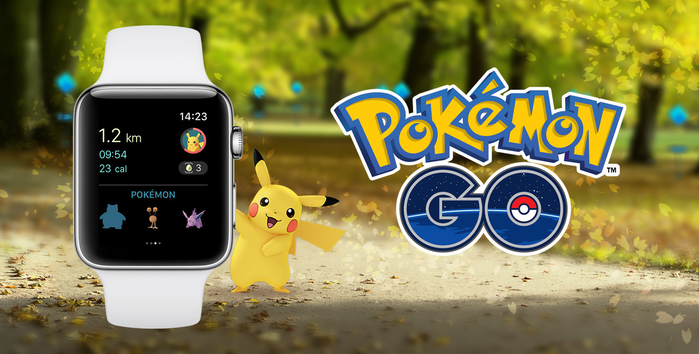 Pokémon GO is now on the Apple Watch, just in time for the Holidays
Trainers, Pokémon GO is now available on the Apple Watch! You will now be able to explore and experience the world around you directly from your wrist, whether you're searching for wild Pokémon or trying to hatch the Pokémon originally discovered in the Pokémon Gold and Pokémon Silver video games.
Apple Watch is particularly well suited to Pokémon GO as it seamlessly combines gameplay and imagination with getting exercise and exploring the real world. You can easily interact with Pokémon GO on Apple Watch, using quick taps to discover nearby Pokémon and collect items from PokéStops. Once you encounter a Pokémon, you can catch it from your iPhone. You can log your play sessions through the Apple Watch app as a Workout that will count toward your personal Activity rings, while also counting distance toward hatching Pokémon Eggs.
To recap the core features of Pokémon GO on Apple Watch, you'll be able to
Log each play session as a workout, with gameplay counting toward personal Activity rings
Receive notifications about nearby Pokémon
Count distance toward hatching Pokémon Eggs and receiving Candy with your Buddy Pokémon
Receive notifications about PokéStops nearby and collect items from them
Receive notifications when Eggs hatch and medals are awarded
This holiday season, experience Pokémon GO and the world around you in a whole new way on Apple Watch. It's the perfect companion for bundled-up winter walks in the Northern Hemisphere and for fun summer activities in the Southern Hemisphere. And hey, what great timing—you can get a head start on that New Year's fitness resolution by having some fun now!
Source:
http://pokemongolive.com/en/post/apple-watch/

Article edited on 2016-12-22 06:31:50 by Sunain
Dec 16
Nintendo has announced that a
Nintendo Switch Preview Tour
will be taking place in North America during the first three months of 2017. This will be the first time for many people to try out and see a Nintendo Switch.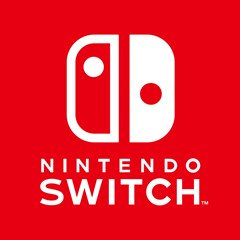 Mark Your Calendars: The Nintendo Switch Preview Tour is Coming to a City Near You
After the Nintendo Switch system is unveiled to the world during the Nintendo Switch Presentation 2017 in Tokyo on Jan. 12, Nintendo's next home gaming system is traveling across North America to provide hands-on time for fans, gamers, families and everyone in between. Nintendo Switch will be the star of an interactive multi-city tour that is open to the public on select days.
The currently scheduled cities that are part of the tour include:
New York – Jan. 13-15
Toronto – Jan. 27-29
Washington, D.C. – Feb. 10-12
Chicago – Feb. 17-19
San Francisco – Feb. 24-26
Los Angeles – March 3-5
The first two days of each of these tour stops is invite-only, but Nintendo is changing things up and asking fans to join the fun on the third day. The Sunday stop of each tour is open free to the public, so anyone that wants to be among the first people in the world to experience Nintendo Switch will have her or his chance. Space is very limited, however, and fans will be let in on a first-come, first-served basis. Early arrival is highly recommended.
The interactive and engaging tour will let people of all ages experience Nintendo Switch for the first time and play select launch games in very original and surprising settings. Each of these unique areas will highlight the different ways Nintendo Switch can be played.
In addition to these tour stops, Nintendo will bring Nintendo Switch and launch games to PAX South in San Antonio (Jan. 27-29), PAX East in Boston (March 10-12) and SXSW in Austin, Texas (March 16-18). Anyone that misses out on the Preview Tour can catch Nintendo Switch at one of these events.
Additional details about Nintendo Switch will be revealed during the Nintendo Switch Presentation 2017 on Jan. 12.

Article edited on 2016-12-16 11:52:44 by Sunain