News Tag Filter:
TCG
Dec 27
The official Pokémon website revealed the latest TCG expansion set
XY Primal Clash
will be released in North America on February 2nd, 2015.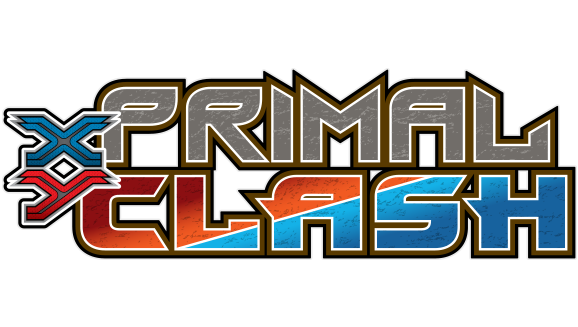 Ancient rivals awaken in the Pokémon TCG: XY Primal Clash expansion! After centuries asleep, the deep power of Primal Groudon EX erupts from the land as Primal Kyogre EX crashes in from the sea, riding titanic waves into battle! With colossal new arrivals like Mega Gardevoir EX and Mega Aggron EX, the XY Primal Clash expansion is alive with the primordial power of Ancient Traits—plus all-new Spirit Link and Special Energy cards. Let the earth shake and the oceans thunder, and get ready for a primal clash like no other!
Features of XY Primal Clash:
Primal Reversion makes its TCG debut with Primal Kyogre EX and Primal Groudon EX
12 new Pokémon EX, including Sharpedo EX, Trevenant EX, Wailord EX, and Camerupt EX
Ancient Traits, which give Pokémon certain advantages in battle, appear for the first time
More than 25 Trainer cards, including four full-art rare Ultra cards and two Special Energy cards
Two new theme decks: Earth's Pulse and Ocean's Core
Each theme deck and booster pack contains a code card that unlocks digital cards from XY Primal Clash for play in the Pokémon Trading Card Game Online
Source:
http://www.pokemon.com/us/pokemon-tcg/xy-primal-clash/explore-and-watch/

Article edited on 2014-12-27 03:01:20 by Sunain
Dec 10
Japanese retailers have posted information on the first Pokémon TCG expansion for 2015 entitled:
Emerald Break (エメラルドブレイク)
. The 78+ card set will be released in Japan on March 14th, 2015 and will feature Rayquaza EX and M Rayquaza EX. Booster packs will feature 5 cards for 150yen plus tax.
Also being released on the same day will be the
Battle Deck 60 Mega Rayquaza EX (メガバトルデッキ60 MレックウザEX)
which will feature numerous Rayquaza cards and Trainer cards. The 60 card set will cost 1,556 yen plus tax.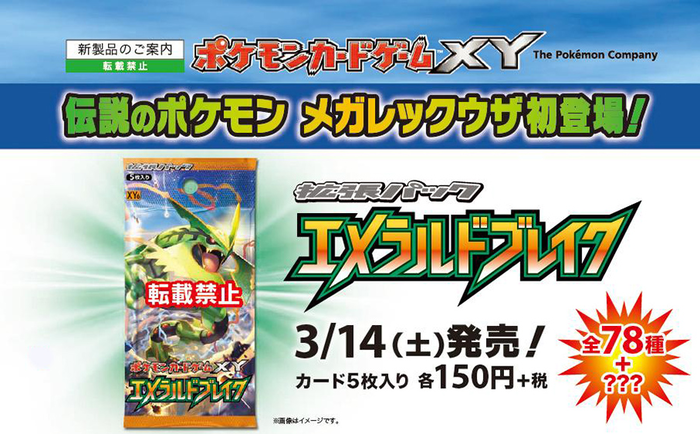 Article edited on 2014-12-10 06:20:08 by Sunain
Dec 09
The Pokémon Company International in conjunction with GameStop have announced a new sweepstakes promotion for residents of the United States. From December 8th, 2013 until December 31th, 2014, patrons of GameStop will receive a code on their receipt when they purchase any participating Pokémon product at GameStop. Patrons can then enter the code at the MegaStop website and can unlock cool stuff for the Pokémon TCG Online.
Each code unlocks a digital booster pack from the latest expansion,
Pokémon TCG: XY Phantom Forces
, plus a deck box and matching card sleeves with 1 of 4 cool Mega Evolution designs. Each code also enters people into the MegaStop Sweepstakes, where they could win a limited edition Nintendo 3DS XL system with a special design. Those that enter two or more receipt codes before January 15, 2015 are eligible to win a VIP trip for four to Hawaii.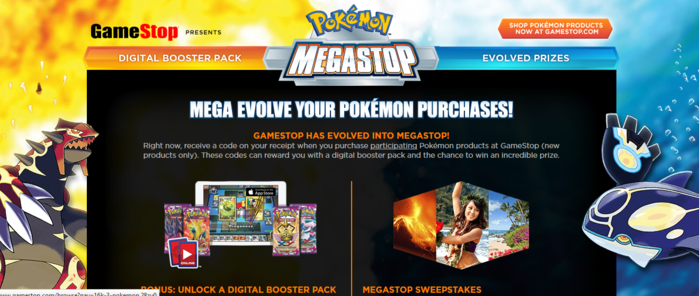 The following products are eligible for a code:
TRADING CARD GAME: Pokémon TCG XY1 Booster, Pokémon TCG XY2 Booster, Pokémon TCG XY3 Booster, Pokémon XY4 Booster, Pokémon TCG XY4 Deck, Pokémon EX Power Tins, Pokémon XY4 PreviewPak
TOYS: Pikachu 8in Plush, Squirtle 8in Plush, Bulbasaur 8in Plush, Charmader 8in Plush, Pokémon 1 Pack Mega Figure, Pokémon XY 2 Pack Figures, Pokémon XY Plush, 3.5in Pokémon Keychains, 18in Pokémon Plush, Pokémon XY Articulated Figures, Clip N Carry Poké Ball, Socks, Poké Ball All Over, Socks, Pikachu Chenille
STRATEGY GUIDES / ACCESSORIES: Pokémon Omega Ruby & Pokémon Alpha Sapphire: The Official Hoenn Region Strategy Guide, Pokémon X & Pokémon Y: The Official Kalos Region Pokédex & Postgame Adventure Guide, Pokémon X & Pokémon Y: The Official Kalos Region Guidebook, Poké Ball Zip Case
VIDEO GAMES: Pokémon X, Pokémon Y, Pokémon Omega Ruby, Pokémon Alpha Sapphire, Pokémon Art Academy, Pokémon Black, Pokémon Black Version 2, Pokémon Conquest, Pokémon HeartGold, Pokémon Mystery Dungeon: Gates to Infinity, Pokémon Ranger: Guardian Signs, Pokémon Rumble Blast, Pokémon SoulSilver, Pokémon Trozei, Pokémon White, Pokémon White Version 2
Source:
http://www.pokemonmegastop.com/

Article edited on 2014-12-09 02:35:01 by Sunain
Nov 05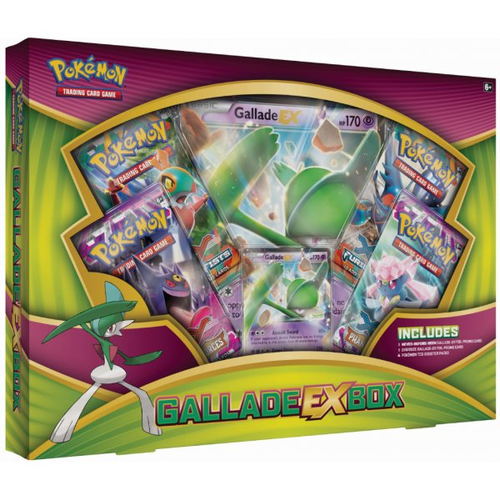 The Gallade EX Box will be released worldwide in January 2015 and will include a large Gallade card.
Gallade EX Box Product Description
Master the art of Pokémon battling with Gallade-EX! The Pokémon TCG: Gallade-EX Box shows off the skill of this swift-striking Pokémon with a never-before-seen foil card and an awesome oversize card. And of course, as a Poké-mon-EX, the steadfast Blade Pokémon is a cut above! Expand your collection with the contents of 4 Pokémon TCG booster packs, and strike swift and true with the Gallade-EX Box today!
• Gallade-EX as a never-before-seen foil card
• 4 Pokémon TCG booster packs
• A special oversize card featuring Gallade-EX
• A BONUS code card for the Pokémon TCG Online!

Article edited on 2014-11-05 01:49:33 by Sunain
Oct 31
A new 34 card set for the Japanese Pokémon Card Game has been revealed called
Magma Gang VS Aqua Gang Double Crisis (マグマ団VSアクア団 ダブルクライシス)
and it will be released on January 30th, 2015. Booster packs will include 6 cards instead of 5 which is normally the number of cards included but each booster pack will include a holo card. Booster packs will cost 186yen + tax for this set.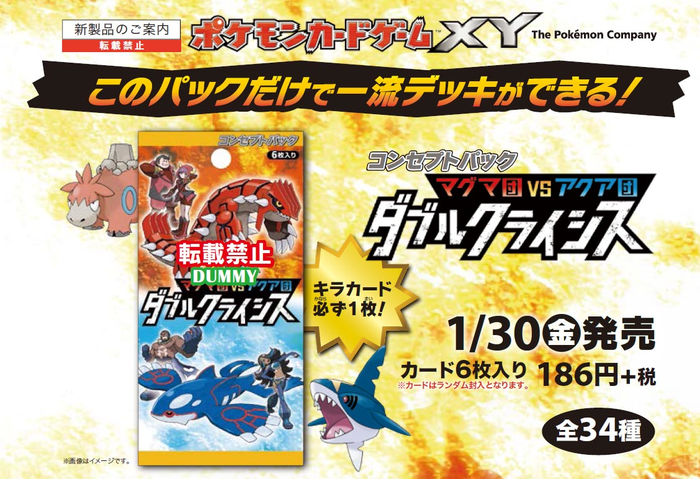 A
Double Crisis Value Set (ダブルクライシスバリューセット)
will also be released on January 30th, 2015 for 510yen plus tax. It will include: 2 Double Crisis Booster Packs, a box with Groudon/Magma Gang and Kyogre/Aqua Gang artwork and 5 Energy card.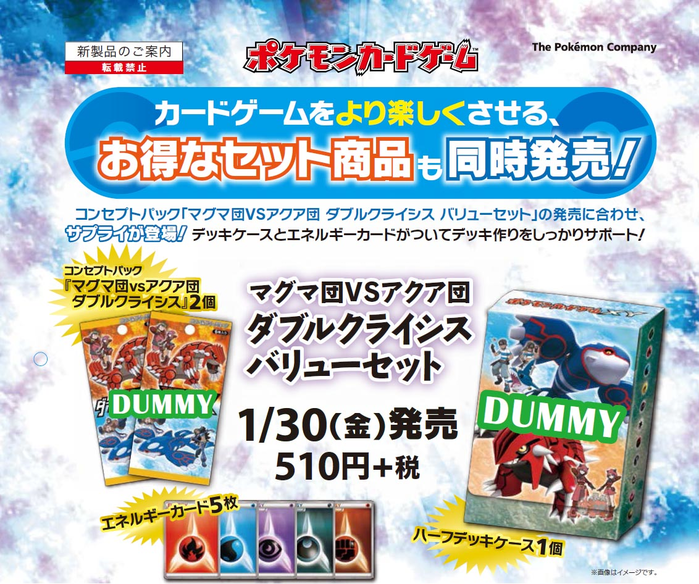 Article edited on 2014-10-31 02:29:18 by Sunain
Oct 24
Over-Lap has announced a new book called the
Pokémon Card Game Illust Collection (ポケモンカードゲーム イラストコレクション)
. The book features the history of the Pokémon Card Game from its debut in 1996 up to the present day XY series. The book will cost 2000yen plus tax and is 192 color pages. The ISBN-10: 4865540199 and the ISBN-13: 978-4865540192.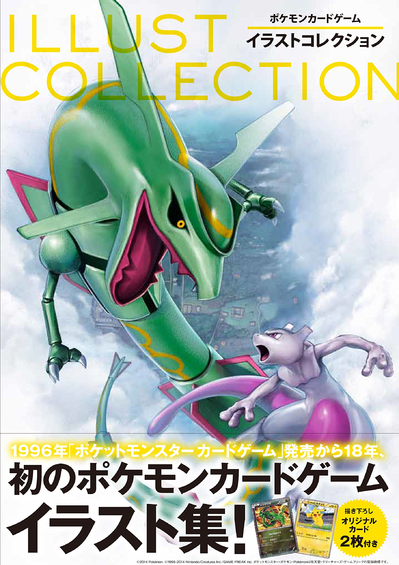 Book Features:
Over 200 carefully selected card illustrations are in the book from the more than 8,000 cards that now exist.
Learn how to draw Pokémon taught by a Professional: The process of how to draw illustrations for the Pokémon Card Game
Two Card Exclusive for the book: Rayquaza and Dress-up Pikachu Pikachu
Interview featuring the Creative Team: Mitsuhiro Arita (有田満弘), Kagemaru Himeno (姫野かげまる氏), Ken Sugimori (杉森建氏), Junichi Masuda (増田順一氏) and Ishihara Tsunekazu (石原恒和氏) [SIC]
Source:
http://over-lap.co.jp/book/card/
and
http://www.amazon.co.jp/dp/4865540199/

Article edited on 2014-10-24 03:45:54 by Sunain