News Tag Filter:
TCG
Dec 10
Japanese retailers have posted information on the first Pokémon TCG expansion for 2015 entitled:
Emerald Break (エメラルドブレイク)
. The 78+ card set will be released in Japan on March 14th, 2015 and will feature Rayquaza EX and M Rayquaza EX. Booster packs will feature 5 cards for 150yen plus tax.
Also being released on the same day will be the
Battle Deck 60 Mega Rayquaza EX (メガバトルデッキ60 MレックウザEX)
which will feature numerous Rayquaza cards and Trainer cards. The 60 card set will cost 1,556 yen plus tax.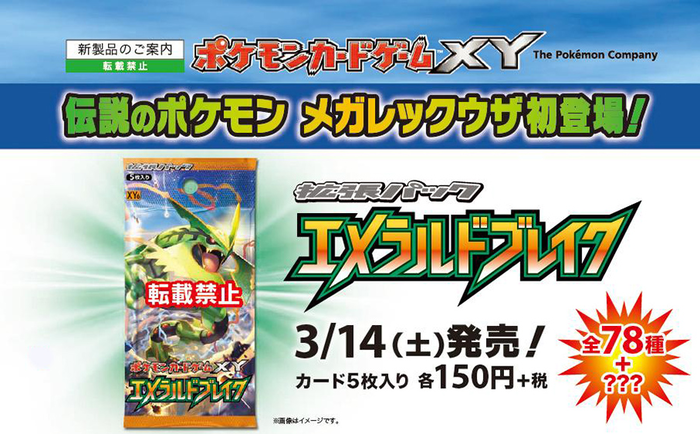 Article edited on 2014-12-10 06:20:08 by Sunain
Dec 09
The Pokémon Company International in conjunction with GameStop have announced a new sweepstakes promotion for residents of the United States. From December 8th, 2013 until December 31th, 2014, patrons of GameStop will receive a code on their receipt when they purchase any participating Pokémon product at GameStop. Patrons can then enter the code at the MegaStop website and can unlock cool stuff for the Pokémon TCG Online.
Each code unlocks a digital booster pack from the latest expansion,
Pokémon TCG: XY Phantom Forces
, plus a deck box and matching card sleeves with 1 of 4 cool Mega Evolution designs. Each code also enters people into the MegaStop Sweepstakes, where they could win a limited edition Nintendo 3DS XL system with a special design. Those that enter two or more receipt codes before January 15, 2015 are eligible to win a VIP trip for four to Hawaii.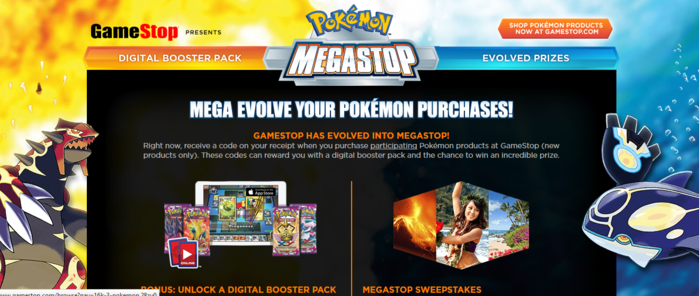 The following products are eligible for a code:
TRADING CARD GAME: Pokémon TCG XY1 Booster, Pokémon TCG XY2 Booster, Pokémon TCG XY3 Booster, Pokémon XY4 Booster, Pokémon TCG XY4 Deck, Pokémon EX Power Tins, Pokémon XY4 PreviewPak
TOYS: Pikachu 8in Plush, Squirtle 8in Plush, Bulbasaur 8in Plush, Charmader 8in Plush, Pokémon 1 Pack Mega Figure, Pokémon XY 2 Pack Figures, Pokémon XY Plush, 3.5in Pokémon Keychains, 18in Pokémon Plush, Pokémon XY Articulated Figures, Clip N Carry Poké Ball, Socks, Poké Ball All Over, Socks, Pikachu Chenille
STRATEGY GUIDES / ACCESSORIES: Pokémon Omega Ruby & Pokémon Alpha Sapphire: The Official Hoenn Region Strategy Guide, Pokémon X & Pokémon Y: The Official Kalos Region Pokédex & Postgame Adventure Guide, Pokémon X & Pokémon Y: The Official Kalos Region Guidebook, Poké Ball Zip Case
VIDEO GAMES: Pokémon X, Pokémon Y, Pokémon Omega Ruby, Pokémon Alpha Sapphire, Pokémon Art Academy, Pokémon Black, Pokémon Black Version 2, Pokémon Conquest, Pokémon HeartGold, Pokémon Mystery Dungeon: Gates to Infinity, Pokémon Ranger: Guardian Signs, Pokémon Rumble Blast, Pokémon SoulSilver, Pokémon Trozei, Pokémon White, Pokémon White Version 2
Source:
http://www.pokemonmegastop.com/

Article edited on 2014-12-09 02:35:01 by Sunain
Nov 05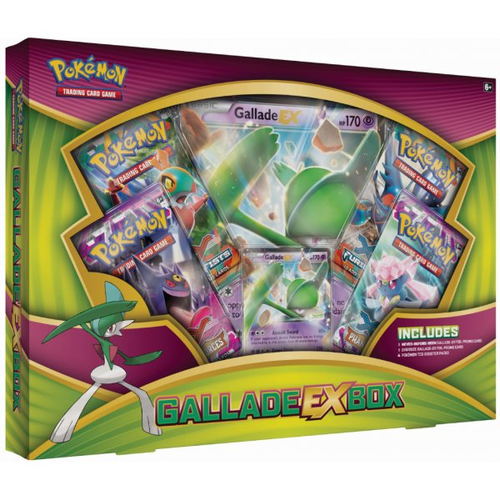 The Gallade EX Box will be released worldwide in January 2015 and will include a large Gallade card.
Gallade EX Box Product Description
Master the art of Pokémon battling with Gallade-EX! The Pokémon TCG: Gallade-EX Box shows off the skill of this swift-striking Pokémon with a never-before-seen foil card and an awesome oversize card. And of course, as a Poké-mon-EX, the steadfast Blade Pokémon is a cut above! Expand your collection with the contents of 4 Pokémon TCG booster packs, and strike swift and true with the Gallade-EX Box today!
• Gallade-EX as a never-before-seen foil card
• 4 Pokémon TCG booster packs
• A special oversize card featuring Gallade-EX
• A BONUS code card for the Pokémon TCG Online!

Article edited on 2014-11-05 01:49:33 by Sunain
Oct 31
A new 34 card set for the Japanese Pokémon Card Game has been revealed called
Magma Gang VS Aqua Gang Double Crisis (マグマ団VSアクア団 ダブルクライシス)
and it will be released on January 30th, 2015. Booster packs will include 6 cards instead of 5 which is normally the number of cards included but each booster pack will include a holo card. Booster packs will cost 186yen + tax for this set.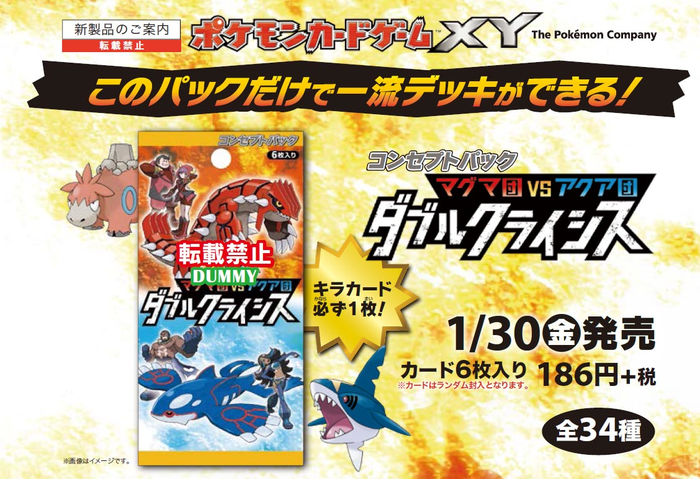 A
Double Crisis Value Set (ダブルクライシスバリューセット)
will also be released on January 30th, 2015 for 510yen plus tax. It will include: 2 Double Crisis Booster Packs, a box with Groudon/Magma Gang and Kyogre/Aqua Gang artwork and 5 Energy card.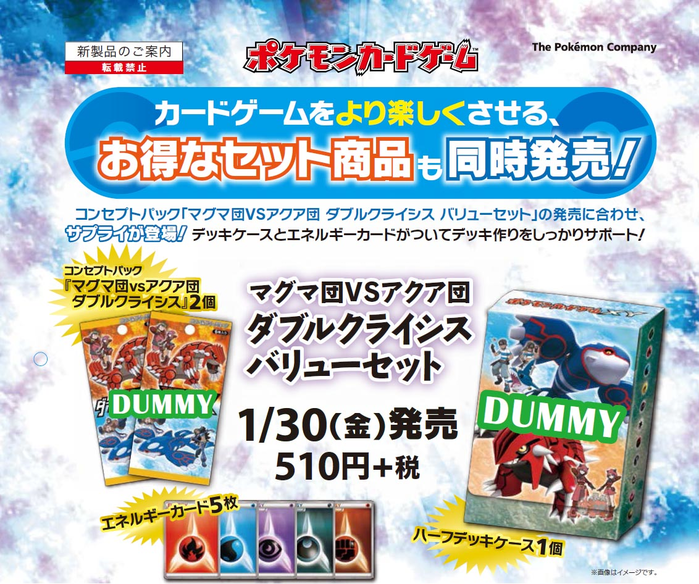 Article edited on 2014-10-31 02:29:18 by Sunain
Oct 24
Over-Lap has announced a new book called the
Pokémon Card Game Illust Collection (ポケモンカードゲーム イラストコレクション)
. The book features the history of the Pokémon Card Game from its debut in 1996 up to the present day XY series. The book will cost 2000yen plus tax and is 192 color pages. The ISBN-10: 4865540199 and the ISBN-13: 978-4865540192.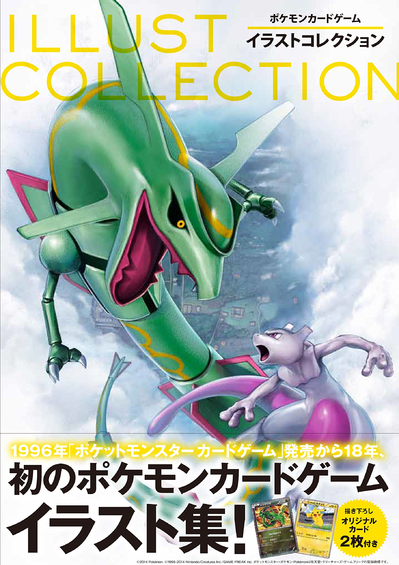 Book Features:
Over 200 carefully selected card illustrations are in the book from the more than 8,000 cards that now exist.
Learn how to draw Pokémon taught by a Professional: The process of how to draw illustrations for the Pokémon Card Game
Two Card Exclusive for the book: Rayquaza and Dress-up Pikachu Pikachu
Interview featuring the Creative Team: Mitsuhiro Arita (有田満弘), Kagemaru Himeno (姫野かげまる氏), Ken Sugimori (杉森建氏), Junichi Masuda (増田順一氏) and Ishihara Tsunekazu (石原恒和氏) [SIC]
Source:
http://over-lap.co.jp/book/card/
and
http://www.amazon.co.jp/dp/4865540199/

Article edited on 2014-10-24 03:45:54 by Sunain
Oct 19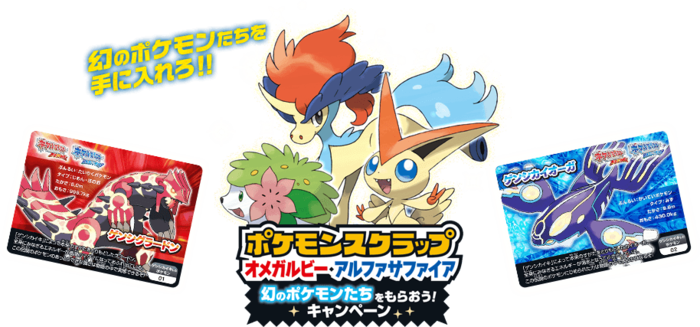 To celebrate the launch of
Pokémon Omega Ruby and Pokémon Alpha Sapphire
, beginning on
November 1st, 2014
, a new campaign called
Pokémon Scrap (ポケモンスクラップ)
will begin. Pokémon Scrap is a vouchers system and cards are included with certain physical real world Pokémon products which can be redeemed for virtual item unlocks that can be used in ORAS. Players can begin to collect the required scrap card serials starting on November 1st, 2014 but they can only be entered for redeemable ORAS codes from
December 1st, 2014 until April 30th, 2015
. Players can begin to collect over 50 different Scrap Cards. Players need to register on the official campaign site and enter their email address in order to participate.
How to Use Pokémon Scrap Cards
On the back of each scrap card is a unique serial code that can be entered on the official Pokémon Scrap campaign site. One you register the serial number, the next tier level is unlocked. Not every tier level contains an unlockable gift though. However, you won't get just one mythical Pokémon. As you collect the scraps, you'll receive up to three mythical Pokémon and five items to help you on your adventure! At each gift tier, a unique
Pokémon Omega Ruby and Pokémon Alpha Sapphire
serial code will be given which player can use to unlock the gift in the game.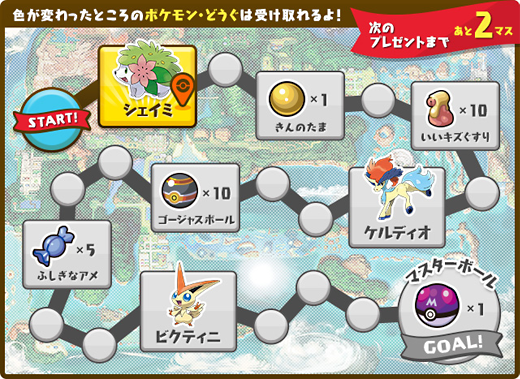 To avoid confusion, 0 (zero), 1 (one), B (Letter), I (Letter), O (Letter) and V (Letter) are not used in any
Pokémon Omega Ruby and Pokémon Alpha Sapphire
serial codes. If a code is incorrectly entered ten times, players will be locked out temporarily for 24 hours before they can try again.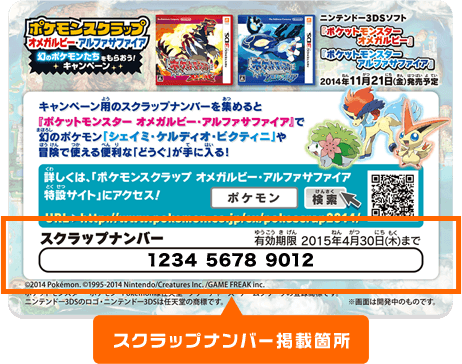 Unlockable Gifts
Each gift needs a certain number of scrap card codes entered to unlock. Shaymin requires 1, Nugget requires 3, Super Potion requires 5, Keldeo requires 7, Luxuy Ball requires 10, Rare Candy requires 13, Victini requires 16 and the Master Ball requires 20 codes.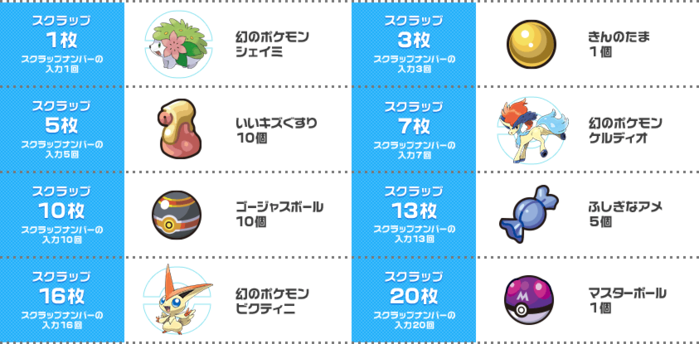 Eligible Items
The following product will contain Pokémon Scrap cards with serial numbers. Each product contains only 1 serial code.
Gaia Volcano and Tidal Storm XY TCG Booster Packs - Available starting on December 13th, 2014
PokéPan ORAS Strawberry - Specially marked packages starting November 1st, 2014
3D Pencil Case - Available in early December
Source:
http://www.pokemon.co.jp/ex/pokescrap2014/

Article edited on 2014-10-19 01:41:09 by Sunain