Latest News

01 Sep
30 Aug
29 Aug
28 Aug
24 Aug
17 Aug
News Tag Filter:
TCG
Sep 01
Japanese Pokémon Card Game retailers have revealed a new TCG pack called the
Pocket Monsters Omega Ruby Pocket Monsters Alpha Sapphire Launch Special Pack M Diancie EX (ポケットモンスターオメガルビー ポケットモンスターアルファサファイア発売記念 スペシャルパック MディアンシーEX)
. The pack will be released on November 21st, 2014 and will cost 500yen plus tax. The pack is still being advertised as part of the XY generation of cards despite being the first TCG merchandise to feature
Pokémon Omega Ruby or Pokémon Alpha Sapphire
. The pack includes: a Diancie EX card, a M Diancie EX card and 3 booster packs from the XY expansions.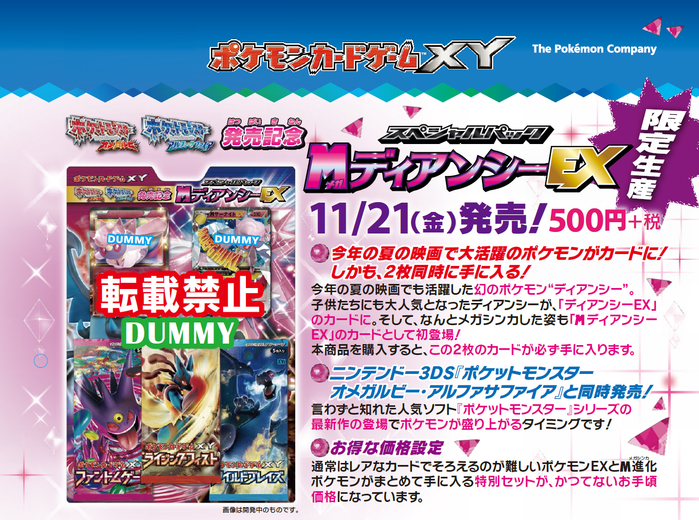 Phantom Gate Commercial
The Phantom Gate Commercial began airing over the weekend, most notably during the broadcast of
Pokémon Get TV #46
. The commercial revealed 2 new cards: Sazandora and M Livolt EX. Other cards from the set are seen in the commercial but are too hard to make out.

Article edited on 2014-09-01 04:38:00 by Sunain
Aug 30

The official Japanese Pokémon website has revealed the
Pokémon White Mega Gengar Campaign (ポケモン 白いメガゲンガーキャンペーン)
which will take place from September 13th, 2013 until October 14th, 2014. A Shiny Level 25 Gengar distribution is the highlight of the campaign. The Gengar knows the following moves:
Shadow Ball
,
Sludge Wave
,
Confuse Ray
and
Astonish
. It is holding a Gengarite allowing it to Mega Evolve and is stored in a Dusk Ball.
Sludge Wave
is a move that Gengar can't normally learn.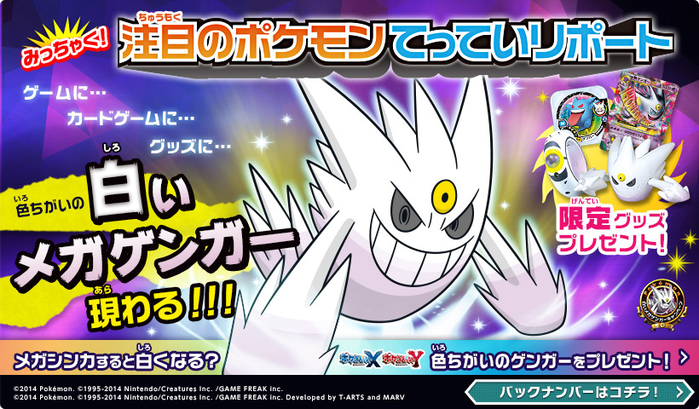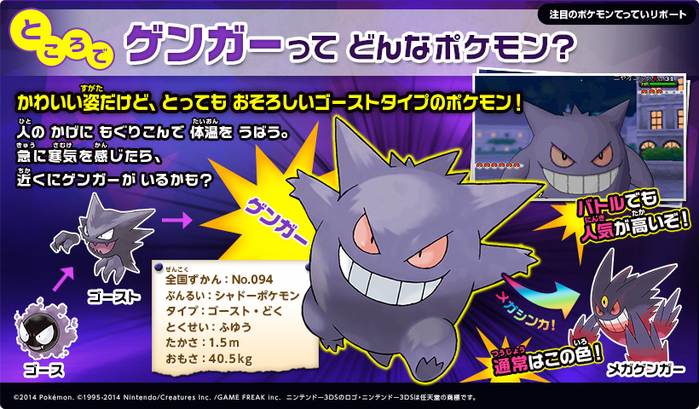 M Gengar EX (メガゲンガーEX) TCG Promo Card
Patrons of the Pokémon Centers who spend 1500yen or more before taxes on in-store merchandise can receive the
Mega Gengar EX (メガゲンガーEX)
079 promo card.
Card Name
#79: Mega Gengar EX (MゲンガーEX)
Card Type
Mega (Pokémon)
Energy Type
Species:
Gengar [Cards]
Evolves From:
Gengar
HP:
210
Weakness:
x2
Resistance:
-20
Retreat Cost:
Rarity:
None
Attack:
Hollow Geist (ホロウガイスト) - 120
Your opponent's Active Pokemon is now Poisoned and Confused.
(相手のバトルポケモンをどくとこんらんにする。)
Artist(s):
5ban Graphics
Pokémon White Mega Gengar Tretta Lottery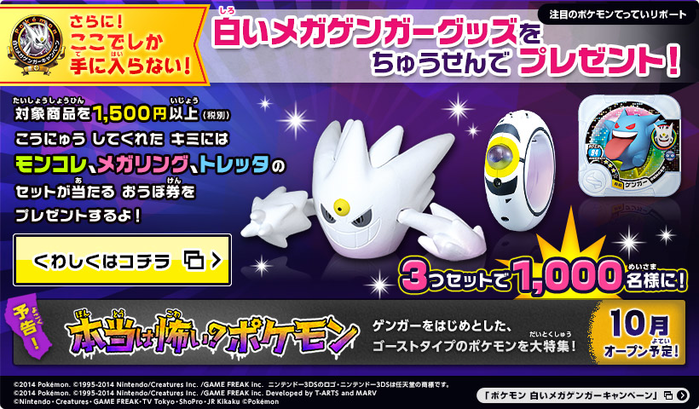 Pokémon Tretta players that purchase specially marked merchandise totaling more than 1500 yen at a participating store will receive a lottery ticket to get a special White Mega Gengar Tretta pack. 1000 lucky lottery participants will receive the pack which includes: a Monster Collection Mega Gengar (Alternate colored) figure [モンスターコレクション メガゲンガー(色違い)], Alternate Colored Mega Gengar Pokémon Mega Ring (ポケモンメガリング 色違いメガゲンガーカラー) and a Special Mega Evolution Toretta "Gengar" (White Metallic ver.) [特別なメガシンカトレッタ「ゲンガー」 (ホワイトメタリックver]
Sources:
http://www.pokemon.co.jp/ex/white-gengar/campaign.html
and
http://www.pokemon.jp/#/contents/game/pickup_07/

Article edited on 2014-08-30 11:43:05 by Sunain
Aug 29
McDonalds Australia has announced that they will be packaging Pokémon XY toys with their Happy Meals. The
Pokémon Battle Launchers that were released in the United States earlier in the year
will be released in Australia now although only 8 toys will be distributed but all 12 TCG cards will be available to collect. The Pokémon XY Happy Meals are available now at participating McDonalds locations while supplies last.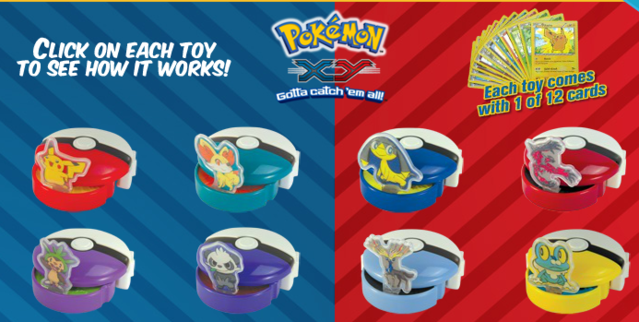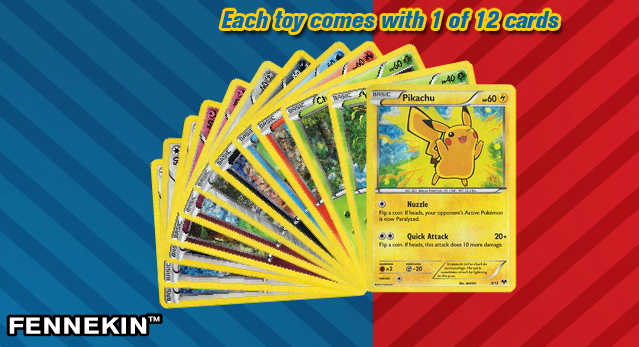 Source:
http://www.happymeal.com.au/en_AU/index.html#/Toys

Article edited on 2014-08-29 03:33:37 by Sunain
Aug 28
Two new Pokémon TCG products will be released in the upcoming months. The Collector Chest which features the artwork of Primal Groudon and Primal Kyogre will be released in November 2014 while the previously revealed Pokémon TCG: Ancient Power Box has been announced to be released in September 2014.
Pokémon TCG: Collector Chest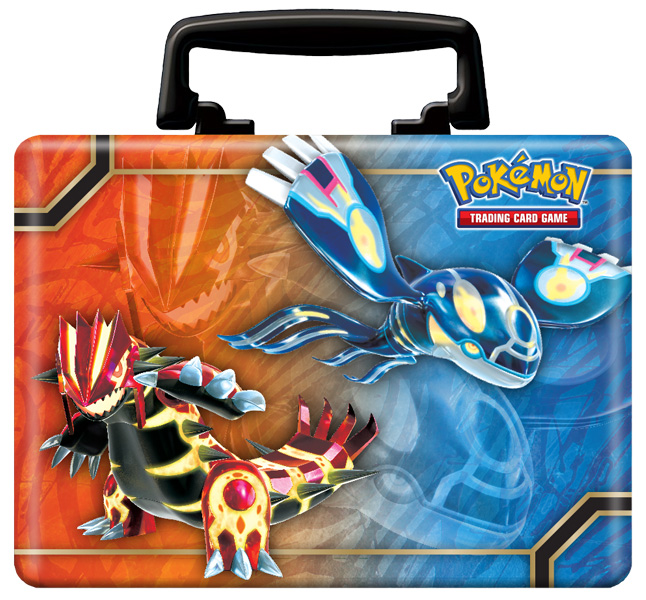 Carry your collection anywhere, or share a giant Pokémon grab bag with a fan! This sturdy metal case contains a variety of special Pokémon treasures, including many not found anywhere else.
The Pokémon TCG: Collector Chest includes:
5 Pokémon TCG booster packs
3 foil preview cards featuring Treecko, Torchic, and Mudkip
A cool Pokémon coin
2 sticker sheets including Legendary Pokémon
A mini album to store your favorite cards
A Pokémon notepad
4 pencils with a unique Pokémon design
A bonus code card for the Pokémon TCG Online
Pokémon TCG: Ancient Power Box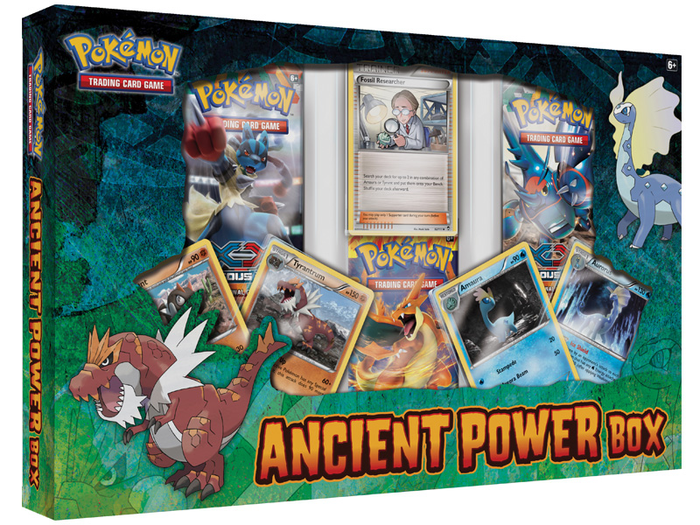 ANCIENT POWER FROM THE DAWN OF TIME! Draw strength from the ancient world with the amazing secrets of fossil Pokémon! This exciting collection brings new Pokémon discoveries to light, featuring the crushing power of Tyrunt and Tyrantrum, plus the icy chill of Amaura and Aurorus! Get all 4 Pokémon as special foil cards, plus a foil Fossil Researcher card to get them into play quickly and easily! And that's not all: the Ancient Power Box also digs deep to expand your collection with 3 Pokémon TCG booster packs—because it's time for long-buried secrets to see the light!
Each Pokémon TCG: Ancient Power box contains:
3 Pokémon TCG Booster Packs!
4 special foil cards featuring Fossil Pokémon
1 Special foil trainer card!
A quick guide to get you started!
Aug 24
Pokémon TCG vendors have received the sell sheet for the
Battle Arena Decks – Xerneas vs. Yveltal
which will be released on October 22nd, 2014. The product code is: 290-10944. The UPC is: 0-820650-109447. MSRP: $29.99 USD each
Pokémon TCG: Battle Arena Decks – Xerneas vs. Yveltal Sell Sheet Information
WHEN LEGENDS CLASH, PLAYERS WIN Pokémon TCG Battle Arena Decks bring you two ready-to-play decks with cards worthy of a champion: new foil promo versions of Xerneas and Yveltal, plus powerful attack-boosting cards to fuel Yveltal's all-out assaults and sharp defensive cards that will keep Xerneas one leap ahead. The premium Battle Arena cards will get players and collectors hungry for these special decks!
Pokémon TCG Battle Arena Decks: Xerneas vs. Yveltalincludes t wo 60-card decks, all the accessories needed to play, plus a special Quick Guide full of gameplay tips and tricks. In each box, you'll find:
• 2 60 Pokémon card decks, including 2 never-before- seen foil cards featuring Xerneas and Yveltal
• 20 foil cards in all
• 2 metallic coins
• 2-player playmat and rulesheet
• 1 code card to play these decks online
• 2 deckboxes
• 2 sets of damage counters
• 1 Quick Guide

Article edited on 2014-08-24 04:41:52 by Sunain
Aug 17

The 2014 Pokémon World Champions were crowned on August 17th, 2014 for both the Video Game and TCG tournaments. No details about the location for next years Worlds location was announced which is usually revealed during the closing ceremonies. There was also no new information for upcoming games.
Video Game Champions
Kota Yamamoto
Nikolai Zielinski
Se Jun Park
Pokémon Video Game World Champion
Junior Division
Kota Yamamoto (Japan)
Pokémon Video Game World Champion
Senior Division
Nikolai Zielinski (US)
Pokémon Video Game World Champion
Masters Division
Se Jun Park (Korea)
TCG Champions
Haruto Kobayashi
Trent Orndorff
Andrew Estrada
Pokémon TCG World Champion
Junior Division
Haruto Kobayashi (Japan)
Pokémon TCG World Champion
Senior Division
Trent Orndorff (US)
Pokémon TCG World Champion
Masters Division
Andrew Estrada (Canada)
Source:
http://www.pokemon.com/us/pokemon-news/the-new-pokemon-world-champions-have-been-crowned/

Article edited on 2014-08-18 12:30:10 by Sunain