Latest News

24 Aug
17 Aug
15 Aug
13 Aug
03 Aug
News Tag Filter:
TCG
Aug 24
Pokémon TCG vendors have received the sell sheet for the
Battle Arena Decks – Xerneas vs. Yveltal
which will be released on October 22nd, 2014. The product code is: 290-10944. The UPC is: 0-820650-109447. MSRP: $29.99 USD each
Pokémon TCG: Battle Arena Decks – Xerneas vs. Yveltal Sell Sheet Information
WHEN LEGENDS CLASH, PLAYERS WIN Pokémon TCG Battle Arena Decks bring you two ready-to-play decks with cards worthy of a champion: new foil promo versions of Xerneas and Yveltal, plus powerful attack-boosting cards to fuel Yveltal's all-out assaults and sharp defensive cards that will keep Xerneas one leap ahead. The premium Battle Arena cards will get players and collectors hungry for these special decks!
Pokémon TCG Battle Arena Decks: Xerneas vs. Yveltalincludes t wo 60-card decks, all the accessories needed to play, plus a special Quick Guide full of gameplay tips and tricks. In each box, you'll find:
• 2 60 Pokémon card decks, including 2 never-before- seen foil cards featuring Xerneas and Yveltal
• 20 foil cards in all
• 2 metallic coins
• 2-player playmat and rulesheet
• 1 code card to play these decks online
• 2 deckboxes
• 2 sets of damage counters
• 1 Quick Guide

Article edited on 2014-08-24 04:41:52 by Sunain
Aug 17

The 2014 Pokémon World Champions were crowned on August 17th, 2014 for both the Video Game and TCG tournaments. No details about the location for next years Worlds location was announced which is usually revealed during the closing ceremonies. There was also no new information for upcoming games.
Video Game Champions
Kota Yamamoto
Nikolai Zielinski
Se Jun Park
Pokémon Video Game World Champion
Junior Division
Kota Yamamoto (Japan)
Pokémon Video Game World Champion
Senior Division
Nikolai Zielinski (US)
Pokémon Video Game World Champion
Masters Division
Se Jun Park (Korea)
TCG Champions
Haruto Kobayashi
Trent Orndorff
Andrew Estrada
Pokémon TCG World Champion
Junior Division
Haruto Kobayashi (Japan)
Pokémon TCG World Champion
Senior Division
Trent Orndorff (US)
Pokémon TCG World Champion
Masters Division
Andrew Estrada (Canada)
Source:
http://www.pokemon.com/us/pokemon-news/the-new-pokemon-world-champions-have-been-crowned/

Article edited on 2014-08-18 12:30:10 by Sunain
Aug 15
On Friday August 15th, 2014, The Pokémon Company International revealed that the Pokémon Trading Card Game would be ported to Apple's iPad as an app. Full details will be revealed at a later time but it has been confirmed that the app will be released in late 2014. People attending the Pokémon World Championships can get a first look at the app on the iPad. Currently the digital version of the game is available to play on Windows PC's and Apple's Mac OS X.

Article edited on 2014-08-15 10:46:27 by Sunain
Aug 15
The Associated Press interviewed The Pokémon Company International's Spokesman Rob Novickas who revealed that the tournament has given out over two million dollars in scholarships since 2004. Thousands of Pokémon Trading Card and Video Game fans have flocked to Washington D.C. to battle it out for a chance at the invitation-only Pokémon World Championships.
The 2013 Juniors Video Game World Champion Brendan Zheng was interviewed and stated he was a bit nervous this time and was more prepared than he was at nationals as he build his team the day before for that tournament. He has spent two or three weeks building his team for worlds. 2013 Masters Video Game World Champion Arash Ommati was also interviewed briefly and he said he likes to work a lot and will do his best when the competition starts.
Associated Press Interview Video
Source:
https://www.youtube.com/watch?v=0BYEd81dyvo

Article edited on 2014-08-15 05:46:22 by Sunain
Aug 13
To celebrate the release of the latest Pokémon TCG expansion set
Furious Fists
, the official TCG website has created the
Fighting-Type Face-Off!
Each week from August 12th, 2014 until September 23rd, 2014, visitors can vote for their favorites.
Source:
http://www.pokemontcgxy.com/en-us/fighting-type-face-off

Article edited on 2014-08-13 11:54:56 by Sunain
Aug 03
The XY TCG expansion
Furious Fists
will be released on August 13th, 2014 and it has been revealed that 2 new blister packs will also be released on that day. The XY 14 promo card Trevenant pack also comes with a Xerneas coin while the XY 15 promo card Slurpuff pack comes with a Yveltal coin.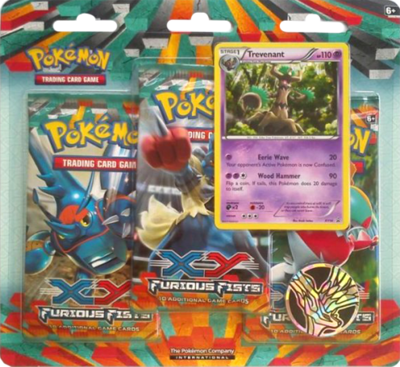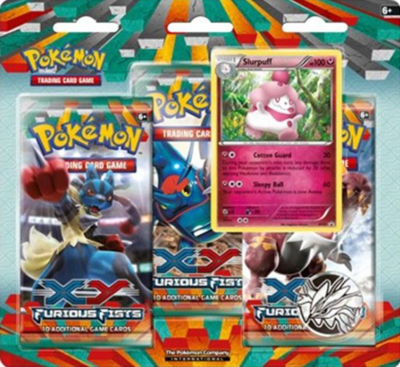 Article edited on 2014-08-03 11:12:58 by Sunain