News Tag Filter:
TCG
Nov 05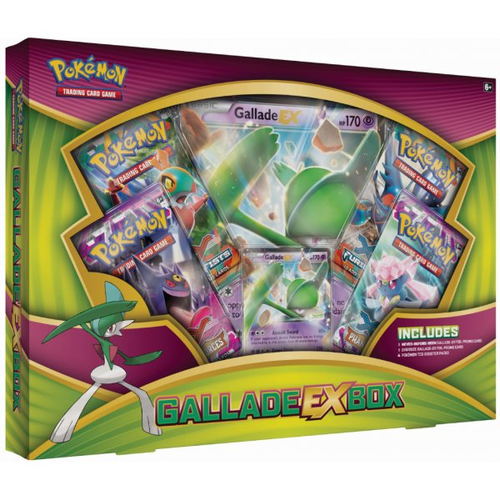 The Gallade EX Box will be released worldwide in January 2015 and will include a large Gallade card.
Gallade EX Box Product Description
Master the art of Pokémon battling with Gallade-EX! The Pokémon TCG: Gallade-EX Box shows off the skill of this swift-striking Pokémon with a never-before-seen foil card and an awesome oversize card. And of course, as a Poké-mon-EX, the steadfast Blade Pokémon is a cut above! Expand your collection with the contents of 4 Pokémon TCG booster packs, and strike swift and true with the Gallade-EX Box today!
• Gallade-EX as a never-before-seen foil card
• 4 Pokémon TCG booster packs
• A special oversize card featuring Gallade-EX
• A BONUS code card for the Pokémon TCG Online!

Article edited on 2014-11-05 01:49:33 by Sunain
Oct 31
A new 34 card set for the Japanese Pokémon Card Game has been revealed called
Magma Gang VS Aqua Gang Double Crisis (マグマ団VSアクア団 ダブルクライシス)
and it will be released on January 30th, 2015. Booster packs will include 6 cards instead of 5 which is normally the number of cards included but each booster pack will include a holo card. Booster packs will cost 186yen + tax for this set.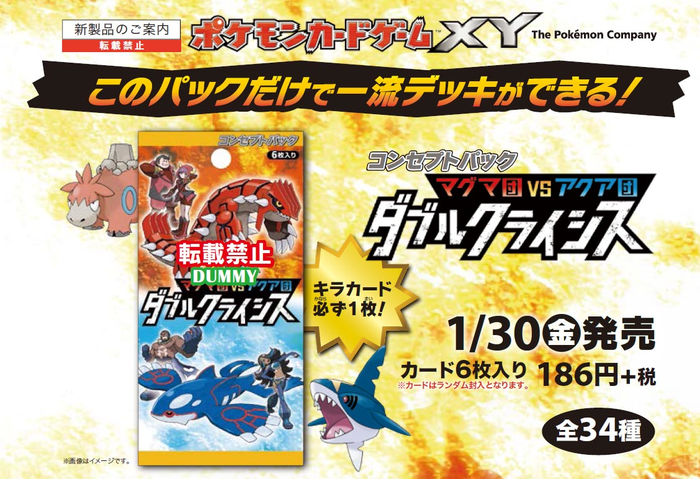 A
Double Crisis Value Set (ダブルクライシスバリューセット)
will also be released on January 30th, 2015 for 510yen plus tax. It will include: 2 Double Crisis Booster Packs, a box with Groudon/Magma Gang and Kyogre/Aqua Gang artwork and 5 Energy card.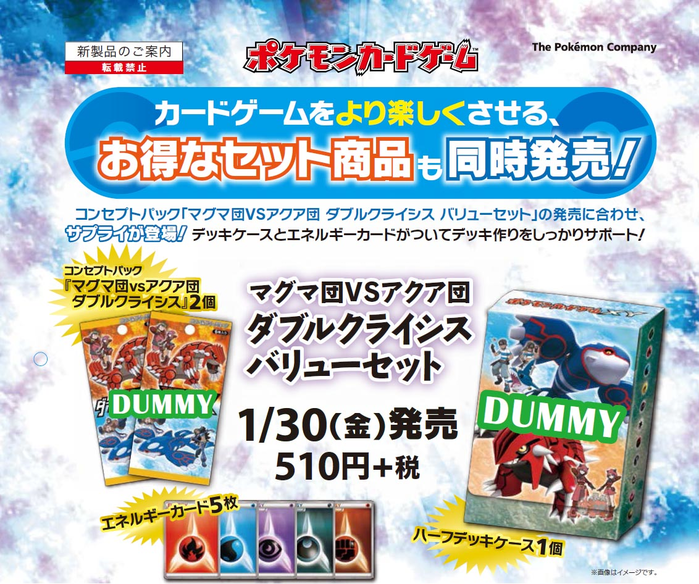 Article edited on 2014-10-31 02:29:18 by Sunain
Oct 24
Over-Lap has announced a new book called the
Pokémon Card Game Illust Collection (ポケモンカードゲーム イラストコレクション)
. The book features the history of the Pokémon Card Game from its debut in 1996 up to the present day XY series. The book will cost 2000yen plus tax and is 192 color pages. The ISBN-10: 4865540199 and the ISBN-13: 978-4865540192.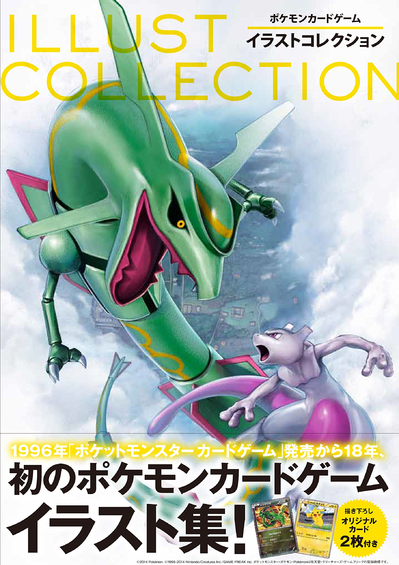 Book Features:
Over 200 carefully selected card illustrations are in the book from the more than 8,000 cards that now exist.
Learn how to draw Pokémon taught by a Professional: The process of how to draw illustrations for the Pokémon Card Game
Two Card Exclusive for the book: Rayquaza and Dress-up Pikachu Pikachu
Interview featuring the Creative Team: Mitsuhiro Arita (有田満弘), Kagemaru Himeno (姫野かげまる氏), Ken Sugimori (杉森建氏), Junichi Masuda (増田順一氏) and Ishihara Tsunekazu (石原恒和氏) [SIC]
Source:
http://over-lap.co.jp/book/card/
and
http://www.amazon.co.jp/dp/4865540199/

Article edited on 2014-10-24 03:45:54 by Sunain
Oct 19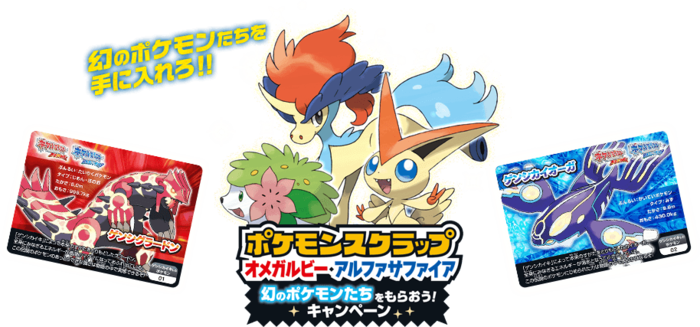 To celebrate the launch of
Pokémon Omega Ruby and Pokémon Alpha Sapphire
, beginning on
November 1st, 2014
, a new campaign called
Pokémon Scrap (ポケモンスクラップ)
will begin. Pokémon Scrap is a vouchers system and cards are included with certain physical real world Pokémon products which can be redeemed for virtual item unlocks that can be used in ORAS. Players can begin to collect the required scrap card serials starting on November 1st, 2014 but they can only be entered for redeemable ORAS codes from
December 1st, 2014 until April 30th, 2015
. Players can begin to collect over 50 different Scrap Cards. Players need to register on the official campaign site and enter their email address in order to participate.
How to Use Pokémon Scrap Cards
On the back of each scrap card is a unique serial code that can be entered on the official Pokémon Scrap campaign site. One you register the serial number, the next tier level is unlocked. Not every tier level contains an unlockable gift though. However, you won't get just one mythical Pokémon. As you collect the scraps, you'll receive up to three mythical Pokémon and five items to help you on your adventure! At each gift tier, a unique
Pokémon Omega Ruby and Pokémon Alpha Sapphire
serial code will be given which player can use to unlock the gift in the game.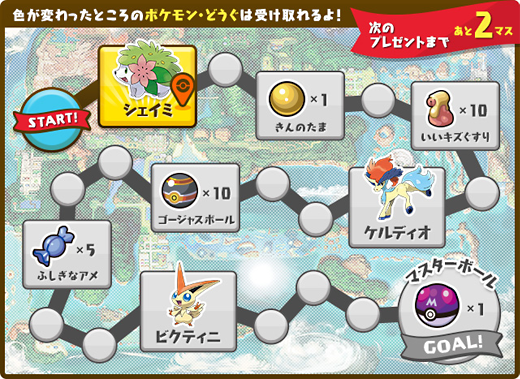 To avoid confusion, 0 (zero), 1 (one), B (Letter), I (Letter), O (Letter) and V (Letter) are not used in any
Pokémon Omega Ruby and Pokémon Alpha Sapphire
serial codes. If a code is incorrectly entered ten times, players will be locked out temporarily for 24 hours before they can try again.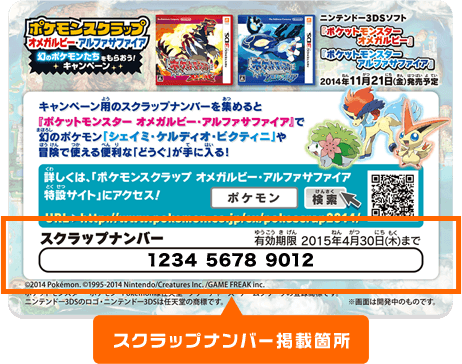 Unlockable Gifts
Each gift needs a certain number of scrap card codes entered to unlock. Shaymin requires 1, Nugget requires 3, Super Potion requires 5, Keldeo requires 7, Luxuy Ball requires 10, Rare Candy requires 13, Victini requires 16 and the Master Ball requires 20 codes.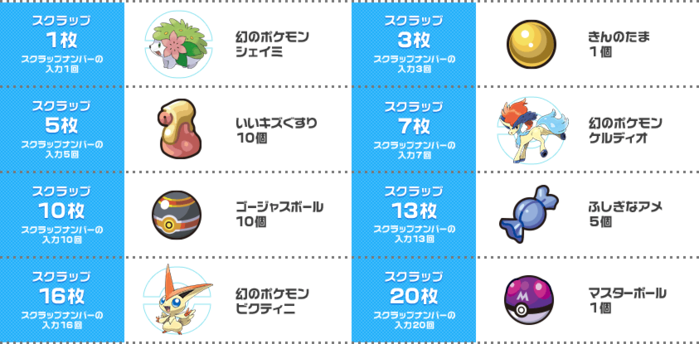 Eligible Items
The following product will contain Pokémon Scrap cards with serial numbers. Each product contains only 1 serial code.
Gaia Volcano and Tidal Storm XY TCG Booster Packs - Available starting on December 13th, 2014
PokéPan ORAS Strawberry - Specially marked packages starting November 1st, 2014
3D Pencil Case - Available in early December
Source:
http://www.pokemon.co.jp/ex/pokescrap2014/

Article edited on 2014-10-19 01:41:09 by Sunain
Oct 10
The Pokémon Company International announced a lot of new license deals with merchandise companies today in Europe. Below is the press release with the full details.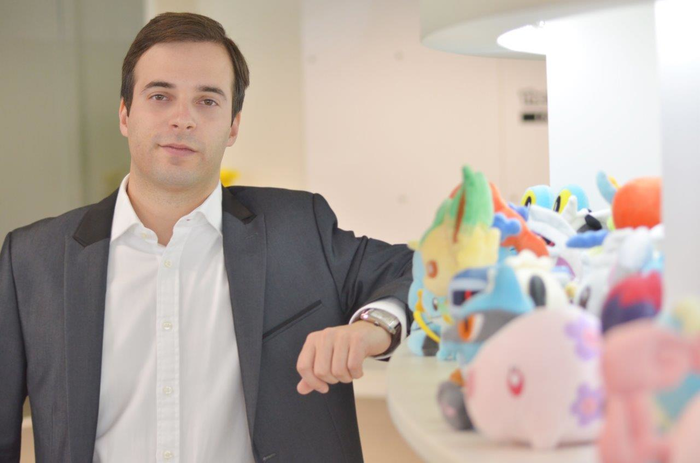 European Licensing Programme takes shape with new team at The Pokémon Company International
Evergreen brand going strong with the launch of Pokémon Omega Ruby and Pokémon Alpha Sapphire on November 28, multimillion-euro marketing campaign planned, and numerous licensees on board London, UK—October 6, 2014—The Pokémon Company International announced today several new deals with European licensees. Ten new deals have been confirmed with players as diverse as:
· Arguydal: Food & Drinks
· Aventure Diffusion: Footwear
· Bon Bon Buddies: Confections
· Cartorama: Back-to-School Supplies
· Fashion UK: Apparel
· GB eye: Posters, Wall Art & Accessories
· HORI: Video Game Accessories
· RDS Industries: Video Game Accessories
· Vadobag: Back-to-School Supplies
· Winning Moves: Board Games
These new European licensees join existing partners such as global master toy partner TOMY, whose range includes figures, feature figures, role play and plush, Ultra PRO for trading card game accessories, Sun City for apparel, CTI for bedding, and CyP for back-to-school supplies.
The recent wave of partnerships was spearheaded by a newly established European Market Development team at The Pokémon Company International in London, responsible for licensing, retail, and brand promotions across the continent. The team is headed by Mathieu Galante and has just been expanded by the arrival of Samantha Mortimore and Romina Ialongo. The team will be meeting prospective partners throughout the Brand Licensing Europe 2014 expo at The Pokémon Company International Stand (F070).
"Following the enormous success of Pokémon X and Pokémon Y, which launched on Nintendo 3DS a year ago, and the subsequent introduction of the latest Trading Card Game generation, Pokémon TCG: XY, we're enjoying a large resurgence in sales and interest in the brand. And across CITV, Netflix, and Disney XD and on iTunes, the TV show is being watched by a huge and ever-growing following," said Marketing Director Anthony Cornish.
"The newly expanded Market Development team, based in our European headquarters in Chiswick, has been hard at work bringing on board new partners, and we're very excited to announce the first wave of new partners who will help us bring world-class consumer products to our passionate fans," added Mathieu Galante, Senior Manager of Marketing Development.
The expansion of the European licensing programme follows a period of growth for the Pokémon brand globally. Pokémon has enjoyed a stellar year following the launch of Pokémon X and Pokémon Y in October 2013 with combined sales of nearly 12 million copies globally in the first four months. Today it is one of the most successful video game franchises of all time, with more than 260 million games sold worldwide since its launch in 1996.
The Pokémon Trading Card Game perennially remains the market leader in trading card games worldwide—more than 21.5 billion cards have been shipped to 74 countries in 10 languages. Recent NPD reports from the UK market have suggested that sales of the Pokémon Trading Card Game (TCG) have risen in 2014 by 51%. New Pokémon TCG expansions launch regularly throughout the year, and the next expansion, Pokémon TCG: XY—Phantom Forces, is set to hit stores in early November.
Future projects for The Pokémon Company International and its partners include the launch of the much anticipated video games Pokémon Omega Ruby and Pokémon Alpha Sapphire for the Nintendo 3DS and Nintendo 2DS systems on November 28, 2014 . This title is a fresh take on Pokémon Ruby and Pokémon Sapphire, which launched in 2003 and were fan favourites for the Game Boy Advance system. The launch will be supported by a multimillion-euro marketing campaign.
The Pokémon Company International will be exhibiting at BLE this year at stand F070.

Article edited on 2014-10-10 02:36:25 by Sunain
Sep 27
The Pokémon Company International uploaded the
Pokémon TCG Online app
to the Apple App Store on iTunes on September 26th, 2014. The Version number is: 2.23.0 and the download size is: 504 MB. The app is free but requires iOS 7.0 or later and a compatible iPad. The app was revealed at the
2014 Pokémon World Championships
.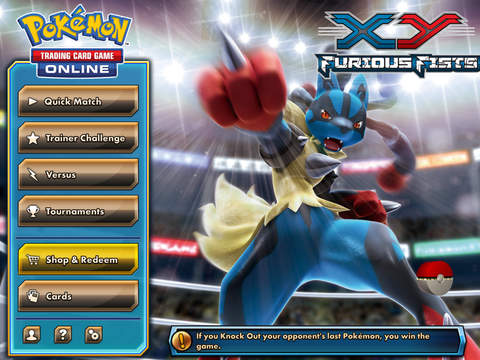 PLAY, TRADE, AND CHALLENGE OTHER PLAYERS AROUND THE WORLD
Have fun learning and mastering the Pokémon Trading Card Game Online! Practice against the computer or go head to head with your friends or other players from around the world. Unlock cards and decks as you play to build up your collection and make truly unique decks. Your decks and card collection are stored as a part of your Pokémon Trainer Club account, allowing you to switch between iPad and desktop with ease.
EASY TO START: Choose from Grass, Fire, or Water decks, step right into a game, and learn as you go in an easy play experience.
EXPAND YOUR COLLECTION: Earn cards, open booster packs, trade with other players, and build the perfect deck around your favorite cards. Your collection grows with you!
CUSTOMIZE YOUR EXPERIENCE: Build your own decks, customize the look of your cards, deck boxes, and avatar, and join your friends online.
HONE YOUR SKILLS: Play against the computer until you are ready to challenge other players.
CHALLENGE THE WORLD: When you feel your deck design is ready, challenge other players or join a tournament to show your skill and knowledge.
**An Internet connection and an iPad with Retina display (iPad mini with Retina display, iPad 3 or newer) are required for use.**
Card Languages Supported:
English
Français
Deutsch
Español (Europa)
Italiano
Português (Brazilian)
Русский
UI Languages Supported:
English
Français
Deutsch
Español (Europa)
Italiano
Português (Brazilian)
Nederlands
Svenska
Dansk
Norske
Suomi
Русский
Source:
https://itunes.apple.com/ca/app/pokemon-tcg-online/id841098932?mt=8

Article edited on 2014-09-27 12:02:16 by Sunain