Latest News

23 Sep
07 Sep
03 Sep
23 Aug
16 Aug
14 Aug
News Tag Filter:
TCG
Sep 23
The Pokémon Company International announced a new English TCG expansion called
XY BREAKthrough
which will be released on
November 4th, 2015
. The will feature cards from the upcoming XY8 expansion set
Blue Shock (青い衝撃)
and
Red Flash (赤い閃光)
which will be released in Japan on
September 26th, 2015
.

Newest expansion to the Pokémon Trading Card Game will break through in November!
New BREAK Evolution game mechanic coming to the Pokémon Trading Card Game in Pokémon TCG: XY—BREAKthrough very soon.
Pokémon TCG: XY—BREAKthrough is the newest expansion to the Pokémon Trading Card Game franchise. Booster packs and two theme decks—Burning Spark and Night Striker—will be available in stores on November 4, 2015, introducing over 160 new cards to collect and play. Pokémon BREAK Evolution opens a new path to power that builds on a Pokémon's existing strengths and creates all-new battling options! One world of technology, one world of nature, and all the wonders of BREAK Evolution are yours to explore in the Pokémon TCG: XY—BREAKthrough expansion!
Key Features of the Pokémon TCG: XY—BREAKthrough Expansion
· New BREAK Evolution game mechanic—When a Pokémon evolves into a Pokémon BREAK, it gets an HP boost and a new attack or Ability, but it also gets to keep its existing attacks! Pokémon BREAK cards have a landscape design, unique foil pattern, and uniquely rendered art.
· 6 new Pokémon BREAK including Chesnaught BREAK and Zoroark BREAK
· 8 new Pokémon-EX including 4 new Mega Evolution Pokémon, plus 20 Trainer cards, including 2 full-art rare Ultra Trainer cards
· Booster packs—Packs of 10 additional cards selected from the expansion will be available.
· Two new theme decks—These 60-card preconstructed decks are designed to introduce players to the Pokémon TCG by enabling them to play right away. Each will include 59 standard cards and 1 special foil card.
XY—BREAKthrough theme decks and booster packs each include one in-pack code card that unlocks a virtual deck or 10 virtual cards from the XY—BREAKthrough expansion in the Pokémon Trading Card Game Online at www.pokemon.co.uk/tcgo. The Pokémon TCG Online is also now available on iPad via the App Store.
The Pokémon Trading Card Game (TCG) is a collectible and competitive trading card game. In the competitive Pokémon TCG, each player constructs a deck of 60 cards and uses it to battle against other players in fast-paced, strategy-oriented play. Since the debut of the Pokémon TCG in 1996, more than 21.5 billion cards have been shipped to 74 countries around the world.

Article edited on 2015-09-23 10:18:44 by Sunain
Sep 07
The sell sheets for the 9th TCG expansion set in Japan have been released to retailers and it is called
Pokémon Gard Game - XY BREAK - Rage that Breaks the Heavens (ポケモンカードゲームXY BREAK 破天の怒り)
. The set will be released in Japan on
December 11th, 2015
and will contain at least 80 cards. This will be the second XY BREAK set in Japan
as the first BREAK set will be released later this month
. The booster packs will feature Mega Red Gyarados artwork and will cost 150yen + tax for 5 cards.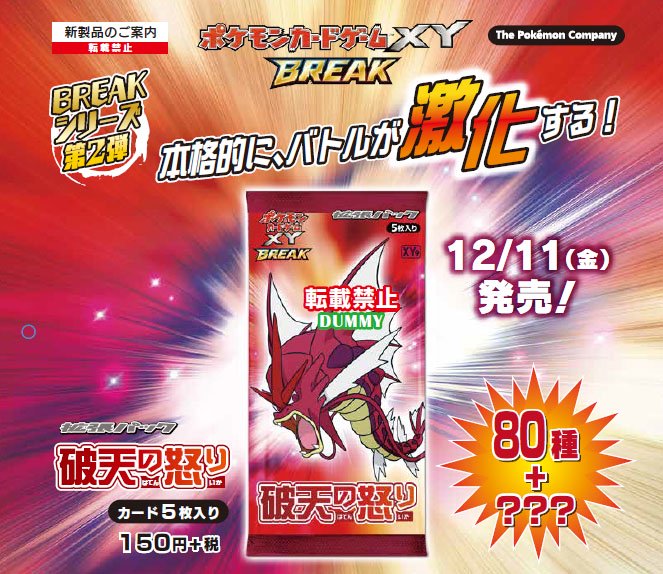 A deck box and a package of 32 card sleeves will also be released on December 11th, 2015 for 362 yen + tax each.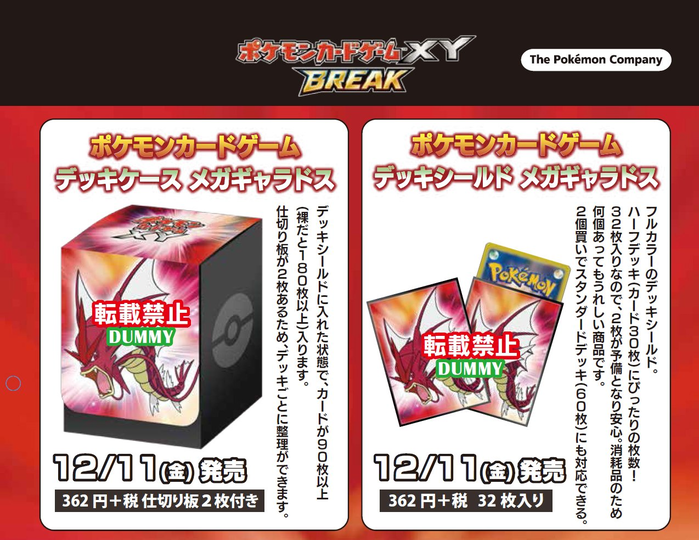 On December 26th, 2015, three Battle Strength Decks will be released that each contain 16 cards. A
Leafia
set will feature Grass and Fighting type cards, a
Thunders
set will feature Fire and Lighting type cards and a
Showers
set will feature Water and Psychic type cards. Each set will cost 650yen + tax and will come with a Pokémon EX card.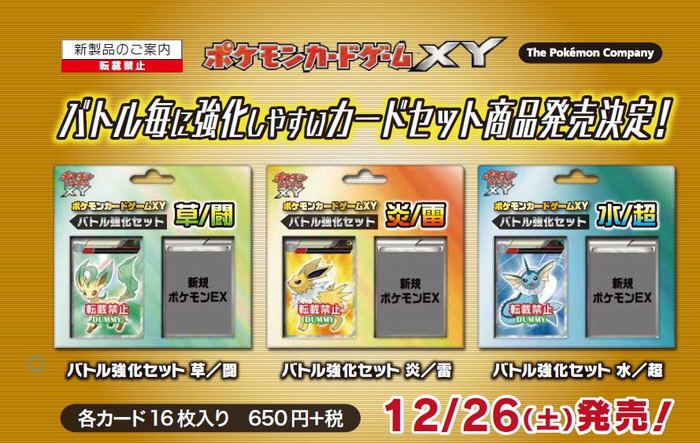 Article edited on 2015-09-07 07:12:37 by Sunain
Sep 03
The Pokémon Company International announced on the official Pokémon website that the Shiftry card from BW Next Destinies 72/99 will as of September 1st, 2015 be banned from all sanctioned Play! Pokémon tournaments that use the Expanded format. Below are the details regarding this card banning.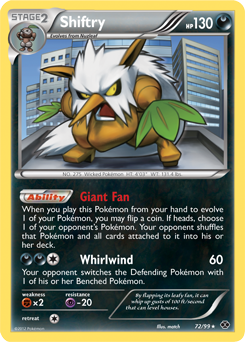 Shiftry Banned from Expanded Format
Shiftry (Black & White—Next Destinies, 72/99) is being removed from the Pokémon TCG Expanded format.
As of September 1, 2015, Shiftry will be banned from all sanctioned Play! Pokémon tournaments that use the Expanded format. This card has created an undesirable play environment because it:
Creates a strategy that frequently wins on the first turn of the game
Creates a non-interactive play environment where the opponent has little impact on the outcome of the match
Shiftry's previous Evolutions, Seedot (XY—Flashfire, 5/106) and Nuzleaf (XY—Flashfire, 6/106), are Grass-type Pokémon, so it's possible to evolve to Shiftry in one turn using the Forest of Giant Plants (XY—Ancient Origins, 74/98) Stadium card. With the help of Devolution Spray (Black & White—Dragons Exalted, 113/124), Super Scoop Up (XY—Furious Fists, 100/111), and Recycle (Black & White—Emerging Powers, 96/98), players can use the Giant Fan Ability repeatedly to get rid of all of the opponent's Pokémon—and win the game in one turn.
The Giant Fan strategy works consistently enough to cause concern. Frequent first-turn wins are a sign of an unhealthy play environment, and the Shiftry deck is capable of doing that a high percentage of the time. Since Shiftry has a clearly negative effect on the Expanded format, we feel that the best option is to ban it from that environment.
Shiftry's success does rely on a series of coin flips, so it always has some chance to fail, but cards such as Shaymin-EX (XY—Roaring Skies, 77/108) and Bicycle (Black & White—Plasma Storm, 117/135) usually provide enough drawing power to overcome a bad series of coin flips. Wobbuffet (XY—Phantom Forces, 36/119) and Baltoy (XY—Ancient Origins, 32/98) can stop the deck's strategy, but only if the opponent starts the game with one of them. Even then, the Shiftry deck can get around those Pokémon by using Lysandre (XY—Ancient Origins, 78/98) or other creative tactics.
Currently the Expanded format contains over 15 Pokémon TCG expansions. As new expansions are released, powerful card combinations with older cards may arise. Therefore, we will aggressively monitor tournament results and new expansions for any unhealthy card combinations. If any cards have a negative or centralizing effect on the metagame, we will ban them to maintain a fun and healthy play environment.
Source:
http://www.pokemon.com/us/pokemon-news/shiftry-banned-from-expanded-format/

Article edited on 2015-09-03 12:15:53 by Sunain
Aug 23
The World Finals for the TCG and Video Games championships were held on August 23rd, 2015 in Boston, MA, United States. Players from around the world competed at the tournament.
2015 Pokémon World Champions
Masters TCG Champion: Jacob Van Wagner (USA)
Senior TCG Champion: Patrick Martinez (USA)
Junior TCG Champion: Rowan Stavenow (Canada)
Masters VG Champion: Shoma Honami (Japan)
Senior VG Champion: Mark McQuillan (Great Britain)
Junior VG Champion: Kotone Yasue (Japan)
Source:
http://www.pokemon.com/us/pokemon-news/meet-the-2015-pokemon-world-champions/
Boston Police Department Thwarts Two Armed Suspects
The Boston Police Department arrested 2 suspects, 18 year old Kevin Norton and 27 year old James Stumbo from Iowa, United States for unlawful possession of a firearm, unlawful possession of ammunition and other firearm related offenses. The FBI is assisting the police department with the investigation of this matter.
The Pokemon Company said they were made aware of the threats which were posted on social media.
"Prior to the event this weekend, our community of players made us aware of a security issue. We gathered information and gave it as soon as possible to the authorities at the John B. Hynes Veterans Memorial Convention Center who acted swiftly and spearheaded communication with the Boston Police Department. Due to quick action, the potential threat was resolved. The Pokémon Company International takes the safety of our fans seriously and will continue to ensure proper security measures are a priority."
Source:
http://www.myfoxboston.com/story/29860467/2-men-arrested-with-several-guns-near-pokemon-world-championship
Update September 1st, 2015:
The two men will be held without bail for at least four months as they await trial.
2016 Pokémon World Championships - San Francisco
During the closing ceremonies, it was announced that the 2016 Pokémon World Championships will be held in San Francisco, CA, United States.
Source:
https://twitter.com/Pokemon/status/635540662088171520

Article edited on 2015-09-02 02:56:54 by Sunain
Aug 16
UK Toy Store
The Entertainer
in partnership with The Pokémon Company International is holding a special promotion for people from August 14th, 2015 until August 22nd, 2015. A special TCG Collector's Album will be available for free until August 20th, 2015. Full details are below in the press release.
Meet Pikachu, Collect Pokémon Cards, and Enjoy Late-Summer Pokémon Fun at The Entertainer!
Pick up an exclusive Pokémon TCG: XY—Ancient Origins Collector's Album at The Entertainer from August 20 whilst stocks last. Lucky customers might even discover Pikachu in the shop!
London, United Kingdom—August 14, 2015— What better way to spend the final days of the long summer holiday than collecting Pokémon cards? From August 20, Pokémon fans heading to The Entertainer can pick up an exclusive Collector's Album free of charge in which they can showcase some of their cards from the latest Pokémon Trading Card Game expansion, XY — Ancient Origins.
Budding collectors can even get their albums started by looking for special sampling packs, which include three Pokémon cards, cover-mounted onto popular children's publications including Toxic, Kick, Kraze, and National Geographic Kids, available at all good newsagents.
A very important guest will be discovered in selected Entertainer shops across the country, too, when Pikachu makes public appearances to meet kids and pose for photos!
As a precursor to the national campaign, and to celebrate the opening of the Pokémon Animation Studio at KidZania in Westfield London, Pokémon will be taking over that branch of The Entertainer! A series of special activities will run from August 14 until September 16: a bespoke shopfront takeover will be unveiled on August 14, lovingly designed to feature many fan-favourite Pokémon.
On August 15, the free Pokémon TCG: XY — Ancient Origins Collector's Album will become available early at Westfield London's The Entertainer. *
For the duration of the promotion, and also whilst stocks last, customers who present their Kidzania proof of purchase at The Entertainer's London Westfield branch will receive a free Pokémon Trading Card Game sample pack.*
Finally, fans who come to the shop on August 22 may discover a friendly Pikachu to welcome them into the shop!
This project builds on the success of a similar collaboration between The Pokémon Company International and The Entertainer that took place late last year and saw fans coming into shops to claim a free Collector's Album for the Pokémon TCG: XY — Phantom Forces expansion.
Stuart Grant, Buying Director at The Entertainer, said: "We are delighted to be working with The Pokémon Company International on a second very special promotion at our shops. This one is perfectly timed for the end of summer holiday and back-to-school period. We're particularly proud of the special window display in Westfield London, too!"
Mathieu Galante, Senior Market Development Manager at The Pokémon Company International, said: "This is a key summer promotion for us and has been especially designed in tandem with The Entertainer and Esdevium. We hope to offer a great experience to Pokémon fans and that people will enjoy meeting Pikachu in person!"
Pokémon Sampling Packs Terms and Conditions
Customers can claim their free sample pack at The Entertainer White City only
Free packs can only be claimed between 14th August 2015 – 16th September 2015
One free sampling pack per person upon presenting their Kidzania boarding card or e-ticket
Only the named person on the booking card or e-ticket can claim a free sample pack
We reserve the right to ask for proof of ID prior to giving the sample pack away
Promoters name: The Entertainer
Promoters address: The Entertainer, Boughton Business Park, Bell Lane, Little Chalfont, Bucks, HP6 6GL
Source:
http://www.thetoyshop.com/pokemontc

Article edited on 2015-08-16 07:09:54 by Sunain
Aug 14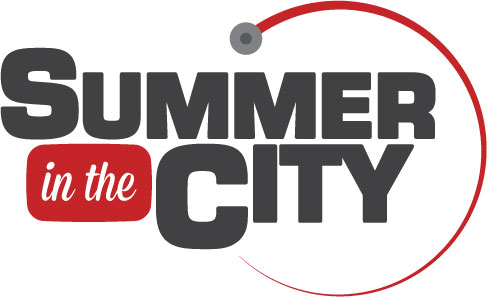 A Pikachu Spectacle at Summer in the City!
Attendees of Summer in the City will be able to discover the UK's very first live 'Horde Encounter' of Pikachu at ExCeL London on 15 August.
London, United Kingdom, August 12, 2015 - The Pokémon Company International will be attending this year's Summer in the City at Exhibition Centre London, and will be making an appearance with not just one, but five Pikachu on Saturday, 15 August.
Summer in the City is an annual event that brings together the YouTube community, ranging from creators to viewers and industry professionals. In celebration of the newly launched Pokémon Trading Game expansion, XY—Ancient Origins, attendees of the popular expo will be able to see a horde of five Pikachu making their way through the halls of ExCeL London in the afternoon.
Summer in the City 2015 will have live performances with back-to-back stage shows from a wide range of YouTube's prolific personalities, engaging discussions from panels concerning a number of current topics, and meet and greets, all on top of an expo hall packed with fun activities, merchandise tables, and sponsor stands.

Article edited on 2015-08-16 06:55:38 by Sunain