News Tag Filter:
X and Y
Oct 25
Nintendo announced on October 25th, 2013 that a patch to fix Pokémon X and Y was available to download from the eShop. The 1.1 patch fixes the bug that corrupted saves when people
saved their games in certain parts of Lumiose City (Miare City ミアレシティ)
. The patch also fixed a problem that could lead to errors when trying to use a filter on the GTS function to exchange Pokémon with players all over the world. The update requires 227 blocks.
How to Download the update
Scan one of the QR codes below with your Nintendo 3DS which is connected to the Internet. Please note that the updates are different for Pokémon X and Pokémon Y.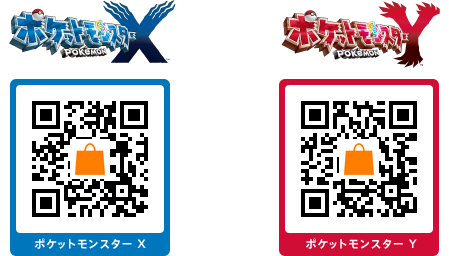 Download the update by selecting the "Pokémon X Ver 1.1 Update" or the "Pokémon Y Ver 1.1 Update". After the download completes, the update will automatically be preformed.
To confirm the patch was successful, start Pokémon X or Pokémon Y and look at the Ver. number on the bottom right corner of the lower screen. It should indicate that it is "Ver. 1.1".
Source:
http://www.nintendo.co.jp/3ds/ekjj/update/index.html
Article edited on 2013-10-25 12:28:02 by Sunain
Oct 15
Nintendo announced today that Pokémon X and Y sold over 4 million copies between October 12th, 2013 and October 13th, 2013. In September, Grand Theft Auto 5 sold 12 million copies on the first day of its release.
Pokémon X and Pokémon Y Sell More Than 4 Million Units Worldwide In First Two Days
First Pokémon RPG for Nintendo 3DS Launches Simultaneously Around the World
REDMOND, Wash., Oct. 15, 2013 – On Saturday, Oct. 12, Pokémon X and Pokémon Y for Nintendo 3DS became the first set of games in franchise history to launch simultaneously worldwide. Nintendo reported today that the games combined to sell more than 4 million units across Japan, Europe* and The Americas on Saturday, Oct. 12, and Sunday, Oct. 13.
"The early response to Pokémon X and Pokémon Y not only reaffirms the ongoing passion of Pokémon fans, but also indicates that an entirely new generation of gamers is eager to experience the franchise for itself," said Nintendo President Satoru Iwata.
Since this was the first global launch in franchise history, there isn't an exact historical precedent for comparison. However, when combining and comparing regional data for previous launches, Pokémon X and Pokémon Y would be the fastest-selling Nintendo 3DS games of all time and are tracking ahead of the last Pokémon RPG titles, Pokémon Black 2 and Pokémon White 2, by more than 70 percent.
With more than 245 million** games sold worldwide, the Pokémon franchise continues to be one of the strongest brands in the history of video games. Since 2002, five sets of Pokémon titles have combined to exceed 10 million units sold to date worldwide, with three sets combining to surpass 15 million units.
*Data from Europe primarily covers Saturday, Oct. 12, as the great majority of retail outlets are closed on Sundays across Europe.
**Pokémon global sales are based on internal sales figures, and are current as of March 31, 2013.
Source:
http://press.nintendo.com/articles.jsp?id=40736
Article edited on 2013-10-16 11:17:26 by Sunain
Oct 04
Union J
have announced that they will be changing their group name to Union XY on October 12th, 2013 to celebrate the releases of Pokémon X and Y. The UK boy band consists of: George Shelley, Josh Cuthbert, JJ Hamblett and Jaymi Hensley and was formed during the 2012 season of The X Factor UK.
Our imageboard has pictures from the press release
.
Press Release
London, UK—October 4th, 2013: In a move that reflects their enthusiasm for everything Pokémon, Union J have announced today that they will change their name to Union XY to mark the launch of the Pokémon X and Pokémon Y video games for Nintendo 3DS™, on October 12th.
For one day only, Union J will celebrate the release of Pokémon X and Pokémon Y with their name change to Union XY—a suggestion made by band member George Shelley and supported by his band mates. The official press announcement was made today (October 4th) at the Charlotte Street Hotel in London, where the band revealed the news to a packed press conference.
"We've always loved Pokémon and it was a massive part of my childhood, I'm hooked on it," explained George. "When I was telling the rest of the band how excited I was about playing Pokémon X and Pokémon Y, the idea to change our name just came to me. It's so cool to be part of the game in some way; it feels like a natural fit."
Josh, Jaymi, George, and JJ are all fans of Pokémon and are familiar with each generation of Pokémon games. During the filming of the X Factor, Josh and George brought Nintendo DS™ systems to play Pokémon Black, JJ loves Pokémon Emerald, and Jaymi's favourite game is Pokémon Crystal.
The official name change will happen on October 12th, the same day as Pokémon X and Pokémon Y release exclusively on Nintendo 3DS.
For further updates on Union XY, take a look at their Twitter page: @UnionJWorld.
Sep 30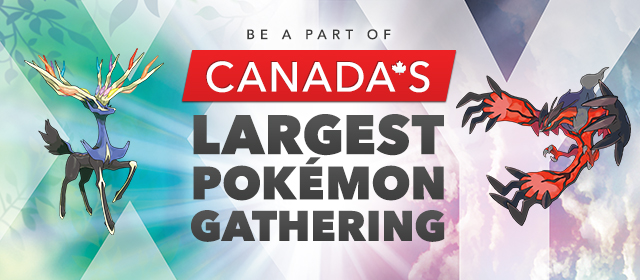 Nintendo of Canada has revealed that the official launch party for Pokémon X and Pokémon Y will be held in downtown Toronto. Below are the full details.
Press Release English
Pokémon Fans! We know you have been waiting anxiously for the worldwide launch of Pokémon X & Pokémon Y! The day is almost here and Nintendo would like to invite you to participate in Canada's Largest Pokémon X & Pokémon Y Gathering.
If you're not in the Toronto area but want to participate in a gathering near you,
click here
to find the location nearest you.
THE GATHERING WILL BE TAKING PLACE ON: October 11th from 3:00pm to 9:00pm
WestJet Stage at the Harbourfront Centre
235 Queens Quay W.
This is the first worldwide launch of a Pokémon title and we are celebrating by hosting our launch event alongside other launch events happening around the world!
When you come down, you will be able to play Pokémon X and Pokémon Y before it hits the shelves! Don't forget to bring your own Nintendo 3DS or Nintendo DS and your favourite Pokémon titles since this is a great opportunity to meet other Pokémon fans, exchange tips and maybe even trade a Pokémon or two.
Pokémon fans may walk away with an item to commemorate the launch of Pokémon X and Pokémon Y and Canada's largest Pokémon gathering! Arrive early as giveaways are limited.
In addition, if you come down dressed up as your favorite Pokémon or Trainer you may receive a Poké Ball Game Case*.
Press Release French
Avis aux fans Pokémon! Nous savons que vous attendez avec impatience la sortie mondiale de Pokémon X et Pokémon Y! Le jour J approche enfin, et Nintendo souhaite vous inviter à participer au plus grand rassemblement Pokémon X et Pokémon Y du Canada. L'événement aura lieu le 11 octobre, de 15 h à 21 h, au WestJet Stage du Harbourfront Centre, situé au 235 Queens Quay W.
Ce titre Pokémon est le tout premier de la série à bénéficier d'un lancement mondial. Nous célébrons cette occasion en organisant notre événement de lancement en même temps que d'autres événements de lancement à travers le monde!
Durant le rassemblement, vous aurez la chance de jouer à Pokémon X et Pokémon Y avant sa sortie officielle! N'oubliez pas d'emporter votre propre Nintendo 3DS ou Nintendo DS ainsi que vos titres Pokémon préférés : ce sera l'occasion idéale de rencontrer d'autres fans Pokémon, de partager des trucs et astuces et même peut-être d'échanger quelques Pokémon.
Les fans Pokémon courront la chance d'obtenir un souvenir commémorant le plus grand rassemblement Pokémon du Canada en l'honneur de la sortie de Pokémon X et Pokémon Y! Arrivez tôt : les stocks de souvenirs à donner sont limités.
De plus, si vous vous déguisez en votre Pokémon ou Dresseur préféré, vous pourriez recevoir une boîte de rangement pour cartes DS en forme de Poké Ball*.
Si vous n'habitez pas près de Toronto et que vous souhaitez participer à un rassemblement près de chez vous, cliquez ici pour trouver le point de rencontre le plus près.
Source:
http://www.nintendo.com/whatsnew/detail/8gBQNDMYXjShz1ngm5hVg5_eRsEWgdrq?country=CA&lang=en
Article edited on 2013-09-30 10:27:09 by Sunain
Sep 30
Nintendo has revealed that a Pokémon X and Pokémon Y Launch Celebration will take place
Nintendo World in New York City, New York, United States
on October 11th, 2013 from 8 p.m. to 1 a.m. TSS_Killer will be on hand to do an exclusive report for PocketMonsters.net as he was for the
Black 2 White 2 launch
.
Press Release - Celebrate And Purchase Pokémon X And Pokémon Y At Nintendo World Launch Event
On Oct. 11, from 8 p.m. to 1 a.m. at Nintendo World in New York, Nintendo is hosting an exciting Pokémon X and Pokémon Y Launch Celebration event to celebrate the release of the new Pokémon X and Pokémon Y games for the Nintendo 3DS family of systems, including the new Nintendo 2DS system. Pokémon X and Pokémon Y are the next installments in the world-famous Pokémon series. The upcoming games offer a new generation of Pokémon, new Mega Evolutions and a host of new features.
At the event, Pokémon fans will have the chance to play the games, participate in fun activities and be among the first people in the country to purchase Pokémon X and Pokémon Y. Game sales will commence at midnight, and Nintendo World will remain open through the night.
In addition to offering the games for sale, the event will feature a Pokémon costume showcase that will encourage fans dressed as their favorite characters from the Pokémon games to display their clever costumes on stage. For fans who want to participate, this is a memorable, once-in-a-lifetime opportunity to show the world their love of Pokémon.
The event will also feature a DJ playing music, Pokémon trivia, game-play kiosks featuring Pokémon X and Pokémon Y, Pikachu costumed character appearances and more. Attendees will also be able to receive Pokémon giveaways while supplies last.
The event will be the place to be for Pokémon fans excited about playing Pokémon X and Pokémon Y.
Source:
http://press.nintendo.com/articles.jsp?id=40588
Article edited on 2013-09-30 10:26:15 by Sunain
Sep 28
The official Japanese website has announced that there will be an O-Power distribution in Japan from
October 12th, 2013 until October 14th, 2013
. When O-Powers (Oパワー) are used, it allows players the ability to temporarily power up Pokémon in their party and provides other benefits such as making it easier to catch wild Pokémon or increase the Experience Points gained in battle. Three different O-Powers will be distributed.
O-Powers Being Distributed (配信するOパワーのご紹介)
O-Power
Description
Image
HP Recovery Lv.2
(HPかいふくパワー Lv.2)
Pokémon HP restoration rate increases by 50%.
(手持ちの先頭のポケモンのHPが、50回復するパワー。)
PP Recovery Lv.2
(PPかいふくパワー Lv.2)
The first 4 Pokémon on-hand receive a 10 PP increase in the amount they recover.
(手持ちの先頭のポケモンの4つのわざのPPが、それぞれ10回復するパワー。)
Prize Money Lv.2
(おこづかいパワー Lv.2)
Doubles the amount of Prize Money received from Trainer battles for three minutes.
(トレーナーとのバトルでもらえるおこづかいが、通常の2倍になるパワー。一度パワーを受け取ると、効果は3分間続くぞ!)
O-Power Distribution Locations/Times (Oパワーの配信場所)
October 12th, 2013
- All 7 Pokémon Centers (ポケモンセンター7店舗)
October 12th, 2013 to October 14th, 2013 (10am to 5pm)
Aeon Lake Town kaze (Saitama) [イオンレイクタウンkaze(埼玉県)]
Aeon Mall Musashimurayama (Tokyo) [イオンモールむさし村山(東京都)]
Aeon Mall Okazaki (Aichi) [イオンモール岡崎(愛知県)]
Aeon Mall Itami (Hyogo) [イオンモール伊丹(兵庫県)]
Aeon Mall Fukuoka (Fukuoka) [イオンモール福岡(福岡県)]
Aqua City Odaiba (Tokyo) 11am to 5pm only [アクアシティお台場(東京都) ※アクアシティお台場のみ、11~17時]
October 14th, 2013 (10am to 5pm)
Aeon Mall Natori (Miyagi) [イオンモール名取(宮城県)]
Aeon Mall Uchihara Mito (Ibaraki) [イオンモール水戸内原(茨城県)]
Aeon Mall Chiba New Town (Chiba) [イオンモール千葉ニュータウン(千葉県)]
Aeon Mall Hamamatsushitoro (Shizuoka Prefecture) [イオンモール浜松志都呂(静岡県)]
Aeon Mall Hiroshimafuchu (Hiroshima) [イオンモール広島府中(広島県)]
Source:
http://www.pokemon.co.jp/info/2013/09/130927_g01.html
Pocket Monsters XY Episode 1 Special Version [ポケットモンスター XY 第1話(特別版)]
The official Japanese XY anime TV Tokyo website has announced that a special version (特別版) of
We've Come to the Kalos Region! The Beginning of the Dream and the Adventure!! (カロス地方にやってきた! 夢と冒険のはじまり!!)
, the first episode of the new series, will be shown at various Aeon Mall locations on Monday, October 14th, 2013. The episode will premiere later in the week on October 17th, 2013.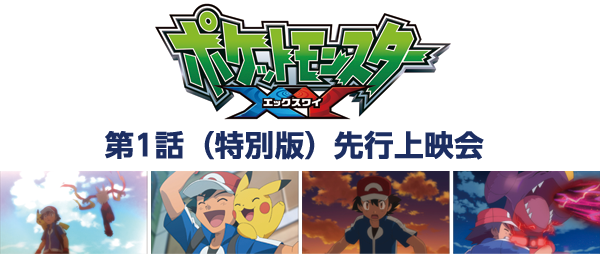 Venue Locations (開催予定会場)
Aeon Mall Natori (Natori City, Miyagi Prefecture) [イオンモール名取(宮城県名取市)]
Aeon Mall Uchihara Mito (Mito City, Ibaraki Prefecture) [イオンモール水戸内原(茨城県水戸市)]
Aeon Lake Town Kaze (Saitama Koshigaya) [イオンレイクタウンKaze(埼玉県越谷市)]
Aqua City Odaiba (Minato-ku, Tokyo) [アクアシティお台場(東京都港区)]
Aeon Mall Musashimurayama (Tokyo) [イオンモールむさし村山(東京都武蔵村山市)]
Aeon Mall Chiba New Town (Chiba Inzai) [イオンモール千葉ニュータウン(千葉県印西市)]
Aeon Mall Hamamatsushitoro (Hamamatsu City, Shizuoka Prefecture) [イオンモール浜松志都呂(静岡県浜松市)]
Aeon Mall Okazaki (Okazaki, Aichi Prefecture) [イオンモール岡崎(愛知県岡崎市)]
Aeon Mall Itami (Itami City, Hyogo Prefecture) [イオンモール伊丹(兵庫県伊丹市)]
Aeon Mall Hiroshimafuchu (Hiroshima) [イオインモール広島府中(広島県安芸郡府中町)]
Aeon Mall Fukuoka (Kasuya-gun, Fukuoka) [イオンモール福岡(福岡県糟屋郡粕屋町)]
Source:
http://www.tv-tokyo.co.jp/anime/pokemon_xy/news/index.html#153373
Article edited on 2013-09-28 11:51:52 by Sunain