News Tag Filter:
iOS
Feb 13
The official Pokémon website has revealed a new Pokémon TV app for Google Android and Apple iOS. The app allows fans to watch episodes of the Pokémon anime on their compatible Android or iOS devices. The English dub of the 15th anime short
Meloetta's Moonlight Serenade
will debut on the app.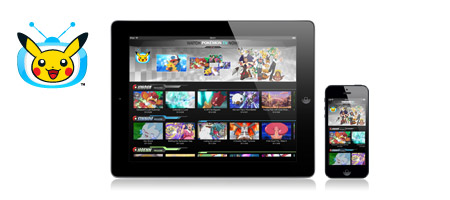 Watch Pokémon episodes on the new Pokémon TV app!
Download the Pokémon TV application today and start watching amazing Pokémon animated adventures starring Ash, Pikachu, and all their friends anywhere you can go online! Don't miss exciting special features, movies, and trailers for upcoming Pokémon movie events, too. It's the perfect app for Pokémon fans to keep up with Pokémon TV episodes!
The Pokémon TV app is available now at no charge for iPhone, iPad, and iPod touch on the App Store and for Android at the Google Play website.
This Friday, visit Pokémon TV on Pokemon.com or via the Pokémon TV mobile app to watch two amazing Pokémon specials! Don't miss the animated short feature Meloetta's Moonlight Serenade, showing in English for the very first time. You can watch this short on Pokémon TV through March 24th. Be sure to look for a sneak peek of Meloetta in its awesome Pirouette Forme!
And don't miss the latest full-length Pokémon film, Pokémon the Movie: Kyurem vs. The Sword of Justice, starring the Mythical Pokémon Keldeo and a host of cool Legendary Pokémon! The movie will be on Pokémon TV only through February 18th so catch it while you can!
Source:
http://www.pokemon.com/us/pokemon-news/anim_pokemontv_mobile_app-2013-02-12/
Trailer
Source:
http://www.youtube.com/watch?v=8SPG3hdGwW4
Dec 14
A new iOS app was released in Japan on December 13th, 2012 called the Complete Story Walkthrough Guide + Complete Pokémon National Zukan Pocket Monsters Black 2 White 2 Official Guide Books (完全ストーリー攻略ガイド+完全ポケモン全国ずかん 〜ポケットモンスターブラック2・ホワイト2 公式ガイドブック〜). The app combines the two guide books that were
released in Japan earlier in the year
. The app is 380MB and supports iPhone 3GS, iPhone 4, iPhone 4S, iPhone 5, iPod touch (3rd generation), iPod touch (4th generation) and iPod touch (5th generation) and iPad. It is also available for Android devices that have OS 2.3 and up installed. The app costs 1500 yen and is about 500 yen cheaper than the combined paper printed versions.
The app includes a special Random Display feature that will randomly display one of the 649 Pokémon. Users can tap the screen to get full details from the Zukan. It also includes an interactive table of contents and a link button to allow viewers to go to a certain page right away.
Gothimiru Dream World
Those people that purchase the app from December 13th, 2012 until August 27th, 2013 can unlock a special
Gothorita (ゴチミル)
on the Pokémon Global Link.
The Gothorita is similar to the one that was distributed with the print version of the Pocket Monsters Black 2 White 2 Official National Zukan Completion Guide (ポケットモンスターブラック2・ホワイト2 公式ぜんこく図鑑完成ガイド)
but instead of the move
Mirror Coat (ミラーコート)
it comes with the special move
Imprison (ふういん)
, a move it cannot normally know. It also comes with the Focus Band item. It still has the Hidden Ability Shadow Tag (かげふみ).

Click on images for higher resolution
Sources:
https://itunes.apple.com/jp/app/wan-quansutori-gong-egaido+wan/id581090103?mt=8
,
http://over-lap.co.jp/book/bw2ap/
and
https://play.google.com/store/apps/details?id=jp.co.over_lap.bw2

Article edited on 2012-12-14 03:32:31 by Sunain