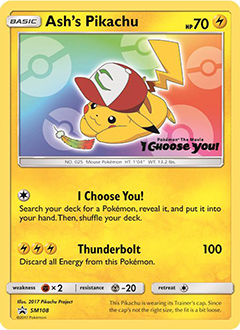 #108: Ash's Pikachu
| | |
| --- | --- |
| Card Type | Basic (Pokémon) |
| Energy Type: | |
| Species: | Pikachu [Cards] |
| HP: | 70 |
| Weakness: | x2 |
| Resistance: | -20 |
| Retreat Cost: | |
| Rarity: | Promo |
| Artist(s): | |
This Pikachu is wearing its Trainer's cap. Since the cap's not the right size, the fit is a bit loose.
For fans of the popular Pokémon Trading Card Game, those who purchased tickets for the November 5th and 6th, 2017 showings of the
20th Pokémon movie
could receive this never-before-seen Pokémon TCG card featuring Ash's Pikachu wearing its Trainer's hat, as seen in Pokémon the Movie: I Choose You! while supplies lasted.
Attacks
I Choose You!
Search your deck for a Pokémon, reveal it, and put it into your hand. Then, shuffle your deck.
100
Thunderbolt
Discard all Energy from this Pokémon.