Pokémon Card Game BW Starter Set+ / How to Play DS Announced
Posted:
18 Jun 2011 01:52 PM
Author:
Sunain
Tagged In:
TCG
The Pokémon Card Game BW Starter Set+ (ポケモンカードゲームBW はじめてセット+) has appeared on various retail shops websites. The set includes the cards from the previous Boy and Girl starter set but it also includes a Nintendo DS cartridge called
How to Play DS (あそびかたDS)
which teaches people how to play the Pokémon Card Game. The DS cartridge has the TCG rules, tutorials and a CPU battle mode. The set will go on sale in Japan on August 5th, 2011 for 2,980yen.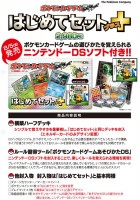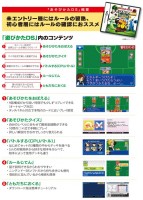 Click on images for higher resolution
The set includes:
3 x Half Decks
Damage Counters
1 x Pokémon Coin
1 x Play mat
Instruction Manual
How to Play DS (あそびかたDS) cartridge
Sources:
http://item.rakuten.co.jp/toredama/4521329108995/
and
http://tocage.jp/pages/1308200227.html
19 Jun 2011 09:47 AM

Registered Users


Joined: 08 Feb 2011
Forum Posts: 336


Quite interesting they're using a DS cartridge for the rules and tutorial. I believe it's the first time I've seen one not used for a video game.
19 Jun 2011 04:50 PM

Admin Staff


Joined: 12 Jul 2007
Forum Posts: 913


There are tons of non-game applications for the DS, particularly in Japan.