New Ending Theme - Mitemite☆Kotchitchi (みてみて☆こっちっち)
Posted:
06 May 2012 03:44 PM
Author:
Sunain
Tagged In:
Best Wishes
,
CD
The idol group
Momo-iro Clover Z (ももいろクローバーZ)
performed
Look at this (Mitemite☆Kotchitchi みてみて☆こっちっち)
live at a performance on Saturday, May 5th, 2012 at the
Toda City Culture Hall (戸田市文化会館)
. It was the 8th song in their set for the performance which had 10 songs. The song will be used as the ending theme for Pocket Monsters Best Wishes as of
BW81 - Sekka Gym Match! A Battlefield of Ice!! (セッカジム戦! 氷のバトルフィールド!!)
. It will also be the theme for the
15th Movie Short Meloetta's Sparkling Recital (メロエッタのキラキラリサイタル)
. The lyrics for the song were done by Akihito Toda (戸田昭吾) and the song was composed by Hirokazu Tanaka (田中宏和).
More images from the performance are available on the imageboard thread
.
Multiple CD's containing the song will be released in Japan on June 27th, 2012, but they will be
Momo-iro Clover Z
singles and not Pikachu Records CD's. The CD title is currently not finalized but there is track information and there will be a special Pokémon Version release. Both CD's that contain Mitemite☆Kotchitchi (みてみて☆こっちっち) will sell for 1200yen each and their catalog numbers are KICM-1400 and KICM-1401.
The CD's have been added to our database
and will be updated as information becomes available.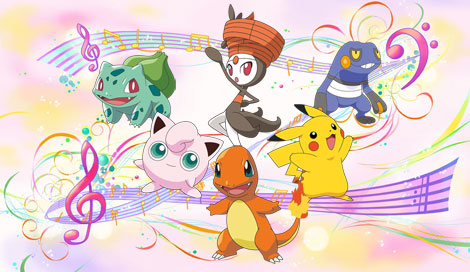 Sources:
http://www.tv-tokyo.co.jp/anime/pokemon_bw/news/index.html#128503
and
http://news.mynavi.jp/news/2012/05/06/005/