Pokémon Town Opens at Core Pacific City in Taipei, Taiwan / Taiwanese Keldeo Distribution
Pokémon Town opened on September 20th, 2012 on the 5th floor of
Core Pacific City
in Taipei, Taiwan. Pikachu was on hand for the opening celebration of the store which features genuine imported Pokémon goods from the Japanese Pokémon Center. Toys, plushies and clothes are all available for purchase at the store.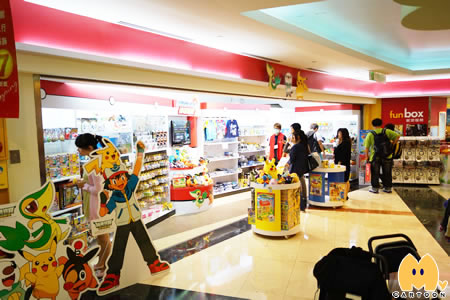 Also announced was the Taiwanese titles of the 15th movie and short.
Kyurem VS the Sacred Swordsman Keldeo (酋雷姆VS聖劍士 凱路迪歐)
and
Meloetta's Sparkling Recital (美洛耶塔的閃亮音樂會)
will premiere in theaters in Taiwan on October 5th, 2012. Keldeo is also being distributed to players of
Japanese versions
of
Pokémon Black and White (ポケットモンスター ブラック・ホワイト)
or
Pokémon Black 2 and White 2 (ポケットモンスター ブラック2・ホワイト2)
from
September 20th, 2012 until October 20th, 2012
. Players need to pre-order a ticket for the 15th movie, have a genuine cartridge of one of the games and a Nintendo DS variant.
Keldeo Distribution Locations
Location
Address
Phone
Pokémon Town Core Pacific City (5F)
京華城(5F)
Bade Road, Section 4, 5th Floor, No. 138
台北市八德路4段138號5樓
(02)3762-2051
Itabashi FE21
板橋大遠百(5F)
5th Floor, No. 28, Station Road, Banqiao District, New Taipei City
新北市板橋區新站路28號5樓
(02)2951-3309
Hsinchu Big City Mall (5F)
新竹巨城購物中心(5F)
Hsinchu City Central Road No. 229, 5th Floor
新竹市中央路229號5樓
(03)535-0236
Taichung FE21 (5F)
台中大遠百(5F)
Taichung Station Chungkang 5th Floor, No. 105, Sec.
台中市台中港路二段105號5樓
(04)2259-1960
Kaohsiung FE21 (6F)
高雄大遠百(6F)
Kaohsiung Sanduo 4th, 6th Floor, No. 21
高雄市三多四路21號6樓
(07)536-2116
Pokémon Town Grand Opening Video
Images from the grand opening of Pokémon Town have been posted on our Imageboard.
You can visit the thread by clicking here
.
Sources:
http://www.my-cartoon.com.tw/
and
http://www.my-cartoon.com.tw/pokemon/m15/download.htm
10 Oct 2012 06:10 AM

Registered Users


Joined: 08 Feb 2011
Forum Posts: 336


I wish they opened more of those elsewhere in the world... well, more like Nintendo World Centers with a Pokémon Center area.