Movie 21 Everyone's Story to Stream on YouTube for Free and New Coco Info on August 5th, 2020
Every summer, for 22 years, the Pokémon movies have been released in theatres. This year, the movie will be released in the winter. At this time, The Pokémon Company has decided to hold a free online screening of "
Pokémon the Movie: Everyone's Story
" (Directed by Tetsuo Yajima), which was released in 2018. This will be the first time in the history of the Pokémon movies that a movie will be streamed for free on the
official Japanese Pokémon YouTube channel
.
On August 5th, 2020 at 19:00 JST, the
official Japanese Pokémon YouTube channel
will be live streaming
Movie 21
and after the movie screening, a segment called
Coco Top Secret Information Revealed (ココだけマル秘情報解禁)
will be broadcast. There will be comments from special people that can only be heard here. They are going to bring you some of the best-kept secrets and more that nobody knows about yet!
Source:
https://www.pokemon-movie.jp/news/?p=3930
Update August 5th, 2020:
It was announced during the trailer that the Coco movie would now premiere on December 25th, 2020 in Japan instead of its original date of July 10th, 2020. The beginning of the trailer initially aired on Oha Suta on August 5th, 2020 but Fire Tachibana cut it off a few seconds in saying that the rest of it would air later in the day.
High quality screenshots from the Oha Suta clip have been added to an Imageboard thread
.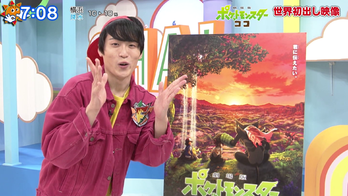 Music: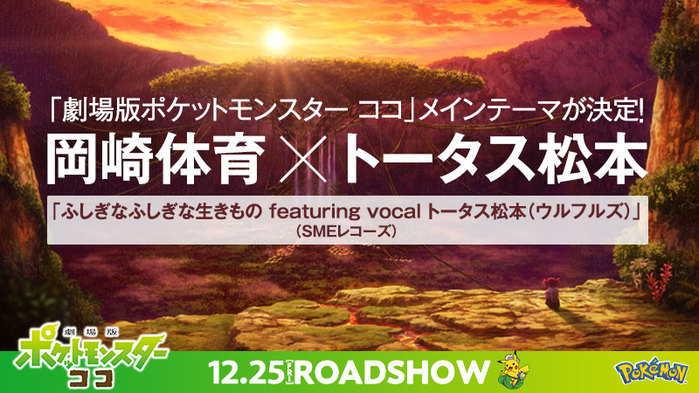 Music partially by: Okazaki Physical Education
Ending Theme: Really Mysterious Creatures (ふしぎふしぎな生き物) by
Tortoise Matsumoto (トータス松本)
and Taiiku Okazaki
Story: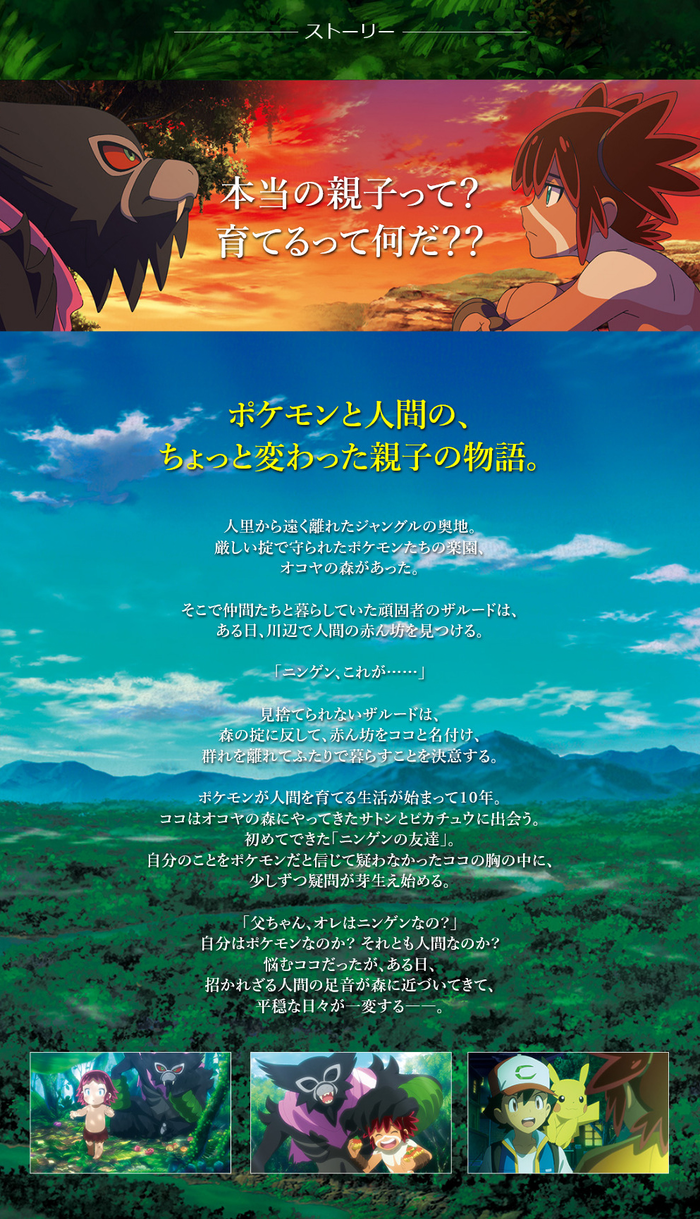 Story Outline Translation:
This is a story of a slightly unusual parent-child relationship
involving one Pokémon and one human.
In the depths of a jungle in the middle of nowhere, we find Okoya Forest,
a Pokémon paradise operating with strict laws.
The stubborn and obstinate Zarude lived there with his kin,
but one day he discovered a human baby by the riverside.
"Human, this is..."
Zarude could not allow himself to abandon it,
so he decided to disobey the law of the forest,
leave his tribe behind, and live alone with the child, whom he named Coco.
It has been 10 years since this Pokémon first started to raise this human.
Coco meets Satoshi and Pikachu as they visit Okoya Forest.
This is the first "Human friend" he has ever made.
And little by little, questions start to sprout deep in the mind of a boy
who had been fully convinced he was a Pokémon.
"Father, am I a human?"
Am I a Pokémon? Or am I a human?
As Coco ponders this, the sound of uninvited human footsteps approach Okoya Forest one day, signalizing a drastic change to the peaceful days it has thus far been enjoying.
YouTube Clip - Coco Top Secret Information Revealed
Source:
https://www.youtube.com/watch?v=-MwQRTdXdIk
YouTube Clip - Coco Trailer 2
Source:
https://www.youtube.com/watch?v=IWr67AQjMDI
YouTube Clip - Coco Teaser Trailer 3
Source:
https://www.youtube.com/watch?v=yX9Jq0tyWc8