Project Pochama - Pochama's Support Visits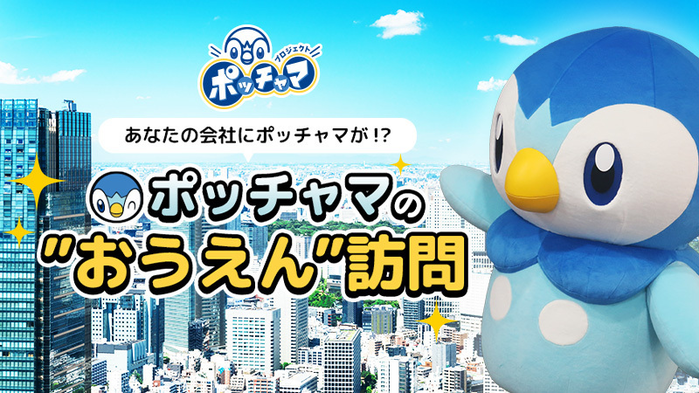 The Pokémon Company President and CEO Tsunekazu Ishihara was pleased to announce that the company will launch
Project Pochama - Pochama's Support Visits (ポッチャマの"おうえん"訪問 | プロジェクトポッチャマ)
in the spring of 2021. They will select companies to visit from among those that have applied, and Pochama will actually visit the company. Some remote visits through video conferencing are also possible.
Only the winners will be contacted by Friday, April 30th, 2021, after a selection process that takes into account various conditions such as the date, time, and the location of the visit. Thank you for your understanding in advance.
The activities with Pochama will be promoted on The Pokémon Company's Project Pochama SNS account and website. Please note that this service is available only in Japan.
Who is Pochama?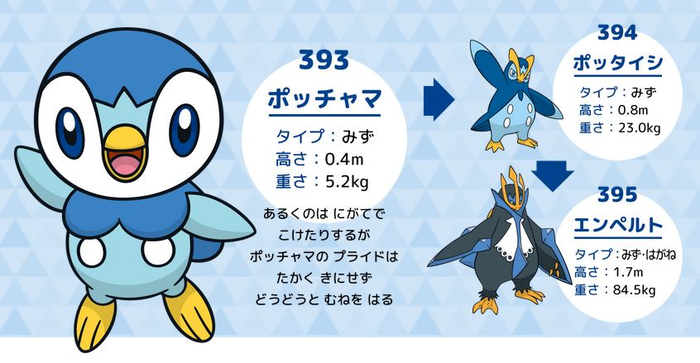 Pochama made its first appearance in the Nintendo DS games Pokémon: Diamond and Pearl which were released in 2006. It is one of the first three starter Pokémon that have the potential to become the adventurers partner, and it is the Water-type Penguin Pokémon.
What is Project Pochama?
Project Pochama is a project not only to spread the charm of Pochama to the world, but also to support your company with Pochama through various activities.
Applying:
Please fill in the required information below in an e-mail and send it to
[email protected]
, the contact address for Project Pochama at The Pokémon Company. Please apply only after obtaining prior approval from your company.
Application period: Monday, April 5th, 2021 to Monday, April 19th, 2021
Company Name
Company Address
Contact e-mail address of the person in charge
Name and title of the person who approved this application
Why do you want Pochama to come for a support visit?
Please describe in detail what you would like to do with Pochama.
For example...


"I want you to cheer up my employees who have been feeling down lately."
"I want to make a video with you."
"I want to think about new products together."
Source:
https://www.pokemon.jp/special/project_pochama/pochama-ouen/