Disc Summary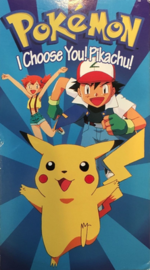 Pokémon - Vol. 01: I Choose You! Pikachu!
Audio Tracks:
English

Publisher:
Pioneer Entertainment & VIZ
Catalog #:
PIKA-0001
Release Date:
1998-11-24
Aspect Ratio:
4:3
Region Code:
Video Format:
NTSC
Storage Medium:
Closed captions?
No
Rental Only?:
No
Average Rating
Description
Discover the amazing world of Pokémon! To become the best Pokémon trainer in the world, Ash Ketchum is determined to capture all 150 of these incredible creatures. And with the help of Pikachu, his very first Pokémon, Ash quickly learns that becoming a Pokémon master is the challenge of a lifetime!

After a bumpy start, Ash and Pikachu work together as a team - just in time to foil Team Rocket's Pokémon-stealing schemes. And once Misty joins up with our heroes - the excitement never ends! You gotta catch all the action as Ash and company take us on an incredible Pokémon adventure!