Photoshop of the Month - November 2010
File:
1287689495001.jpg
(1280px x720px -384.66 KiB)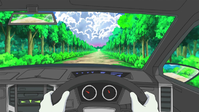 Posted by:Sunain on10/21/10 15:31:34 (No.9642)
This months Photoshop is the inside of Junsa-san' cruiser. The original pictures background of the trees and road from Best Wishes #006 looks quite bad. The trees are pasted in a perspective 2d column. I know the users here can make a more interesting background for Junsa-san to be driving around. Make it funny or realistic, or paste a weird background, it's up to you! Be creative and have fun!