Sun & Moon Unbroken Bonds
File:
15519806810031.png
(1006px x 421px - 94.23 KiB)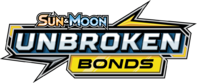 Posted by: Sunain on 03/07/19 12:44:41 (No. 29872)
Sun & Moon Unbroken Bonds
ore Pokémon battle teams await in the upcoming new expansion for the Pokémon Trading Card Game, Sun & Moon—Unbroken Bonds, releasing globally on May 3.

Showcasing the power of teamwork, Sun & Moon—Unbroken Bonds features seven brand-new pairings of powered-up Pokémon, including Reshiram & Charizard-GX, Marshadow & Machamp-GX, Gardevoir & Sylveon-GX, Greninja & Zoroark-GX, Muk & Alolan Muk-GX, and the Ultra Beasts Pheromosa & Buzzwole-GX. In addition, Lucario will partner with the recently discovered Melmetal.

Key highlights of the expansion include:

Over 210 cards
Seven new TAG TEAM Pokémon-GX
Seven more Pokémon-GX
More than 25 Trainer cards and a new Special Energy card


At launch, Sun & Moon—Unbroken Bonds will be supported in the Pokémon TCG Card Dex app, which offers an easy way to browse and discover cards from the Pokémon TCG: Sun & Moon Series.