Build-A-Bear - Psyduck and Snubbull
File:
15562831670036.jpg
(600px x 600px - 46.91 KiB)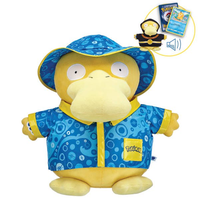 Posted by: Sunain on 04/26/19 08:52:47 (No. 30065)
https://www.buildabear.com/online-exclusive-psyduck-bundle/27358_27450_27380_27403_27571.html
Sale Price: $65.00
Psy…Psy…DUCK! Quack up some fun with the newest Water-type Pokémon at Build-A-Bear Workshop! Known for its mysterious powers, Psyduck has yellow fur, a large beak and the special ability to generate its own brain waves. This online exclusive Pokémon plush bundle includes Psyduck, Psyduck's Raincoat, a Luxury Ball Hoodie, a 6-in-1 Psyduck Sound and a Build-A-Bear Workshop Exclusive Psyduck Pokémon TCG Card! ©2019 The Pokémon Company International. ©1995–2019 Nintendo / Creatures Inc. / GAME FREAK inc. TM, ®, and character names are trademarks of Nintendo.
Price includes:
• Psyduck
• Psyduck Raincoat
• Luxury Ball Hoodie
• 6-in-1 Psyduck Sound
• Build-A-Bear Workshop Exclusive Psyduck Pokémon TCG Card