Funko WonderCon 2020 Reveal - Pichu and Eevee
File:
15846619090042.jpg
(2000px x 2000px - 322.80 KiB)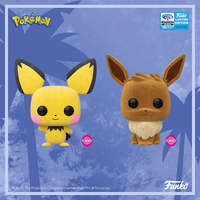 Posted by: Sunain on 03/19/20 19:51:49 (No. 32556)
Funko WonderCon 2020 Reveal - Pikachu and Eevee
https://twitter.com/OriginalFunko/status/1240699634378362881
https://www.funko.com/blog/article/wondercon-funko-virtual-con
WonderCon Anaheim 2020 has been postponed. At this time no decision has been made regarding the rescheduling of WonderCon. In an effort to keep the convention spirit alive we will be bringing you WonderCon virtually with Funko's second virtual con! Funko's WonderCon Virtual Con will take place April 10-12.
Announcements for exclusives will go live March 19th and 20th. Stay tuned for more information on when you can purchase exclusives and learn about how to play along with #FunkoVirtualCon!