figma ユウリ Yuuri / Gloria
File:
16010297330039.jpg
(800px x 450px - 88.65 KiB)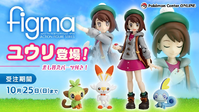 Posted by: Sunain on 09/25/20 06:28:53 (No. 33585)
https://www.pokemoncenter-online.com/?p_cd=4521329319155
figma ユウリProduct Code 4521329319155
Order Period: 2020/9/24 (Thu) 10:00 - 2020/10/25 (Sun) 23:59
Size: 12.5 x 4.4 x 3.8 cm (Yuuri body only, including hat and backpack)
Weight: Approx. 44g (Yuri body only, including cap and backpack)
Material: PVC/ABS/PP/POM
Price: 9,900 yen (tax included)
Release Date: mid-June 2021

The Pokémon trainer Yuuri, who appeared as the main character (or player) in the Pocket Monster Sword and Shield game, is now a figma figure. Various poses can be recreated using the smooth yet poseable joints. A flexible plastic material is used for various poses, allowing proportions to be maintained without compromising posability. She comes with three expressions: a standard face, a shining face and a calm, closed-eye expression. It also comes with three Pokémon to share her journey with, Sarunori, Hibanny and Messon, as well as a backpack, a monster ball and a Dynamax Band are all included. A poseable figma stand is included, which allows for a variety of action scenes to be created.