Pokémon Get TV #43
File:
16042731040019.png
(1280px x 720px - 948.99 KiB)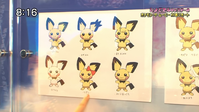 Posted by: Sunain on 11/01/20 18:25:04 (No. 33877)
https://www.pocketmonsters.net/episodes/viewep/1780
Revival!? Fossil Pokémon! / A Grand Showcase of the Pokémon Movie / Information on the 'Pokemon the movie XY Exhibit' / A Certain Someone Returns to Take AD Pikachu's Place!?
2014-08-10
Unused Pichu variants for HeartGold and SoulSilver