Pokémon X RockLove Winter 2020 Pikachu Necklace
File:
16103014620098.png
(1200px x 1199px - 461.88 KiB)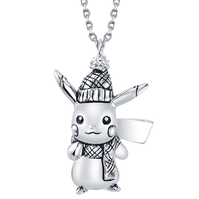 Posted by: Sunain on 01/10/21 12:57:42 (No. 34446)
Pokémon X RockLove Winter 2020 Pikachu Necklace
$135.00
This Pokémon X RockLove jewelry design is Limited Edition of 500 units - each piece is engraved with a unique series number. Once the 500 are sold out, it will not be restocked or re-released.
Sculpted in solid sterling silver, Pikachu is cozy for winter in a hat and scarf! Antiqued for detail, the weighty three-dimensional pendant hangs from a sterling silver adjustable cable chain.
Chain = 18-inch + 2-inch extender (20-inch overall)
Pendant = 28mm x 20mm
Every Pokémon X RockLove piece arrives in a signature Pokémon X RockLoveCollector's Box, with magnetic Poké Ball inspired exterior and colorful metallic silkscreened art inside. Includes a Pokémon X RockLove branded luxury travel pouch!
Limited Edition Numbers may not be specially requested.
All RockLove is officially licensed product. According to territory regulations, this product may be shipped to US, Canada, Australia and New Zealand.
https://www.rocklove.com/collections/featured-products/products/winter-2020-pikachu-necklace