Corocoro / Japanese Scans
Corocoro June 2019
File:
15578677200031.jpg
(810px x 1048px - 310.73 KiB)
Posted by: Sunain on 05/14/19 17:02:00 (No. 30136)
Corocoro June 2019
The forbidden form has been identified!!!
The strongest Pokémon of all, created by humans, appears?!
An incredible creature appears in this summer's Pokémon movie! We can see that the skin beyond its black armament is white... N-No way, could this be THAT Pokémon?!
Mewtwo Strikes Back Evolution premieres all across Japan Friday July 12th!!
Re: Corocoro June 2019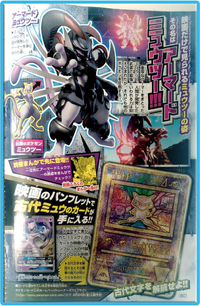 >> Posted by: Sunain on 05/14/19 17:02:16 (No.
30137
)
File:
1557867737000.jpg
(684px x 1048px - 226.47 KiB)
The Mewtwo form that can only be seen in the movie: Its name is Armored Mewtwo!!!
Mewtwo is wearing a majestic armor. Even though this manmade armament suppresses what people call the ultimate power, Mewtwo still overwhelms all other Pokémon!!
Armored Mewtwo: Mewtwo's form while it's wearing armor developed by the Rocket Gang.
It appears early in the manga booklet!
Check the manga to get a preview of Armored Mewtwo's gallant figure!!
Hurry straight to the manga in the supplimentary booklet!
The Ancient Mew card is included with the movie pamphlet!!
Decipher the ancient letters!!
It's been confirmed that this Mew card that has its text written in ancient letters will be included with the movie's pamphlet as a free gift.
Once you decipher the ancient letters on the card, you'll realize you incredibly powerful it is!
Try comparing it with normal Pokémon Cards.
The way to decipher the letters on the card is scheduled to be presented on the Trainers' Website on the official Pokémon Card Homepage (http://www.pokemon-card.com/) Friday May 24th!
Corocoro March 2019
File:
15500674970055.jpg
(1237px x 1877px - 519.42 KiB)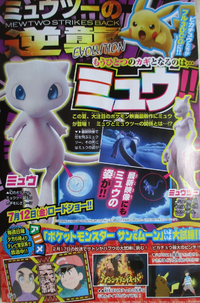 Posted by: Sunain on 02/13/19 09:18:17 (No. 29753)
Corocoro March 2019
Mewtwo Strikes Back Evolution
Pikachu and the others have been turned into full 3DCG!!
Another major plotpoint in the movie is...
MEW!!
Mew appears in this summer's new Pokémon movie, the one that currently has everyone's attention! What is the connection between Mewtwo and Mew...?!
Mewtwo was seen flying through the sky in the teaser trailer. And Mew could be seen in front of him!!
Mew appeared in the teaser trailer as well!!
Mew: A mythical Pokémon. It's a crucial key component in Mewtwo's birth...?!
Mewtwo: It's said to have almost the exact same genetic makeup as Mew.
Premieres Friday July 12th!!
--
Anime: At long last, we get a Grand Trial in "Pocket Monsters Sun & Moon"!!
(The anime is currently airing every Sunday at 6pm on the TV Tokyo network!!)
In the episode airing February 17th, Satoshi attempts Hapu'u's Grand Trial! Pikachu is in bigger trouble than ever before!!
*How will Satoshi and Pikachu fight against Hapu'u, who they've already lost to once before?!
*Their opponent is a Banbadoro, who's a Ground type: Pikachu's weakness!
PokeFan 59 (ポケモンファン 第59号)
File:
15314067990087.jpg
(2790px x 1805px - 785.75 KiB)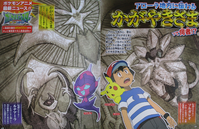 Posted by: Sunain on 07/12/18 10:46:39 (No. 28852)
PokeFan 59 (ポケモンファン 第59号)

What is The Radiant One spoken of in the Alola region?!
The legend of "The Radiant One" has been handed down in the Alola region since ancient times... It's a creature that's even been depicted in an illustration found in an old book as being equal to Solgaleo and Lunala, but just what is it?!

The Legendary Pokémon Solgaleo
A legendary Pokémon that was worshipped in the Alola region as the messenger of the sun.

The Legendary Pokémon Lunala
Much like Solgaleo, it's a legendary Pokémon that was worshipped as the messenger of the moon.

The Radiant One
This gigantic shape depicted together with the legendary Pokémon might be... a Pokémon we still don't know about?!
Re: PokeFan 59 (ポケモンファン 第59号)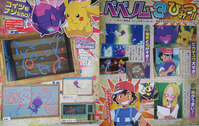 >> Posted by: Sunain on 07/12/18 10:47:18 (No.
28853
)
File:
15314068380070.jpg
(2978px x 1890px - 815.85 KiB)
This Pokémon is a complete mystery as well! The three secrets of Bevenom!!
Satoshi has a mysterious creature near him as well! Here's a close look at Bevenom, which we have no idea what is going to do!

Secret 1: It loves Pikachu
Bevenom has been clinging to Pikachu ever since they first met! It's been teasing it, playing with it, and always been together with it.
Blurb: It's totally attached toSatoshi as well.

Secret 2: It likes electricity and light!
It gets delighted whenever Pikachu unleashes an electric move! It appears to show visible joy towards bright light as well.
Blurb: If it likes light, it might like The Radiant One as well?

Secret 3: It's a good artist!
Bevenom's pictures are so good they amaze absolutely everyone! It seems it might be using these pictures to express its feelings.
Matsurika: A painter painting pictures in the city. She noticed that Bevenom's pictures might represent its inner feelings.
Aburibbon: Matsurika's partner. It has the power to read people's auras, so it truly understands how Matsurika feels.

The Bevenom art collection
Here's the complete lineup of all the pictures Bevenom has painted! Truth be told, they're all of Pikachu, but still... they're great!
Pikachu: The first picture Bevenom painted! Does it express the joy it felt upon meeting Pikachu?
Beach Pikachu: This one is just the face and tail, but you can still tell it's Pikachu! It has amazing technique!
Pikachu on the blackboard: As long as it has a lot of space to paint on, it's good! This one has both Pikachu and Bevenom in it!
Family?: Satoshi, Professor Burnet, Professor Kukui and Gonbe. Are those that Bevenom is always together with its family?

"The Shape of Family: Bevenom's Feelings!" is planned to air August 2nd!
Re: PokeFan 59 (ポケモンファン 第59号)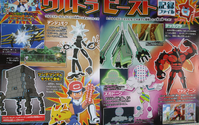 >> Posted by: Sunain on 07/12/18 10:47:59 (No.
28854
)
File:
15314068790024.jpg
(3022px x 1899px - 1.10 MiB)
Rotom's file on documented info on the Ultra Beasts
The Ultra Beasts have lost their way into our world from the world beyond the Ultra Holes. I've researched the four that have appeared so far!
The Ultra Guardians: A team that carries out missions with the purpose of sending Ultra Beasts back to the worlds they came from!

Tekkaguya:
It was buried in the ground in the ancient past and discovered by pure chance! The Guardians dug it out and it flew high into the sky!
Blurb: Incredibly enough, it had been sleeping there in the ground for over 200 years!

Massivoon:
Satoshi and the others sped to the place where it was going on a rampage after being startled by what people and Pokémon looked like! Both sides were eventually able to understand the other wasn't there to battle them.
Blurb: It had enough strength to even handle being surrounded by these Kairiky!

Zugadoon:
A show-off of an Ultra Beast that showed up at a fireworks display and started putting on a fireworks performance.
Top blurb: The round, head-like portion of its body can float and explode! The impact is tremendous!
Bottom blurb: It startles those that see it and absorbs their energy.

Denjyumoku:
It appeared when Zugadoon was causing explosions. It and Zugadoon dueled each other with flashy performances.
Top blurb: It appeared at a power plant, where it turned the electricity it absorbed into energy.
Bottom blurb: It countered Zugadoon's fireworks with electric discharges!

Tundetunde will soon appear as well!
The Ultra Beasts appear suddenly, and it's impossible to predict what they'll do. What's going to happen next time?!
"Leap 'n' Climb: Tundetunde!" is planned to air August 9th!
February 2018 Corocoro
File:
15134426480048.jpg
(616px x 592px - 397.21 KiB)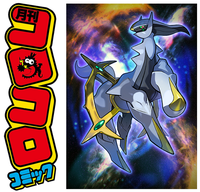 Posted by: Sunain on 12/16/17 11:44:08 (No. 28181)
February 2018 Corocoro
A serial code for Arceus was distributed in the February 2018 issue of Corocoro released on February 15th, 2018 to players of Pocket Monsters Ultra Sun and Ultra Moon.
Re: February 2018 Corocoro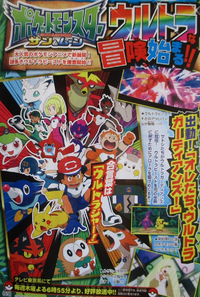 >> Posted by: Sunain on 01/11/18 09:00:44 (No.
28200
)
File:
15156792440068.jpg
(807px x 1200px - 284.07 KiB)
AN ULTRA ADVENTURE BEGINS!!
New developments take place in the super popular Pokémon anime!
The search for the highly mysterious Ultra Beasts begins!!

"Set Off! We Are The Ultra Guardians!!"
Satoshi and the others have been inaugurated as Ultra Guardians! They will travel around Alola in order to return the Ultra beasts to the world they came from!!

The keyword is "Ultrager"!

*Fierce battles with Ultra Beasts break out...!!?
*Pikachu gets startled by a mysterious Pokémon that suddenly appears!
*Lusamine gives Satoshi and the others their orders! Set off!
PokeFan 56 (ポケモンファン 第56号)
File:
15120126360084.jpg
(1952px x 1243px - 410.40 KiB)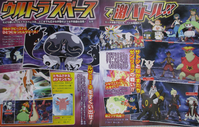 Posted by: Sunain on 11/29/17 22:30:36 (No. 28149)
PokeFan 56 (ポケモンファン 第56号)
Fierce battles in the Ultra Space!!
The place the group arrives in, the Ultra Space, is a mysterious, space-like plane that stretches out as far as the eye can see! The battle to save Lusamine is on!!

Satoshi and his friends fight with their fully powered strength!!
Satoshi and the others take up the chase in order to save Lusamine. But Lusamine's Pokémon block their path forward! Work together to clear the way!

Silvady plays a major role!!
Silvady was created to fight Ultra Beasts. It's a very reliable fighter!

The creation of a new Z-Move?!
Is this Amamaiko and Mokuroh's combo Z-move?! Plunge at them!!

Lusamine has become one with the Ultra Beast!
Lusamine has been brought inside the Ultra Beast's body and the two have become one! How can she be saved?!
Blurb: There are lots of Ultra Beasts in the Ultra Space!

Rescue Lusamine!
Lusamine sends out her Pokémon to keep Satoshi and Lilie away. Does she have some kind of reason for not trying to escape?!

These are the Pokémon that stand in the group's way!
Satoshi and the others split up to fight Lusamine's Pokémon! Lugarugan engages in a fierce fight against Pixy!
Absol
Ennewt
Dredear
Milokaross
Mumage
Pixy: The Pippi that Lilie was also really fond of has evolved into a Pixy! It's a tough fighter!!