Pokémon X and Pokémon Y: The Official Pokémon Strategy Guide Reveals Super Training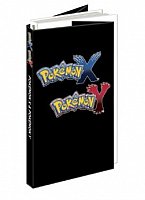 Amazon has posted information about the upcoming Pokémon X and Pokémon Y: The Official Pokémon Strategy Guide on their site. The description reveals a new aspect to the games:
Super Training
. No further details regarding this feature were revealed. The guide goes on sale October 12, 2013 for $17.99 USD.
Here's what's include inside the guide:
A complete walkthrough of all the Gym Badges and through the Hall of Fame!
Detailed information on all the new game features, from Sky Battles and Horde Encounters to Super Training and Pokémon-Amie!
A guide to where to find hidden items, TMs and HMs, and special Pokémon—with a location index!
Hints on the best ways to use Roller Skates, ride Pokémon, and challenge Gym Leaders!
A super effective Pokémon screen cleaner to keep your Nintendo 3DS system looking sharp!
Helpful tips and tricks for getting the most out of the PSS and online play!
An updated type matchup chart that includes the all-new Fairy type!
Pullout map to guide you through the Kalos region!
Source:
http://www.amazon.com/Pokemon-Official-Strategy-Guide/dp/0804161992/
03 Jul 2013 02:51 PM

Registered Users


Joined: 14 Jun 2009
Forum Posts: 7


I have a feeling this super training will be the IV and EV training guide that websites like this and serebii,net have been doing since gen 3 to help people new to the games.