Pikachu Mega Campaign (ピカチュウの メガキャンペーン)
The official Japanese YouTube Channel posted a video for the
Pikachu Mega Campaign (ピカチュウの メガキャンペーン)
which will take place at the
Pokémon Centers
starting on
December 12th, 2015
. This is part one of the campaign and another part will be announced at a later date.
Images from the video have been added to an Imageboard thread
.
Patrons that spend at least 2,000 yen on merchandise at the store can receive 1 of 8 different Poncho Pikachu cards with an accompanying Clear File. The presents feature: Pikachu with Mega Rayquaza poncho, Pikachu with Mega Tabunne Poncho, Pikachu with Mega Tyltalis poncho, Pikachu with Mega Yadoran poncho, Pikachu with Mega Lizardon X poncho, Pikachu with Mega Lizardon Y poncho and Pikachu with Mega Lucario poncho.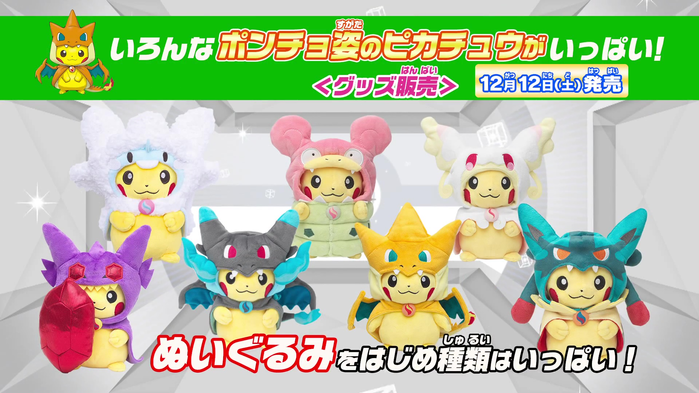 Those that spend at least a 1,000 yen on TCG merchandise during the campaign, they can receive the Pokémon Center
Poncho-wearing Pikachu (ポンチョを着たピカチュウ) 203/XY-P card
. It features the artwork of Pikachu in Mega Tabunne, Mega Lucario and Mega Yadoran poncho's.
Details of this card
have been added to our
TCG dex
.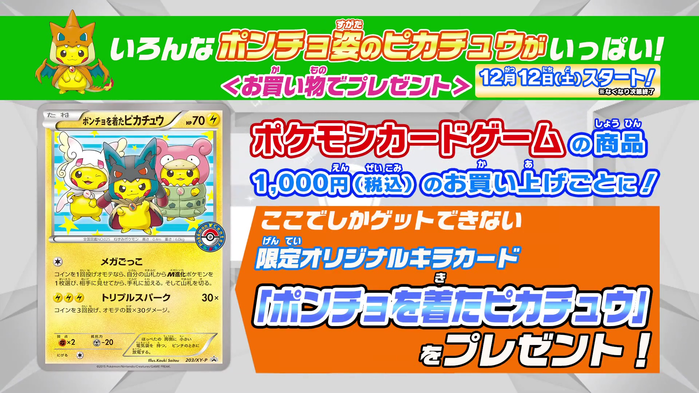 An alternate-colored Diancie will be distributed from December 12th, 2015 until December 31st, 2015 to players of
Omega Ruby or Alpha Sapphire
. Details were not revealed.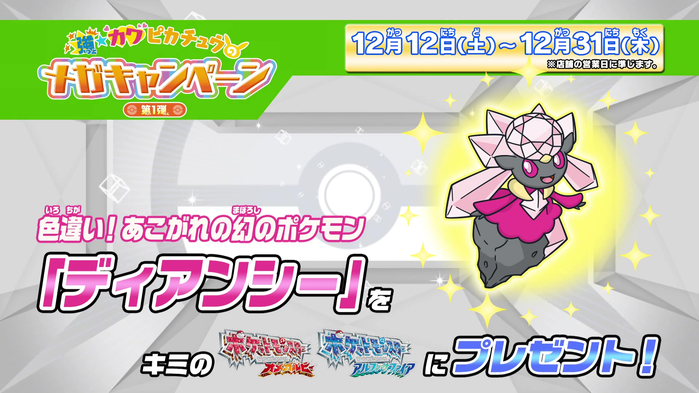 Players of
Pokémon Tretta Ultimate Z
can also receive a Mega Lizardon X or Mega Gyarados trophy tretta.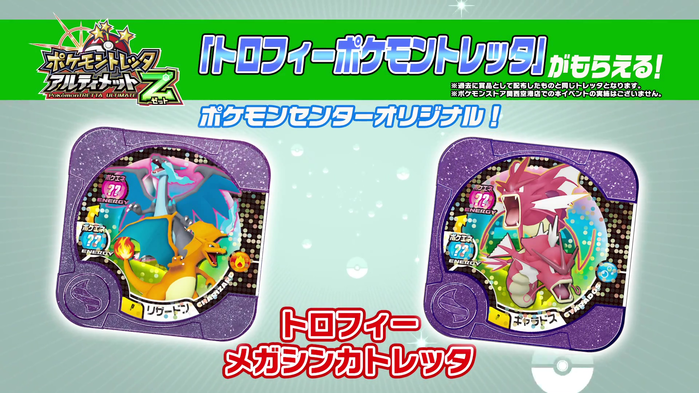 Pikachu Mega Campaign Video
Source:
https://www.youtube.com/watch?v=0KAmuiEaVY4
19 Nov 2015 03:53 AM

Administrators


Joined: 07 Apr 2008
Forum Posts: 109


Looks like they're onto a winner with these recent merchandise campaigns - the dressed-up Pikachus seem to be quite popular. This new set of stuffed toys is pretty cute - I think the Sableye one is my favourite. The Rayquaza one seen in the promotional image and the clearfile is really cool too - I wonder if they'll produce some more merchandise of that one?
19 Nov 2015 04:48 AM

Admin Staff


Joined: 18 Jun 2007
Forum Posts: 1708


Oh I know. I want a couple of those Mega Pikachu Ponchu Plushies. I'd like to get the Lizardon Y one and the Sableye one as well. I think these are going to be popular for Christmas in Japan this year.

I'm guessing, yeah, the other Mega's will be part of the second wave of this promotion, whenever that is.

These Pikachu plushies are in addition the the monthly Pikachu Plushies they are also doing.

Monthly Pikachu Plushies:

http://www.pocketmonsters.net/ib/threads/4307

If you are plushie collector these days, you've got a lot to get!

Administrator of PocketMonsters.net