Pocket Monsters XY&Z Character Song Project Reveals Rocket Gang Song

The official website for the
Pocket Monsters XY&Z Character Song Project
, which launched in late October some time prior to the premiere of the Pocket Monsters XY&Z TV series, has updated with the revelation of a third character song,
The Rocket Gang Team Song (ロケット団 団 歌)
, featuring
Musashi
,
Kojiro
,
Nyarth
and
Sonansu
, following the XY&Z opening theme
"XY&Z"
, featuring
Satoshi
, and the XY&Z ending theme
"The Squishy Song"
, featuring
Eureka
. The song will be available at select digital music services from January 20th, 2016.

In addition to this song, the new
"Character Song Room"
subsite on the website, which contains purchase links for the two already-released songs, also teases the existence of three additional songs.
What is the Pokémon Character Song Project?
In order to liven up Satoshi and his friends' adventure, a music laboratory constantly researches music. The songs that have been researched at the laboratory then get sent to everyone that love Pokémon by "The Character Song Project" and the designated executive producer of this character project is, incredibly enough: Good old Tomohisa Sako of "Getta Banban" fame!! The "character song project" will involve a wide variety of characters singing!! Look forward to it!!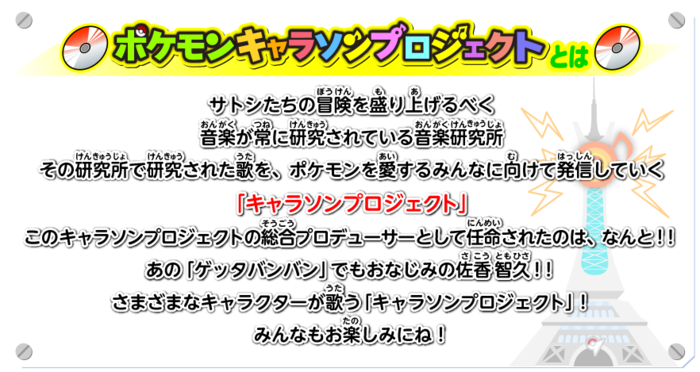 The first Character Song Project CD collection was also announced. Two versions of the CD will be released:
The 1600 yen
Limited Edition
comes with a DVD containing creditless versions of the Pocket Monsters XY&Z OP and ED, as well as a yet announced tretta. The 1300 yen
Standard Edition
will just include the CD.
Details of both these CDs have been added to our database
.
Source:
http://www.pokemon-xyz-charactersongproject.com/