March issue of Corocoro Comic leaks, reveals Magearna
The first pages from the March issue of Corocoro Comic have leaked, revealing the new mythical Pokémon Magearna. Translations follow:
The 2016 Pokémon movie!
Premieres Saturday July 16th
Volcanion and the Ingenious Magearna
This is Magearna, who has been revealed together with the movie title! Let us take a closer look at the mysteries concerning it!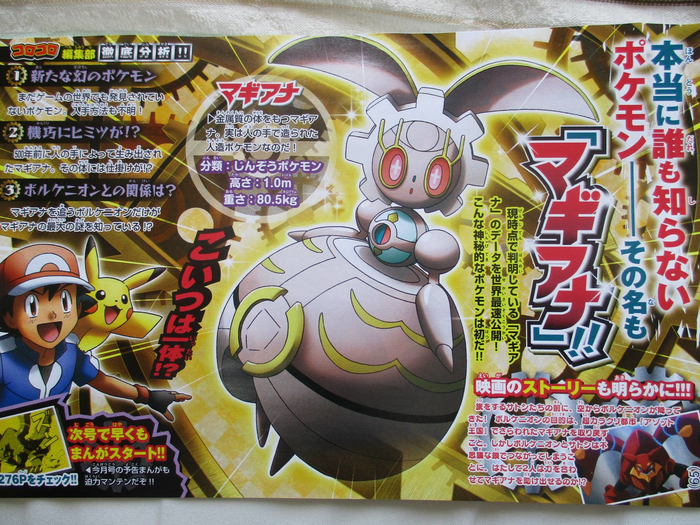 A Pokémon that absolutely no one has actually seen before: Its name is "Magearna"
Here is a world exclusive presentation of absolutely all data we currently have on "Magearna"! This mysterious Pokémon is the first ever in a certain field!
Magearna
Magearna possesses a metallic body. The truth is that it's an artificial Pokémon built by human hand!
Species: Artificial Pokémon
Height: 1.0m
Weight: 80.5kg
We'll shed lights on the movie's story as well!!!
As Satoshi and his friends continue their journey, Volcanion drops down from the sky in front of them. Volcanion's object is to recover Magearna, who has been abducted by the "Azoth Kingdom", a city of super-machinery. However, Volcanion and Satoshi have become linked together by a strange chain. Will the two of them manage to work together and save Magearna?
A thorough analysis from the Corocoro editorial staff
1) It's a new mythical Pokémon
This is a Pokémon that hasn't been discovered in the video game world yet. How to obtain it is unknown as well!
2) What is the secret to its ingenuities!?
Magearna was born by human hand 500 years ago. Its body is filled with mechanisms!?
3) How is it related to Volcanion?
Is the greatest of the mysteries to Magearna only known to Volcanion, the one that chases after it!?
The manga starts already next issue!!
The manga preview in this issue packs a punch as well!! Check it out on page 276!!
Source: Corocoro Comic, March 2016
10 Feb 2016 03:35 PM

Admin Staff


Joined: 18 Jun 2007
Forum Posts: 1710


This was a bit surprising that they announced a new Pokemon but that is good. We've been so spoiled by game dump leaks over the last few years that finally a genuine surprise makes this announcement a lot better.

Administrator of PocketMonsters.net
11 Feb 2016 10:32 PM

Administrators


Joined: 07 Apr 2008
Forum Posts: 109


Wow, I wasn't really expecting a new pokemon to appear in the next movie. New forms, maybe, but not a whole new pokemon. I'm kind of indifferent about the design - it doesn't really appeal to be but it's not hideous either.

I have to agree with Sunain, it's much more fun to see a new pokemon revealed officially instead of hackers finding the data. I wonder if patches will be released for X/Y/OR/AS to add this pokemon in, or if it will only be available in yet-to-be-released games.