G.E.M. Series Pocket Monsters Satoshi & Pikachu Satoshi Gekkouga
Bandai has revealed the next figure in their G.E.M. Series Pocket Monsters. The Pocket Monsters TV Anime series is celebrating the 20th anniversary in 2017 and the
G.E.M. Series Pocket Monsters Satoshi & Pikachu Satoshi Gekkouga 【Premium Bandai Limited Bonus】 (G.E.M.シリーズ ポケットモンスター サトシ&ピカチュウ&サトシゲッコウガ【プレミアムバンダイ限定特典付き】)
features the hot bonds with
Satoshi
and his Pokémon
Pikachu
and
Gekkouga
. Gekkouga has its Water Shuriken and the splashing water is part of the effect.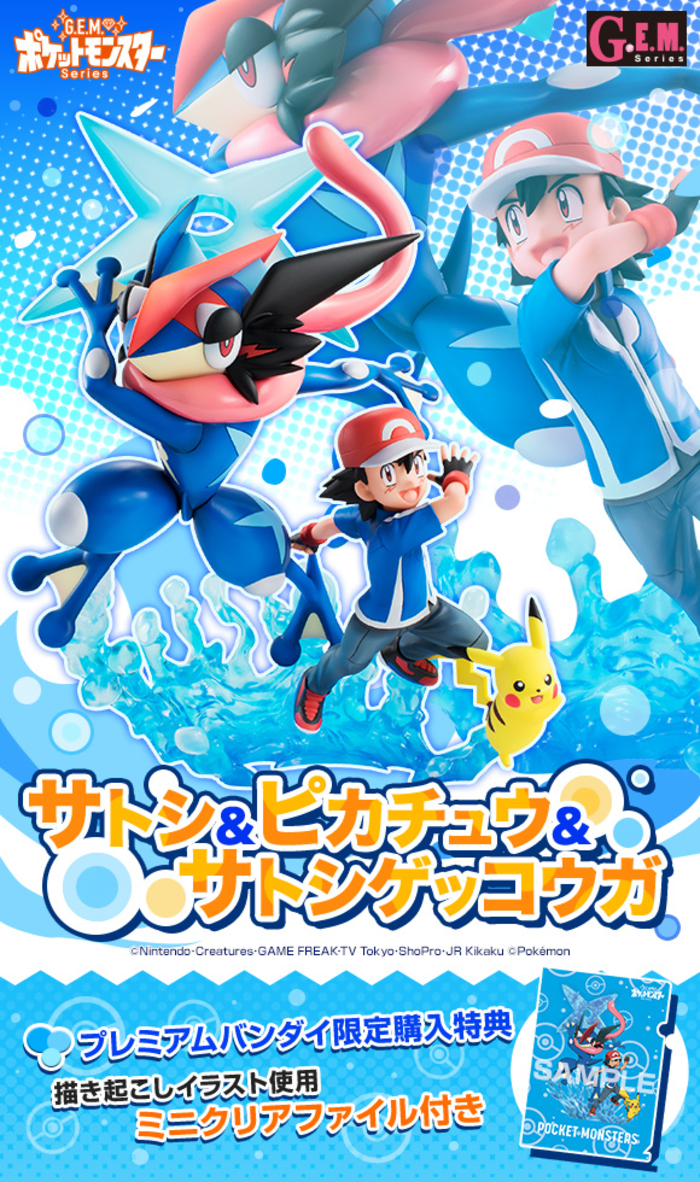 In addition, as a Bandai Premium Limited Bonus, a mini clear file with an illustration of
Satoshi
and his Pokémon
Pikachu
and
Gekkouga
is included.
The figures will cost 8,748 yen including tax and its scheduled for shipment in November 2017.
High resolution images of this figure set have been added to an Imageboard thread
.
Set Content Details:
Product Material: PVC
Target age: 15+
Product Size: Satoshi Gekkouga: Approximately 170 mm
Satoshi: Total length Approximately 110 mm
Pikachu: Approximately 35 mm
Country of origin: China
Source:
http://p-bandai.jp/item/item-1000116697/