4th Global Mission for Ultra Sun and Ultra Moon - Harvest Poké Beans
The 4th Global Mission for
Pokémon Ultra Sun and Ultra Moon
called
Harvest Poké Beans
takes place from February 6th, 2018 until February 19th, 2018 and all Trainers must collectively harvest 30,000,000 Poké Beans to get the 2,000 Festival Coins reward.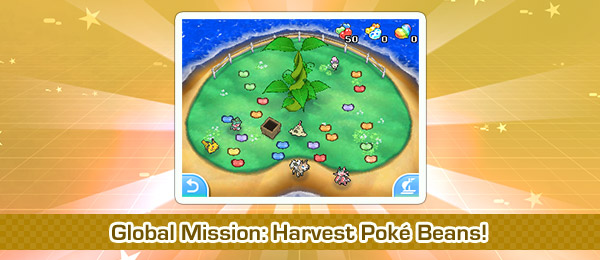 The Next Global Mission Is Full of Beans!
Head to Poké Pelago in Pokémon Ultra Sun and Pokémon Ultra Moon and gather as many Poké Beans as possible for the "Harvest Poké Beans!" global mission, now in progress. The goal is for all Trainers to collectively harvest 30,000,000 Poké Beans by 23:59 UTC on February 19, 2018. If the goal is reached, every participant will receive 2,000 Festival Coins as a reward. Even if the goal isn't reached, everyone will get a participation prize of 1,000 Festival Coins. Trainers who have registered their game at the Pokémon Global Link by the end of the global mission will receive double the number of Festival Coins—4,000 when the goal is reached, and 2,000 even if it isn't. Be sure to sign up today.
Source:
https://3ds.pokemon-gl.com/information/f9c07bb4-392f-4110-b708-58a4624e2d92