Legendary Year of Pokémon - August 2018 Distributions - Kyogre and Groudon
The Legendary duo of Kyogre and Groudon has dominated the land and seas since originally appearing in the Hoenn region. Now you can get one of them via a code from your local participating store. Pokémon Ultra Sun and Pokémon Sun players can get Kyogre, and Pokémon Ultra Moon and Pokémon Moon players can get Groudon.

United States: GameStop - August 3rd to 26th, 2018
Canada: EB Games
UK: GAME
Ireland: GameStop
Germany: GameStop
Spain: GAME
France: Micromania
Italy: GameStop
Australia: EB Games
Mexico: Best Buy
Chile: weplay store
Guatemala: El Duende
Colombia: Alkosto HiperAhorro
Panama: Felix Estigames
Costa Rica: Vertigo
Peru: Phantom
Honduras: Game Station
How to Get Kyogre or Groudon
1. Open your Pokémon Sun, Pokémon Moon, Pokémon Ultra Sun, or Pokémon Ultra Moon game.
2. Select Mystery Gift on the main menu.
3. Select Receive Gift.
4. Select Get with Code/Password, then Yes, then Yes again to connect to the internet.
5. Enter your code.
6. Watch as the Legendary Pokémon arrives in your game!
7. Speak to the delivery person in any Pokémon Center to receive your Legendary Pokémon.
8. Be sure to save your game.
Kyogre and Groudon - Level / Moves: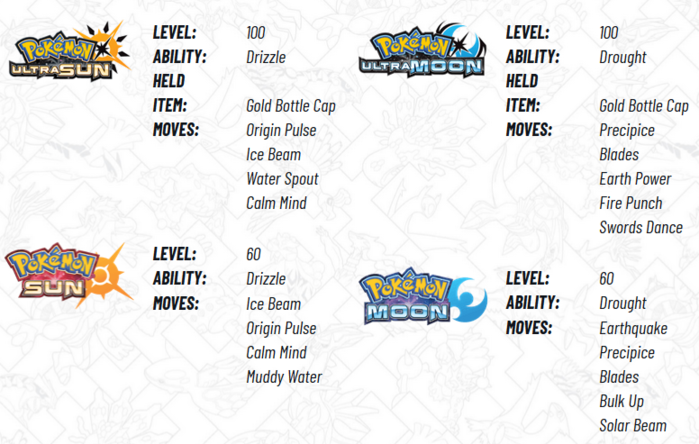 YouTube Trailer - Kyogre and Groudon await you in August!
Source:
https://www.youtube.com/watch?v=lGWEd15g44U