McDonald's Happy Meal - Malaysia and Hong Kong - November/December 2018
McDonald's has announced a new Pokémon themed Happy Meal will be available for purchase in Malaysia and Hong Kong throughout November and December of 2018. There are 8 different toys to collect including: Pikachu, Torchic, Meowth, Vulpix, Totodile, Shiny Magikarp, Squirtle and Psyduck.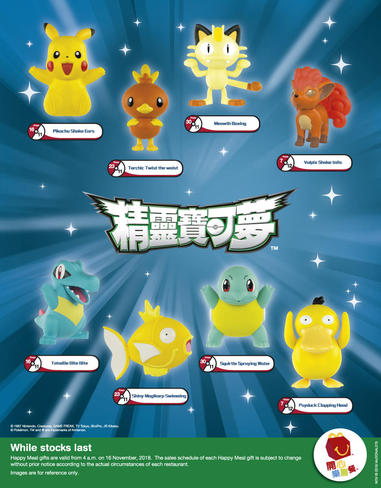 The Pokémon Happy Meal campaign at McDonald's will take place from November 16th, 2018 until December 13th, 2018 in Hong Kong.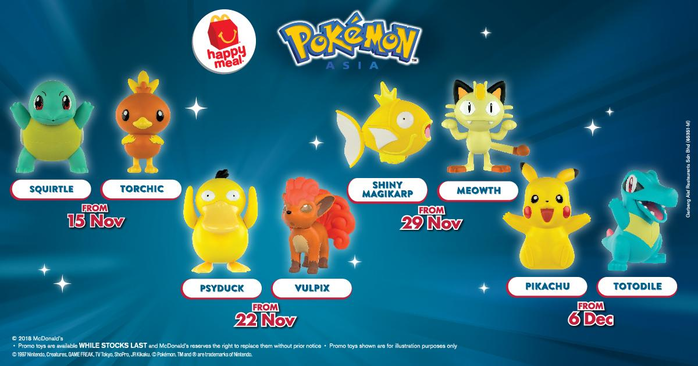 In Malaysia, Sqirtle and Torchic will be available starting on November 15th, 2018. Psyduck and Vulpix will be available starting on November 22nd, 2018. Shiny Magikarp and Meowth will be available starting November 29th, 2018 and Pikachu and Totodile will be available starting on December 6th, 2018.
Sources:
https://www.mcdonalds.com.my/promotion/pokemon-happy-meal-toys
and
https://hk.portal-pokemon.com/topics/event/181116170000_mcdonalds_happy_meal_pokemon_campaign_will_begin.html
YouTube Trailer - McDonald's Happy Meal Hong Kong
Source:
https://www.youtube.com/watch?v=TMV79MYwPlM